New Year, New Acquisition
This week we took delivery of our most recent acquisition, the archive of Michael Meyer, best known for his translations of Ibsen and Strindberg. The archive contains drafts and annotated proofs of Meyer's translations of Norwegian, Swedish and Danish authors. His work as novelist, playwright, adaptor, biographer, editor and reviewer (in a literary capacity as well as for The Good Food Guide) is also well represented in the collection which includes annotated books from his Library as well as archival papers. It's a timely addition to the national collection following on from the Literary Translators conference held at the Library in 2011, which brought the creativity of translators into greater focus.
Before Meyer's translations, English-speaking theatre audiences knew Ibsen primarily through the efforts of William Archer, whose lengthy versions in rhyming verse had given Ibsen a reputation for being old-fashioned and tedious. That changed when Meyer met the Finnish director Caspar Wrede who asked him to translate Ibsen's The Lady From the Sea and John Gabriel Borkman for television, followed by Brand for his 59 Theatre Company. Today Meyer is credited with establishing Ibsen as a modern master in the eyes of Anglophone audiences, thanks to his understanding of the nuances of the Norwegian language and his sensitivity to Ibsen's sub-text.
Whilst it's easy now to take Meyer's pre-eminence for granted, his initial attempts at translation from Norwegian were something of a struggle. He accepted his first Ibsen commission for a radio adaptation of Little Eyolf on the basis that Norwegian sounds much like the Swedish language (which he had learnt while lecturing at Uppsala University after the war). Unfortunately for Meyer the two languages look quite different written down and he had to engage a Norwegian friend to help him – an experience which set him firmly against the use of crib translations ever afterwards.
With the help of Caspar Wrede who coached him through The Lady From the Sea and John Gabriel Borkman, and Michael Elliott, who directed the 1959 production of Brand, Meyer quickly learnt his craft as translator and dramatist. Some of the most interesting letters in the archive on the subject of translation are Michael Elliott's letters to Meyer commenting on his act-by-act drafts of Brand. Ironically enough they show that restoring Ibsen's reputation involved rather a lot of irreverence; Elliott repeatedly urged a ruthless approach to the original. Pictured is a spread from Meyer's copy of Brand, in which all but 12 lines were cut.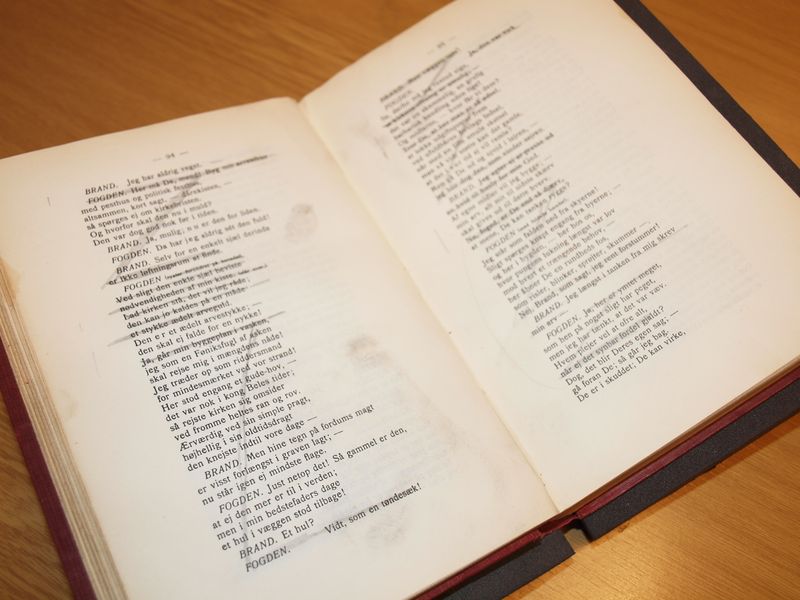 Michael Meyer is important not only for his legacy as a translator but for his position in the literary and theatrical circles of postwar London - and Stockholm too. His special correspondence file reads like a Who's Who of writers, actors and directors, but the star items are undoubtedly a collection of 90-odd letters from Graham Greene, the majority of which are unpublished. Meyer and Greene had become good friends together in the mid 1950s – embarking on a round-the-world trip together in 1959-1960. It was Meyer who introduced Greene to the Swedish actress Anita Björk, with whom Greene had a significant affair and many of the letters from Greene make mention of Anita.
Other highlights include letters from George Orwell from the time he was writing 1984 and a variety of material concerning the poet Sidney Keyes who was Meyer's friend at Oxford and sadly died in World War II at the age of twenty-one. Meyer posthumously edited a collection of his verse and hung onto his his friend's books and a poetry notebook, which now form part of the archive here. His correspondence reveals a good deal of appreciation for Keyes's work among his acquaintance, not least from Ted Hughes who carried a copy of Keyes's poems with him whilst on National Service. 
 It's not surprising that Michael Meyer's Archive contains so many gems about other literary greats. His memoir Not Prince Hamlet tells more of the lives of his friends than it does about Meyer himself – he liked to stay in the background as he admits in the book and translating suited him for that reason. Whilst that may be a common feeling among translators we hope the acquisition of the Meyer Archive will open the way for greater appreciation of literary translation in its own right.
 Zoë Wilcox, Curator of Modern Literary and Theatrical Manuscripts