03 January 2013
'Putting a bomb under Scottish literature'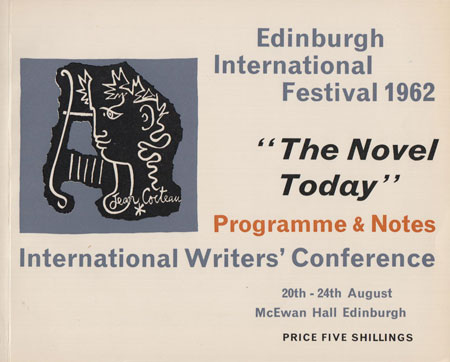 Somewhat overshadowed by the more spectacular cultural events of this past Olympic year, the celebration of the 50th anniversary of the 1962 Edinburgh International Writers' Conference, considered the world's first literature festival, passed with a relatively modest share of media attention.
The introduction of a literary element to the Edinburgh Festival was the idea of Jim Haynes, an American transplanted to Edinburgh who opened Britain's first paperback bookshop and founded the Traverse Theatre, and John Calder, publisher of Samuel Beckett and others. After successfully pitching the idea to Festival Director Lord Harewood, they persuaded Sonia Orwell to join them in planning the Conference.
As Jim Haynes put it in his 1984 memoir Thanks for Coming!:
             I took care of the Edinburgh end of it, of accommodation for people, arranging parties and arranging for the building and all that. John dealt mainly with Lord Harewood and keeping the Festival happy, and with certain writers. Sonia got all her pals to come up, including people like Mary McCarthy and Nicolo Tucci, whom I fell in love with, and we have remained friends ever since.
The conference drew an unprecedented line-up of Scottish and international writers to Edinburgh University's 2300-seater McEwan Hall. Among the 60 or so writers speaking over the five days of talks and discussion were Hugh MacDiarmid, Edwin Morgan, Alexander Trocchi, Muriel Spark, Khushwant Singh, William S. Burroughs, Lawrence Durrell, Mary McCarthy, Norman Mailer, Henry Miller, Angus Wilson, Rebecca West, L.P. Hartley, Colin MacInnes and Simon Raven. In his 2001 memoir Pursuit John Calder noted that only a handful of the biggest names were subsidised by the conference budget (which had to be covered by ticket sales), with the costs of bringing in most of the writers absorbed by the British Council, foreign embassies or individual publishers.
Each day was devoted to a particular theme. Day two was concerned with 'Scottish Writing Today', and featured a lively spat between the anarchist bohemian Alexander Trocchi ('I am only interested in lesbianism and sodomy') and Scotland's best-known living poet (an 'old fossil', in Trocchi's opinion) Hugh MacDiarmid ('I resent the preponderance of paper and ink that is wasted on issues that seem to me peripheral and undesirable').
Going somewhat against the political grain of day three's addresses on the theme 'Commitment', English novelist Simon Raven was mainly concerned with making a living:
    I find from my notes that during the whole course of the afternoon everyone has been too polite to mention one subject and that is money. To listen to the talented ladies and gentlemen who have spoken, one would have thought that they never had, any of them, squirmed with delight at the prospect of a £5 note, that they had never seen money at all.

    Now, I wish to be quite honest about this. I count myself in a very minor way, as an old-fashioned professional novelist who writes to make a livelihood and pay for his expensive tastes.
Day four, on 'Censorship' featured a coolly logical address by the then little-known American William S. Burroughs (Naked Lunch was still two years away from its British publication by John Calder). 'What would happen if all censorship were removed', mused Burroughs, 'I think not very much'. 
The Conference made the front pages of the Scottish newspapers ('Writers' Conference Goes into Orbit' was a headline in The Scotsman) and in many ways served as an early indicator of the cultural revolution that would erupt fully into the public consciousness just a few years later.
Jim Haynes had no doubts as to the event's success:
            It was wonderful - lots of people, lots of parties, lots of gossip. We had delightful, buzzing parties virtually every night. The alcohol flowed and everyone had a good time. I know I did. Altogether it was a great five days. The McEwan Hall, at Edinburgh University, a great barrel of a building, was filled every day with people, which made it exciting, and people came for lots of different reasons. I think we were well satisfied. The public enjoyed it, the writers enjoyed it and enjoyed meeting each other.

            For me the most important part of the Festival, with the Writers' Conference and, later, the Drama Conference, was just bringing people together. That has been one theme in everything I have done in my life: I think people should be brought together and that we have to create environments and situations to bring people together.
Haynes and John Calder were invited back to Edinburgh last August, to formally open the 2012 World Writer's Conference at the Edinburgh International Book Festival with a look back at the events of 1962 in a public discussion titled 'The Edinburgh Writers' Conference 1962: The Legacy: Putting a Bomb Under Scottish Literature'. The organizers of this discussion, Dr Eleanor Bell and Dr Angela Bartie (both are academics from the University of Strathclyde, Glasgow), have produced a book to commemorate the original event: International Writers' Conference Revisited: Edinburgh 1962 (Cargo Publishing, 2012) featuring transcripts, new interviews and previously unpublished archive photographs.
For researchers wishing to dig even deeper, the British Library holds a copy of the original programme (front cover shown above, BL ref. Cup.21.ee.41.), a complete transcript (11881.g.1.), and the complete BBC audio recordings of the proceedings (NP550-NP561).