28 March 2013
Goodbye to the Singing Hypnotist
In Christopher Green's final performance as Artist in Residence he presented his research into hypnosis in the Library's collections and performed material for his new show, The Singing Hypnotist. Watch the full show below, recorded at the British Library on 25 January 2013.
What does hypnosis feel like?  What tricks have been used to induce a hypnotic state?  Why do we need such sophisticated strategies to shock us into the simplicity of being healed? These are the questions Christopher sought to answer through his research into hypnotherapy, and its glitzier cousin stage hypnotism. Through the course of the show he introduces the audience to some of the most interesting hypnotists of the last two hundred years, recounts his own experiences of hypnotherapy, and delves into the illegitimate side of hypnotism—past life regression.
It seems that there is currently a healthy appetite for understanding more about the intersection between art and science, healing and showbiz. Though Christopher's residency has now drawn to a close, he has already re-incarnated his new character the Singing Hypnotist (a showman with ethical qualms about the strength of his own powers) as part of the Barbican's festival, Wonder: Art and Science on the Brain (which continues till 10 April). He will also be appearing at Latitude Festival this summer in Neuroscience vs Sexuality.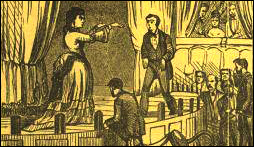 Christopher was inspired by a range of items from across the Library's collections—music hall songs, the conjuror Evanion's playbills (pictured above), and patents for hypnotic devices, to name just a few—see below for Christopher's 'reading list'.