23 April 2013
James Joyce on record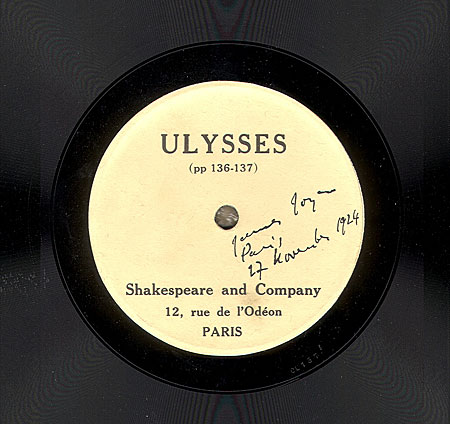 Listen to James Joyce reading from Ulysses (extract)
In March this year the British Library issued the latest in its series of archival spoken word releases: a 3-CD set titled 'Irish Poets and Writers'. The release attracted a modest amount of favourable publicity, including a letter published in the Times Literary Supplement of 13 April in which Anthony Carroll, of Taylor's Hill, Galway, drew attention to the James Joyce recordings included in the set. Mr Carroll identified Joyce's accent not, as one might reasonably have supposed, as a Dublin one, but as North-East Cork, attributing this to the influence of Joyce's father, who grew up in the town of Fermoy.
There are two Joyce recordings on the Library's CD-set - which together compose the only recordings of his voice that are known to exist. The earlier of the two, in which Joyce reads from Ulysses, dates from 1924 and is a new digital transfer of one of the rarest discs in the Library's collection, which was issued in an edition of only 30 copies, most of which were given away to Joyce's friends. Joyce has signed and dated the label (see picture above).
The Library's new anthology also includes a previously unpublished talk given by Sylvia Beach, the proprietor of the Shakespeare and Company English-language bookshop in Paris, recorded in London in 1960 at the British Institute of Recorded Sound, the forerunner of today's British Library sound archive. Beach explains how she persuaded Joyce to make the record and how she came to organize the recording session.
Beach also discusses the making of the second Joyce recording, an extract from Finnegans Wake recorded for the Orthological Institute, Cambridge, in 1929. Not so rare as the earlier disc, the Library holds four copies of this one, which delivers a recording superior to the earlier in respect of sound quality and, arguably, the author's performance.
'Irish Poets and Writers' is available to purchase from the British Library online shop. Further details here.