04 July 2013
Ken Campbell is alive and you are dead
On 31 August 2013 it will be five years since the death of writer, performer, director and general one-off theatre legend Ken Campbell.
In the Guardian's obituary, theatre critic Michael Coveney described Campbell as 'a perennial reminder of the rough-house origins of the best of British theatre, from Shakespeare, music hall and Joan Littlewood to the fringe before it became fashionable, tame and subsidized.'
The multifarious products of Ken Campbell's profoundly anarchistic theatrical imagination included his 24-hour long production of Neil Oram's The Warp at the ICA in 1979 - decreed by no less an authority than the Guinness Book of Records to be the world's longest play - and his production of Douglas Adams's Hitchhiker's Guide to the Galaxy - performed inside a hovercraft - also at the ICA, later that same year. In the later part of his career he was perhaps best-known for his solo shows of fantastical monologues detailing all manner of odd experiences and arcane knowledge.
In 1977, the opening attraction of the National Theatre's new Cottesloe space was the full-cast stage adaptation by the Science Fiction Theatre of Liverpool - co-founded by Campbell with Chris Langham the previous year - of Robert Anton Wilson and Robert Shea's Illuminatus! trilogy. The British Library made an audio recording of the full 9-hour show and continued, throughout the 1980s and 90s to record Campbell's (usually solo) shows at the National. These included Furtive Nudist, Pigspurt, Jamais Vu, Violin Time, The Pidgin Macbeth and The History of Comedy: Part One: Ventriloquism.
Campbell was happy to have his shows recorded for posterity, his only stipulation being that he was not informed of the date the recording would be happening.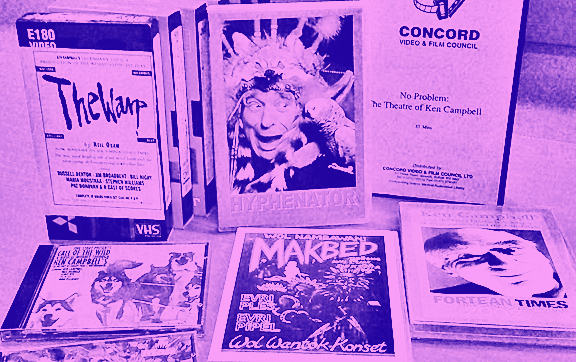 As well as unique live recordings, the Library has tried to acquire any commercially circulated recordings of Campbell: from the CD 'Wol Wantok' (King Mob, 1999), in which Campbell advanced the case for Pidgin English as a new world language, to the DVD edition of G. F. Newman's TV series Law and Order, in which Campbell had a rare straight acting role, as a crooked lawyer. He later described his performance in Law and Order as an example of 'tie-acting' (the actor tucks in his chin and mumbles into his tie).
The Library does not have any unique audio documentation of The Warp but it does have a copy of the video version (on six videotapes) purchased from writer Neil Oram a few years back. This is still available to purchase from Neil here, now in DVD format.
If you would like to hear (or view) any of the material mentioned in this blog post you can do so free of charge at the British Library. You will need a British Library Reader's Card however and you may need to book an appointment.   
 Listen to Ken Campbell introducing his Pidgin Macbeth in 1998 (excerpt)