02 August 2013
The Charleston Bulletin Supplements
I was delighted recently to work with colleagues in British Library Publications on the launch of a new publication, The Charleston Bulletin Supplements, edited by Claudia Olk and published in June. The book includes colourful images from the Supplements and the original text, and provides a comic insight into life at the centre of a major literary and artistic circle.
 The British Library has a number of archive and manuscript items relating to the Bloomsbury Group of which Virginia Woolf and her sister, Vanessa Bell, were prominent members. These holdings include the family magazine archive, the Charleston Bulletin, which was created by Vanessa Bell's sons, Julian and Quentin, with some help from members of their circle, including regular collaboration with their aunt, Virginia. The collection, which dates from 1923 to 1927, was acquired by the Library in 2003.
As with the Hyde Park Gate News, the family newspaper created by the Stephen children, Virginia, Vanessa and Thoby, a generation earlier (and also at the Library), the Charleston Bulletin recorded daily life and events at the children's home in Charleston, Firle, East Sussex. Its creators used words and pictures to convey their messages to readers and topics included observations on nature, readers' letters, poetry and society news (on one occasion provided by John Maynard Keynes, a friend of the family).
Quentin later explained that he was the dominant force behind the project, rising early each morning in order to create a single copy of each edition before breakfast. While the daily editions give a taste of everyday life, it was the Charleston Bulletin Supplements, usually created during the summer and Christmas holidays, which allowed for extended comic tales and provided a vehicle for family jokes. The Supplements were created collaboratively by Quentin and Woolf. Each Supplement had a theme or subject from 'Eminent Charlestonians', about the life of the residents of Charleston to 'The Life and Death: History of a Studio' and 'The Messiah', a satire on the life of Clive Bell and others. They contain colourful illustrations created by Quentin, with text written or dictated by his aunt.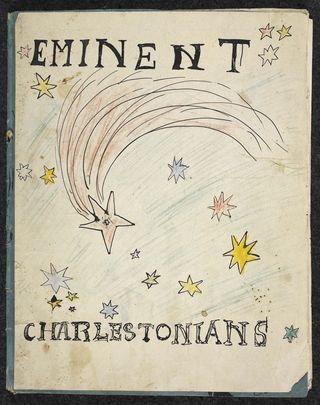 The Supplements are lighthearted and playful, teasing their subjects regardless of their position at Charleston. Family servants, Trissy and Emily, for example, feature in 'Eminent Charlestonians' alongside Vanessa and Clive Bell, and Duncan Grant. We know from her letters how much Woolf enjoyed creating the magazines. Their spirit and humour are an interesting counterpoint to her published works from the same period, such as The Common Reader (1925), Mrs Dalloway (1925) and To the Lighthouse (1927). This image shows Trissy cooking for the family -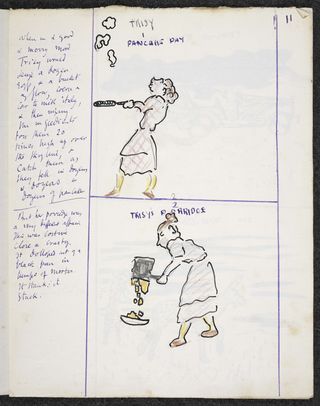 The Charleston Bulletin archive, along with the rest of the modern literary manuscripts collections, can be accessed in the Manuscripts reading room. It's great that in addition readers can now buy their own copy of the Supplements to take home with them. For more information about the new publication please see the British Library website.
Images © The Estate of Virginia Woolf and Quentin Bell.