23 August 2013
The first audiobook
A guest post by Matt Rubery, Edison Fellow at the British Library
What was the first audiobook? This is a question I've been asked a lot while researching the history of audiobooks as an Edison Fellow at the British Library.
It's a difficult one to answer since a lot depends on what counts as an audiobook in the first place.
People have been recording literature since the phonograph's invention in 1877. Shortly after its debut, Thomas Edison proposed using it to record Dickens's Nicholas Nickleby. This would have been the first audiobook if it had ever been recorded. Recording an entire novel on wax cylinders was all but impossible however, since each one played for only a few minutes at a time. Listening to poetry was far more practical. Here's a sketch from 1895 of a woman listening to a book read aloud in her Paris apartment: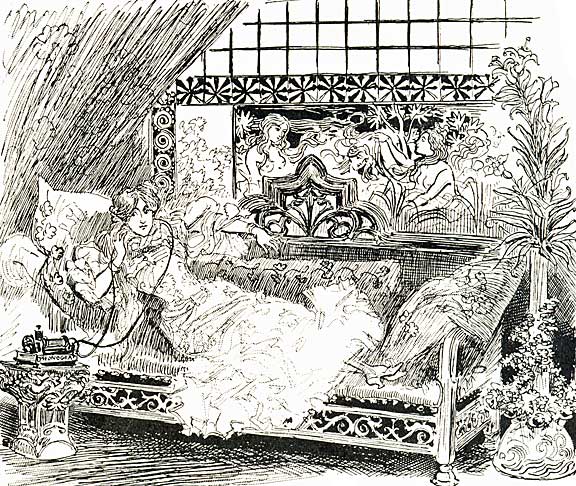 From Octave Uzanne and Albert Robida, Contes pour les bibliophiles (Paris: Ancienne Maison Quantin, 1895).
Full-length novels were not recorded until the 1930s. That's when talking books—that is, books recorded on a set of gramophone records—were made for people with visual disabilities in America and Britain. This group included war-blinded soldiers returning from the First World War and blind civilians who couldn't read braille. The American Foundation for the Blind and the Royal National Institute of Blind People managed to capture up to 25 minutes of speech using long-playing (LP) records that rotated at far slower speeds than the traditional 78 rpm record. The average novel could fit on 10 records.
The first talking books went out by post to readers in America in October 1934. They included The Bible, patriotic documents like the Declaration of Independence, and, of course, Shakespeare. There was fiction, too, including Rudyard Kipling's 'The Brushwood Boy', E. M. Delafield's The Diary of a Provincial Lady, and P. G. Wodehouse's Very Good, Jeeves. Britain's talking books went out a year later, beginning with Agatha Christie's The Murder of Roger Ackroyd and Joseph Conrad's Typhoon. These are fascinating choices since Christie's mystery uses a phonograph recording as a plot device and Conrad's storytellers, like Marlow, are not exactly easy to follow out loud.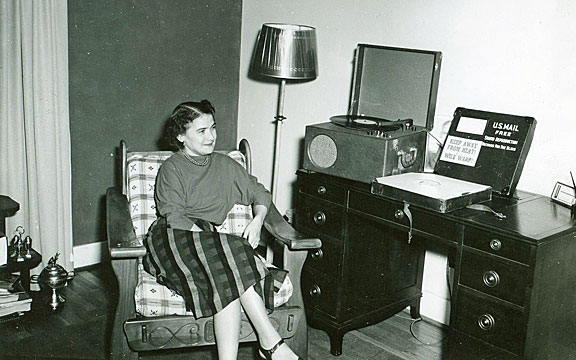 Woman listening to a talking book circa 1939.
The American Foundation for the Blind and Royal National Institute of Blind People continue to record talking books to this very day. Yet talking books differ from audiobooks in one key respect: they have never been sold to the public. Talking books have long been restricted to people with impaired vision in order to secure copyright exemptions from publishers.
Record companies began making spoken word recordings of literature for the public in the 1950s. Caedmon Records is one of the best known labels since it recorded many of the twentieth century's biggest names including W. H. Auden, T. S. Eliot, Ernest Hemingway, William Faulkner, Gertrude Stein and Eudora Welty. (For more on Caedmon please read my interview with Barbara Holdridge, co-founder of the label.) But other labels issued spoken word recordings of literature too. Argo, Folkways, and Spoken Arts are among the best known. One was even called The Audio Book Company! Reading through their catalogues made me realize just how much literature was recorded before anyone had ever heard of cassette tapes.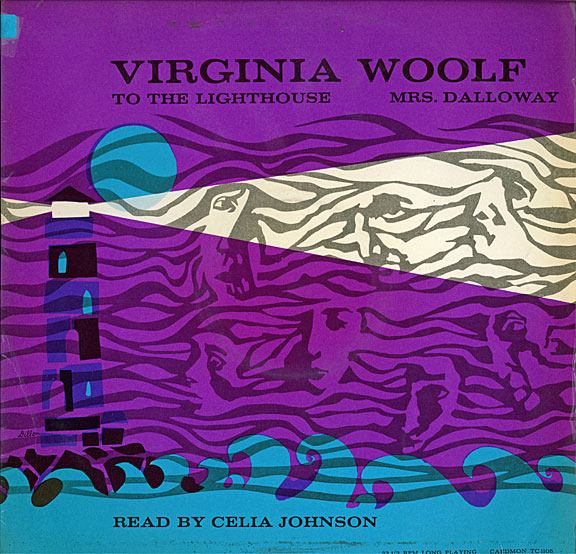 Virginia Woolf, To the Lighthouse and Mrs Dalloway (Caedmon TC1105, 1958)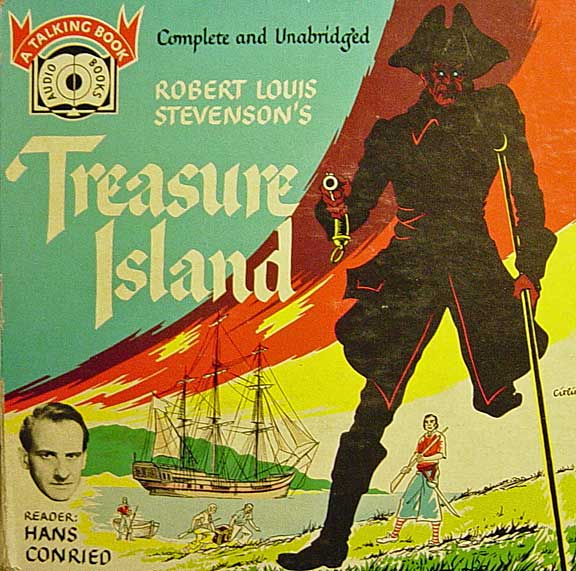 Robert Louis Stevenson, Treasure Island (Audio Books, 1958)
Which brings me to books on tape. Most people associate audiobooks with the use of cassette tapes in the 1970s. That's when mail-order vendors began selling or renting titles to the growing number of commuters who listened to them while driving. Duval Hecht decided to start Books on Tape Inc. while commuting to Los Angeles in 1973. His first recorded book was George Plimpton's Paper Lion. I'm still trying to locate a copy since libraries haven't preserved audiobooks to the same extent as other books. Companies such as Books on Tape Inc., Books in Motion, and Recorded Books laid the groundwork for today's audiobook industry.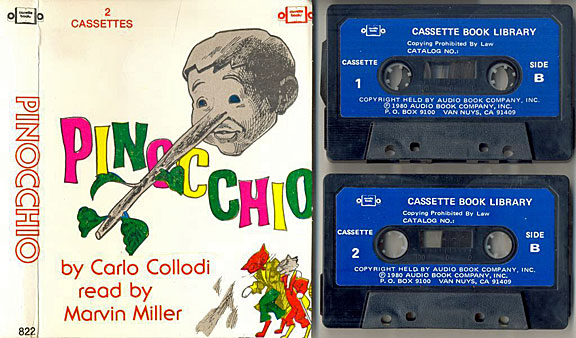 All this is to say that there's no short answer to the question: what was the first audiobook? My search continues.
Matthew Rubery is the editor of Audiobooks, Literature, and Sound Studies (Routledge, 2011). He is currently finishing a manuscript titled 'The Untold Story of the Talking Book'. You can read his interview with Toni Morrison about audiobooks on his Audiobook History web site.