21 October 2013
Rediscovered: the earliest recording of Ted Hughes?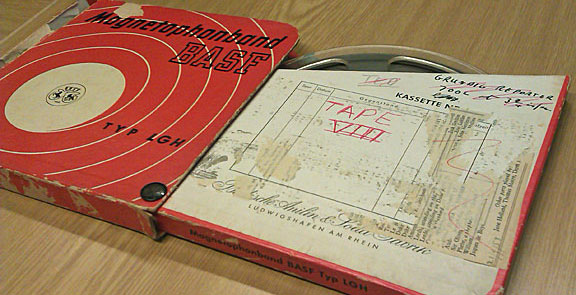 In April this year we were contacted by the poet Penelope Shuttle, whose late husband, the poet Peter Redgrove, was a friend of Ted Hughes. Penny asked if the Library would be interested in acquiring two open reel tapes which she thought were home recordings made by Peter Redgrove of himself and Hughes, possibly including Hughes reading from Sir Gawain and the Green Knight.
We advised Penny against playing the tapes and instead suggested we transfer them professionally at the Library in one of our Conservation Centre studios. We then invited Penny and her friend Neil Roberts, a writer and scholar who has published biographies and critical studies of both Redgrove and Hughes, to come in and listen.
Neil produced a three-page report for us on the contents, which transpired to be Ted Hughes and Peter Redgrove reading, and a recording of an informal meeting of the Group (Neil has identified the voices of Peter Redgrove, Philip Hobsbaum, Peter Porter and Edward Lucie-Smith).  
The first 23 minutes of tape one is a reading by Ted Hughes of some of his own poems plus works by W B Yeats and Gerard Manley Hopkins. Of his own works, Hughes reads 'The Martyrdom of Bishop Farrar', 'Six Young Men', 'Lust and Desire' and 'Egghead'. The second part of 'Lust and Desire' was published (as 'Incompatibilities') in The Hawk in the Rain, as were the other three poems, but the first part remains unpublished. Sir Gawain and the Green Knight, which history tells us was recorded in just the same domestic circumstances, was not on the tape.   
All the evidence suggests that this new British Library acquisition features the earliest Hughes recording known to have survived. Neil estimates it was made between September 1956 and February 1957.
There was a recording made 24 October 1956 by the BBC of Hughes reading a single poem ('The Martyrdom of Bishop Farrar', broadcast 14 April 1957 as part of The Poet's Voice) but this appears not to have survived. Peter Redgrove featured in the same edition of the programme, reading 'Game' (aka 'Without Eyes'). Could the home recording have been a rehearsal for the BBC recording session? It's certainly plausible.
One further detail: on the tape box, the word 'Ted' is crossed out. Is it fanciful to think therefore that this may also be the same tape that once held Hughes's recording of Sir Gawain and the Green Knight?
With thanks to Penelope Shuttle and Neil Roberts.
 Listen to Ted Hughes read W B Yeats, circa 1956
Two 2-CD sets of Hughes reading his poems and stories, drawn largely from BBC recordings, are available from the British Library online shop.