05 November 2013
Most of What Follows is a Complete Waste of Time
Guest post from Ian Greaves, researcher of theatre and broadcasting history
N F Simpson (1919-2011) was said to be many things. During his near-century on the planet, he served as playwright, teacher, satirist, bank clerk, philosopher, a one-man-band English wing of the Theatre of the Absurd, army intelligence officer, father, translator, sketch-writer and poet. Coming to fame relatively late in life, his early successes A Resounding Tinkle (1957) and One Way Pendulum (1959) placed him in the company of Angry Young Men. These, however, were not his natural bedfellows.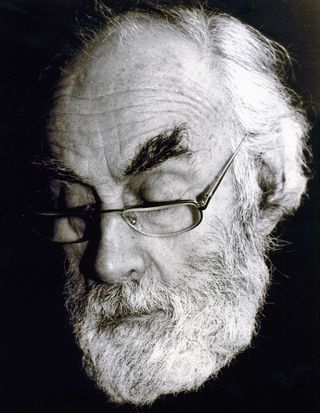 N F (Wally) Simpson, photographed by Mike Harris
As the writer David Benedictus once observed, Simpson had the misfortune to not be foreign like Ionesco or rude like Orton. His was a particularly restrained form of English humour, a precise extension of his personality. Simpson was certainly no self-publicist and, as a consequence, he became a marginalised figure: largely absent from the theatre after 1965, and with most of his subsequent work out of circulation. It falls, then, to a new collection of his work- Most of What Follows is a Complete Waste of Time (Oberon Books) - to fully restore this brilliant but neglected writer in the public consciousness.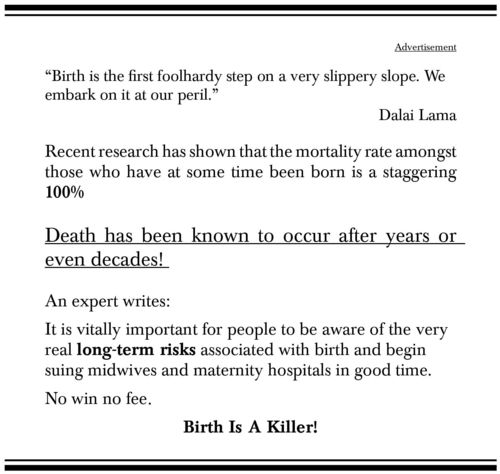 The new Oberon Books collection contains several extracts from Simpson's previously unpublished 2009 miscellany, Anatomy of Bewilderment. Draft material is held amongst the British Library papers.

Simpson had the pause before Harold Pinter, planted the seed of Monty Python's Flying Circus and inspired the comic philosophy of Tom Stoppard. His beguiling plays were full of memorable set-pieces, endless diversions, upturned clichés and dark philosophies. His worlds were essentially ordinary, but worlds in which everything was equal and interchangeable - the private and public, animals and humans, biscuits and books. Comedy emerged from a determination to hold onto reason with whitened knuckles. To quote his introduction to Some Tall Tinkles (1968), his characters followed "a simple faith in the axiom that for those to whom life is an exercise in survival, the secret is in knowing how to ride with the punch".
In the five years immediately prior to his death, N F Simpson - or Wally to his friends - underwent what many artists enjoy only after they've gone: a resurgence of interest. There was a season at the BFI, a new play at Jermyn Street Theatre, revivals of A Resounding Tinkle at both the Royal Court and Donmar Warehouse, a BBC Radio documentary about his life and work, and the purchase of his papers by the British Library.
The last of these was characteristic of a gradual effort to put his house in order. Working as researcher on the 2007 radio documentary, I soon found that Wally was keen to establish the whereabouts of all his work. This put me on a five-year road of discovery: archive upon archive, covering radio and television, stage and print. Part of this process resulted in the quite accidental discovery of Pinter's lost sketch 'Umbrellas' at the British Library. Even as a big Pinter fan, however, I was slightly more excited to finally locate a copy of Simpson's 'Take It Away!' in the same Nottingham Playhouse revue.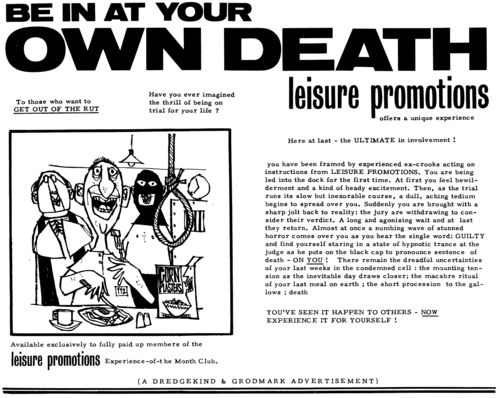 N F Simpson collaborated with cartoonist Willie Rushton on a series of cod advertisements for Private Eye magazine. This piece appeared in issue 32, cover date 8 March 1963. 
The British Library's invaluable Simpson papers - acquired in 2009 - gift us many treasures and insights. Oberon's new, authorised miscellany of Simpson's writings brings some of this material back from obscurity, including his first professional writing (for The Tribune in 1953) and a number of important, pre-fame pieces for Birkbeck College magazine The Lodestone. Thanks to this material, Most of What Follows… acts as the most complete map of his creative life, revealing its continuities and experimental diversity. Perhaps now we can all of us enjoy the many different facets of Simpson and, with one collective push, assert his true place in the canon of great English comic writers.
Ian Greaves is co-editor of Most of What Follows is a Complete Waste of Time: Monologues, Dialogues, Sketches and Other Writings by N.F. Simpson, published by Oberon Books on 5 November 2013.