21 November 2013
Professor Heger's Daughter
Chrissie Gittins is our guest blogger this week. Chrissie writes poetry, short fiction and radio plays and has just published her new poetry pamphlet, Professor Heger's Daughter, with Paekakariki Press. Here she writes about finding inspiration for one of these poems in a visit to the British Library's Manuscripts Reading Room.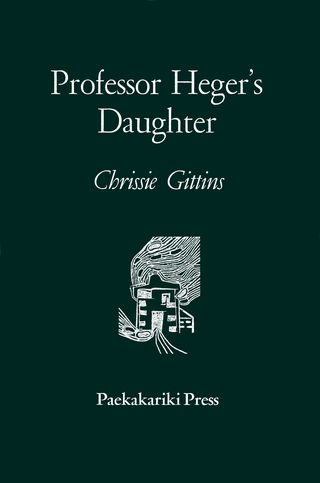 Credit: Paekakariki Press
I first read about Charlotte Brontë's letters to Constantin Heger in the Saturday Guardian early in 2012. They were mentioned in an article by Lucasta Miller about a recently discovered fable which Charlotte had written. After her aunt died Charlotte returned home to Haworth from Brussels, where she'd been studying, and wrote a series of passionate letters to her teacher. Professor Heger tore them up on receipt and threw them in the wastepaper basket; the only reason they survive is because his wife rescued them, stuck and stitched them together, and kept them safely in her jewellery box. The letters are now part of the extensive collection of Brontë literary manuscripts held at the British Library.
I cut out Miller's article and stored it alongside a mound of cards scrawled with ideas which I keep in a pink glass vase from Poland, bought at the market in Hay-on-Wye. The image of the letters surfaced periodically in my mind and, when I had a stretch of time in autumn last year, I re-read the article. After making enquiries about viewing the letters, I realised I would first need a letter of recommendation. At the end of October I made it to the Manuscripts Reading Room at the British Library, clutching a letter from Judith Palmer, the Director of the Poetry Society, which said, 'The material state of the manuscripts in question – and their folding/tearing/re-binding – is central to the research Ms Gittins is pursuing (rather than the text alone).'
At the counter I was given the four letters, encased in glass, two at a time. I made sketch maps of the tears and stitching in my notebook, and made notes about a 'river of a rip' and the 'mountain range gashes'.
I copied Charlotte's handwriting on her envelope to Monsieur Heger and studied her sepia handwriting leaning to the right on the thin creamy paper. To be so intimately in her presence was astonishing. What I didn't think I could do was assume the persona of Charlotte Brontë in order to write a poem, so I tried to find a different angle. One of the letters is partly written in English, the rest are written in French; so I made two return visits to study the letters, and others written by Charlotte, taking my lead from Margaret Smith's translations in her edited Letters of Charlotte Brontë Volume 1, 1829-1847 (Oxford University Press).
It was then that I decided to write a poem from the point of view of one of Heger's daughters – probably Louise, who became a successful landscape painter. After several drafts the poem, 'Professor Heger's Daughter', came together in January of this year while I was staying in a windswept Southwold. I incorporated quotes from the letters and used their arrival at the family home as the structure.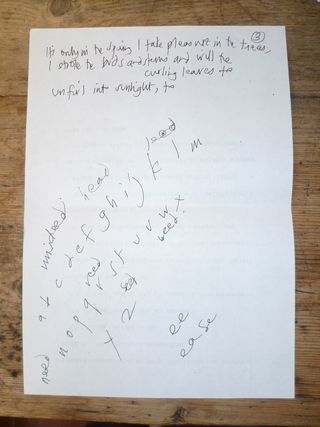 Searching for words - page from an early draft of my poem
I am pleased to say that 'Professor Heger's Daughter' is now the title poem of my new pamphlet collection which has just been published by Paekakariki Press. It's printed in traditional letterpress with original wood engravings and is available on their website: www.paekakarikipress.com
My thanks to the staff at the British Library for this fascinating excursion.