17 January 2014
Do you know the real Anne Brontë?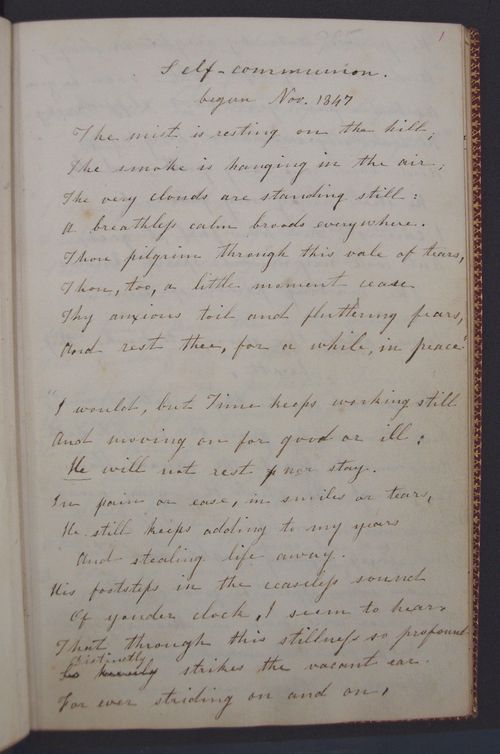 'Self-Communion' by Anne Brontë, November 1847-17 April 1848, Ashley MS 154
Anne Brontë was born on this day in 1820. Fated to be the lesser-known Brontë sister, her more famous siblings spoke of a gentle and reserved young woman — but is it really fair to see her purely through other people's eyes?
If we want to understand how Anne thought of herself, the long poem 'Self-Communion' (pictured above) is one of the most important surviving sources (read the poem here in full). The original manuscript in the British Library is one of the Ashley Manuscripts sold to the British Musuem on the death of collector (and notorious forger) T J Wise. 'Self-Communion' is one of the last poems Anne ever wrote, it was completed in April 1848 when she was 28 (a year before her death). The poem takes the form of a dialogue between competing internal voices in which Anne reflects on the passing of time, lost love and death.
Perhaps unsurprisingly, since her mother died when she was only two, Anne describes her childhood self as in need of protective love and easily upset by something as small as a sparrow's death. But as she grew up she describes how unhappy experiences toughened her up, 'I see that time, and toil, and truth/An inward hardness can impart'.  It has been suggested that one of the difficult experiences alluded to in the poem may be the death of Haworth curate William Weightman. The flirtatious and somewhat unreliable (according to Charlotte) Weightman had arrived in Haworth in 1839 where he lived for the next years until his death in 1842. A number of Anne's love poems point to him as the likely subject of her affection, though there is no evidence to show that he was aware of her feelings — as she says in the poem, 'Such speechless raptures I have known,/But only in my dreams'.
Another turning point in Anne's life that appears to be recounted in the poem is the cooling of her relationship with sister Emily in 1845. Formerly they had been like twins, collaborating over the creation of their fictional world of Gondal and writing diary papers addressed to each other, but by the end of 1845 something had changed. In 'Self-Communion' Anne tells of 'jarring discords' with a former friend, and the painful realisation that 'What my soul worshipped, sought and prized,/Were slighted, questioned, or despised'.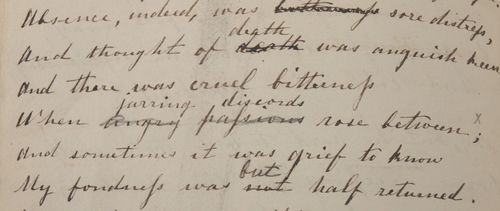 Revised passage from 'Self-Communion'. Anne tempers one of the lines thought to be about her relationship with Emily, 'My fondness was not half returned', became 'My fondness was but half returned'.
From this point in Anne's life she struck out on her own, no longer playing Emily's Gondal games but concentrating instead on her own poetry and the beginning of her first novel Agnes Grey. In these lines from 'Self-Communion' she seems to resign herself to the new situation with Emily,
And as my love the warmer glowed
The deeper would that anguish sink,
That this dark stream between us flowed,
Though both stood bending o'er its brink.
Until, at last, I learned to bear
A colder heart within my breast;
To share such thoughts as I could share
                                And calmly keep the rest.
I saw that they were sundered now,
The trees that at the root were one:
They yet might mingle leaf and bow,
But still the stems must stand alone
'Self-Communion' isn't just important as an autobiographical source, it is typical of her writing in its preoccupation with themes of identity, self-knowledge and devout dedication to Christian pilgrimage. More rational than her sisters' work, and less influenced by the Romantics, her poetry and prose deserve to be read for their own merits. In fact, even if you didn't think you knew any of Anne Brontë's poetry you may have been unwittingly familiar with it as a number of her poems have been used as hymns and are still sung today. The original manuscript of her best-known hymn 'The Narrow Way' is also in the British Library and is bound into the same volume as 'Self-Communion'.
If you'd like to honour Anne Brontë's birthday by reading more about her, here are a few recommendations to start you off: