24 January 2014
Hanif Kureishi on why he deposited his archive at the British Library
       On Wednesday we announced the acquisition of Hanif Kureishi's Archive at the British Library's Cultural Highlights preview for 2014.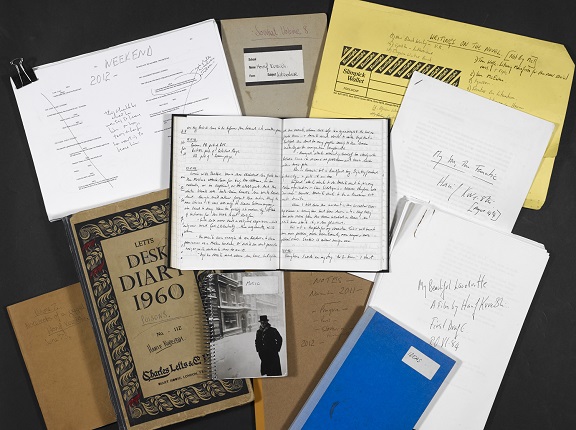 Hanif Kureishi Archive. © Hanif Kureishi
        Hanif kindly agreed to join us for the press launch. An early start meant an improvised breakfast in the staff canteen, but over eggs and hash browns he shared his thoughts with me on how he thinks his archive will be used in the future and why he was so keen for it to find a permanent home at the Library. Click on the link below to hear the interview:
Hanif Kureishi interview at the British Library 
        The archive includes drafts and working material relating to all of his major novels, as well as over 50 notebooks and diaries spanning four decades. The collection also includes electronic drafts of his work in the form of Word files, including some relating to his new novel, The Last Word, which will be published by Faber next month. The Last Word tells the story of the relationship between an eminent writer and his biographer. It raises some interesting questions about identity, posterity and the inter-dependence of the writer and those who attempt to write about him, both of them being re-made in the process.
        The first diary in the collection dates from 1970 when Kureishi was just 15 years old. As well as recording everyday events and reflecting on his writing projects, the diaries are deeply philosophical in places and highly introspective. They give some fascinating insights into the workings of a restless, questing mind which is always driven to know more; as he records of his friend and hero David Bowie, at one point, his is a mind that's "interested in everything".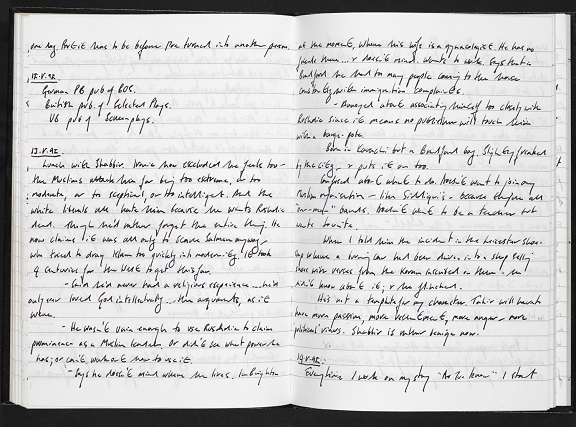 Entry from a diary of Hanif Kureishi's describing a meeting with Shabbir Akhtar, 13 May 1992. After the controversy following the publication of Salman Rushdie's The Satanic Verses in 1988, Akhtar acted as spokesperson for the Bradford Council of Mosques. © Hanif Kureishi
        Along with the drafts of Kureishi's best known writing, such as My Beautiful Laundrette and The Buddha of Suburbia, are those of some lesser known ones and some surprises. The archive holds, for example, a draft of his adaptation of Brecht's Mother Courage (written for the 1984 production at the Barbican with Judi Dench in the leading role) along with an adaptation written with his long-time collaborator, Roger Michell, of Oscar Wilde's The Picture of Dorian Gray, which was never realised.
        We'll be starting work to catalogue the collection in the next few weeks and expect to be able to make it available in the Library's Reading Room by the end of the year. Hanif Kureishi will be headlining the Library's Spring Festival at the end of March which this year focusses on the art of screenwriting. You can find more details on the Library's Events web pages at www.bl.uk/spring