The British Library is home to the collection of books assembled by Philip Larkin's bibliographer Barry Bloomfield.  The Library purchased the collection 10 years ago from Barry Bloomfield's widow who sold the collection in order to establish an annual bursary in Barry's name to be administered by the Bibliographical Society.  The bursary is a fitting memorial to Barry who was a long standing member of the society and also served as its President during the 1990s.
The Philip Larkin collection numbers over 200 printed items that can be identified in Explore the British Library catalogue by the shelfmark prefix Larkin.  It is a near comprehensive collection of Philip Larkin's output comprising, first and subsequent editions including dust-jackets, as well as translations, proof copies, contributions by Larkin to books and periodicals, and books about him.  It is a wonderfully rich resource for those interested in or researching Philip Larkin's life and work.  The collection also includes letters between Philip Larkin and Barry Bloomfield over the years of their friendship which are held in the Library's Modern Literary Manuscripts Collections.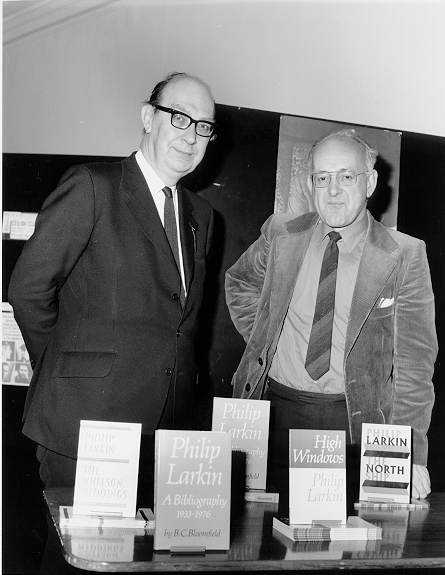 Philip Larkin and Barry Bloomfield.  With permission of Hull University Archive, Hull History Centre.
When Barry Bloomfield first approached Philip Larkin proposing a bibliography Larkin was a bit reticent to say the least.  According to his biographer, Andrew Motion, a bibliography signified the end of a writer's creative life 'proof of his redundancy rather than his eminence'.  However, Larkin was soon won over, partly by the quality of Bloomfield's earlier bibliographic work on W H Auden but also by his respect for Bloomfield as a fellow librarian.  Bloomfield and Larkin had served together on several national library committees and shared mutual interests in jazz, poetry, and detective fiction.
At the time of compiling the bibliography Bloomfield was Deputy, then later Librarian of the School of Oriental and African Studies.  However it is fitting that the collection should be part of the British Library as Bloomfield subsequently joined the British Library after successfully overseeing the incorporation of the India Office Library and Records from the Foreign and Commonwealth Office into the British Library.  Bloomfield retired from the Library in 1990 as Director of Collection Development.  The connections don't end there.  In the mid-nineteen eighties Philip Larkin served as a member of the British Library Board.
Once reassured Larkin gave the go ahead for Bloomfield to start researching the bibliography and allowed him almost free access to his personal archive.  Such was Bloomfield's tenacity in tracking down obscure references that Larkin likened him to a detective who had been told to 'get Lucan' and misheard.  He frequently referred to Barry as 'Inspector Bloomfield'.  The joke gained currency in Larkin's letters to several of his correspondents.  In a talk published as Brought to Book: Philip Larkin and his bibliographer (British Library shelfmark YC.2000.a.1476) Bloomfield recalls Larkin's delight in discovering that during his National Service, Bloomfield had served with the Special Branch of the Federation of Malaya Police Force.  Several books in the collections have inscriptions from Larkin to Bloomfield which play on the Inspector Bloomfield running joke.  An edition of The Less Deceived by the Marvell Press (shelfmark Larkin 162) bears the inscription 'To Inspector Bloomfield – The start of a fresh investigation! Love Philip'.  Several of the books in the collection have inscriptions to Bloomfield, including his favourite a quotation from Edgar Allen Poe, 'Take thy beak from out of my heart, and all that' in a copy of High Windows (shelfmark Larkin 7).
Philip Larkin: A bibliography 1933-1976 (shelfmark Larkin 13) was first published by Faber and Faber in 1979 with a forward by Larkin in which he reveals how flattered and impressed he was by the book.  In a letter to Bloomfield dated 31 May 1977 Larkin says 'I couldn't ask for a better bibliographer' he was astonished at how much material Bloomfield had managed to track down.  A revised and enlarged edition of the bibliography covering the years 1933 to 1994 was published by the British Library in 2002 (shelfmark 2725.g.3305).  Sadly Barry Bloomfield died in February of that year shortly before the revised edition appeared.
Over the years several people had suggested to Larkin that he should publish his reviews and essays as a collection.  The publication of the bibliography made the task of gathering these miscellaneous articles and reviews together in book form much easier.  In the foreword to the revised edition of the bibliography Bloomfield recalls a conversation he had with Larkin at a party to launch High Windows in which he encouraged Larkin to reprint the articles he had traced for the bibliography and could see that he was intrigued.  The result was Required Writing: Miscellaneous Pieces 1955-1982 (shelfmark Larkin 15) published in 1983 to much critical acclaim.  It won the annual W H Smith Literary Award and led to a renewed interest and reappraisal of Philip Larkin's work.