18 March 2014
Wilfred Owen: 'The Poetry is in the pity'
  By Jamie Andrews, Head of English and Drama
On 18 March 1893—121 years ago today—Wilfred Owen was born at Plas Wilmot, near Oswestry in Shropshire. He died, of course, on 4 November 1918, just one week before the Armistice; his mother apparently receiving news of her son's death as the bells were tolling to announce the end of four years of world war.
For all that Owen became the voice of that War, his work was little known during the conflict. He had just four complete poems published in his lifetime, but left behind a substantial collection of manuscript notes and drafts. Many of these draft poems (certainly the ones for which he is remembered) were written  in a short period between August 1917—when Owen was being treated for shell-shock in Craiglockhart Hospital in Edinburgh— and his return to the front line in France in early summer 1918.
Many of these drafts are now in the British Library, each bearing the marks of its original composition: lines written on the back of advertisements for Edinburgh shows, or poems with deletions in the hand of Owen's mentor at Craiglockhart, the (at that time) far more famous poet Siegfried Sassoon. All of the Library's Owen manuscripts have been digitised as part of the major cross-European 'Europeana 1914-1918' project, and highlights feature on the British Library's curated site; some of the manuscripts bearing both Owen and Sassoon's hand will also be on display as part of the British Library's World War One exhibition in the summer.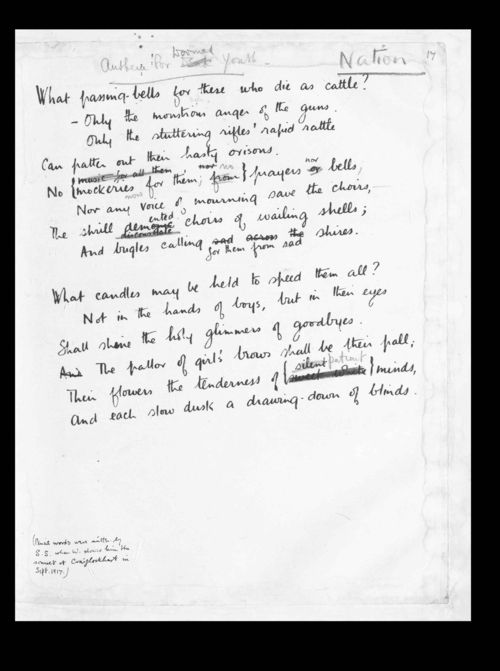 Owen's sonnet 'Anthem for Doomed Youth', with pencil alterations by Siegfried Sassoon made at Craiglockhart Hospital in September 1917. Add MS 43720 f.17.
In the preface to the collection that Owen was sketching out before his death, he wrote the following words:
    This book is not about heroes. English poetry is not yet fit to speak of them.
    Nor is it about deeds, or lands, nor anything about glory, honour, might, majesty, dominion, or     power, except War.
    Above all I am not concerned with Poetry.
    My subject is War, and the pity of War.
    The Poetry is in the pity.
The words echo down the century; and continue to inspire contemporary writers today. It was appropriate at the launch of our 'Europeana 1914-1918' major World War One digital project, poet Andrew Motion read two poems by Wilfred Owen, alongside his own collection, The Customs House, his most recent collection that opens with a sequence of war poems drawing on soldiers' testimonies from the past 100 years. Andrew found a softness alongside 'the monstrous anger' of Owen's work, as can be seen from the video below.
Andrew Motion at the British Library for Europeana Collections 1914-1918 from Europeana Collections on Vimeo