11 April 2014
'Don't rip up old stories': repeating oneself in Beckett's Echo's Bones
By Matthew Riddell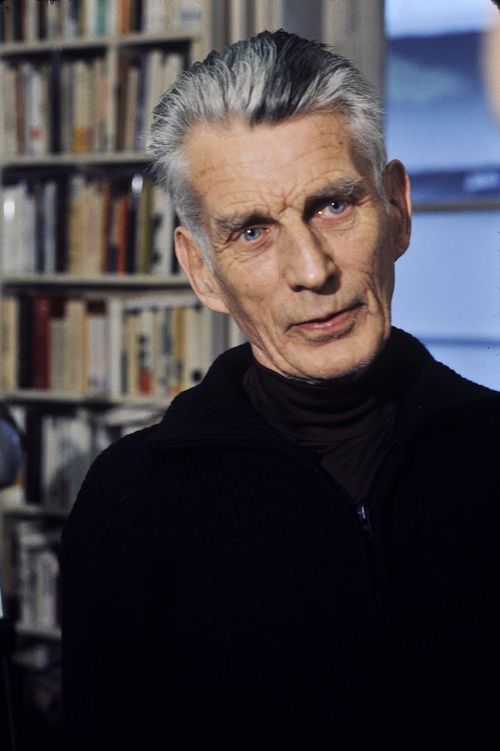 Samuel Beckett in 1977, by Roger Pic
Visitors to the Library's Rare Books and Music Reading Room can consult the first edition of Samuel Beckett's More Pricks Than Kicks, an unprepossessing dun-covered hardback stamped by the British Museum soon after publication in May 1934. (Check out the Beckett Collection at Reading for the richest hoard of Beckettiana). But this first and all subsequent editions of MPTK were a story short.
Eighty years since Chatto & Windus published MPTK, Beckett's first collection of fiction, Faber & Faber have published Echo's Bones (the title comes from Ovid's Metamorphosis), a final 'recessional' to the Dublin vagaries of its protagonist, Belacqua, whose name alludes to the lazy Florentine lute-maker appearing in Dante's Divine Comedy.
In 1931, Chatto had printed Beckett's monograph Proust, an astonishing hybrid of art and criticism dismissed as 'cheap flashy philosophical jargon' by its own author who, in a copy that surfaced in a second-hand bookshop in Dublin, appears to have annotated it thus in a curious caveat emptor to his reading public. But the publisher rejected in 1932 the highly experimental novel A Dream of Fair To Middling Women (posthumously published in 1992).
Comparison of correspondence between Beckett and Chatto's editor Charles Prentice, with that to friend Thomas MacGreevy reporting the latest reply from 'Shatton & Windup', testifies to Beckett's frustrations in publishing his early work. So when Prentice proposed an additional story to extend MPTK, Beckett was quick to oblige; presumably with misgivings, for Belacqua had died under a Royal Surgeon's scalpel in the story 'Yellow' and had now to be resurrected. A reply from Prentice is dated three days after receiving Beckett's manuscript:
It is a nightmare. Just too horribly persuasive. It gives me the jim-jams … People will shudder and be puzzled and confused… I am certain that Echo's Bones would depress the sales very considerably ... the only plea for mercy I can make is that the icy touch of those revenant fingers was too much for me ... Please write kindly.
'Profoundly discouraged', the 26 year-old Beckett lamented the rejection of a story 'into which I put all I knew.' Snippets were rapidly salvaged for use elsewhere in MPTK and he later bestowed the title on a collection of poems, Echo's Bones: And other precipitates (1935).
But here it is at last in all its strangeness, brilliance, difficulty. A queasy précis: Belacqua finds himself smoking a cheroot in a fairy-tale Purgatory and sitting (significantly) on a fence penning Galloway cattle. He who spent his earthly existence 'between a bottle and a mirror' no longer casts a shadow or appears in a glass. A prostitute offers him compassion and Cuban rum with fried garlic. The male-heirless, aspermatic giant Lord Gall begs Belacqua to save his estate by assisting in Lady Gall's conception which, notwithstanding her syphilis, Belacqua does. But it's a girl. There is also debate about how much God there is in an elephant vis-a-vis an oyster, a rogue ostrich named Strauss, and asphodels. The story closes rompingly in a seaside cemetery, the groundsman and Belacqua exhuming his own grave with a wager on its contents.
Note nerds and puzzled readers (fair cop, Prentice) are helped along the way by editor Mark Nixon's caravan of annotations, which, hitched to the well-travelled bathchair of John Pilling (do Beckett scholars ever retire?), exceeds the text itself in length, allowing us to trail Beckett camouflaging the foraged chestnuts of his favourite authors in Belacqua's jungle. This is the prevailing intertextual method to Beckett's pre-war fiction culminating in the tighter, high-wire act of Murphy (1938)
Particularly fascinating for the fanatics will be the autoplagiaristic patterns disclosed fore and aft in the oeuvre by Echo's Bones. A few: the mandrake believed to sprout from the emissions of the hanged in Waiting for Godot (1953), the dog of Proverbs chained to its vomit symbolising Habit in Proust, and the mysterious Mr Quin of Mercier and Camier (1946), Malone Dies (1951) and Watt (1953)… a nod, perhaps, to the man in the mackintosh in Joyce's Ulysses.
Samuel Beckett, Echo's Bones (London, Faber & Faber, 2014)
The Letters of Samuel Beckett: Volume 1, 1929-1940: v.1 (Cambridge University Press, 2009)
Deidre Bair, Samuel Beckett: A Biography (London, Jonathan Cape, 1978), 109.
For Beckettiana in the BL collections see: