17 April 2014
Laurie Lee's lost diary discovered
by Zoë Wilcox, Curator of Modern Literary and Theatrical Manuscripts
If you visit the British Library's Treasures Gallery from today you can see a special display about Laurie Lee's involvement in the Spanish Civil War. It is the poet's centenary this year, so we have dedicated three cases in the gallery to an exhibition largely drawn from his archive, which was acquired by the Library in 2002. You have the chance to see a page from a draft of his most famous book, Cider With Rosie, but the main focus of the exhibition is Lee's experiences in Spain in the 1930s. Years later he wrote about his part in the Spanish Civil War in As I Walked Out One Midsummer Morning (1969) and A Moment of War (1991), but a controversy blew up in the press over the accuracy of his story. Why had the account taken him so long to write? Was he nearly executed? Did he really kill a man? If only Laurie Lee's diaries from the period hadn't been stolen when he returned to Spain to make a documentary in 1969, we might be able to answer these questions.
When the Spanish Civil War broke out in 1936 Laurie Lee was busking around Spain with his violin. He was evacuated by the British Navy soon after the outbreak of war, but he wasn't home long before a feeling of guilt set in. 'I feel sick at all that has happened [in Spain] and the vast reproach of my having lifted not a finger to help,' he wrote in his diary in September 1937. Despite being physically weak and epileptic, Lee returned to Spain in December that year to join the International Brigades fighting Franco's Nationalist forces.  He was there for just 11 weeks before leaving Spain feeling he had 'done nothing' to help the Republican cause. This feeling of dishonour was to remain with him for the rest of his life, despite the fact that International Brigade records show his conduct to have been 'exemplary'.
Questions about the veracity of Laurie Lee's account only came to public attention after his death in 1997. Some British veterans from the International Brigades thought he had exaggerated his part in the conflict. They didn't believe that he would have seen frontline action (though he doesn't actually claim that he did) or been assigned to 'special duties' tracking down political undesirables. In his critique of A Moment of War, Bill Alexander—a commander of the British Battalion in Spain—even claimed that Lee had never joined the International Brigades. This claim was disproved by Dr Barry McLoughlin and Lee's biographer Valerie Grove in the late 1990s, and you can see an official document  proving that he was a member of the Brigades in this display. Some other aspects of the story are impossible to verify and you will have to make up your own mind.
If only we had those diaries…. Well actually, it turns out that we do have one of Lee's diaries from 1936-1937. Somehow this one escaped being stolen in 1969 and has been here in the British Library since 2002, albeit misdated in the catalogue due to a mistake on the inventory supplied at the time of acquisition. It turns out that even Laurie Lee's biographer wasn't aware of the diary's existence until now.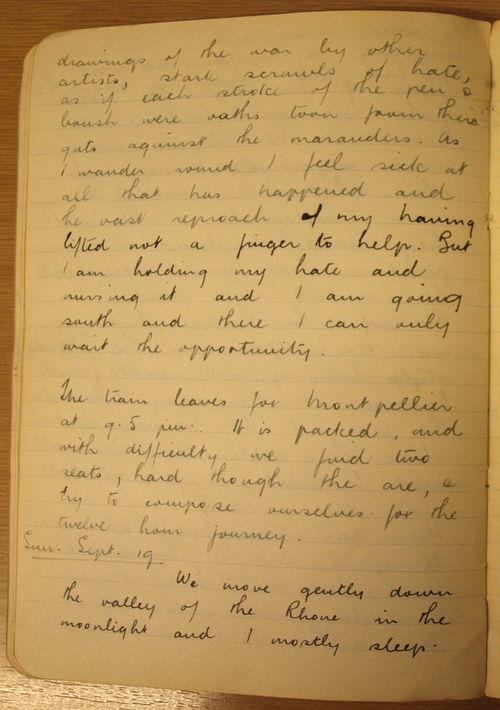 A page from Laurie Lee's recently discovered 1936-37 diary (Add MS 88936/5/66). In the entry at the top of the page from September 1937 Lee describes his reaction to seeing Picasso's painting 'Guernica' (created in response to the bombing of Guernica) in the 1937 World's Fair in Paris. Three months later Lee returned to Spain to fight for the Republican forces in the Spanish Civil War. © Laurie Lee Estate
The 1936-37 diary comes to an end the month before Lee crossed the Pyrenees to join the International Brigades, so unfortunately it can't answer any of those big unsolved questions, but it does cover the three months leading up to the outbreak of war in 1936. During those three months Laurie Lee describes the growing unrest in the Andalusian fishing village where he was living. He recounts the accidental bombing of the village by a friendly warship (which he later wrote about in As I Walked Out) and observes a tax collector being driven out of town by angry villagers. There are more details about his hand-to-mouth existence on the road, but most moving of all are the entries from the autumn of 1937. Laurie Lee had fallen in love with Lorna Wishart, wife of the publisher Ernest Wishart (and later muse to Lucian Freud), and the diary entries from the days he spent with her in France before returning to war make for difficult reading – his happiness with Lorna serving to deepen his guilt at leaving Spain.  You will see one of these entries on display in the exhibition.
Other highlights are autograph draft pages from As I Walked Out and A Moment of War. The manuscripts show Lee crafting his narrative with a poet's care and attention – seemingly redrafting passages over and over till he was satisfied with the rhythm of his sentences, as well as the words. The drafts are displayed alongside mementoes such as the violin permit from Lee's first trip to Spain and the meal tickets issued to him as a new recruit to the International Brigades. There are letters from Wilma Gregory – who is not mentioned by name in Lee's books but supported him financially in 1936-37 and led a campaign to have him sent back from the war. We've also drawn on our Philatelic collections to put Lee's story in context with the experiences of other British volunteers. Laurie Lee: Memories of War will be on display in the British Library Treasures Gallery (which is free to everyone) until 20 July 2014, so you have plenty of time to come and see the lost diary and the other items on display.
This display isn't our only tribute to Laurie Lee. We're also hosting a celebration of Laurie Lee's life and legacy on 6 June with Louis de Bernières, Tim Dee, Adam Horovitz, P.J. Kavanagh and Brian Patten. Before that, on 30 May, writer P D Murphy will talk about Laurie Lee's Spanish travels in the conference Spain Through British Eyes. Tickets for both these events are available now from the British Library Box Office. Then in June we are publishing an audio CD of Laurie Lee recordings – a selection of readings and interviews drawn from the British Library and BBC collections. For more information on Laurie Lee events elsewhere, and publications have a look at the official centenary website.