22 May 2014
Something to smile about: Charles Dickens on Discovering Literature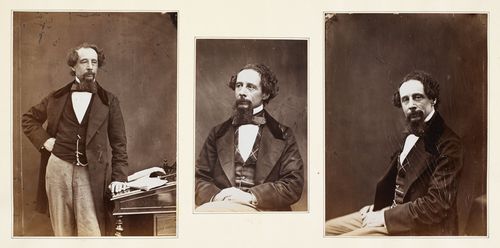 Portrait photographs of Charles Dickens, 1861
You may already know that the majority of the British Library's most treasured holdings are stored below ground in our deep basements, only to be looked at when they are beckoned above by curious readers. The Library's new online learning resource Discovering Literature liberates some of our most precious holdings from the depths; allowing them to be seen in high definition, at anytime, anywhere, [and most importantly] whilst drinking a cup of tea!
Discovering Literature and Charles Dickens were made for each other. Dickens was a huge character and a prolific writer. It can be a dizzying experience to try and wade through all that has been written by or about him. Discovering Literature allows us to learn more about Dickens the individual while at the same time intricately weaving him into the 19th century world he inhabited.
The site features the manuscripts of some of his works, articles about him by leading Dickens scholars and also topical pieces about some of the issues that interested him, such as crime, poverty and the supernatural. All these scholarly additions are supported by high quality images of collection items, allowing access to primary source materials that bring Dickens to life. The site also features plenty of ephemeral items that help to contextualise and make real the issues that permeated his works, such as the newspaper advertisements for Warren's Blacking Factory.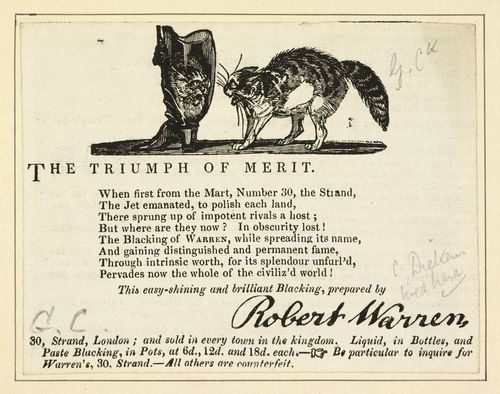 Advertisement for Warren's Blacking Warehouse
They are interesting to look at of themselves, but once you realise that they are advertising the boot polish manufacturers where Dickens worked as a 12 year old boy they become so much more pertinent – you begin to realise where the author's concern for child labour and the plight of the poor comes from.  The same goes for the Diet Table from a workhouse report, laying out the daily rations to be administered to the inmates: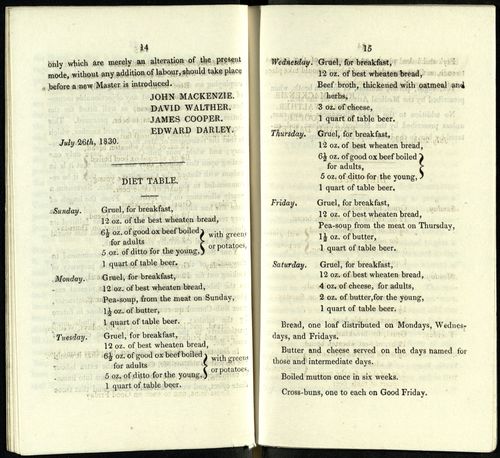 Reports of the Sub-Committee appointed by the Committee of Management, of the Parish of St. Paul, Covent Garden, for the revision of their workhouse, etc. (1831)
Closer inspection reveals that the daily diet consisted of meagre rations with gruel for breakfast and very little in the way of nutrition. This report, and others like it from the time, emphasise that there were to be no second helpings in any circumstances.  The punishing regime of the workhouse in Oliver Twist is revealed as the norm and not a literary exaggeration. 
The beauty of being able to view these otherwise rather plain and innocuous seeming objects alongside literary works, manuscripts and personal correspondence enables us to unlock the secrets they contain and reveals them to be so much more than they first appear.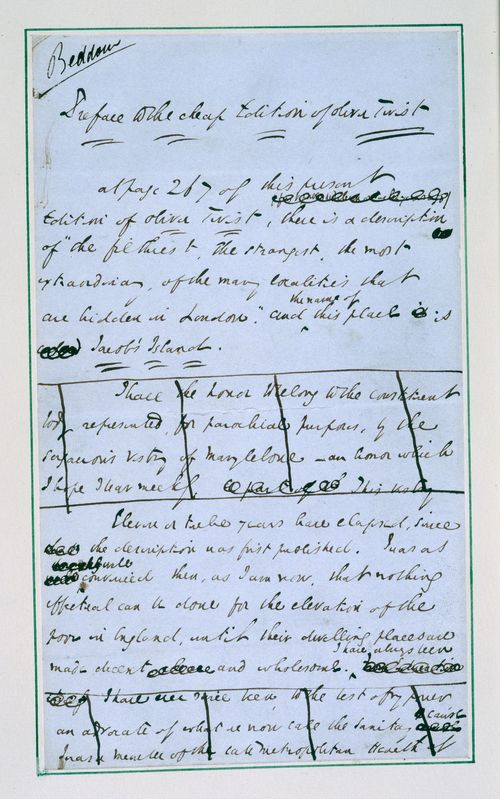 Preface to the Present Edition of Oliver Twist (1850)
As the preface to the cheap edition of Oliver Twist exposes it is so easy to make the mistake that the places and issues that Dickens writes about are largely made-up (Dickens is responding to a magistrate who has claimed that Jacobs Island is a fictional location – they were real slums in Rotherhithe). Items such as these are a stark reminder that these kind of things really happened to people.
These documents serve to show just how much Dickens was influenced by the world around him. They also confirm that many of our perceptions of 19th century Britain have been greatly influenced by what he wrote, making it even more important to separate truth from fiction.
Finally, I wanted to highlight the photographs taken of Dickens in 1861 [shown above]. A couple of them show the author with a slight smirk on his face (a rare thing for a Victorian photograph in general). They remind us that Dickens was a real person too, and not just some mythical author from the 19th century…