19 June 2014
Discover more about Jane Austen at the British Library
Jane Austen's novels about life in Georgian England are now some of the most famous in the English language. The British Library holds two volumes of juvenilia created by Austen, a partial draft of Persuasion and a number of letters sent by the writer to her siblings. All of this material has been digitised as part of Discovering Literature along with contextual material such as published reviews of her work and a number of objects held at the Jane Austen House Museum.
The range of material on the website provides a real insight into both Austen's life and her work. Austen was the seventh of eight children of Reverend George Austen and his wife, Cassandra Leigh. From an early age Austen wrote stories to amuse her family and friends. One example of this is her parody 'The History of England', a comic account of England from Henry IV to Charles I as told by 'a partial, prejudiced, & ignorant historian'. Written when she was only 16 and including illustrations by her sister, Cassandra, it was a parody of published histories and in particular of the four volume The History of England from the Earliest Times to the Death of George II (1771) by Oliver Goldsmith. Cassandra's sketches show the monarchs of England looking rather more like the common men and women than they would have wished with Henry VII looking particularly haggard!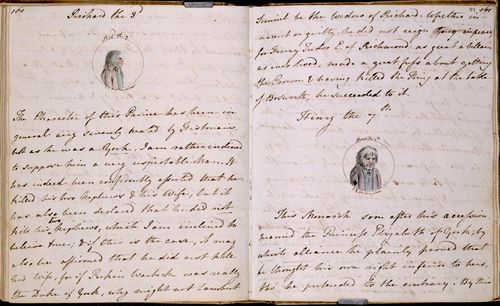 It is in the juvenilia that we first find the energetic, spirited heroines who can be seen as precursors for later characters created by Austen such as Emma Woodhouse, Elizabeth Bennett and Marianne Dashwood.
The letters shed light on Austen's life and her relationships with her numerous siblings including Cassandra and her beloved brother, Frank, who she described as 'considerate & kind'. In addition to family news Austen often wrote about her work including Sense and Sensibility of which she said that 'I am never too busy to think of S[ense]&S[ensibility]. I can no more forget it, than a mother can forget her sucking child; & I am much obliged to you for your enquiries'. Interestingly Austen also made a note of other people's comments on her work including her mother and sister. Cassandra liked Emma 'better than P[ride]&P[rejudice] – but not so well as M[ansfield].P[ark]'.
Such comments and contextual information about Austen provides an insight into contemporary views of her work and is particularly striking as the original manuscripts for many of her most famous novels do not survive. Happily the Library does have a draft of chapters 10 and 11 of Persuasion. The closely written, heavily annotated manuscript illustrates Austen's creative process and hopefully its inclusion on Discovering Literature will enable more people to see Austen's writing for themselves.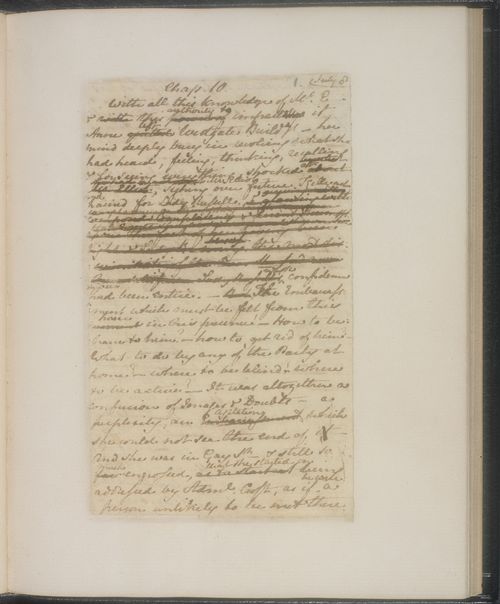 In addition to Jane Austen related content on Discovering Literature anyone with a particular interest in Austen should also look at the website, Jane Austen's Fiction Manuscripts, created by Professor Kathryn Sutherland, which includes digitised copies of all surviving Austen manuscripts and interesting articles for researchers.