26 June 2014
'The most beautiful lyrical prose of the 20th century': Happy birthday Laurie Lee
Laurie Lee was born one hundred years ago today in a house on the road that leads out of Stroud and climbs up through Slad, the Cotswold valley which he later immortalised in Cider With Rosie (1959). Gloucestershire is celebrating the centenary in style in a summer-long programme of events, but Laurie Lee's popularity and significance goes far beyond the Cotswolds. Here at the Library, home to Laurie Lee's archive, we held an early birthday celebration of sorts with an evening of readings and reflections from P J Kavanagh, Tim Dee, Brian Patten, Adam Horovitz and Louis de Bernières.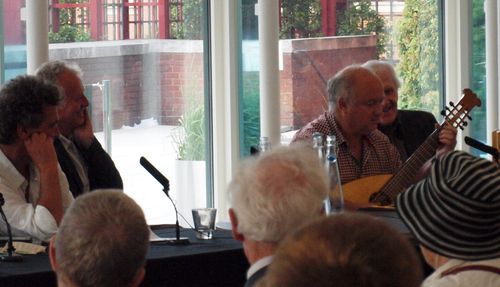 Brian Patten, Tim Dee and P J Kavanagh look on as Louis de Bernières plays the Spanish guitar
The centenary of Lee's birth seems like an appropriate time to reconsider Lee's literary legacy, not least because Lee seems to have felt that his work wasn't fully appreciated by the literary establishment, hugely popular though it has always been.  After his overnight success with Cider With Rosie in 1959 Lee seemed to feel that his work was looked down upon in some quarters: 'poor old Laurie, such a good poet, what a pity he's now writing best-selling prose.' Lee's perception of his critical reputation was one of the points discussed by fellow poet and friend, P J Kavanagh:
Listen to P J Kavanagh remembering Laurie Lee
If Lee felt that he was regarded as a lightweight, it was perhaps a result of some of his early reviews. In response to criticism from the poet Roy Fuller who challenged Lee to leave aside nature writing, write about contemporary themes and use a greater range of verse forms, Lee responded: 'You dare me to be more complicated, but I dare to achieve simplicity'. Luckily for us Lee was true to his word: he pursued his quest for the illusion of simplicity in prose and verse; his work continued to be infused with a sense of the past; and he proved himself to be one of the finest nature writers in the English language. This last point was the topic of naturalist Tim Dee's talk:
Listen to Tim Dee on Laurie Lee's nature writing
Following a wonderfully humorous rendition of U A Fanthorpe's poem 'Dear Mr Lee' by U A Fanthorpe, Louis de Bernières spoke about Lee's last book and his own personal favourite, A Moment of War.
Listen to Louis de Bernières on A Moment of War
The full recording of Laurie Lee: A Celebration of his Life and Legacy will be available to listen to onsite at the Library shortly, but here are a few more clips of our guests reading from Lee's work:
Listen to Brian Patten reading an extract from 'First Bite at the Apple', from Cider with Rosie
Listen to Tim Dee reading an extract from Cider with Rosie about the Slad Valley
Listen to Adam Horovitz reading an extract from 'The Kitchen', from Cider with Rosie
Listen to Adam Horovitz reading 'Edge of Day' by Laurie Lee
Listen to P J Kavanagh reading 'Home from Abroad' by Laurie Lee
If these clips have whetted your appetite to hear from Laurie Lee himself, you'll find a selection of recordings available on our recently released Laurie Lee CD, the latest in our spoken word series. And if you'd like to see material from his archive, a free exhibition on Lee and the Spanish Civil War is on display in the Treasures Gallery until 20 July.