08 September 2014
The International Workshop Festival Collection (1988 - 2001)
A guest post by Dr Dick McCaw, Senior Lecturer in Drama and Theatre.
Department of Drama and Theatre, Royal Holloway, University of London.
Let me introduce you to the materials in the archive of an organization with which I had the pleasure of working between 1989 and 2001. It was called the International Workshop Festival and the name describes pretty much what it was – a festival consisting of talks, workshops and demonstrations given by internationally recognised figures in the performing arts. These workshops were designed to offer professionals opportunities to find out about new developments in the performing arts, to reconnect with their training method, or to explore new approaches to training or composition. Some of the workshop leaders were professional teachers; others were eminent directors, actors, dancers and puppeteers, who would share their insights or questions about their respective art forms.
The archive has recently been donated to the British Library. The collection should give you an idea of what used to happen in each year (in the first few years it took place in April but after 1990 it was concentrated on the month of September).
So what does it consist of?
Videos of workshops
Videos of talks
Audio recordings of talks
Photographs from 1995 to 2001
Programmes and publicity for each festival
Articles, reports and other materials (including two T-shirts)
I joined the festival in 1989, one year into its existence, though I was already very aware of it since I knew the founder and Artistic Director, Nigel Jamieson, and a close friend had taken part in one of the workshops in April 1988.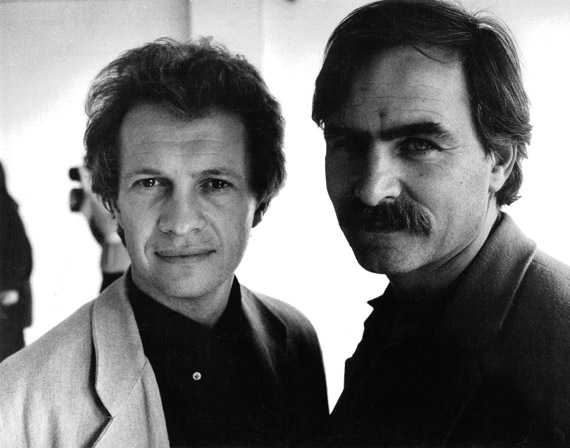 Dick McCaw and Nigel Jamieson, 1994. Photograph © Simon Richardson
Nigel left to live in Australia in 1992 and since I had been managing the festival for three years, I was invited to become its second Artistic Director. One of my first decisions was to document some of the workshops, and in 1993 I met Peter Hulton of the Arts Documentation Unit with whom I was to work from then until the time of writing (September 2014).
The festival would begin with two weeks in London, after which we would undertake projects in a number of cities in England, Scotland and Northern Ireland. We worked in Belfast, Bristol, Coventry, Derry/Londonderry, Edinburgh, Glasgow, Leeds and Nottingham. The London leg would typically consist of 10 week-long workshops and the same number of weekend workshops. We therefore needed a venue with plenty of studios and up until 1999 this was provided by the London Studio Centre. The 2000 festival was in the Jerwood Space and 2001 was at the Battersea Arts Centre. With five simultaneous workshops there is no way that all of them could be documented. Occasionally we would have a second person behind the camera but we probably only recorded about 15% of the workshops in any one festival. Peter did not record all the talks, and we would only sometimes remember to bring in a tape-recorder. So this archive offers a selective snapshot of some of our past activities.
In 1997 we received funding from the Arts Council of England to buy digital cameras and authoring equipment for what were then called CD-ROMs. The multimedia format of the CD-ROM offered Peter and me the opportunity to create a different kind of documentation. In addition to the video footage we could include photos and written commentaries. Our first DVD-ROM appeared in 2001 and the seventh and last was produced in 2006. All of our CD/DVD-ROM documentations are in the British Library archive.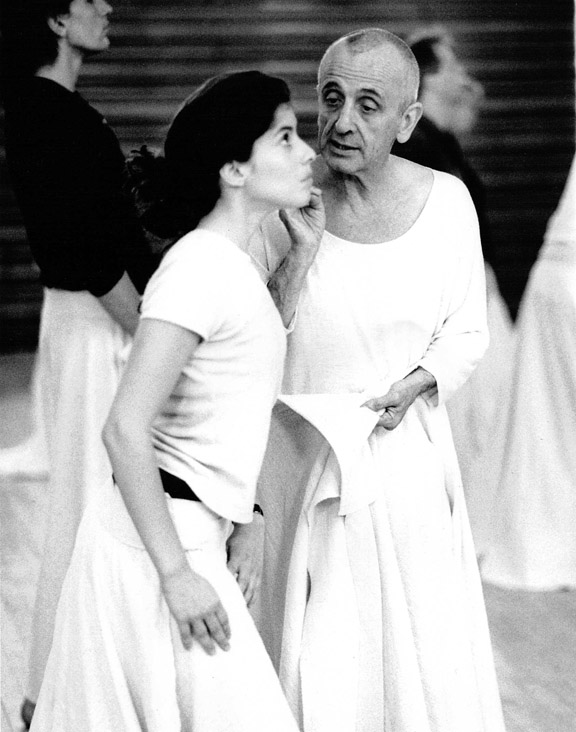 Dominique Dupuy, Greenwich Dance Agency, 1996. Photograph © Simon Richardson
IWF was not unique as an organiser of training opportunities: in Wales there was the Centre for Performance Research in Aberystwyth (formerly Cardiff Arts Lab), and based in Manchester there was the Physical State International. But we were the only festival and I found it important to foster its existence as a unique gathering for professionals at all stages in their careers. IWF was more than just an in-service training provider; it was also a social event. But now there is no organization dedicated to continuing professional development or training. Already IWF and these other organisations are a historical phenomenon.
The festival day was packed: before the workshops there were warm-ups, first with the singer Helen Chadwick, and after them there were wind-downs, most often taking the form of a Feldenkrais lesson with Scott Clark. After a pause for a beer we would then have an evening programme of talks. It was a 12-hour day, from 9.30 in the morning to 9.30 in the evening.
'Archive' is a grand-sounding word but often it consists of all the materials that have survived, quite often to be found under the bed or stuffed in a cupboard. This archive is no different. After I left IWF I lost contact with the festival management, and six years later it was no more. I have no idea of the whereabouts of the photographs taken by Simon Annand between 1988 and 1994, nor of any written documentations. Luckily, Peter Hulton had kept copies of video recordings between 1994 and 2001. I had some recordings of the talks, but this represents probably about 10% of the total programme. None of the projects after 2001 was recorded.
The photographs in this archive all date from 1995 when we were joined by the photographer Simon Richardson who would travel with us to every project. They are 'seconds' that he had kept in his studio. The prints might not be to the quality that Simon would display in an exhibition but they are the only surviving record that exists'.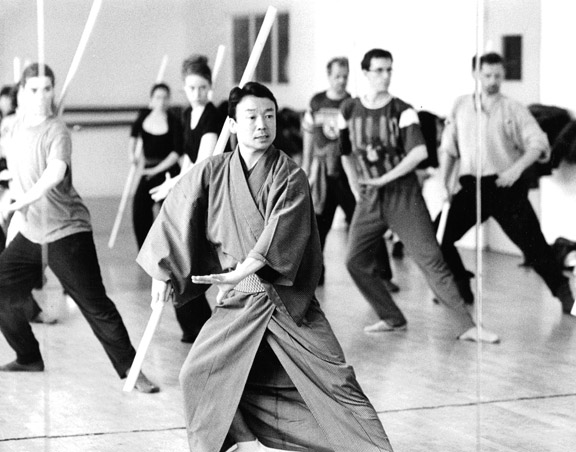 Gojo Nasanosuke, London Studio Centre, 1998. Photograph © Simon Richardson
Just before I took all the printed material to the British Library, I laid it out on my bedroom floor so that I could easily make an inventory of it all. While away on a weekend break there was a water escapement from the flat above and my bedroom was flooded. The paper documents were badly damaged but thanks to the Library's conservators all were salvaged, though the colour is washed out and they probably still smell a bit. As I say, an archive is what, by chance, has survived.
Apart from the printed documents there are Word documents which contain reports by Nigel or myself on each festival. There is a certain amount of correspondence, and funding applications. Nigel's festival reports offered a fine-grained description and analysis of the year's activities, and I followed him in producing these each year. I have never re-read these reports (some of which were really long) but remember writing them with some pleasure. They were an account of everything I had learned in that year. Someone keen on studying the management of a festival like IWF might want to dip into these files.
If you are interested in professional training and development, if you want a snapshot of what was happening at the more experimental end of the performing arts spectrum in the 1990s, you might want to spend a few hours browsing through these materials. I hope you have an interesting journey!
NB. The collection is listed on the Sound and Moving Image Catalogue under the collection number C1526.