02 October 2014
London - A Literary Anthology. A new publication from the British Library.
Literary walks round London have been popular since at least the 19th century. A personal favourite of mine - I offer it to most of my guests from overseas - is a walk round the homes of writers and artists who lived in Chelsea. Starting with Agatha Christie and ending with Oscar Wilde, the itinerary takes in, among others, Edith Sitwell, Thomas Carlyle (a National Trust house), Henry James, T S Eliot, Ian Fleming and Somerset Maugham (all four residents in the same block of flats, though not at the same time), Christina Rossetti and George Eliot. On a fine day, and with little traffic on the route, it is the perfect introduction to literary London. 
And when it rains? I recommend an indoor tour of a different kind, a promenade through books in which great literary figures give us their own introductions to London. Each of the writers named above left us pictures of the London they knew, and some of them are exhaustive on the subject. Henry James, for one, could keep the reader occupied for days. This is not just his non-fiction, like English Hours. The novella, A London Life, has a marvellous passage in which Laura Wing takes her American visitor to see the sights, starting with the Temple and St Paul's ("a disappointment") and finally making a "long, rummaging visit" to the Soane Museum, one of the least known of the city's attractions.
The sense of exploration - are they exploring the city or starting to explore each other? - is one captured by many writers. We can share the excitement as Benjamin Disraeli's Ferdinand arrives in London (in Henrietta Temple) or the ever more suffocating air as Oliver Twist is led down the dark and dangerous backwater that is Saffron Hill. Another of the writers on the Chelsea walk, George Eliot, left a heartrending passage in Daniel Deronda, which sees the desperate Mirah Lapidoth trailing the streets and contemplating suicide. Other newcomers - Christine, a French prostitute in Arnold Bennett's The Pretty Lady, or the post-war arrivals from the West Indies in Samuel Selvon's The Lonely Londoners - are lone figures trying to find their place among the multitude.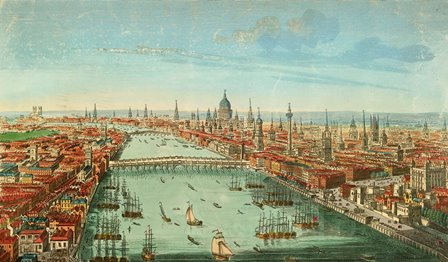 General view of London, drawn and engraved by T Bowles, 1794. Shelfmark Maps.3518.(14).
What makes every one of these books worth reading is that they are not merely a list of sights, or buildings, or an objective picture of the city. Each is a personal account, seen through the eyes of its characters and emotion is drawn from interacting with the city. In some of the best, observer and city seem to fuse into a shared spirit - try almost any passage in Virginia Woolf's Mrs Dalloway (I suggest Elizabeth's bus journey up the Strand, which memorably captures Woolf's identification with London).  
Mrs Dalloway walked the streets of London in the 1920s, and the great advantage of literature is that we can be not just tourists, but also time-travellers. Writers and poets allow us to drop in on London past, present and future. If I had to pick one piece of writing that I feel transports me to another London that I can see, and hear, and smell, it would be the celebrated passage from Book 7 of Wordsworth's The Prelude, in which he explores the city wide-eyed, pleased to note "all specimens of man...Malays, Lascars, the Tartar, the Chinese/ and Negro Ladies in white muslin gowns". Reading that, you might reasonably ask, "Has London really changed?". "Yes," answers Tobias Smollett, whose Humphry Clinker is open-mouthed at the rate of expansion and predicts that Pimlico and Knightsbridge could soon be joined to Chelsea and Kensington (horror!). Or Dickens, who witnessed the furious growth of the railways (Dombey and Son is vivid on this). Or Angela Carter, who observes in Wise Children that there is "a time that comes in every century when they reach out for all that they can grab of dear old London, and pull it down. Then they build it up again..."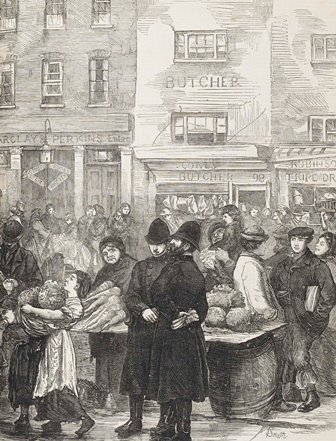 Sunday Morning in the New City, Lambeth, from The Illustrated London News, March 1872. Shelfmark PP.7611.
There is so much great writing about London that it could take a lifetime to absorb it all. That is certainly how it felt to me when the British Library asked me to compile an anthology of the best poetry and fiction that might encapsulate everything London stands for in about 120 pages. Who should be in? Wordsworth, yes definitely. Dickens, of course (at times it felt as if the entire anthology could come from Dickens). And there have to be those who have shone a light on London that brings a particular time to life like no other, from William Blake to Peter Ackroyd, Daniel Defoe to Zadie Smith. 
What I did not know at the time was the marvellous range of illustrations that would come out of the British Library's collections, though in retrospect, that should have gone without saying. The wealth of material about London in the basements at St Pancras must go down to floors that even the staff hardly know are there. If London - a literary anthology is able to encapsulate a fraction of that literary inheritance, it will have done well. No amount of walking the city's streets, however enjoyable, can equal it. 
Richard Fairman 
London: A Literary Anthology is published by the British Library (hardback £20, ISBN 978 0 7123 5740 1) and is available from bookshops now, including shop.bl.uk/