08 November 2014
Happy Birthday Bram Stoker!
The 8th of November is always an occasion for celebrations within Gothic literary circles, marking as it does the anniversary of Bram Stoker's birth. And yet, at first sight, when you look at the details of Stoker's life it seems odd that he should have produced so many fine Gothic novels. Indeed, with Dracula, he produced arguably the most enduring and influential Gothic horror story of them all.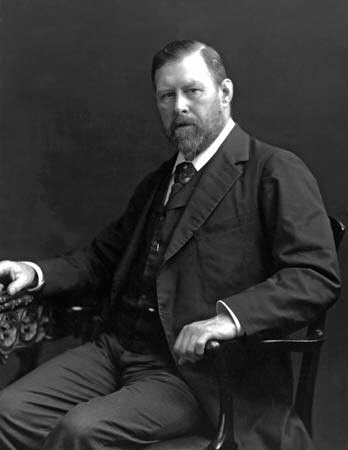 (Bram Stoker - mathematician, athlete, theatre manager and a creator of fine Gothic horrors)
The details of Stoker's life are interesting in themselves but give little insight into why his imagination should have produced so many dark, supernatural tales. He was born in Dublin on the 8th November 1847, the third of seven children. His childhood and youth were a paradoxical mixture of extreme illness (he was largely confined to bed until the age of seven) and vigour (he was a noted athlete during his time as a student at Trinity College Dublin, from where he graduated with a degree in Mathematics). It was during his time as a student that he became interested in the theatre and it is perhaps here that the darkness creeps in. For a while he was the theatre critic for the Dublin Evening Mail, co-owned by the author Sheridan Le Fanu whose novels such as The House by the Churchyard (1863) and Uncle Silas (1864) contributed so much to the popularity of Sensation Fiction during the 1860s, and whose short story 'Carmilla' (1871), telling the tale of a predatory female vampire, was undoubtedly an influence on Dracula. It was while working as a theatre critic that Stoker first met the actor Henry Irving, a man whose charisma and brooding presence is often thought to have been in Stoker's mind when he created the character of the Count.
In 1878 Stoker married the celebrated beauty Florence Balcombe. One of her previous suitors had been Oscar Wilde and although Wilde and Stoker, who had known each other at Trinity College, fell out over the marriage Stoker was ultimately able to resume his friendship with Wilde in later years. Oscar Wilde, of course, went on to write one of the few Gothic novels able to bear comparison with Dracula - namely The Picture of Dorian Gray (1891).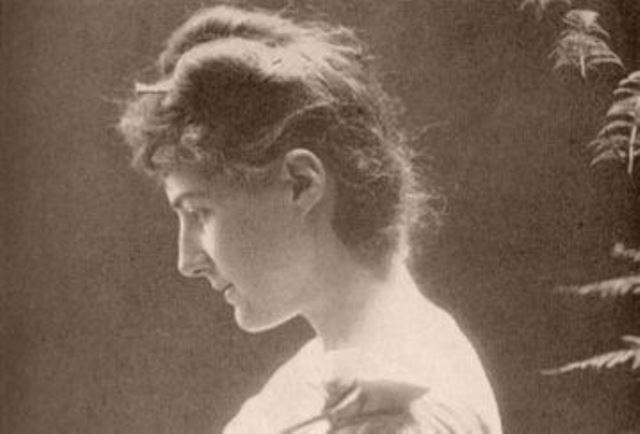 (Florence Balcombe, society beauty and, from 1878, the wife of Bram Stoker)
Upon moving to London after his marriage Stoker became acting manager, and then business manager of Henry Irving's Lyceum Theatre, a post he held for 27 years. Through Irving Stoker met Arthur Conan Doyle, the future author of such Gothic tales as 'The Adventure of the Speckled Band' (1892) and The Hound of the Baskervilles (1902). While he was at the Lyceum Stoker oversaw a stage adaptation of Robert Louis Stevenson's brilliant novella Strange Case of Dr Jekyll and Mr Hyde (1886). The play, which began its run on the 3rd September 1888, caused controversy due to its perceived similarities to the Whitechapel murders carried out by Jack the Ripper, murders which began at almost exactly the same time. The more you look into Stoker's life, and the more you look at the people with whom he built friendships and working relationships, the more you begin to see the all-pervading air of Gothic drama that fed into Dracula.
Of course Dracula rather overshadows the rest of Stoker's work as an author. To some extent this is inevitable, it is, after all, by some distance his most powerful work. Even so his other novels deserve respect. In particular I have always had a soft spot for The Jewel of Seven Stars (1903), a novel about an archaeologist's attempts to revive Queen Tera, an ancient Egyptian mummy. Like Dracula the novel offers valuable insights into fin-de-siècle themes such as the rise of the New Woman; Imperialism and the way in which the old world of tradition and superstition clashes with the new world of scientific progress. The book was also the basis for one of Hammer's finest and most under-rated movies - Blood from the Mummy's Tomb. The title may be daft, but with its striking lead performance by Valerie Leon and its distinctive visuals the film is most definitely a gem.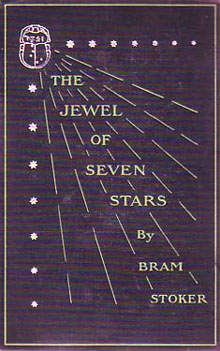 (The Jewel of Seven Stars - not as iconic as Dracula, but a fine book all the same)
There is, of course, plenty more to discover about Bram Stoker and Dracula in our major exhibition Terror and Wonder; and there is a wealth of information about Gothic novels and themes on the British Library's Discovering Literature website. There is also an opportunity to help conserve an iconic Gothic novel via Adopt a Book.
So, in conclusion, happy birthday Bram! For those of us who love Gothic literature he really was one of the finest exponents of the chilling tale and, on his birthday, perhaps we should raise a glass of something dark and red in his honour. Thank you for the novels, and thank you for all those dark, hauntingly beautiful memories.