02 June 2015
The British Library acquires the archive of the playwright and screenwriter, Julian Mitchell
 
The British Library is very pleased to announce that it has acquired the archive of the playwright, screenwriter and novelist, Julian Mitchell. Julian Mitchell began his playwriting career adapting novels for performance, starting with several novels by Ivy Compton-Burnett. He adapted Jane Austen's 'Persuasion' (1971), Paul Scott's 'Staying On' (1980) and Ford Madox Ford's 'The Good Soldier' (1981) for television. Among his original works, he is best known for his play, 'Another Country', recently revived in the West End and on tour.
'Another Country' is based on the life of the spy Guy Burgess and explores the tensions of politics and sexuality within the context of the hypocrisy of the English public school system in the 1930s. The play won the Olivier Award for best play in 1981 and Julian later wrote the screenplay for the film adaptation in 1984. Early productions of the play were instrumental in launching the careers of Rupert Everett, Kenneth Branagh, Daniel Day-Lewis and Colin Firth, and Julian's involvement with these productions can be seen in the archive. He also won the SWET Award in 1985 for 'After Aida' his play about the composer, Giuseppe Verdi, and wrote the screenplay for the film 'Wilde' (1997). Julian also wrote numerous screenplays for the Inspector Morse series and the archive including notes on adapting Colin Dexter's books for television, along with drafts, shooting scripts and other related papers.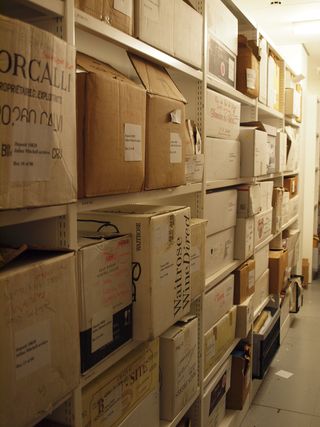 Just some of the 80 boxes of the archive in their new home at the Library
The archive includes successive drafts of Julian's work providing a real insight into his creative process and the subjects which inspired him. In addition the archive includes correspondence with a wide range of people from theatre and television including the actors John Gielgud and Alec Guinness, the American writer, Philip Roth and the poet, Stephen Spender. A series of personal diaries, photographs and press cuttings are also included.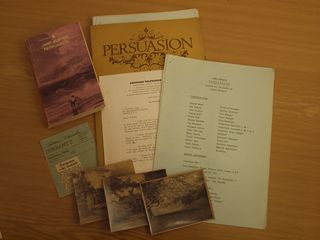 Some of the research notes, letters, scripts and other papers relating to 'Persuasion'
Julian's archive is an exciting addition to the Library's literary and creative archives and I am sure that it will be a great resource for researchers.