26 October 2015
Artist Portraits: John Berger's latest book launch at the British Library
by Tom Overton, editor of Portraits: John Berger on Artists by John Berger, 2015
On the 18th September, John Berger and Ali Smith came to the British Library to launch a book I've been editing, Portraits: John Berger on Artists.
Image courtesy of Verso Books
Ali Smith gave a short speech explaining why she loved Berger's work; it was wonderful, and can be read in the New Statesman here. As you'll understand from reading it, I was very glad that I'd been on stage already, and my stint explaining the origins of the book didn't have to follow that.
Between 2010 and 2013 I had the pleasure and the privilege of cataloguing the archive John Berger donated to the British Library while I was writing my PhD. This turned into an exhibition at Somerset House, connecting the archive to works of art, and a conference and free school celebrating the anniversary of to of his most famous works, Ways of Seeing and G. Then, while I was a Research Fellow at the Henry Moore Institute, Verso to ask me to put together a collection of Berger's writing about art.
The original proposal turned into two books, the second of which, Landscapes, will be published next year. In some ways the discipline of focusing on Berger's writing on art was a relief – the scope of his achievement in writing alone is enormous, and books like A Seventh Man, on migrants in Europe, seem particularly timely today. These achievements are also ongoing; among other things there's this piece addressed to Rosa Luxemburg in the New Statesman.
I had to go away and think about what I loved about Berger's writing on art, and what I thought was important about it. I haven't got time to do justice to that, so instead, I'll try and lay out three of the considerations I had in mind. The first was the sheer scope of material in two, historical senses: Berger trained as a painter here in London in the 1940s, and has been writing about art ever since. But he's written about everything, from all periods, from the very earliest to the most contemporary. That was one of the reasons I was so pleased that Ali Smith agreed to come, because I think – particularly in a book like How to Be Both – she and Berger share this wonderfully free, freeing approach to history, existing in what Berger calls 'the company of the past.'
The second consideration is that, like Smith, Berger has little sense of being constrained by literary form. It seems appropriate that we're launching this book on the anniversary of the death of another radical writer and painter, William Hazlitt, because Berger is rightly known as one of the great innovators in the essay. But he's also much more than that. In The Success and Failure of Picasso, Berger quotes Picasso writing to his dealer in 1923, to explain the vast formal variety of his work. He says 'whenever I have had something to say, I have said it in the manner in which I felt it ought to be said.' This seems to me to be true of Berger's work too: he's responded to the experience of looking at art through fiction, drama, poetry, films, collaborations with Nella Bielski, Mike Dibb and Simon McBurney and things which don't fit into any category at all. There's a kind of elegy in the book for the sculptor Juan Muñoz, for example, structured as a sequence of letters to the dead Turkish poet Nazim Hikmet.
The third consideration also seems to be a unique aspect to Berger's work. Like Monet with his cathedrals, Berger submits himself to the discipline of returning to the same stimulus, over and over again, and bringing a new insight out of it each time, about the work, and he world around us. The archetypal example of this is the way he went to see Grünewald's Isenheim altarpiece either side of the revolutionary hopes and failures of 1968. It's also in writing about Henry Moore and Francis Bacon in a very different way in the 1950s, the 1980s, and the 21st century, each time with a scrupulous honesty and complete commitment.
So a straightforward essay collection wouldn't have worked. The structure I settled on was a timeline, arranged around the dates of birth of the artists John had written about, from the Chauvet Cave painters and Fayum portraitists to many of the artists who are in the audience today – Michael Broughton, Yvonne Barlow, Rostia Kunovsky, Peter Kennard. Within the chapters there's space for these sequences of responses to emerge where they do.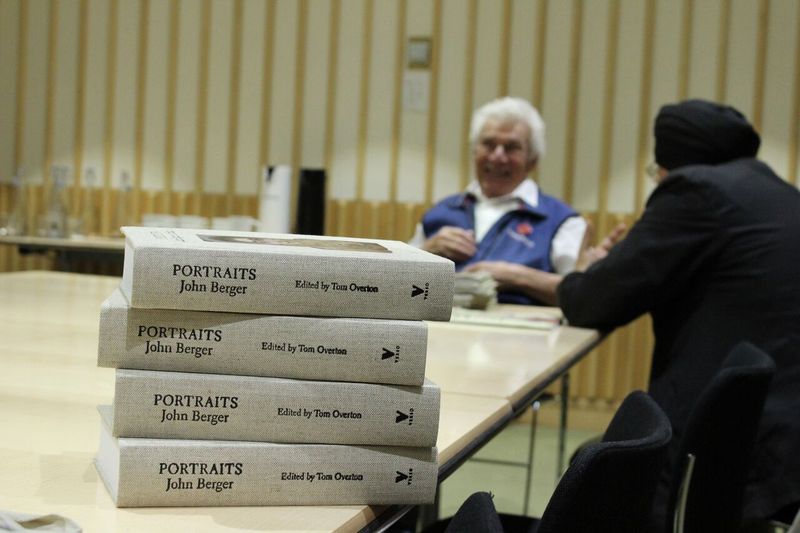 Image courtesy of Verso Books
Re-imagining all this writing in this way reminded me of the moment at the beginning of Ways of Seeing, the book and series with Mike Dibb and others which you can still see on YouTube. Berger walks up to what looks like Botticelli's Venus and Mars, gets out a Stanley knife, chops out Venus's head, and announces 'an allegorical painting becomes a portrait of a girl'. I hope Berger can forgive me for the similar violence I've sometimes used in taking pieces of response out of their original context and putting them in this book; but he gave me the idea.
You can read it like this, in segments when you see something in a gallery, or on a screen – with Berger's piece on Rosa Luxemburg and birds in mind, I want to call that bird-like. Or you can be very proper and read it from cover to cover. When I did that in making the book, a lot of unexpected connections emerged – even within the pieces themselves, Berger is always pointing out simultaneities. What it isn't is what he has called 'a relay-race of individual geniuses'; it's an art history which is about collaboration, rather than competition, and this quality of what I called the company of the past.
Portraits is dedicated to Gareth Evans, who has long been a really vital advocate of Berger's work, and the work of many other important, committed artists – I exhort you to follow everything he does very closely. But it's also dedicated to Berger's wife Beverly, who passed away in 2013, and who gave the archive at the British Library its shape, and its great richness of content. So as I've explained, this book, like many others, couldn't have happened without her. I hope you enjoy it.