15 November 2015
Countdown to the announcement of the Michael Marks Award winners
There is now just one week to go before the announcement of the winners of this year's Michael Marks Awards for British poetry pamphlets. The Awards, now in their seventh year, were established to recognise and celebrate the pamphlet as a medium of publishing for poetry.  This year's entries confirmed that, in spite of the many challenges, the poetry pamphlet continues to play an important and vibrant role, both in bringing poetry to new audiences and in providing a way for emerging and established poets to showcase their work.  Announcing the shortlists, the judges of the 2015 award commented,
 We were very impressed by the range and overall quality of the submissions received. Entries showed a substantial increase on last year, with entries for the Publisher's Award almost doubling. This constitutes compelling evidence that small presses are producing some of the most engaging and accomplished poetry being published today.
There are two main awards, one for an outstanding poetry pamphlet, and one for an outstanding publisher of poetry pamphlets.  A new award for illustration in a poetry pamphlet, introduced this year, recognises the poetry pamphlet as an object of visual as well as poetic beauty.  The winners in all three categories will be announced on 24 November at the Awards dinner.  The Michael Marks Awards have become one of the most significant awards in contemporary poetry in the UK.
The pamphlets shortlisted for the 2015 Poetry Pamphlets Award are: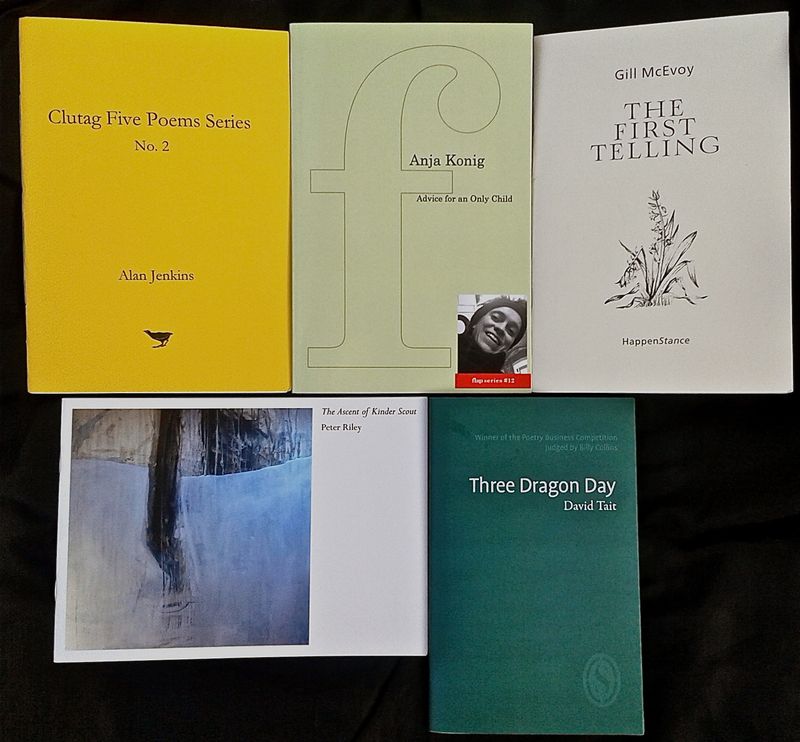 The five pamphlets shortlisted for the 2015 Michael Marks Award
Alan Jenkins:  Clutag Five Poems Series No. 2 (Clutag Press)
Alan Jenkins was born in 1955 and has lived for most of his life in London. His collections of poetry include, most recently, Revenants (2013), Paper-Money Lyrics and, with John Kinsella, Marine (both 2015). He is Deputy Editor and Poetry Editor of the Times Literary Supplement and a Fellow of the Royal Society of Literature.
Judges' comments:  Set against the backdrop of the Thames, these are haunting, understated elegies that often find the narrator challenging his own grief, trying to explain the source of it, trace it beyond the immediacy of loss. Assured and elegant, these poems moved us deeply.
Anja Konig:  Advice for an Only Child (Flipped Eye Press Flap Poetry Series)
Anja Konig's work has appeared in the UK and the US in numerous magazines and anthologies. 'Advice for An Only Child' is her first pamphlet.
Judges' comments:  Anja Konig's debut pamphlet is witty and inventive. There's a surprise on almost every page - her short poems look slantwise at relationships, the female body and what it means to write.
 Gill McEvoy:  The First Telling (Happenstance)
Gill McEvoy lives in Chester where she runs a poetry reading group and a workshop for practising poets. She published an earlier pamphlet with Happenstance, 'Uncertain Days', and has two full collections with Cinnamon Press.
Judges' comments:  We admired the way this pamphlet deals not just with trauma and its aftermath, but with the difficulty of articulating what has happened, the challenge of finding the right words. Form and content mesh together perfectly in poems that use the power of silence as well as the power of language.
Peter Riley:  The Ascent of Kinder Scout (Longbarrow Press)
Peter Riley was born in 1940 in Stockport. He taught at the University of Odense (Denmark) and from 1975 lived as a freelance writer and poetry bookseller, from which he retired in 2008. He now lives in Hebden Bridge. In 2012 he received a Cholmondeley award. His most recent publication, 'Due North' (Shearsman, 2015), was shortlisted for the Forward Prize for Best Collection 2015.
Judges' comments:  Evoking the Dark Peak in Derbyshire with startling clarity, we felt this pamphlet brilliantly captured what its like to look to landscapes for resolution, only to be humbled by the scale of them. Expansive but exact, it takes in the history of a trespass, the ghost of a lost friend and the future of a broken nation.
 David Tait: Three Dragon Day (Smith Doorstop)
David Tait lives in Guangzhou, China. His first full collection 'Self-Portrait with the Happiness', was shortlisted for the Fenton Aldeburgh First Collection Prize. He has also won an Eric Gregory Award.  Smith Doorstop published his earlier pamphlet 'Love's Loose Ends'.
Judges' comments: This is an absorbing, almost novelistic pamphlet, full of acute observations about modernity, intimacy and what it's like to discover a city for the first time. There's a sense of menace hanging over many of the poems - sinister buildings in Shenzhen, dragon fables, the motif of the face mask - but they also present moments of brilliant clarity. We admired the variety and precision of the writing.
The shortlist for the Publishers Award is:
Eyewear Publishing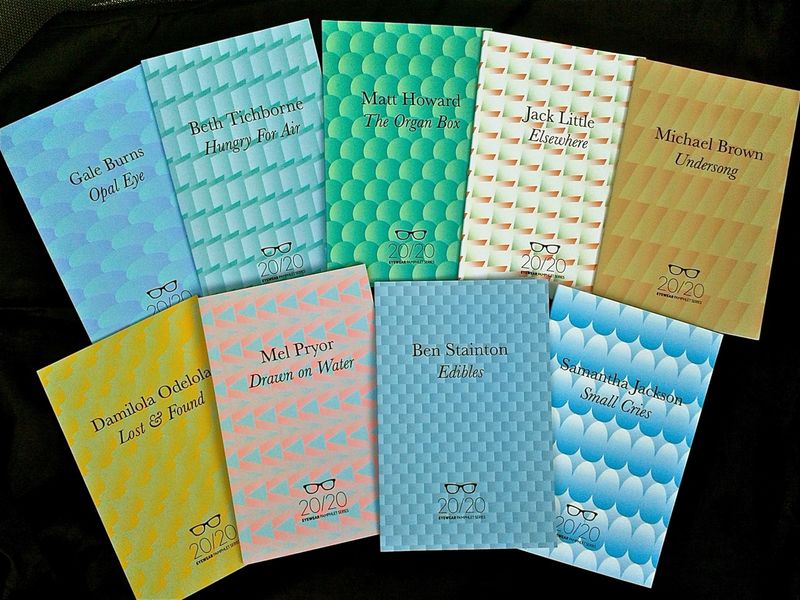 Pamphlets in Eyewear's 20/20 series
Judges' comments: This year, Eyewear – still quite a new book publisher – initiated the '20/20' series, a set of twenty poetry pamphlets by 'new and established' poets, with a bias towards the former, and all edited by Les Robinson, the pioneer of Tall Lighthouse. We admire these for the publisher's ambition in terms of the range of poetries on show, the quality of much of that work, and the consistently high production values that have already become a hallmark of this press.
Mariscat Press
Pamphlets submitted by Mariscat
Judges' comments:  Mariscat pamphlets are simple card-covered, stapled affairs – but are no less attractive for that, and often utilise bespoke designs and layouts. The press, now in its thirty-third year, mainly publishes poets with a Scottish connection, from the near-canonical to the previously unknown; this year's crop is consistently impressive. 2015 has been good to Mariscat already: one pamphlet won the Callum Macdonald Memorial Prize, and another was a PBS Choice. And all of this has been achieved by a press with a proud independence from funding bodies.
Smith Doorstop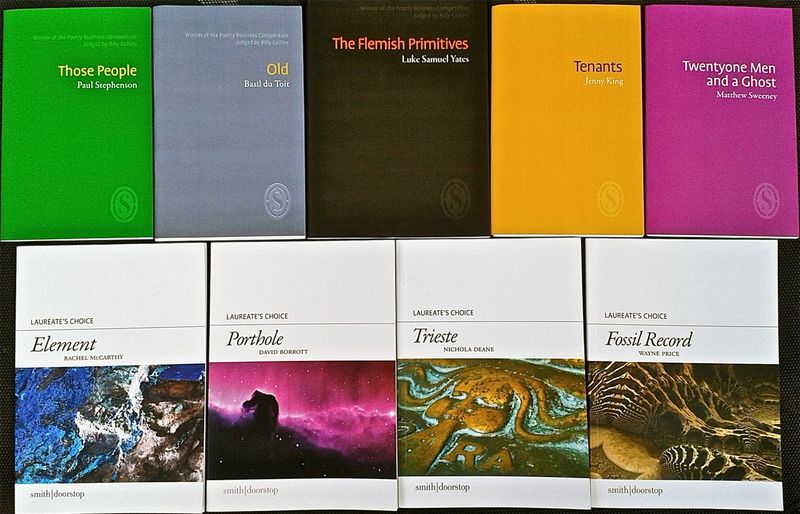 Smith/Doorstop pamphlets
Judges' comments: The Poetry Business, through their publishing arm Smith Doorstep books, continues to support new and not-so-new poets alike, with their focus on mentoring at one end complemented by their publication of – and evident appeal to – some very well known writers at the other. Their simple, dust-jacketed, well-marketed pamphlets include the four winners of their annual competition, which gave us some of the most consistently engaging work we read this year. Their innovation for 2015, a set of four 'Laureate's Choice' pamphlets by 'emerging poets', demonstrates unflagging commitment to finding new talent.
The Emma Press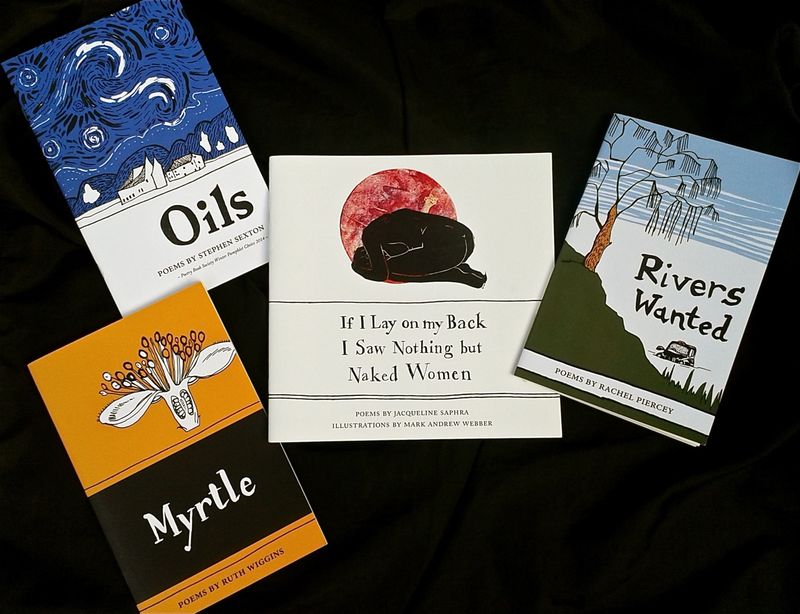 Pamphlets submitted by The Emma Press
 Judges' comments: The Emma Press might be responsible for the most beautifully designed and produced pamphlets we saw this year, most of which are written by less well known writers – and ones worth noticing. Complementing their usual series of traditional pamphlets, this year they also started a new set of 'Art Squares': large square booklets of poetry and colour illustrations. We admire this publisher's ambition and imagination, as well as its dedication to supporting new work that deserves it.
The Illustration Award, judged by Nicholas Penny, will be announced at the Awards evening.  The judges for the Pamphlets and Publishers Awards are Debbie Cox, Helen Mort and Rory Waterman. You can follow the Awards presentation on Twitter on 24 November via #poetrypamphlets .  The Awards, sponsored by the Michael Marks Charitable Trust, are organised by the British Library and the Wordsworth Trust with support form the TLS.