03 November 2015
Nick Mann's 'A Short Fanzine about Rocking' takes its rightful place in the British Library
by Debbie Cox, Lead Curator, Contemporary British Publications.
Some of the donated issues of ASFAR in the Humanities Reading Room, St Pancras.
For very many years, the Library has collected zines – self-produced, small-circulation publications, informed by a do-it-yourself, not-for-profit, ethos, communicating a passion or cause to like-minded people.  Zines stand as an alternative to mainstream publishing, and for the Library, they bring an important insight into aspects of contemporary society and culture that might not otherwise be represented.   The Library is honoured therefore to receive a donation of the full run of 'A Short Fanzine about Rocking' (ASFAR), an influential and long-running music zine produced by Nick Mann, whose life was cut short by an accident earlier this year.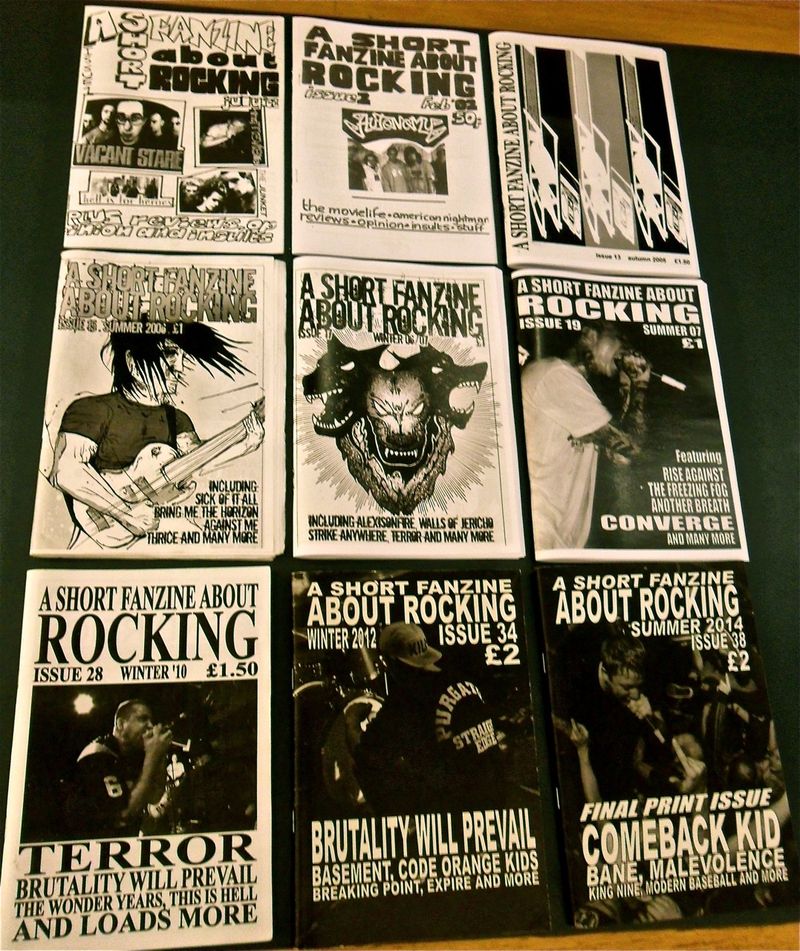 A selection of issues of ASFAR, from 1 to 38, in the Humanities Reading room.
ASFAR covered hardcore and punk music, and from its modest beginning in 2001, it grew to have a major impact on the UK hardcore music scene and within the zine community. Nick Mann both supported hardcore and underground music, and inspired musicians, journalists and zinesters with his enthusiasm, energy and passion.  The Library held some issues of ASFAR, and now Nick's wife, Jen Kavanagh, has worked to bring together the full set of 38 issues, and given them to both the British Library and the London College of Communication so that users can access the complete run, as a tribute to Nick's work.  Jen writes:
"When my husband, Nick Mann, passed away in March this year, I was determined to honour his amazing contribution to music journalism and the DIY scene in a fitting way. His fanzine, A Short Fanzine About Rocking (ASFAR), had started back in 2001, and so when I met Nick in 2005 it was already a big part of his life. Since then I watched the zine grow into a huge success, get amazing reviews, be bought by people all over the world, and be talked about online by fans, bands and other zine writers. I am so proud of all he achieved with his zine, and so ensuring that a full run of all 38 issues was safely stored in a library collection was one of my top priorities when it came to Nick's memorial. And so to have deposited ASFAR at none other than the British Library last week is truly an honour. Here is a little insight into ASFAR, some of which quotes Nick directly from past interviews he did about the zine.
Nick first started writing ASFAR "because, for some misguided reason, [he] thought it would help [him] to get a career as a music journalist". An ex-girlfriend of Nick's encouraged him to stop dragging his heels and instead to start writing about the music he loved, particularly if it helped open up a network of music contacts. Living in Manchester, Nick attended multiple shows a week – punk, hardcore, metal, emo – and shared a house with like-minded individuals who soon became contributors. Issue 1 is the ultimate DIY zine with cut and paste articles and marker pen text, but it features interviews with bands including Hell is for Heroes, and its pages are bursting the passion for the music Nick listened to. A call for contributors in the editorial opened up new contacts, and soon ASFAR had a loyal team of reviewers.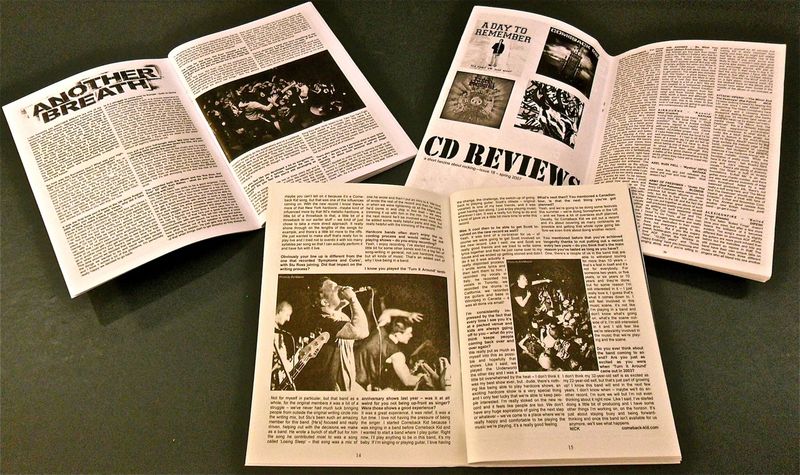 Three issues of ASFAR – its dense text carrying reviews, interviews and insight.
Over the years, and through a move from Manchester to London in 2007, ASFAR continued to grow into a zine that wasn't so short but was definitely always true to all things rock. Nick continued to attend gigs every week, making notes in his phone in-between sets to ensure he could write a thorough review the next day, in case of any beer-induced memory loss. His confidence with interviewing the bands he loved grew with experience, and he was so proud to have had the chance to speak to members of his beloved Deftones on a number of occasions. He also didn't shy away from the reality of the punk and hardcore scene. Sometimes shows were terrible. Sometimes no one showed up. Sometimes he left early. But he always addressed this, and reflected on what that meant to the scene, and his honestly was part of ASFAR's charm.
The cover of issue 31 of 'A Short Fanzine about Rocking' produced by Nick Mann.
Balancing writing the zine, and finding time to listen to the music to review, was a challenge though. Nick worked full time as a journalist and later as a senior press officer. He also had another time-consuming passion – Shrewsbury Town FC. But he was smart about how he used his time, filling long train journeys to distant football clubs with reviewing albums or reading other zines, and typing up notes from gigs whilst on the tube home from work. The music the zine covered also became more varied thanks to the partnerships he had with other writers. Nick commented: "If anything, as I get older my musical tastes have become even more narrow, but luckily I have a team of contributors who are altogether more open-minded than me and help to ensure ASFAR remains a relatively broad church in terms of the genres it covers. I'm not guilty about any of my music taste, although plenty of people will tell you I really should be. But if I'm into something, I'm into it, and no amount of smirking by my friends is going to change that." As someone who shared a home with Nick for nearly 10 years, I can definitely agree that some of the music he listened to was pretty dreadful! But he loved the passion of hardcore, and wasn't ashamed to let everyone know.
When asked in an interview in 2012 if he'd consider finishing the zine, Nick said: "I'm addicted to it! Every issue I talk about sacking it off sometime soon, but then said issue sells really well and I remember just why it's worthwhile. Plus I get to talk to loads of awesome bands I might not otherwise meet and find out more about the music they make which I enjoy." Nick did eventually call it a day in spring 2014 though, when he felt he couldn't put the same passion and energy into it any more. He was sad to declare the final issue his last, but he later said that he didn't regret wrapping it up. Which is a great comfort to me now, because life is too short for regrets."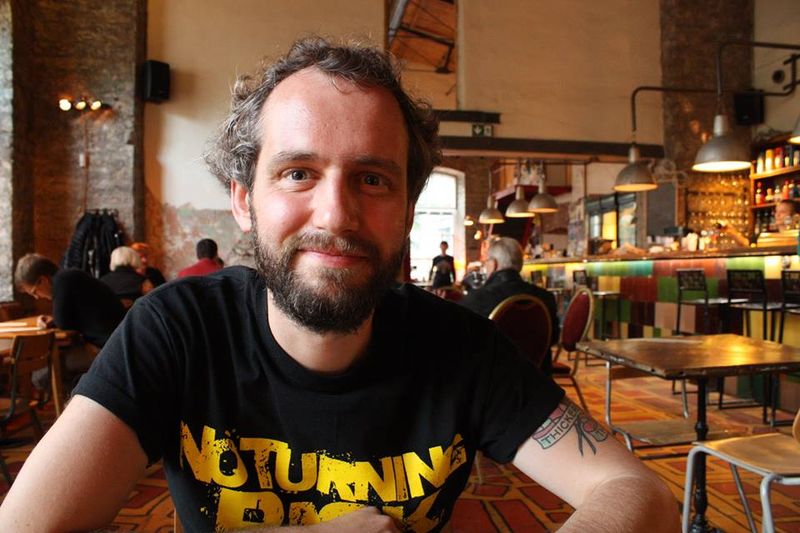 Nick Mann
The newly-received issues of 'A Short Fanzine about Rocking' will be available to users by the start of December. We are immensely grateful to Jen Kavanagh for bringing together the complete run, and also for giving permission for Nick's ASFAR website to be made available within the UK Open Web Archive.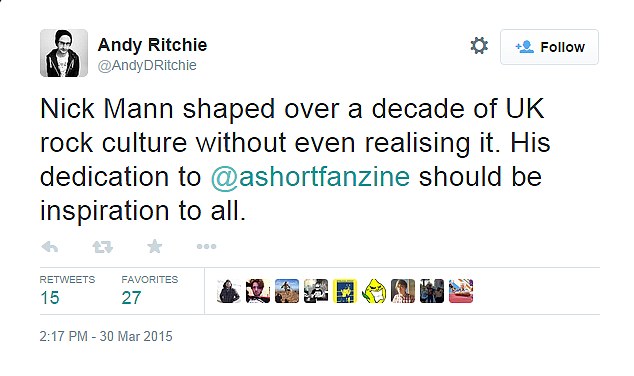 One of the many posts on Twitter paying tribute to Nick Mann's work and influence.