07 January 2016
Olwyn Marguerite Hughes (1928-2016)
We were saddened yesterday to hear of the death of Olwyn Hughes. Olwyn who had a long and varied career which included work as a literary agent and publisher was the elder sister of the Poet Laureate, Ted Hughes (1930-1998).
Olwyn was born in Mytholmroyd in 1928, the middle child of William and Edith Hughes (née Farrar), with an elder brother, Gerald and younger brother, Ted. The Hughes family lived in the Calder Valley until 1938 when they moved to Mexborough after William Hughes bought a newsagents and tobacconist in the South Yorkshire town. Olwyn and Ted both went on to attend the Grammar school in the town. Olwyn had a keen interest in literature from an early age and Ted later acknowledged that with the departure of Gerald who left to live in the southwest, he fell under the influence of his sister, from whom he learnt about literature in general and poetry in particular. Indeed Olwyn was a high achieving pupil at Mexborough Grammar school who later studied at Queen Mary's College, University of London, graduating in 1950.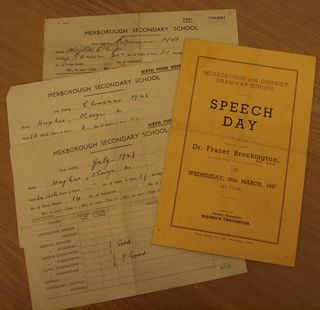 School reports and Speech day programme, Mexborough Grammar School (Add MS 88948/4)
After graduation Olwyn worked in Paris for a number of years including time at NATO and the Parisian theatre and film agency, Martonplay, which was run by Hungarian emigrees. Interestingly she also worked for King Peter II of Yugoslavia, who was deposed by the Yuogslavian Communist Party in 1945, and lived in France in the early 1950s before settling in the United States.  Olwyn returned to England in 1963 to help Ted following the death of her sister-in-law, Sylvia Plath. She worked for many years as a literary agent for her brother and others including the writer, Jean Rhys. She also ran the Rainbow Press which published fine press editions of poetry by Ted and others.
I first met Olwyn in 2009 when she contacted the Library about a small collection of letters from Ted and Sylvia that she had. Although Olwyn has been described as being rather formidable I always found her knowledgeable, good humoured and supportive. After we acquired the collection she was very helpful providing lots of useful contextual information about the letters and other papers that enriched my catalogue descriptions. The collection, the Olwyn Hughes correspondence (Add MS 88948), which includes letters from the couple dating from the 1950s and '60s is rich source of information about both Hughes and Plath's early careers. It also highlights some of the siblings' shared interests including literature and astrology.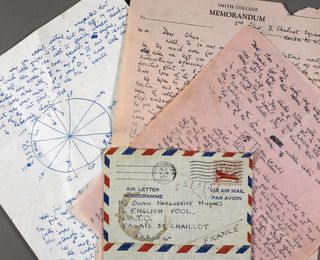 Olwyn Hughes correspondence archive (Add MS 88948), copyright Ted Hughes Estate.
I will always remember Olwyn with great fondness and our condolences are with her family and friends at this difficult time.