31 March 2016
'Is this a forgery I see before me?'
Vortigern and Rowena: A Shakespearean April Fools' Day farce?
The plays of William Shakespeare are full of star-crossed lovers. Romeo and Juliet, Anthony and Cleopatra, Ferdinand and Miranda, Vortigern and Rowena…
Well, maybe not that last pair, although there was a time when many people cherished high hopes for Vortigern and Rowena being a valuable addition to the list of Shakespeare's known plays; hopes that unfortunately ended in catcalls, derision and farce at the Theatre Royal, Drury Lane, on April 2nd 1796 (the performance thus avoiding going down in history as arguably the most lamentable April Fools' Day event ever by a handful of hours). The play, although it only enjoyed the one shambolic performance, did achieve a certain enduring notoriety and the story behind it is of considerable interest in terms of the light it sheds upon our enduring fascination with Shakespeare and his work.
Above: A handbill defending the authenticity of Vortigern, commissioned by Samuel Ireland and distributed outside the theatre before the performance on 2nd April 1796. Folger Shakespeare Library
Vortigern, although presented to the world in 1796 as a lost play by William Shakespeare was in fact the product of William Henry Ireland, a poet and playwright of immeasurably more modest talents. William Henry Ireland was the son of Samuel Ireland, an antiquarian and devoted admirer of William Shakespeare. Samuel Ireland was continually hoping to turn up documents and papers that shed a greater light on Shakespeare. Following the 1769 Shakespeare Jubilee, a celebration of Shakespeare's genius masterminded by the actor David Garrick, interest in Shakespeare and his life had become intense. More the pity then that Shakespeare the man remained essentially unknowable. The plays survived, as did a few legal documents containing his signature, but the thoughts of Shakespeare himself were seemingly lost. What did he think of his fellow actors and playwrights? What did he make of London, or of his native Warwickshire? What were his religious beliefs? Alas, with no surviving letters or personal papers it appeared the answers would remain forever hidden in the darkness of time. William Henry Ireland, seeing at first hand his father's frustration at being unable to unearth any genuine letters or documents by Shakespeare, sought to remedy the situation by filling the numerous gaps in our knowledge with forgeries.
Ireland began by forging legal documents, using paper he had access to via his work as a clerk in a lawyer's office. To present them first to his father, and then to the world, he had to come up with a story about where he had found them. Enter the mysterious 'Mr H'. Ireland claimed that an acquaintance of his, Mr H, had in his possession a large oak chest that contained a number of old documents. Emboldened by the success of his first forgeries William Henry Ireland returned to his father's house with an increasingly varied array of documents, all supposedly from the capacious trunk of Mr H. There were letters from Shakespeare to his wife, Anne Hathaway, often complete with locks of hair; there were documents in which Shakespeare outlined his religious beliefs (Protestant, of course); there were fragments of plays and then finally complete plays, including one called Vortigern and Rowena, based upon figures from 5th-century British history.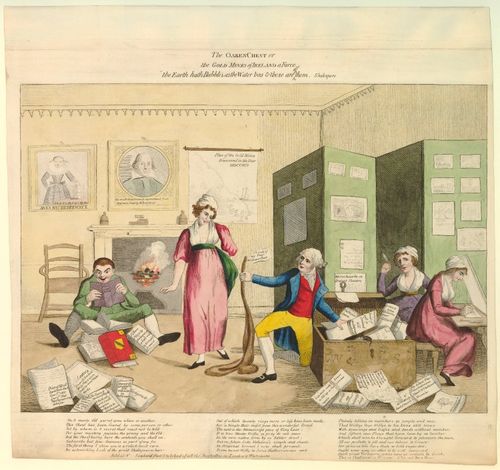 Above: 'The Oaken Chest, or the Gold Mines of Ireland, a Farce', a print by John Nixon satirising the 'discovery' of what turned out to be forged Shakespeare manuscripts, 1796. William Ireland is on the far left. His father, Samuel, is kneeling at the chest, a lock of Shakespeare's hair at least a yard long in his hand. British Museum, London.
As the procession of documents emerging from the oak chest of Mr H increased then so did the amount of interest, and suspicion, surrounding them. The Irelands began charging admission for people wishing to visit their house in order to view the papers. Many believed the documents to be genuine. The writer James Boswell was so overcome during his visit that he fell to his knees, kissed the edge of the papers and announced that having seen them he could die in peace, which he duly did some three months later. Others, however, were less convinced. Newspapers, noticing the somewhat comic attempts at Elizabethan spelling attempted to outdo each other in the publication of ludicrous Mock-Elizabethan letters: one supposed to be from Shakespeare to Ben Jonson ran: 'To Missteeree Beenjaammiinnee Joohnssonn: Wille youe doee meee theee favvourree too dinnee wytthee meee onnn Friddaye nextee attt two of thee clocke too eatee somme muttone chopps and some pottaattooesse?'
The charade could not continue, and as more knowledgeable individuals began to study the papers, including the critic Edmond Malone, the more obvious it became that the documents were forgeries. The final nail was hammered into the Ireland coffin of shame on April 2nd 1796 when Vortigern was performed on the London stage. The actor John Philip Kemble, who was clearly aware that the play was not the product of Shakespeare's considerable genius but rather that of a less-accomplished talent, originally pushed for the play to be staged on April 1st (April Fools' Day) but that was seen as perhaps a mockery too far. All the same, the production on April 2nd rapidly descended into farce. Kemble delivered his lines shamelessly for laughs and with his particularly pointed delivery of the line 'and when this solemn mockery is o'er' the play was revealed for what it was, a shambles. The performance staggered to a conclusion, at which point scuffles broke out in the pit bringing the evening's events to a fittingly farcical end.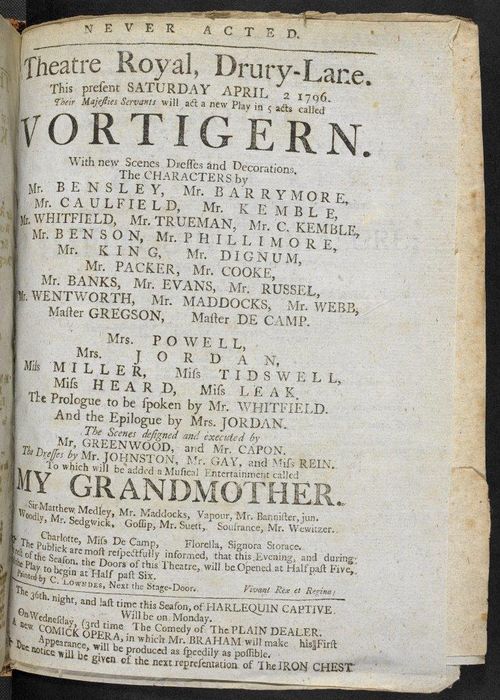 Above: Playbill for the only performance of Vortigern at the Theatre Royal, Drury Lane, 2 April 1796. Although the play was widely touted as a newly discovered work by Shakespeare, the theatre manager, Richard Brinsley Sheridan, refused to print Shakespeare's name on the bill. British Library 937.c.14
William Henry Ireland was never really forgiven for the Shakespeare forgeries. When Ireland bumped into the eminent man of letters James Boaden in Bond Street some twenty-five years later Boaden exclaimed: 'You must be aware, Sir, of the enormous crime you committed against the divinity of Shakespeare. Why the act, Sir, was nothing short of sacrilege; it was precisely the same thing as taking the holy Chalice from the altar and pissing therein'. William Henry Ireland died in poverty, as did his father, but, 'crime against the divinity of Shakespeare' or not, Vortigern undoubtedly retains its fascination as a curious chapter in the story of our enduring love for all things relating to Shakespeare.
Examples of William Henry Ireland's Shakespeare forgeries, and a wealth of material relating to Vortigern, will be on display in Shakespeare in Ten Acts, which opens at The British Library on the 15th April and runs to 6th September 2016.
by Greg Buzwell, Curator of Shakespeare in Ten Acts