13 April 2016
Seamus Heaney: From "Ex-poet" to Nobel Laureate
Recently the British Library hosted an event to mark the publication of Seamus Heaney's translation of Book 6 of Virgil's Aeneid, published by Faber. Poets Jo Shapcott, Tom Paulin, Matthew Hollis, and Simon Armitage gave readings from the work, offered insights to Heaney's influence on their own work, and read much-loved poems from Heaney's celebrated collections. The translation, which details Aeneas's descent into the Underworld, is the last collection from the Nobel Laureate, who died in 2013. Here Richard Price, Head of Contemporary British Collections, reflects on two meetings he had with the Laureate at the Library.
Seamus Heaney at the University College Dublin, February 11, 2009, By Sean O'Connor [Public domain], via Wikimedia Commons
I'm lucky enough to have met Seamus Heaney a couple of times, as part of my job here at the British Library. My first encounter was when he had just won the Nobel Prize for Literature. He was giving a lecture for the Library on the poetry of Robert Burns, an important influence on Ulster poets in the nineteenth century and perhaps still to this day.
Those were in the days of the Round Reading Room in the British Museum when I was a junior curator in the Library there. He had a little time before the event so before he took to the lectern, I met him with my then colleague Mary Doran, the Curator of Modern Irish Collections, and we ushered him into an anteroom.
We had recently acquired a very rare item relating to Heaney's early days of writing and were excited about what his reaction might be. It was the Hilary Term 1961 issue of the magazine Gorgon (Hilary Term is the second term, at the start of the calendar year). He had been an assistant editor of the magazine as a student at Queen's University, Belfast and this was the last issue he was involved in. Unusually, he supplied his own, extra, editorial.
Gorgon, Hilary Term Issue 1961. British Library shelfmark: Cup.410.f.750
It was quite something to be able to show the new Nobel Laureate this early piece of his poetry activism, a slim mimeographed magazine, crammed with poems and articles Heaney had been involved in selecting (the main editor, Pat Roche, makes a point in his editorial that the assistant editors had taken a particularly active role in the process).
Even so, the mere fact of Heaney's involvement magazine wasn't why we were so excited: rather, it was because of the dramatic way in which Heaney signed off his editorial. "I am not an ex-editor of Gorgon but something (I have convinced myself) more despicable," he writes in his last sentence of the editorial, "an ex-poet."
An extract from Seamus Heaney's editorial in the 1961 issue of Gorgon in which he signs off as an 'ex-poet'
What would the elder, feted, famed, Nobel prize winning, poet say to that?
He laughed, of course.
I think in that chuckle there was an affection for his younger self and for the earnest activity of all poets, young or otherwise. The high stakes of poetry, its solemnities, its purposefulness, even in humour, is particularly felt. Five years later, Heaney would publish Death of a Naturalist to worldwide acclaim. As well the first edition of Death of A Naturalist, Faber, 1966, the Library has sound recordings of him from this time and later, e.g. from our British Council collection.
Image from a handbook issued by the British Council: Catalogue of Tape Recordings (November 1974).
I suppose all poets are like the "young bloods" he describes in the opening of The Aeneid VI, making quick landfall, "vaulting quickly out" with their urgent poetry, metaphorically in search of flints for fire or simply to stand amazed at new rivers.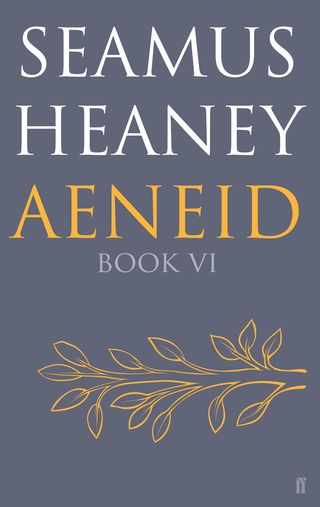 The cover of Seamus Heaney's Aeneid Book VI, with kind permission of Faber & Faber
The second time I met Seamus Heaney, sadly the last time, was in late 2003. It was in our new building at St Pancras – Heaney had been viewing the Ted Hughes exhibition I had curated because he was going to give a reading of some of Hughes' poems for the launch. We met for a cup of coffee with Hughes's widow, Carol. We were talking about Hughes of course, who had been an early inspiration and then a great friend to Heaney.
Then, to my surprise, Heaney began to talk about Robert Henryson, the fifteenth century Scots Makar, the name given to a Scottish poet of national standing. He said he had started to translate, or retell, Henryson's Testament of Cresseid. This would clearly be one of Heaney's present-in-the-past projects which followed on from his acclaimed version of Beowulf, in which contemporary battles, and contemporary hubris, seem pre-echoed. As with Edwin Morgan's translation of Beowulf, which Morgan had described as his 'Second World War poem', there is a feeling in Heaney's translations that in such epic translations the present is being addressed by the past.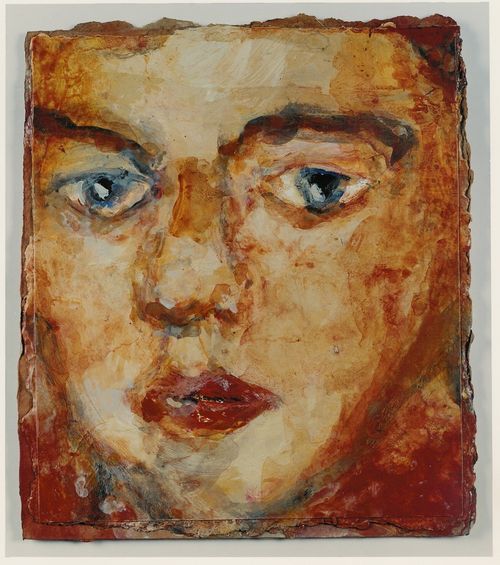 "Fair Cresseid" © Hughie O'Donoghue, painting reproduced as a tipped-in plate, from Seamus Heaney's Testament of Cresseid, Enitharmon Editions, 2004, used with kind permission of the publisher and artist
Testament of Cresseid is a sorrowful story about the fate of the once beautiful, vivacious Cresseid, separated from her lover Troilus. For lamenting her life intemperately she is punished by the gods with disfigurements akin to leprosy (though if anything sounds intemperate to me, those punishments do!). Years after they have parted, Troilus recognises her but does not reveal his identity, instead giving a large amount of money to the leper colony. Cresseid, realising who her patron was, dies in grief.
Henryson is in a sense writing a sequel to Chaucer's poem Troilus and Criseyde, and is also part of a great Troilus literary chain, since Shakespeare, in one of his more bitter plays, would later dramatise the story in Troilus and Cressida.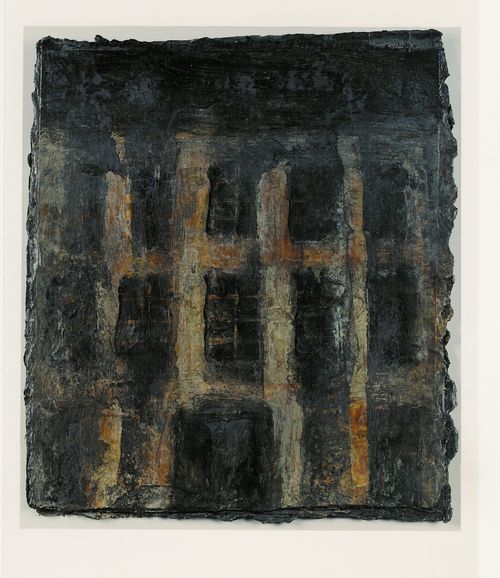 "Leper house (gate"), © Hughie O'Donoghue, painting reproduced as a tipped-in plate, from Seamus Heaney's Testament of Cresseid, Enitharmon Editions, 2004, used with kind permission of the publisher and artist
Heaney's Beowulf had only recently been published when we met that second time. Famously, the British Library holds the original Anglo-Saxon Beowulf, and in fact, now, the manuscript of Heaney's translation, too. Manuscripts were the link for the Henryson poem, too: Heaney had seen a Henryson manuscript at the Library and this had inspired him, after long admiring the poet, to render Henryson from Middle Scots into modern English.
Heaney's Testament would later appear in a beautiful artist's book with images by Hughie O'Donoghue, published by Enitharmon (British Library shelfmark: LD.31.b.557), as well as in a more commercial publication five years later.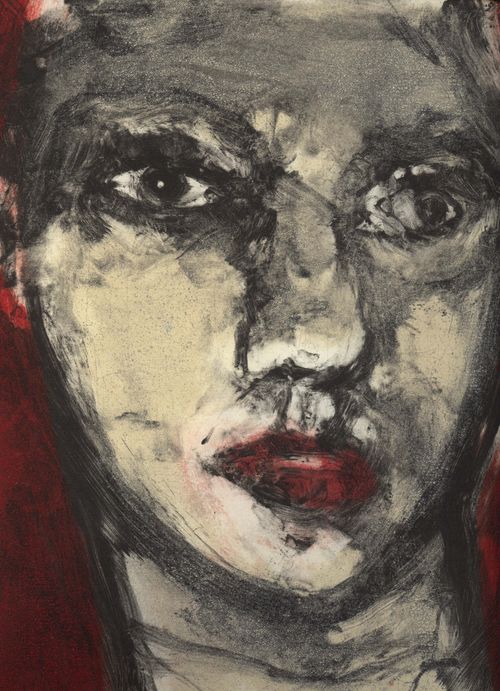 "Cresseid" © Hughie O'Donoghue, painting reproduced as a tipped-in plate, from Seamus Heaney's Testament of Cresseid, Enitharmon Editions, 2004, used with kind permission of the publisher and artist
As we talked, Heaney emphasised how the Makar's distinctly moral vision appealed to him: there is a teacher-like morality in Henryson he especially admired. As he talked I thought I detected, what, a hesitation? Knowing me as a Scottish poet, was he testing me, about Scottish reaction to 'versioning' this apparently sacrosanct text?
No, the moment passed, and I am still not sure if anything happened at all. In retrospect, I doubt he was worried. Henryson, Beowulf, Virgil, are each surely a gift to the world, in the original or in its re-transmission, and there would surely have been little reason for qualm.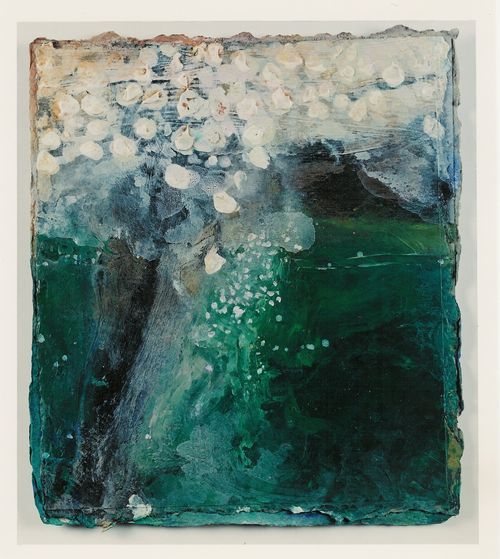 "Where is your garden?", © Hughie O'Donoghue, painting reproduced as a tipped-in plate, from Seamus Heaney's Testament of Cresseid, Enitharmon Editions, 2004, used with kind permission of the publisher and artist
Seamus Heaney highlights in the British Library include
Gorgon, Hilary Term 1961. Queen's University literary magazine for which Heaney was an assistant editor.
Eleven poems (Belfast: Festival Publications, [1965]), X.909/37714. Heaney's first collection, followed in 1966 by Death of a Naturalist (Faber).
Many sound recordings from 1966 onwards, including some made by our own curators.
Beowulf, typewritten drafts of Heaney's translation with MS annotations; 1995. Add MS 78917
'Forecast', a typewritten poem (inspired by the Shipping Forecast) with autograph annotations, extensively re-worked and edited. Presented by the author; 3 April 1998, Add MS 74089
Correspondence between Ted Hughes and Heaney, 1991-1998 (Add MS 88918/35/12)
Testament of Cresseid, with images by Hughie O'Donoghue, Enitharmon Editions, 2004, LD.31.b.557.