23 April 2016
"the apparel oft proclaims the man"
Hamlet (1.3.73)
If Shakespeare had taken up the same trade as his father, Shakespeare in Ten Acts could well have been called 'Shakespeare in Ten Catwalks' for he may have had a successful career in the fashion industry…  so to speak. John Shakespeare by trade was a''whittawer'' [someone who turned hide into leather], glover and also a "brogger" [an unlicensed wool dealer]. Records show he was found guilty for illegally dealing in wool and eventually lost the family inheritance. 
Early modern England marked a period of extreme style, when apparel made a transition into 'fashion'. Dress, hair and cosmetics were employed to contort the body, creating dramatic silhouettes demonstrated par excellence by Queen Elizabeth. There is no doubt that dress held substantial power within society during this time, and this did not go unrecognised by the bard. In 1864, the London tailor E Moses noted:
"Shakespeare too well appreciated the importance of all external things and outward appearances, as emblematic of the unseen spirit, to deem it a profanation of the poet's art to embody allusions to the subject of clothes in his majestic and immortal verse."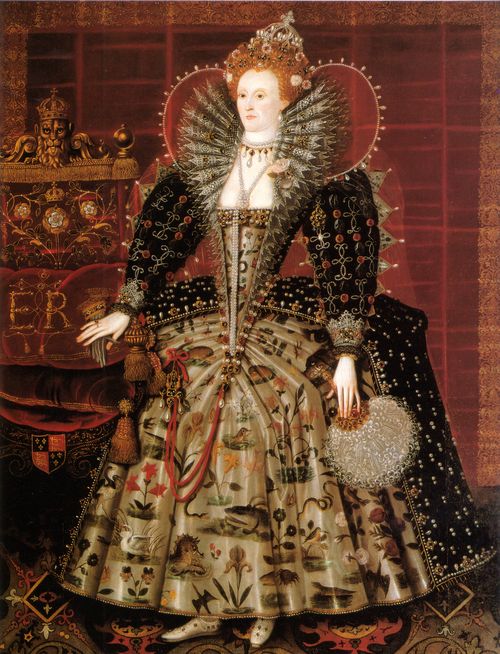 The "Hardwick Hall" portrait of Elizabeth 1 of England, circa 1599, courtesy of Wikicommons.
Shakespeare's extraordinary observations of the society of his age are communicated through the plays. It is no surprise then that these works are drenched in references to fashion and dress.  The survival of substantial evidence regarding early productions is meagre. However, the lines of dialogue are the very references which call into reflection the importance of costume.  Moreover, given the stringent hierarchy of style during the society of that age, audiences would have understood the role of garments to a character's role. Changes in costume could construct a character, progress action, reflect society and manipulate perceived values.
Queen Elizabeth I
During the Elizabethan era, dress was a powerful element in the social structure. The famous portrait of Queen Elizabeth by Nicholas Hilliard shows her as the faerie queen, wearing veil gauze edged with lace pointed at the hairline and wired to wings at the back of the head. Consider this theatrical display by the queen, in comparison with the headdress worn by Vivien Leigh featured in the exhibition. While this piece was made using inexpensive materials, it is reminiscent of fashionable Elizabethan headdresses, resembling the original faerie queen Elizabeth herself.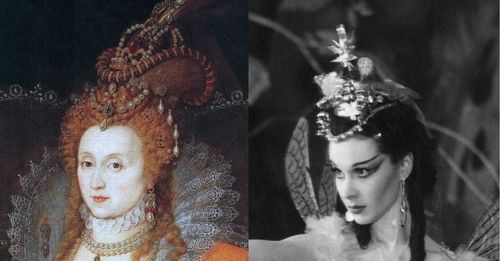 Detail of: The Rainbow Portrait of Queen Elizabeth I, circa 1600-1602, attributed to Issac Oliver (1556-1617) and Marcus Gheeraerts the Younger (1561-1636), in the collection of the Marquess of Salisbury, on display at Hatfield House, courtesy of Wikicommons.
Detail of: Vivien Leigh (as Titania) from A Midsummer Night's Dream at The Old Vic Theatre, 1937, photograph by J W Debenham, courtesy of the Mander and Mitchenson collection at the University of Bristol and ARENApal www.arenapal.com
"Clothes maketh the man" [except when he's a woman]
Theatre allowed actors to dress outside of their rank and gender. As such the stage was a transgressive space. Legally men could wear women's clothes, but not vice versa. This is acknowledged in the section of the exhibition 'the First Women to act Shakespeare', which features early female actresses; Sarah Siddons, Charlotte Cushman, Dora Jordan and Mary Frith, the latter of which  was arrested for wearing male clothing on stage! Contemporary audiences are familiar with seeing actresses play male roles, for example Maxine Peak playing Hamlet, Fiona Shaw playing Richard II, but it was these early actresses who began forging the space for them.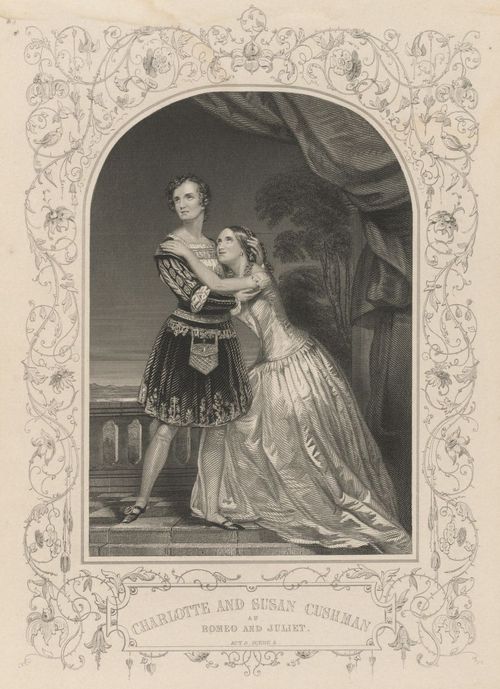 Engraving of Charlotte and Susan Cushman in Romeo and Juliet, presumably 1846. Courtesy of Theatrical Portrait Prints (Visual Works) of Women (TCS 45). Harvard Theatre Collection, Houghton Library, Harvard University.
The exhibition also highlights Peter Brook's audacious production of A Midsummer Night's Dream in 1970. This production stripped back elaborate set design, while costume was pared down to unisex minimalist dress which visually neutralised all connotations of gender.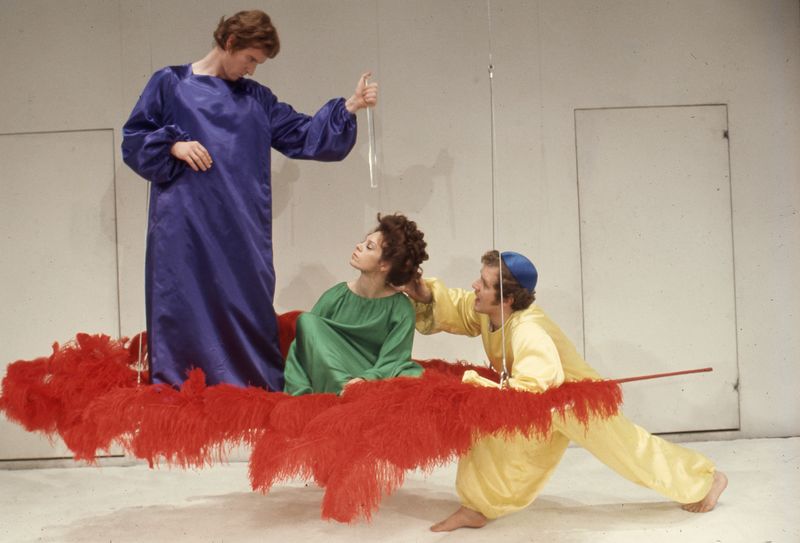 Photo by Reg Wilson © Royal Shakespeare Company. Re-produced with kind permission of the Royal Shakespeare Company
Costume, dialogue and the sex of the actor operate as elements of the plays which can often be overlooked. In Much ado About Nothing, Beatrice dismisses beardless males for looking like women:  "what should I do with? Dress him in my apparel and make him my waiting gentle lady?"(2.1. 29-30). The lack of facial hair is also mentioned in Hamlet, when he doubts his courage against a beardless face [signifying a woman] and calling into question his masculinity.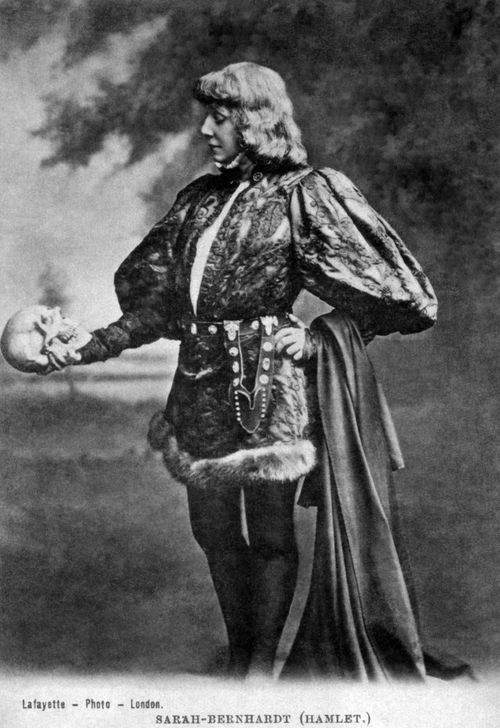 A 'beardless' Sarah Bernhardt as Hamlet, circa 1885-1900, courtesy of Wikicommons.
Hamlet's inner turmoil then is within the dialogue and directly linked to how he looks. As early as 1776 prints exist showing Hamlet dressed in fashionable attire. In the most recent production of Hamlet, staged by the Barbican, Benedict Cumberbatch's Prince Hamlet sports a Ziggy Stardust T-shirt. For a play about loss of belief, a man whose internalized sense of self is in flux, a play about ghosts, a character not of this world, how perfect that David Bowie made an appearance to modernize the role of costume and interpretation.
We now live in a time without Bowie & Shakespeare, but what remains are the enduring works and their relevance to the world. The semiotics of fashion and costuming choices are not inconsequential to these works or interpretations. The plays themselves are in fact littered with references to fashion and dress. Costume functions on many levels within the dramatic space, functioning not least as an agitator of authority, as Bowie and Shakespeare knew all too well.  
by Rachel Brett, Reference Specialist
The British Library's current exhibition Shakespeare in Ten Acts is a landmark exhibition on the performances that made an icon, charting Shakespeare's constant reinvention across the centuries and is open until Tuesday 6th September 2016. Whether you're a student, teacher, researcher, or simply a lover of literature, our new online learning resource Discovering Literature: Shakespeare will encourage critical thinking and independent learning to enrich your understanding of all-things Shakespeare.
Bibliography
Fashion in the time of William Shakespeare Downing, Sarah Jane, Oxford : Shire Publications, 2014 YC.2015.a.13081
Costuming the Shakespearean stage : visual codes of representation in early modern theatre and culture / Robert I. Lublin. Farnham : Ashgate, c2011.  YC.2011.a.13726
The Norton Shakespeare : based on the Oxford edition / Stephen Greenblatt. New York ; London : W. W. Norton, c2008. YC.2009.a.9148
Costumes and scripts in the Elizabethan theatres.   Jean MacIntyre, Edmonton : University of Alberta Press, 1992. Shelfmark(s):   Document Supply 92/23467
Playgoing in Shakespeare's London / Andrew Gurr. Cambridge : Cambridge University Press, 1987. Shelfmark(s):   Document Supply 87/18040 General Reference Collection YH.1987.b.337
Shakespeare after theory / David Scott Kasten. New York : Routledge, 1999. Shelfmark(s):   Document Supply m00/25609
Costume in the Theatre. [With plates and illustrations.]James Laver, 1899-1975 London : George G. Harrap, 1964. Shelfmark(s): General Reference Collection 07812.ggg.70. Document Supply W13/1725
Shakespeare in art. Paintings, drawings and engravings devoted to Shakespearean subjects. [London]: Arts Council, 1964. Shelfmark(s): General Reference Collection W.P.12368/620
Shakespeare and the Artist. William Moelwyn MERCHANT London : Oxford University Press, 1959. Shelfmark(s): General Reference Collection 011768.pp.2. Document Supply Wq1/941
The Tercentenary; or the three hundredth birthday of William Shakespeare. Author: E. Moses & Son. London, 1864. Shelfmark(s): General Reference Collection 11765.c.39.
The diary of Philip Henslowe, from 1591 to 1609 ... / edited by J. Payne Collier.Author: Philip Henslowe, -1616. [London] : Shakespeare Society, 1845. Series: Shakespeare society. Publications, no. 28 Shelfmark(s): Document Supply 8254.586300