25 May 2016
Discovering Literature: 20th Century is launched!
We are delighted to announce that the 20th century phase of the Library's free educational resource has been launched today! The website which is aimed at A-level, undergraduate students and the general public, uses archival and printed sources to shed lights on the historical, political and cultural contexts in which key literary works were created. The launch of the 20th century phase follows on from the very successful 19th century module, 'Romantics and Victorians' that was launched in 2014 and the Shakespeare module which came out in March of this year.
The 20th century phase sees over 300 literary treasures being made available online for the first time. High resolution images of literary drafts, first editions, letters, notebooks, diaries, newspapers and photographs from Virginia Woolf, Ted Hughes, Angela Carter, J.G. Ballard and others provide a wonderful insight into the creative process of some of the most influential and innovative writers and poets of the 20th century. The site focuses predominately on 15 key literary figures of the 20th century - Wilfred Owen, E.M. Forster, James Joyce, Virginia Woolf, Katherine Mansfield, Daphne du Maurier, George Orwell, W.H. Auden, T.S. Eliot, Ted Hughes, Sylvia Plath, Angela Carter, J.G. Ballard, E.R. Braithwaite and Hanif Kureishi.
I am sure that people will be excited to see the original handwritten literary drafts many of which differ from later published editions. These include drafts of Mrs Dalloway by Virginia Woolf under its original title 'The Hours' and George Orwell's literary notebook in which he recorded his ideas for what would later become Nineteen Eighty-Four . An earlier title for Ted Hughes' Birthday Letters 'The Sorrows of the Deer' can also be found in successive drafts of the poet's work on one of his most famous poetry collections.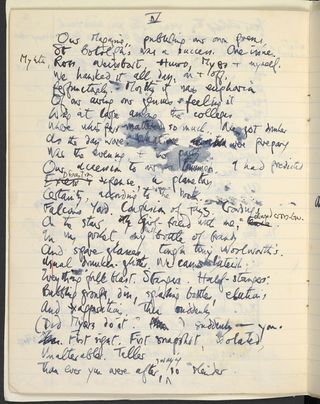 Draft of 'St Botolph's' from Add MS 88918/1/6 © Ted Hughes Estate and reproduced with their kind permission. For further use of this material please seek formal permission from the copyright holder.
Alongside these original drafts you will be able to read letters and diaries of the period, and look at old photographs and newspaper cuttings that provide a real context for the literary creations broadening our understanding of the world in which the writers were living and working. The innovative ways in which the works were created often challenged contemporary audiences whether those audiences were made up of other authors or the general public. A good example of this is George Bernard Shaw's letter to Sylvia Beach in which he gives his not altogether flattering opinion of James Joyce's Ulysses. As well as commenting on the work of others letters and diaries also illustrate the hopes, doubts and aspirations of writers, particularly early in their career. In his letter to Sydney Schiff whilst he was working on 'The Waste Land' T.S. Eliot writes to thank Schiff for his comments saying -
'You could not have used words which would have given more pleasure or have so persuaded me that the poem may possibly communicate something of which it intends'.
Similarly in a diary entry from 1959 Ted Hughes writes of waiting nervously to find out if he has received the Guggenheim prize for this first poetry collection, Hawk in the Rain. Whilst we can look back with hindsight on such events it is a real privilege to be able to read of the poet's own feelings so early in his writing career.
This blog can only go some way to whet your appetite about the website but please don't take my word for it do have a look for yourself! In addition to having everything from Wilfred Owen's poetry drafts and Woolf's travel writings to J.G. Ballard's evocative Crash! manuscript and Hanif Kureishi's drafts of My Beautiful Launderette the site also has a series of articles on the writers, their work and wider 20th century literature, short documentary films and teachers notes all free and available for everyone.