14 May 2016
International Dylan Thomas Day: New Acquisition
The British Library is delighted to announce the acquisition of manuscript items relating to Dylan Thomas from Professor John Goodby. We are grateful to receive this contemporaneous memoir and copy of a letter by Dylan Thomas to the publican Phil Richards. These items will enrich our research resources for Dylan Thomas, which already include early manuscripts, correspondence with fellow poets such as Vernon Watkins, and other papers relating to his poetry, prose and dramatic scripts. We are excited to be able to add these items to our collections, adding a further voice to our understanding of Dylan Thomas.
Dr. Charles Barber, Prof. John Goodby, Abe Osborne and BL Curator of Performance and Creative Archives, Joanna  Norledge at the donation of the manuscripts (left to right)
Prof.  John Goodby and Ade Osborne, PHD student at Swansea University, have kindly written about the research value of these items:
A memoir, by the local G.P. to Dylan Thomas and his family during his years in Laugharne (1938-40 and 1949-53), and a copy of a letter by Thomas, are being donated by Professor John Goodby to the British Library on 13th May 2016. The memoir is hitherto unknown, and the letter does not appear in the 1985 or 2000 editions of Thomas's Collected Letters and is not known to other Thomas experts. Both items have been transcribed by Ade Osbourne, a Ph.D. student supervised by Professor Goodby and funded by Swansea University to work on the Dylan Thomas notebook the university acquired in 2014.
The 26-page memoir is by Dr David Hughes, the St Clears-based G.P. for the Thomas family, and was written in 1961 for Charles Barber who had recently become interested in literature and was due to give a paper on Dylan Thomas to the Literary Society; his father, a friend of David Hughes, asked him to help his son, and the two MSS were his response, the memoir being handwritten by Hughes himself, the letter being a copy made by his wife Phyllis Hughes from the original, which was addressed to Thomas's friend Phil Richards, the publican at the Cross House Inn, Laugharne, and dated 8 December 1950.
David Mendelson Hughes was himself a man of culture, an accomplished painter and a friend of Philip and Richard Burton. His relationship with Thomas was a doctor-patient one only, but his cultural interests tinge his account in places. Thus, he admits that his first impression of Thomas, in 1938, was of someone acting as a Chelsea bohemian in order to give the impression of being an artist. But this jaundiced view had changed by 1949; Hughes stresses Thomas's 'shy & self-effacing' demeanour, habit of drinking only in moderation, and dedication to his parents, on whom he called every day before visiting Brown's Hotel ('before the Pint, the Parents') where he would have a drink before heading to the Boathouse to work all afternoon.
For Hughes, whose attitudes to women were the patriarchal ones of his era, Caitlin is the villain of the piece; 'fast' is the kindest word he uses to describe her, and he speculates that she was responsible for driving Dylan to his death in New York in 1953. To some extent, Hughes's account is also that of a local man determined to defend Dylan's reputation against the lurid accounts given in John Malcom Brinnin's Dylan Thomas in America (1957) and Caitlin's Leftover Life to Kill (1958). He finds Dylan sad rather than humorous and adopts a protective attitude towards him.
For all the limitations of its time and place, however, this is a striking first-hand account of the poet which adds colour and detail to the others we possess, from the Thomas's packing-case furniture to Dylan's taste for pork pies and fear of the dark. For all that Hughes's Dylan ultimately cuts a sad figure, his account is insightful and full of humorous incident.
The short letter is in typically whimsical vein; it refers to Thomas's forthcoming trip to Persia of January 1951, and to a pig named Wallis, bought by Thomas with his friends Bill McAlpine and Phil Richards to fatten up for Christmas. The memoir references the letter, and tells us that when the time came to slaughter Wallis, Thomas found 'Wallis's dying words' too much to bear, and sought refuge in the Cross House.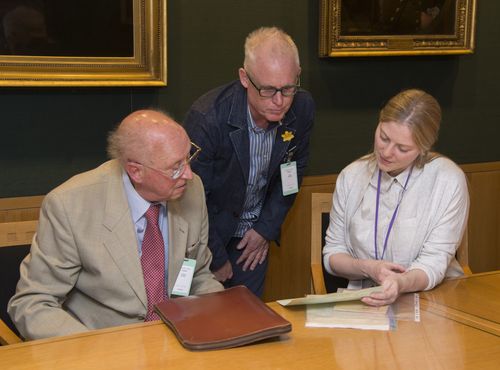 The documents were kindly donated to Professor Goodby by Charles Barber at the suggestion of His Grace Rowan Williams during a Marlborough College reunion in 2015. They were exhibited at Swansea Museum until 12 May, and are the basis of a feature article to mark International Dylan Day in The Times on Saturday 14 May by Hilly Janes, the daughter of Fred Janes, Dylan's close friend, and author of The Three Lives of Dylan Thomas.
Discover more about Dylan Thomas, including his work and life here: www.discoverdylanthomas.com
Photograph of David Hughes and David Hughes and his wife Phyllis Hughes, with kind permission of Frances Hughes.