09 July 2016
Shakespeare: Gentleman or Player?
Last week the New York Times revealed a host of new discoveries relating to Shakespeare's coat of arms. Heather Wolfe, Curator of Manuscripts at the Folger Shakespeare Library in Washington D.C. has found nearly a dozen previously unknown documents that confirm that Shakespeare was an ambitious social climber. Four of the newly discovered documents are from the British Library and two others can currently be seen in our Shakespeare in Ten Acts exhibition. These exhibits relate to a dispute over whether Shakespeare deserved to be made a gentleman, proving that entry into the upper classes was far from straightforward even in the upwardly mobile Elizabethan era.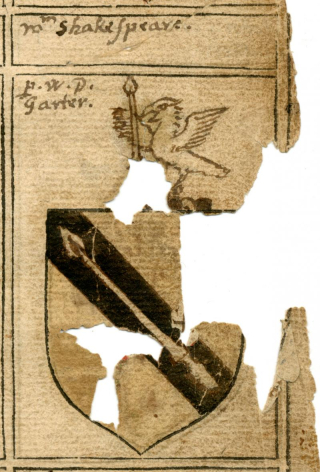 Coat of arms belonging to William Shakespeare. Harold Bowditch Collection, Mss 1180, R. Stanton Avery Special Collections, page 66 (detail).
Shakespeare's father John, a glover, first applied for a coat of arms in 1575 but it was not awarded until a second application was made in 1596. Given John's age (he was well into his sixties), it's always been assumed that William re-applied on his father's behalf and the new discoveries seem to bear out that theory. Half of the newly discovered documents associate the Shakespeare arms with William rather than John, suggesting that it was William who was particularly keen to boost his own social standing.
Shakespeare's friend Ben Jonson had a dig at his fellow playwright's new status as a gentleman in 1598 in his play Every Man Out of His Humour. A peasant is advised to purchase arms with the motto 'Not without mustard' – an illusion to the gold-coloured Shakespeare arms and their motto 'Not without right'. But Shakespeare didn't only have to put up with ribbing from his friends. A couple of years later the arms came under attack again, this time from the College of Arms, the very body which had granted them.
William Dethick (1543-1612) was the Garter King of Arms responsible for approving the Shakespeare grant and by all accounts he was a pretty unsavoury fellow. Arrogant and violent, he was known to have beaten his own father and wounded his brother. In 1576 he attacked another herald's wife by pushing her head into the fireplace, tipping hot ashes, alcohol and the contents of a chamber pot over her and was only just prevented from killing her. Matters were hardly improved when he stabbed two people with a dagger during the funeral of the Countess of Sussex at Westminster Abbey. Needless to say he wasn't too popular with his fellow heralds due to his habit of beating and slandering them, and he came in for a good deal of criticism for his professional judgement too.
College of Arms officials compiled records of grants which they believed Dethick should not have made and Shakespeare is included in the examples given. These manuscripts are full of snide allusions to the sort of 'mean persons' who'd been undeservedly elevated to the gentry, such as one Molesworth, a 'seller of stockings'. Two drawings of Shakespeare's arms are annotated with the words 'Shakespeare the player', denoting that William's occupation was clearly a point of contention for the heralds who opposed Dethick. Acting, after all, was not an upper class profession and was considered somewhat on the seedy side (all that cross-dressing and travelling the country, sleeping who knew where!), even if you were patronised by aristocrats or royalty. The other reason for criticising the Shakespeare grant was due to the similarity of the black and gold arms with those of Lard Mauley. Dethick defended the grant on both grounds and emphasised the good standing of John Shakespeare who had been a Justice of the Peace and had married into the prestigious Arden family. While we don't know for sure whether Shakespeare was aware of the controversy, the existence of angry letters from other individuals whose arms were questioned suggests that it's likely he would have known and complained about the situation.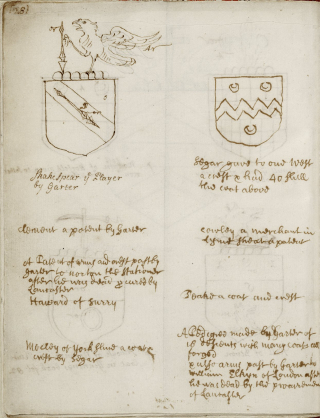 Ralph Brooke's complaint against coats and crests granted by William Dethick including the arms granted to 'Shakespeare the player', Folger Shakespeare Library V.a.350. 
 This work is licensed under a Creative Commons Attribution-ShareAlike 4.0 International License.
You can see the complaint against Shakespeare (on loan from the Folger Shakespeare Library) and Dethick's response (on loan from the College of Arms) on display in Shakespeare in Ten Acts until the 6th of September. To see more manuscripts relating to Heather Wolfe's discoveries, including those held in the British Library, go to the Shakespeare Documented website.