15 July 2022
by R.B. Russell, researcher, publisher and writer, who consulted the Robert Aickman Archive at the British Library and writes here of his experiences. 
I first came across Robert Aickman (1914-1981) as the author of 'strange stories' (his own term), psychological tales that updated the traditional ghost story to the requirements of a more 'knowing' late twentieth century. I soon discovered that Aickman's literary activities (he was also an editor of ghost story anthologies and wrote two volumes of autobiography) were just one part of his life. Another was his campaigning, largely successful, for the restoration of the inland waterways of Britain.
I was lucky enough to first see Aickman's literary archive in 2014 when I visited his literary executor in Guiseley, West Yorkshire. At that time, Aickman's manuscripts and typescripts were being stored in a spare bedroom. With my partner, Rosalie Parker, we produced an inventory of what was in the archive and we borrowed material to publish The Strangers and Other Writings (Tartarus Press, 2015) collecting together previously unpublished fiction and non-fiction. The Guiseley archive was ultimately acquired by the British Library in 2017. There are also collections of Aickman's waterways papers at the National Archive in Kew and at the National Waterways Museum Ellesmere Port in Cheshire.
The more I found out about Aickman, the more interested I became in the man, and in 2020 I decided to write his biography. I realised there were several obstacles, however, and that any one of them might cause there to be a major shortcoming in the finished book. Until I started my research, though, I couldn't be certain whether they were surmountable.
The first problem was one shared by all researchers—the pandemic. I couldn't consult any of the archives I wished to visit, meet up with anyone who knew Aickman, or visit any of the sites associated with him. However, since the 1990s I had amassed more research material than I realised, and now I had the opportunity to read it! If anything, being confined to home was a blessing in disguise. As for interviewing Aickman's old friends, they were very helpful and they now had the time to share information with me. Those who might otherwise have been wary of using modern technology were happy to make Zoom and Skype calls.
I had to wait for the archives to re-open here in the UK, but there was another small collection of important material at Bowling Green University in America. Even if I could travel there at some unspecified time in the future, I wasn't certain I could justify the expense. When I contacted them, I discovered the librarians were able to make pdf copies (for a modest fee) of all that I needed to see.
After a year of intensive and productive research from home, I was confident that many gaps in my knowledge would be filled when the British Library re-opened. There were only two major lacunae that concerned me.
The first was my inability to read Aickman's letters to his American agent, Kirby McCauley. This mine of useful information was in the hands of a rare book dealer in the US.
The second was any concrete information relating to Aickman's claim that he had been a conscientious objector in the Second World War, exempted from any kind of war work. This seemed out of character, and his old friends suggested several alternative theories, none of which could be verified. It seemed unlikely I would ever clear this up because the majority of official records relating to conscientious objection have been destroyed.
In June 2021 Covid restrictions were lifted somewhat and Rosalie and I were finally able to travel from North Yorkshire to visit the British Library on the Euston Road in London. After our informal experience in Guiseley, I must admit that it seemed like an imposition to have to join the British Library in advance (in Wakefield), then to book tables in the reading room, and to have to book the material we wanted to see from the online catalogue. Pandemic restrictions meant that the number of items we could consult at any one visit was limited.
However, over three days Rosalie and I looked through everything we asked for, and because of the friendly efficiency of the staff, we were able to see a little more besides. Despite the restrictions, the atmosphere in the reading room was relaxed and comfortable, and it was brought home to me how important it is to have this vital material publicly accessible (not kept in bedrooms, or overseas, owned by rare book dealers). So much was still uncertain in the world at that time, but there was something reassuring about being inside the British Library with the background sounds of murmuring voices, pages turning, and pencilled notes being made. I filled in all the gaps in my knowledge that I had been aware of, and discovered additional important material, besides.
My preparation for the visit to the British Library (which felt very long-delayed) meant that I extracted the most out of the three days. And I also discovered in the various files of Aickman's correspondence carbon copies of all his letters to his agent. They were as important as I had expected.
This left just that one unanswered question—Robert Aickman's apparent conscientious objection. I felt I knew Robert Aickman's beliefs and motivations well by this time, and it didn't 'fit' with his personality. It was out of character in the same way that one item in the British Library catalogue seemed out of place. Tucked away in a folder, according to the catalogue, was an application by Aickman to work for the Civil Service. I called up this folder to discover that the item had been mis-described (it has since been corrected). Rather than an unlikely application to work for the Civil Service, it was Aickman's application to be considered a conscientious objector, and the decision that had been made.
The biography came together at that point, although I still do not know what to make of the statement Robert Aickman submitted in support of his application for conscientious objection. He claims religious beliefs he does not profess anywhere else, and appears to contradict other statements he made. Whatever I may think of his justifications, he did receive the very rare judgement that he was exempt from any kind of war work.
My biography of Aickman was published in early 2022, as Robert Aickman: An Attempted Biography, by Tartarus Press It contains extensive acknowledgements in alphabetical order, but if I had listed them in order of importance, along with Rosalie Parker, the British Library would have been towards the top.
07 May 2020
By Greg Buzwell, Curator of Contemporary Literary and Creative Archives. Read more about the Angela Carter Archive on Discovering Literature and see the entire catalogue entry on our catalogue, Explore Archives and Manuscripts at Add MS 88899. Listen back to our event, Angela Carter: a Celebration, presented in association with the Royal Society of Literature at the British Library on 24th November 2016.
To mark what would have been the year of Carter's 80th birthday, we wanted to give everyone another chance to listen to Angela Carter: A Celebration, an event presented in association with the Royal Society of Literature at The British Library on 24 November 2016. Edmund Gordon, author of the multiple award-winning The Invention of Angela Carter: A Biography talks to Lisa Appignanesi, Susannah Clapp and Pauline Melville, all friends of Carter. Something to enjoy, perhaps, while raising a drink (Carter enjoyed wine, I believe) of your choice in honour of Carter's memory, and in celebration of her work.
Angela Carter, had she lived, would have celebrated her 80th birthday on May 7th this year. Sadly, we will never know what she would have made of the current world situation but, from her books, articles and interviews we can be certain that her opinions would have been perceptive, original and expressed with a refreshingly bracing honesty and vigour. There are many things to admire about Carter's life and work, but perhaps none more so than the fact she wasn't afraid of tackling the big subjects and addressing each one – sex, death, politics, class, feminism and parenthood to name but a few – with a devil-may-care directness. Even when people disagreed with her observations, as some did for example with The Sadeian Woman (1979) - her influential critique of pornography and the cultural determinism of gender and sexuality - it's impossible not to admire the intelligence, wit and originality with which her ideas were expressed.
Angela Carter, circa 1975. (c) Displayed with the permission of the Estate of Angela Carter

During her career Carter wrote novels and short stories that changed the landscape of British fiction. In particular the books she published from the early 1970s onwards display a remarkable originality. The Infernal Desire Machines of Doctor Hoffman (1972), for example, largely inspired by her experiences of Japan marries surrealism and philosophy to tell a tale that seems more relevant than ever in today's world of computer games and virtual reality. The Passion of New Eve (1977) meanwhile, one of the key works of 1970s feminism, satirises simplistic notions of gender, sex and identity. Angela Carter was always well ahead of the curve. The stories in The Bloody Chamber combine feminism and fairy tales with sublime Gothic imagery to inspire emotions in the reader that are by turns shocking and uplifting. Her final two novels, Nights at the Circus (1984) and Wise Children (1991) took her work in new directions. Wise Children, with its highly theatrical – in every possible sense of the word – cast of characters is a stylish and original take on highbrow and lowbrow art and the claims both have for a place in the world, and in our affections.
A page from Angela Carter's manuscript draft of 'The Bloody Chamber'. Add. MS 88899/1/13. © Displayed with the permission of the Estate of Angela Carter
With the support of the Estate of Angela Carter the British Library was able to feature highlights from her papers on its Discovering Literature: 20th Century website. From articles on themes such as fairy tales, cross-dressing and identity to explorations of individual collection items such as Carter's manuscript drafts of Nights at the Circus or her notes about Tooting Granada Cinema the website allowed us to bring items from the archive to a worldwide audience. Indeed, we could add to the picture of Carter given by her archive by including other British Library collection items, such as her experimental poem 'Unicorn', first printed in 1963 in Vision, a magazine edited by Carter and Nick Curry when the pair were students at Bristol University. The poem, which takes the medieval myth of the unicorn and virgin and transposes it to a sleazy modern setting of pornography and strip clubs provides an early precursor to novels like The Passion of New Eve and the stories in The Bloody Chamber.
A page from Carter's experimental poem 'Unicorn', from an edition published by the Location Press in 1966. Cup.805.a.9. © Displayed with the permission of the Estate of Angela Carter
Curators always have favourites among the archives they look after, even if in many ways they're not really supposed to 'value' one collection over another. Like passing the port to the right or snoozing through the Queen's speech on Christmas Day curators having favourites is slightly frowned upon in some circles. All the same, given that an archive of a writer, politician, publisher, actor, etc., should provide as complete a picture as possible of their life and work the archive of Angela Carter is undeniably a fascinating source of wonders.
15 April 2019
a guest blog by Patrick Armstrong, a PhD candidate at the University of Cambridge.The Papers of BS Johnson are available to consult in the Manuscripts Reading Room (Add MS 89001).  Learn more about some of the Libraries collections related to Beckett and Johnson here. 
B.S. Johnson's Samuel Beckett notebooks perform an act of remembering. Principally, Johnson wonders what it is possible for him to know about Beckett, an epistemological problem he tries to work out through writing. The scraps of paper and notebook entries show Johnson trying to remember all he can about his onetime friend and major influence: when he read his work, who he was with, what it meant to him at the time.
Johnson's idea of writing a literary biography of Beckett aligns with his famous authorial declarations. In The Unfortunates (1969), for example, he writes 'in general, generalization is to lie, to tell lies', while similarly, in Albert Angelo (1964), the narrator states that 'telling stories is telling lies'. The notes, written mainly between 1971 and 1973, show Johnson instructing himself on how to write truthfully, without 'generalisation': 'Work conversation into this – as exactly as I can remember – use as interludes in conjecture material, in different type – that is, it is part of the "no generalisation" idea, which […] stated very carefully – somewhere – It was in MURPHY […] that I first saw the word SOLIPSISM'.
A page from Johnson's small pocket-book detailing his first encounter with 'solipsism' (Add MS 89001/8/8). All images reproduced with the kind permission of the BS Johnson Estate.

In philosophical terms, solipsism is the theory that one's own self or consciousness is all that exists or all that can be known. Initially encountered in Beckett's witty early prose (Murphy is described as a 'seedy solipsist'), the word offers Johnson 'a mode of being' and, crucially, 'a mode of GOING ON' (a reference to Beckett's later, post-war prose). The evocative term is then connected with the process of biographical writing, as Johnson states:
'Experiment/Venture into BIOGRAPHY
What do I know about BECKETT?
Solipsistically
i.e. only what he told me/what I saw for myself CAN BE ACCEPTED as true.'
A page from Johnson's small pocket-book where he thinks through the limits of the biographical form (Add MS 89001/8/8). All images reproduced with the kind permission of the BS Johnson Estate.
 The confessional mode seems to have become the only truthful method of writing, as for Johnson all that can be known about Beckett is what he himself saw and heard. Thinking about Beckett sharpens Johnson's own conception of his literary project; it allows him to work out his own position, offering a means of finding an acceptable form, as Beckett put it, 'to accommodate the mess'. The 'idea' (one small green notebook purchased in Paris is simply entitled 'Beckett Idea') of writing a biography becomes an expansive, Proustian process of remembering one's own life: 'How everything gets tied in with everything, how here I am trying to write about Sam, and it is [he lists other friends] - just to get it down before I forget it, for some bits of it no one else could get down, obviously. […] All is digression'. The potential biography becomes a kind of autobiography, a project in both solipsistic remembrance and Sternean digression. Does Johnson genuinely consider writing a biography of Beckett, or does he instead use the 'venture' and 'experiment' of doing so as a prompt for memory and material, as a mode of 'going on'?
Evidently, Johnson had a deep affinity with Beckett's thought, and the Irish writer's life and work seems to intimately intertwine with Johnson's own. The latter even associates space with Beckett's company: 'The way B came to the Hotel […] the way I associate that little waiting room with him – no, with his PRESENCE.' The writing is self-corrective, as 'him' becomes the more impressive and aggrandizing 'his presence'. As Jonathan Coe writes in his biography of Johnson, Like A Fiery Elephant: The Story of B.S. Johnson (2004), 'the friendship of Beckett, his unfailing kindness and supportiveness, would become one of the cornerstones of Johnson's life'. On several occasions, Beckett's work uncannily 'fitted' Johnson, connecting to his own experiences in unexpected ways. On seeing Waiting for Godot for the first time in Autumn of 1955, Johnson modestly recalls how it 'echoed (+ said more + better than I could) things I had been talking […] about before we went in'. Another time, when he telephones his girlfriend to say that it is 'all finished', Johnson remembers holding his colourful copy of Watt in the phone box, describing its 'splendid purple/blue/pink' jacket and 'bloodred cut paper'. In reference to his separation, Johnson declares: 'Beckett's solipsism/stoicism fitted! […] I read him with an intensity to try to shut out what she had done'. The two 'isms' separated by an oblique stroke, stoicism and solipsism, are arguably two of the most important concepts that Johnson takes from Beckett.
A year after first seeing Godot,Johnson remembers being in a Parisian bookshop unable to afford a copy of Molloy. Still drawn to the book, he sifts through the first few pages in the bookshop: 'read and felt the first few pages'. Like the memory of holding his copy of Watt, the experience seems both tactile and emotional. This emotive episode is ironic given that the notes reveal how Beckett, well-off after winning the Nobel prize, later offered and sent money to the struggling writer in London. This is the same kind and generous Beckett that we find in his letters, and in André Bernold's portrait of the author in Beckett's Friendship (2015). Johnson's note that Beckett 'again offered financial help' are eerily the last words recorded in the notebook. In fact, when reading through these notes, their temporal closeness to Johnson's suicide in November of 1973 is hard to ignore. Of a notebook with 144 leaves, just ten are written on, and there is a sadness about the mostly empty book. Johnson and Beckett eventually fell out after the former assured his publishers that they could use some of Beckett's enthusiastic comments about his work ('a most gifted writer') as an endorsement on the dust jacket of Christie Malry's Own Double-Entry (1973).
Yet, Beckett's influence permeates Johnson's notes - one loose scrap of paper could be mistaken for one of Beckett's mirlitonnades, an irregular small poem. In addition, there are notes (something about Joyce and Yeats) on the back of receipts from French restaurants, specifically 'Le Moulin Noyé' in Glénic (Creuse), which is, appropriately, a 'Hôtel isolé': a solitary, solipsistic residence. On another scrap of paper Johnson reveals how significant he finds Beckett's 'idiosyncratic' use of words: 'once when I rang him about 11.30am he said "Could you ring back? I'm trying to wash myself" Am I alone in finding that idiosyncratic? Or does all he say seem significant for me in the light of what I know he is, of what I believe him to be?'

A collection of receipts and loose-leaf scraps on which Johnson recorded his thoughts about the biography of Beckett (Add MS 89001/8/8). All images reproduced with the kind permission of the BS Johnson Estate.


Again, there is the sense of doubt about what Johnson knows of Beckett, as he corrects himself with the verb 'believe'. Yet, it is arguably this belief in the significance of Beckett's language and thought that provided Johnson with a fitting mode of writing.   
05 January 2018
Guest blog by Travis Elborough author of  Our Twentieth Century: As Told in Diaries, Journals and Letters, published by Michael O'Mara.
Diaries and journals as we know them now have been with us since at least the 16th century. But it wasn't until 1812 that the stationer John Letts first began selling a yearly almanack from his shop at the Royal Exchange in London – at that time home to numerous booksellers and coffeehouses and an area previously haunted by Pepys. The Letts Diary was an immediate success, attracting such devoted users as William Makepeace Thackeray who favoured the 'three shillings cloth boards' No 12 model, and continues to be published in a multitude of formats to this day.
I've never really kept a diary. But I am an inveterate reader of other people's. For me, the appeal has always been their immediacy and intimacy. That unique sense of being addressed directly, and sometimes extremely candidly, by someone, perhaps from an age other than our own, is intensely seductive. At the British Library there is the added thrill of being able to consult the original diaries of the likes of Laurie Lee, Kenneth Williams, Alec Guinness, Beryl Bainbridge and Shiva Naipaul in the archives, their personalities coming across here in pen stroke and paper stock as well as in choice turns of phrase.
It has been an enormous pleasure and a real privilege to be able to consult such documents and the Library's unparalleled collection of published diaries while putting together my latest anthology, Our History of the 20th Century. In this book I've used extracts from over a hundred different diarists, both the great and the good and the completely obscure, to present a kind of top down and bottom up account of Britain during the last century. My diarists range from politicians, heads of state, novelists, playwrights and celebrities to ordinary people and the largely unknown and unsung contributors to the Mass Observation Project.
But in any case, as an historian and author of books on vinyl records and the British seaside, diaries are where I go to try and find as instantaneous or unvarnished a reaction to events as possible. First impressions count because they tend to get superseded by the collectively agreed verdict of history. Take for example the funeral of Queen Victoria, an event which we condescendingly assume must have been greeted with great solemnity by the general public. And yet here is Arnold Bennett's impression of the occasion from his journal on 2 February 1901:
This morning I saw what I could, over the heads of a vast crowd, of the funeral procession of the Queen. The people were not, on the whole, deeply moved, whatever journalists may say, but rather serene and cheerful.
Afterwards, Legge, Fred Terry and Hooley lunched with me at the Golden Cross Hotel, and all was very agreeable and merry.
Diaries are, of course, often far from authoritative and have no commitment to tell the truth or record incidents accurately. They are by their very nature subjective, and so subject to the egos, whims and biases of their writers. Bennett may, perhaps, have nursed a particular antipathy toward the old Queen, who knows? Elsewhere in his journals he denounces cocktails, admires Lyons Corner House restaurants and records meeting T S Eliot and asking the American-born poet if The Wasteland was intended as a joke.
This is another joy of diaries, they can often supply frank (and sometimes amusingly wrong-headed) assessments of artworks long since judged canonical. It is in her diary that Virginia Woolf famously confessed on reading James Joyce's Ulysses to feeling 'puzzled, bored, irritated, and disillusioned as by a queasy undergraduate scratching his pimples'. In turn Beatrice Webb writes off To the Lighthouse in her diary, deeming the 'stream of consciousness' narrative of Woolf's 1927 novel 'objectionable' on the grounds that 'even one's own consciousness defies description'.
 Arthur Miller's Death of a Salesman might well have won the Pulitzer Prize in 1949 and is widely regarded as a classic of post-war American theatre. One that continues to be studied and regularly performed all over the world but after seeing its first London run, Malcolm Muggeridge judged it 'a wholly sentimental affair', concluding in a diary entry for the 27 September 1949 that it was little more than 'a glorified hard-luck story.' He was similarly damning of John Osborne's Look Back in Anger too.
Anyone familiar with the work of the film and theatre director Lindsay Anderson, leading light of the Free Cinema movement who produced politically-charged movies like If and Britannia Hospital, might have expected him to take a rather dim view of Star Wars. And indeed he does, with the robots C3P0 and R2D2 in George Lucas's cinematic space epic coming in for particular criticism. But it is also in the pages of his diary we learn, rather surprisingly, that in 1978 he was a committed viewer of the American television series The Incredible Hulk.
Armed with this knowledge is it tempting to imagine what Anderson, who late in his career worked unhappily with the 80s pop group Wham! on a documentary of their tour of China, might possibly have done himself with a Marvel comics movie.
Anderson died in 1994, the year Tony Blair became leader of the Labour party. And there is, if anything, nothing more distant than that recent past. What seems like yesterday remains a period when news of Princess Diana's death, for instance, reaches all the diarists in my book via landline telephone, radio, terrestrial television and inky newsprint rather than by text, the internet or social media.
Today, of course, many more people choose to document their lives with pictures on Instagram and comment publicly on events, personal and political, on Facebook or Twitter rather than privately in the leaves of a diary. It will be interesting to see what future historians might then use to construct a similar volume about our current century. 
Travis Elborough's new book Our Twentieth Century: As Told in Diaries, Journals and Letters is published by Michael O'Mara.
26 December 2017
Edward Thomas believed poetry to be the highest form of literature, yet it wasn't until late in his life that he became a poet. For the greater part of his creative life he was a reviewer, critic and the author of a number of books on nature.  He was born on the 3 March 1878 in Lambeth to Welsh parents who instilled in him a strong sense of his Welsh heritage.  He was educated at St Paul's School and then Oxford University. In 1899, while still an undergraduate, Thomas married Helen Berenice Noble, the daughter of an early mentor, James Ashcroft Noble, who had encouraged Thomas to publish essays based on the copious notes he took on his long country walks.  After Oxford, Thomas made a precarious living working as a reviewer on the Daily Chronicle much to the dismay of his father, who had hoped his son would follow in his footsteps by joining the Civil Service.  Thomas's determination to earn his living as a writer was to cause a major rift between father and son.
Edward Thomas photograph circa 1905 Wikimedia Commons
In order to support his growing family Thomas had to take on more and more reviewing – leading him to declare to a friend that "I am burning my candle at three ends", despite his dislike of what he referred to as his "hack work" he became a prominent and influential literary critic. It was through his growing status as a reviewer that Thomas became acquainted with Harold Monro, whose Poetry Bookshop was the centre for an emerging group of poets who became known as the Georgian Poets. The key members of the group at the time were Lascelles Abercrombie, W W Gibson, Rupert Brooke and John Drinkwater.
In 1911 Abercrombie moved to 'The Gallows' a house at Ryton, just outside the village of Dymock in Gloucestershire; he was soon followed to the area by Gibson who, with Abercrombie, persuaded the American poet Robert Frost to move to a house in Ledington called 'Little Iddens'. The three of them formed what became known as the Dymock triangle.  The Dymock colony is looked back on today as an idyll, a short-lived golden time, brought to an end by the First World War.
Thomas first met Frost in October 1913 and was subsequently a frequent visitor to 'Little Iddens', often staying with Frost until he too rented rooms for his family in a nearby farmhouse. Other visitors to Dymock included Rupert Brooke, John Drinkwater, Eleanor Farjeon, Ivor Gurney and W H Davies.  Thomas's friendship with Frost was to prove a pivotal moment in Thomas's life.  The two men would go for long walks in the surrounding countryside discussing poetry and life.  Frost has been credited as the catalyst in Thomas becoming a poet.  He suggested that Thomas take his prose and turn it into poetry. In the final two years of his life, Thomas was extremely prolific, writing over 140 poems.  One of his most famous is 'Adelstrop', written on the 24 June 1914, on a train journey to visit Frost.  The poem recounts an unscheduled stop that captures a moment of peace and tranquillity on a summer's day, which later took on an extra poignancy for those about to be slaughtered in the coming war
There has been much speculation as to why Thomas enlisted in the army. Certainly we know he spent many hours deliberating over whether he should join up.  As a married man in his late thirties with three children to support he would not have been expected to enlist.  But enlist he did, on the 19 July 1915 as a private in the Artists' Rifles.  A little over a year later he was promoted to corporal and worked as a map reading instructor, an occupation for which he was entirely suited and a position he could have retained for the duration of the war.  Ironically, it was the army that gave him the freedom to write, free from the financial worries of how to provide for his family.  In November 1916 he was commissioned into the Royal Garrison Artillery as a second lieutenant, the following month he volunteered for active service.
Thomas arrived in France a few months before the commencement of a major Allied offensive, aimed at breaking through the German defences at Arras. The day before the battle, a shell landed near Thomas but failed to detonate.  That evening he was toasted in the Officers' Mess for being blessed with luck.  The battle began on Easter Monday 9 April 1917, within the first hour Thomas was dead.  Some biographical accounts suggest he was killed by the concussive blast of a shell which left his body unmarked.  However, a letter from his commanding officer, which lay undiscovered in the New York Public Library for many years, reveals that he was killed by a direct hit through the chest.  The poems that were to make his name were published a few months after his death.
Perhaps his work has been overshadowed by the dominance of modernism, but many poets point to Thomas as an inspiration and he is seen by some as the bridge between Thomas Hardy and Ted Hughes. Hughes described him as "the father of us all".  On Armistice Day in 1985, Hughes unveiled a memorial to First World War poets in Westminster Abbey, which included Edward Thomas among those commemorated.
Duncan Heyes, Curator, Printed Heritage and Contemporary British Publications.
14 October 2016
I was too young to see The Company of Wolves when it first came out in 1984. Consequently, until the film appeared on video, I had to make do with reading the reviews in newspapers and admiring the stills reproduced in film magazines. The stills were remarkable, full of fairy-tale imagery run riot. One shot showed a banqueting scene in which ornately dressed guests had developed lupine faces; another showed a cluster of eggs lying in a nest, one of which had cracked from top to bottom to reveal a baby. Perhaps most memorably of all one still depicted a wolf's snout, all sleek and furred, emerging from a man's mouth - the beast within made manifest. Inspired by the lush Gothic imagery of the film (I've always believed that if Gothic is worth doing it's worth over doing, it's a genre that thrives on excess – I'm all for velvet drapes, icy-mists and all round spectacular flamboyance when it comes to Gothic) I sought out The Bloody Chamber, the volume containing the short story that provided the inspiration for the film. And so I discovered the world of Angela Carter – 'Feminist', 'Magic Realist', 'Gothic author', 're-worker of fairy tales' and generally someone to whom a seemingly endless stream of labels have been applied over the years, all of which tell part of the story but none of which do the breadth of her work and her imagination justice.
(Angela Carter by Fay Godwin © British Library Board)
Perhaps as a result of this early exposure to Neil Jordan's film adaptation Angela Carter's work has always, to my mind, possessed something of a cinematic quality. Jean Luc Goddard and Frederico Felline were clearly influences but I often like to imagine that there is possibly a dash of Hammer Horror lurking in the shadows behind some of her stories. In her final novel, Wise Children, Carter had explored the way in which high art and low, Shakespeare and music hall for example, often become entwined. Given such an outlook surely it's possible to speculate that films like The Curse of the Werewolf, The Brides of Dracula and The Kiss of the Vampire might have played a part in the genesis of stories such as 'The Bloody Chamber' and 'The Lady of the House of Love'. I like to think so, no matter how fanciful such a notion may be on my part. Still, true or not, I've always been pleased that I came to Carter's work via film.
(Poster for The Company of Wolves, directed by Neil Jordan and with a screenplay by Neil Jordan and Angela Carter)
'Dying', as Gore Vidal once gloomily remarked, is often 'a good career move' and in the year following Carter's death in 1992 the British Academy received over forty proposals for doctoral research into her work. Sadly, in art as in life a person's influence and worth often only really become apparent once they have gone. Angela Carter's tragically early death propelled her work into the limelight. Almost twenty five years later, and with Edmund Gordon's eagerly awaited The Invention of Angela Carter: A Biography now in the bookshops, the fascination and admiration surrounding her work continues to grow from strength to strength. In a sense Carter's work achieves that rare but perfect balance – simultaneously adored by academia for its insight, depth and invention but maintaining popular appeal due to its fabulous characters, storylines and sheer exuberance.
The British Library holds Angela Carter's archive, a resource that consists of a wealth of manuscript material including diaries, notebooks, letters, drafts of novels, outlines for short stories and research notes. Each part of the archive offers a fascinating glimpse into Carter's life and work but, for those with a love of her fiction, perhaps the most revealing items are the notebooks in which she recorded her research and worked on ideas that later became fully developed episodes in her books.
(Above Add. MS 88899/1/11, a page of Angela Carter's notes for Nights at the Circus. © Displayed with the permission of the Estate of Angela Carter).
Shown above, by way of example, is a page from one of her notebooks in which she outlines her initial thoughts about the character of Sophie Fevvers from the novel Nights at the Circus (1984). It is fascinating to see the character in embryo, and to be able to explore how layer upon layer of idea, imagination and imagery is built up until Fevvers, a six-foot-two trapeze artist with wings, emerges complete in the published book. The genesis from notebook to novel took many drafts and, as can be seen below in this page of an early draft of the opening chapter the re-workings of the text continually grow and evolve rather than emerge fully formed.
(Add. MS 88899/1/12. Early draft of the opening scenes from Nights at the Circus. © Displayed with the permission of the Estate of Angela Carter).
Carter's notebooks are a continual delight, and looking through their pages offers a unique insight into the creative process. In a way it is the literary equivalent of siting in a studio with an artist as they work on a painting, seeing the successive sketches and layers of paint as they are applied until the finished portrait appears. You don't often get the chance in life to see creative genius in action, but Carter's archive does give us one such opportunity to see exactly that.
Much more about Angela Carter's archive and work can be found on the Discovering Literature: 20th Century website, with examples from her notebooks relating to Nights at the Circus being available, together with examples of the early drafts of the novel . The British Library, in partnership with the Royal Society of Literature, will also be hosting an event - Angela Carter: A Celebration - on November 24th 2016. Nearly 25 years after her death Angela Carter is more relevant than ever.
25 May 2016
We are delighted to announce that the 20th century phase of the Library's free educational resource has been launched today! The website which is aimed at A-level, undergraduate students and the general public, uses archival and printed sources to shed lights on the historical, political and cultural contexts in which key literary works were created. The launch of the 20th century phase follows on from the very successful 19th century module, 'Romantics and Victorians' that was launched in 2014 and the Shakespeare module which came out in March of this year.
The 20th century phase sees over 300 literary treasures being made available online for the first time. High resolution images of literary drafts, first editions, letters, notebooks, diaries, newspapers and photographs from Virginia Woolf, Ted Hughes, Angela Carter, J.G. Ballard and others provide a wonderful insight into the creative process of some of the most influential and innovative writers and poets of the 20th century. The site focuses predominately on 15 key literary figures of the 20th century - Wilfred Owen, E.M. Forster, James Joyce, Virginia Woolf, Katherine Mansfield, Daphne du Maurier, George Orwell, W.H. Auden, T.S. Eliot, Ted Hughes, Sylvia Plath, Angela Carter, J.G. Ballard, E.R. Braithwaite and Hanif Kureishi.
I am sure that people will be excited to see the original handwritten literary drafts many of which differ from later published editions. These include drafts of Mrs Dalloway by Virginia Woolf under its original title 'The Hours' and George Orwell's literary notebook in which he recorded his ideas for what would later become Nineteen Eighty-Four . An earlier title for Ted Hughes' Birthday Letters 'The Sorrows of the Deer' can also be found in successive drafts of the poet's work on one of his most famous poetry collections.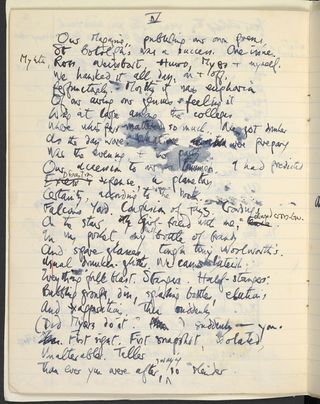 Draft of 'St Botolph's' from Add MS 88918/1/6 © Ted Hughes Estate and reproduced with their kind permission. For further use of this material please seek formal permission from the copyright holder.
Alongside these original drafts you will be able to read letters and diaries of the period, and look at old photographs and newspaper cuttings that provide a real context for the literary creations broadening our understanding of the world in which the writers were living and working. The innovative ways in which the works were created often challenged contemporary audiences whether those audiences were made up of other authors or the general public. A good example of this is George Bernard Shaw's letter to Sylvia Beach in which he gives his not altogether flattering opinion of James Joyce's Ulysses. As well as commenting on the work of others letters and diaries also illustrate the hopes, doubts and aspirations of writers, particularly early in their career. In his letter to Sydney Schiff whilst he was working on 'The Waste Land' T.S. Eliot writes to thank Schiff for his comments saying -
'You could not have used words which would have given more pleasure or have so persuaded me that the poem may possibly communicate something of which it intends'.
Similarly in a diary entry from 1959 Ted Hughes writes of waiting nervously to find out if he has received the Guggenheim prize for this first poetry collection, Hawk in the Rain. Whilst we can look back with hindsight on such events it is a real privilege to be able to read of the poet's own feelings so early in his writing career.
This blog can only go some way to whet your appetite about the website but please don't take my word for it do have a look for yourself! In addition to having everything from Wilfred Owen's poetry drafts and Woolf's travel writings to J.G. Ballard's evocative Crash! manuscript and Hanif Kureishi's drafts of My Beautiful Launderette the site also has a series of articles on the writers, their work and wider 20th century literature, short documentary films and teachers notes all free and available for everyone.
24 May 2016
The Library's current exhibition Punk 1976-78 is an opportunity not just to look back at the early years of punk, but also to make new connections and to build on the legacy material that the Library holds.  The exhibition showcases examples of the fanzines inspired by punk's DIY spirit and energy.  Forty years on, zinesters are still busy writing and drawing, cutting and pasting, stapling and sticking their creations, and the Library is as keen to collect zines now as it was during the first stirrings of punk. Publicity around the exhibition has also inspired some of the individuals who produced fanzines at the time to donate them to the Library so that they can be conserved and made available in our Reading Rooms.   We are delighted to have received a donation of the full run – all two issues – of a punk fanzine produced in Cardiff in 1978, Oh Cardiff… Up Yours!, from Paul Davies who was one of its creators. One of the hardest things for the exhibition is to convey the diverse meanings of punk for the fans who espoused its ethos and participated in it through their own expression and activism.  The fanzines we hold allow access to the voices of some of those involved in the heady days of punk.  I asked Paul to say something about what motivated him and his friends to produce a fanzine.  Paul's account is reproduced below – in his own words. As a curator I'm delighted that Paul has written this piece, both for its interest now and for anyone looking at the zine in years to come to understand how it came into being. 
I'm also struck by the way that producing a fanzine was a starting point for a whole range of creative endeavours for those involved. While I was thinking about how to present Oh Cardiff… Up Yours!, I came across a reference to it  from another of its co-creators, for whom it also remains significant, in a post on the urban75 blog. One aspect of my work in the Contemporary British Publishing team is to identify websites for inclusion in our web archiving programme, as part of the Library's mission to capture a wide range of contemporary cultural and political expression. For me, it is inspiring to see this link between the punk activism of 1976-78 and contemporary social activism. Just as punk fanzines challenged the music coverage of the mainstream press,  the urban75 website was a pioneer of online activism providing an alternative to mainstream media, and it remains vital and vibrant today. It's not always easy to explain the significance of zines and fanzines alongside the Library's more prestigious holdings. But whether for students of print journalism and the flagship magazines that have mediated Britain's popular music and youth culture, or for future students of alternative and DIY culture, punk fanzine Oh Cardiff… Up Yours! marks the beginning of a journey into creativity and activism in print, film, and on the web, and from the record shops and venues of Cardiff to a global reach.  Paul's account of its creation is no mere nostalgia trip: those two issues from 1978 are relevant for their part in a punk legacy that shapes cultural and political expression today, and I'm thrilled to have them in the Library.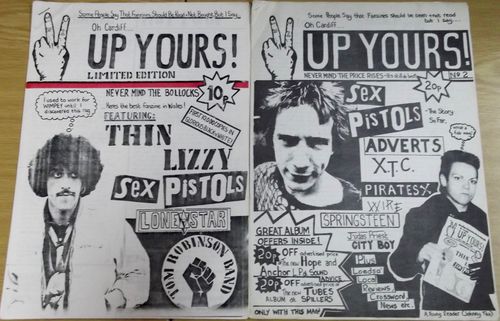 Oh Cardiff... Up Yours! issues 1 and 2.
Oh Cardiff... Up Yours!
The tendrils of punk rock began to wrap themselves around my flares-festooned ankles at a precise moment in time in the winter of 1976. If I had been partial to breakfast cereals, it would have been a splutter-the-cornflakes-across-the-room moment. Preparing for another tedious day at school, as we breakfasted in our small kitchen the necessity to engage in early-morning familial badinage was scuppered by the incessant drone of the local radio station.
On this particular morning the apoplexy count was in overdrive, as the Anarchy in the UK tour was about to hit the hot and happening Valleys enclave of Caerphilly – a desolate urban outcrop as far away from the bondage trousers of the King's Road as it is possible to be, and yet, in its own malodorous, disenfranchised and truculent way, absolutely perfect to welcome the burgeoning social and political tornado that was Punk Rock.
As the 
New Musical Express
 was my bible, handbook and calling card, I was clearly prepped about this swaggering new musical movement emanating from that London, but had yet to experience the sonic thrills that were allegedly on offer, and was still hanging on, rather apprehensively, to my copies of 
'
Frampton Comes Alive
'
, Deep Purple's 
'
Made in Japan
'
, my RAF Greatcoat and my luscious shoulder length hair.
'
Anarchy in the UK
'
 changed all that, and left me gasping for more. Four decades later the opening 20 seconds of that song still sound as feral, exhilarating, revolutionary as they did back then – the crunching powerchords just softening you up before Rotten grabs you by the throat and demands that you listen up "Right Now!" and then announces and introduces himself formally as the Antichrist and the Anarchist that an army of suburban home-owners would soon be threatening to garrotte, castrate and behead.
You didn't hear this stuff on the radio, ever. To hear it on a local news radio station dealt an unstoppable knock-out punch to the solar plexus. If you were 17 and of a certain disposition, you responded in only one way – you embraced it, instinctively – you didn't quite get what was going on (yet), but you wanted in – and you wanted all your friends in as well. Year Zero was here – time to reassess everything.
Like the most addictive drugs, the fired-up elation of the first hit sent you reeling in all sorts of directions as you sought and consumed anything related. The Pistols and 
t
he Clash
 were primo Class A stuff, but we were so hungry for cheap dirty thrills we even dabbled in Class B/C/D zones – from the Lurkers to 999, Eater to The Cortinas – all with a provincial charm of their own and a happy filler.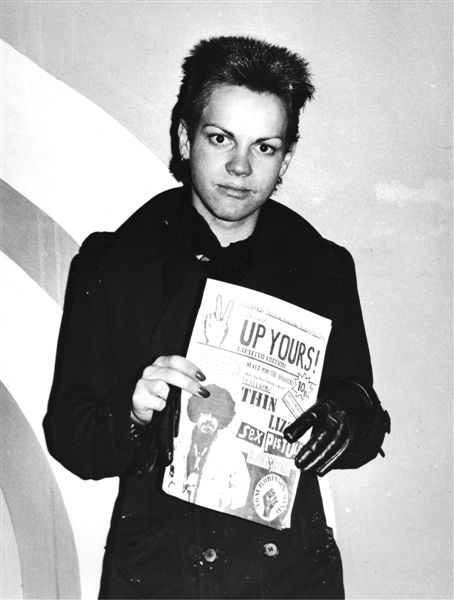 Cultural movements bring people together and punk was no different – a small circle of friends gravitated towards each other as we fell deep into this dizzying, angry, intoxicating maelstrom. 1977 was a great time to be 17/18. We were a gang of sorts, we hung out all the time, went to gigs religiously and inspired by punk, we plotted how we would vent our energy creatively. It had to be a fanzine.
Cardiff was ill-served by fanzines, we were going to resolve that and make our mark on a stultifying provincial scene, which needed a cultural rocket up its jacksy. We were more than happy to oblige. Being teenage wannabe punk warrior wordsmiths, the first step seemed to be finding appropriate noms de plume – that's what punks did, didn't they?
So we became, shamelessly, Mal Function, Cess Pitt, Rick O'Shea and Dai O'Rhea. Our photographer was already called Slug, so he didn't need one. Then we needed a name for the fanzine. It had to be current, mildly inflammatory, a call to arms. We hit upon 
Oh Cardiff... Up Yours!
 Genius. With a respectful nod to the great Poly Styrene and X Ray Spex, we were on our way.
Rick O'Shea, Cess Pitt and Mal Function with the first issue
As most of us were happily unemployed we had plenty of time for our editorial meetings – fanzine content was shaped by the gigs we went to, the records we bought. We reviewed the gigs, singles and albums, interviewed the bands, then hastily typed it all up on an antique typewriter – with some assistance from one of our friends who could actually type. Ours was by no means a Stalinist punk manifesto – the uneasy mix of bands we covered reflected the transitioning of our musical tastes – we'd cover local punk oiks The Tax Exiles as well as bands like Thin Lizzy.
We devoured the ethos of punk greedily, if not the haircuts – contemporaneous photographs provide damning evidence of shoulder-length hair and inappropriate clothing not approved by the Punk Politburo. Wearing a Thin Lizzy tshirt and customising jeans with a ripped and burnt Union Jack with stencilled Sex Pistols lettering seemed somehow more punk than buying a pair of tartan bondage trousers from Paradise Garage in Cardiff.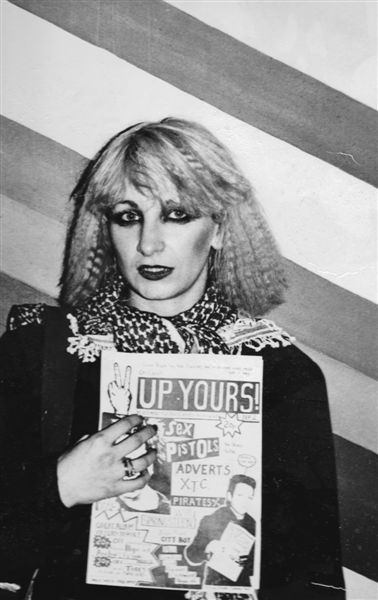 Bette Bright of influential Liverpool art rock / new wave band Deaf School
Our prehistoric approach to desktop publishing amounted to cutting out pictures from the NME, cutting out the typed reviews and messily gluing them to sheets of A4. Page titles were hand-crafted, a few cartoons thrown into the mix, and then off down the printers to whack out a hundred copies of issue 1. This figure was later inflated when we got our first press coverage in the staid local rag – fiercely competing with a couple of other 'zines which had sprung up since we published, we brazenly bumped up our circulation to 250.
The thrill when we picked up those first boxes of actual fanzines was intense. We'd done it!. A few hours of stapling and we were ready to hit the streets. There were plenty of gigs taking place in Cardiff, at the Top Rank, the University and two local arts centres, so we just hung about before and after gigs, and miraculously sold the lot.
Emboldened by this, we doubled our print run, and the cover price, and did it all over again, hitting up a couple of local record shops which agreed to stock the fanzine. The reaction was 
almost
 universally positive – fearless truth-tellers that we were, we gave an uncomplimentary review to a local punk band, who seemed hell-bent on giving us a good kicking until we managed to persuade them that we didn't actually write the thing, we just sold it.
And then that was it. Like all the best things that came out of punk, we blasted in for two issues and then burnt out. Circumstances conspired to separate us geographically, punk was blowing itself out and we all moved on to other things.
Coverage in the Western Mail, February 25th 1978
Mal Function (Paul Davies @longtimelurker ) – worked as a freelance journalist for Jamming! and Q magazine during the 1980s and 90s. Now works as a Business Analyst.
Cess Pitt (John Brewer) – became a firefighter, rose through the ranks, retired at 50. Still going to see Stiff Little Fingers gigs.
Dai O'Rhea (Mike Slocombe @urban75 ) – moved to London in 1978, drummed in bands for years. Now runs Urban75 website and Brixton club nights.
Rick O'Shea (Pete Salmi) – went to film school, directed movies and TV films – now works in advertising.
Slug (Andy Rees @Andrew0145 ) – studied photography, now working as a freelance photographer in the Cotswolds.
Oh Cardiff... Up Yours! banner at anti-National Front demonstration
English and Drama blog recent posts
Tweets by BLEnglish_Drama
Other British Library blogs