19 June 2020
by Tabitha Driver, Cataloguer Modern Archives & Manuscripts. Find out more about the Library's collections of material relating to Alexander Pope on Discovering Literature.
Though we have been unable to explore physical collections directly during the last few months, their materiality exercises a continuing fascination. Printing, handwriting, paper, and writing tools all provide evidence of the processes of creation and transmission that's sometimes not at all easy to reproduce in digital form. A writer's own manuscripts can reveal much, from the quality of paper to revisions, insertions and rewritings. Not all writers start work with a fresh sheet of paper, either. Used scraps, old envelopes or discarded documents can all serve just as well, whether snatched up as a matter of urgency or simply for economy's sake.
One such case is the 18th century poet Alexander Pope (1688-1744). Early in his career Pope produced translations of Homer's two great epic poems, The Iliad and The Odyssey. Pope's Iliad took him over six years to complete – at times he despaired of ever finishing – but when it was finally published, by subscription and issued in parts from 1715 to 1720, it paid off handsomely. Thanks to his earnings from both Homeric epics, Pope acquired invaluable financial independence; as he strikingly declared in a poem from 1737: "But (thanks to Homer) since I live and thrive,/Indebted to no Prince or Peer alive" (Epistle 2, ii.68–9, Poems, 4.169). 
Pope drafted his Homeric translations on the backs of old letters sent to him by friends, family, writers, and other public figures, and on other written fragments. Some years after his death, the drafts were presented to the British Museum in three volumes (Add MS 4807-4809): volumes one and two are the draft translations of The Iliad and the third is The Odyssey. They were early on a source of interest. Samuel Johnson, who described Pope's Iliad as "the noblest version of poetry which the world has ever seen" examined the manuscripts at the Museum closely for his life of Pope (Johnson, Lives of the poets, ed. G H Norman (1905) vol. 3, p. 119), and printed comparisons between selected verses from the draft and published versions of The Iliad. He put down Pope's use of old letters for writing paper to "petty artifices of parsimony", a sign of the poet's tendency to excessive frugality. You can find out more about the manuscripts, and read a selection of folios from Add MS 4807, on the British Library's Discovering Literature website, along with Pope's sketch of Achilles' shield from Add MS 4808.
Opening verses of Homer's Iliad, translated by Alexander Pope. Manuscript draft (Add MS 4807, f. 17)
Besides what we can see of Pope's translating and writing process from the manuscripts themselves – the crossings out and insertions, and the variances from the published text that Johnson observed – the mixed bag of unrelated letters and notes on which they were written confer a rich additional layer of significance. They provide a fascinating insight into the development of Alexander Pope as a young writer in literary London of the early 18th century, and the coffee house milieu in which he moved, with its literary and political alliances, rivalries, business and friendship.
End of book 6 of The Iliad, translated by Alexander Pope. Manuscript draft written on a letter addressed to Mr Pope, Button's Coffee-house (Add MS 4807, f. 87v)
The writers of the letters and notes include Pope's friends John Caryll, the Jacobite Baron Caryll of Durford, Edward Bedingfield of Grays Inn, Barnaby Bernard Lintot, Pope's publisher, Charles Jervas, portrait artist and painting instructor of Pope, and Anne Finch, Countess of Winchilsea, poet, among others.
Letter from Bernard Lintot about reception of "Mr Tickles book" at Buttons Coffee House, 10 June 1715 (Add MS 4807, f. 96v)
Topics touched on in the letters are miscellaneous too. They range from literary matters, such as publication of The Rape of the Lock (Pope's mock-epic poem about the theft of a lock of hair) in 1712, instructions for the printer Jacob Tonson regarding Pope's translation of the Sarpedon episode in Poetical miscellanies (1709), and the critical reception of a rival translation of the first book of The Iliad by Thomas Tickle, published in the same month as Pope's (June 1715), to family affairs, such as medical advice and investments in the South Sea Bubble.
Thanks to the poet's economical habit of re-using old paper for his writing, the manuscripts of "Pope's Homer" have acquired a double significance. On the one hand they are important as the original drafts of his hugely successful translations of Homer's Iliad and Odyssey. On the other, they offer us a vivid record of Pope's life and times during all the years he worked on them.
Alexander Pope's sketch of the shield of Achilles (Add MS 4808)
08 February 2019
by Rahul Bery, Translator in Residence at the British Library for 2018-19. The British Library's Translator in Residence scheme, supported by the Arts and Humanities Research Council (AHRC), offers a translator the opportunity to become part of the British Library's multilingual community of staff, readers and visitors for one year. The exhibition, P.G. Wodehouse: The Man and His Work, runs until February 24th. 
One thing I feel not sufficiently covered by the BL's otherwise wonderful mini-exhibition on the life and works of P.G. Wodehouse, currently running in the treasures gallery, is his appeal beyond the Anglo-American world, both in English and in translation. Wodehouse's popularity in India is well-known: a childhood friend of my father's – and an avowed superfan of Jeeves and Wooster, Blandings & co – once recalled the sage advice given them by the English teacher at their Himalayan boarding school: "Want to write good English? Read P.G. Wodehouse!" But far less has been written about his appeal beyond the Anglosphere.
Initial research on Google revealed, among other things, a thesis by one Petronella Stille which was quite rightly concerned with the question of how Wodehouse's Japanese translator, Morimura Tamaki, had  "adapted such…expressions such as Right ho', 'By Jove', 'Tinkerty Tonk', 'Dash it' or 'What ho'?"  Well, in case you are curious, the answer for the first example is 'Yoshikita'. She also handily highlights some of the unique features of Wodehousian prose that make it so enchanting and absurd, and also difficult to translate, including my personal favourite, the 'transferred epithet', that is, the 'strained forkful of salmon', the 'astonished cigarette' falling from Bertie Wooster's lips. Overall, she acknowledges both the heroic attempts of the translator whilst exploring in depth just what it is about this brand of humour that is so hard to recreate.
Inspired by this, I moved on to the BL catalogue to find out what translations there were in the collections, if any. Starting with a pre-1973 physical catalogue, I found a smattering of translations into Esperanto (La Princo kaj Betty), Italian (Jim di Piccadilly) Polish (Wielce zobowia̢zany Jeeves), and –in keeping with the Indian theme- Marathi, before finally finding some in a language I could understand, Portuguese.
The front cover of Edmundo Paula Rosa's Portuguese translation of Leave it to Psmith (1938)
Isso é comigo! is the title of Edmundo Paula Rosa's 1938 translation of Leave it to Psmith, originally published in 1923. From what I could tell, Rosa's translation is fluid, and he seems to have had the skills to match not only the liveliness of the dialogue, but also the convoluted wit of Wodehouse's descriptive prose. When translating Portuguese writing myself I often find myself marvelling at how the sentences can just go on and on, before then cursing the writer as I find myself torturously unpicking and reconstructing the sentences back into equally convoluted English. Perhaps, then, Portuguese is an equal match for Wodehouse's opening, single-sentence paragraph:
"At the open window of the great library of Blandings castle, drooping like a wet sock, as was his habit when he had nothing to prop his spine against, the Earl of Emsworth, that amiable and boneheaded peer, stood gazing out over his domain."
Rosa tackles this sentence admirably, adapting the wet sock simile, but preserving the structure of the sentence. But he leaves out 'boneheaded' entirely! And the quintessentially Wodehousian 'Right ho!' is paraphrased out of existence, leaving us with 'Nesse caso, esta bem' ("In that case, fine" or less literally, something like 'As you see fit'). The meaning of 'Right ho!' in this context is more or less captured, but precious little else is. Rather interestingly, 'your lordship' is translated not into a Portuguese equivalent but into another English word, 'milord'. One can only assume that for whatever the latter would have been more recognisable than the former to the Portuguese reader of 80 years ago.
There is, I'm sure, far more work to be done on this. But don't believe people when they claim that Finnegans wake  or a similar tome is 'untranslatable'. I suspect that even Joyce himself would have been flummoxed by 'tinkerty tonk'!
13 April 2016
Recently the British Library hosted an event to mark the publication of Seamus Heaney's translation of Book 6 of Virgil's Aeneid, published by Faber. Poets Jo Shapcott, Tom Paulin, Matthew Hollis, and Simon Armitage gave readings from the work, offered insights to Heaney's influence on their own work, and read much-loved poems from Heaney's celebrated collections. The translation, which details Aeneas's descent into the Underworld, is the last collection from the Nobel Laureate, who died in 2013. Here Richard Price, Head of Contemporary British Collections, reflects on two meetings he had with the Laureate at the Library.
Seamus Heaney at the University College Dublin, February 11, 2009, By Sean O'Connor [Public domain], via Wikimedia Commons
I'm lucky enough to have met Seamus Heaney a couple of times, as part of my job here at the British Library. My first encounter was when he had just won the Nobel Prize for Literature. He was giving a lecture for the Library on the poetry of Robert Burns, an important influence on Ulster poets in the nineteenth century and perhaps still to this day.
Those were in the days of the Round Reading Room in the British Museum when I was a junior curator in the Library there. He had a little time before the event so before he took to the lectern, I met him with my then colleague Mary Doran, the Curator of Modern Irish Collections, and we ushered him into an anteroom.
We had recently acquired a very rare item relating to Heaney's early days of writing and were excited about what his reaction might be. It was the Hilary Term 1961 issue of the magazine Gorgon (Hilary Term is the second term, at the start of the calendar year). He had been an assistant editor of the magazine as a student at Queen's University, Belfast and this was the last issue he was involved in. Unusually, he supplied his own, extra, editorial.
Gorgon, Hilary Term Issue 1961. British Library shelfmark: Cup.410.f.750
It was quite something to be able to show the new Nobel Laureate this early piece of his poetry activism, a slim mimeographed magazine, crammed with poems and articles Heaney had been involved in selecting (the main editor, Pat Roche, makes a point in his editorial that the assistant editors had taken a particularly active role in the process).
Even so, the mere fact of Heaney's involvement magazine wasn't why we were so excited: rather, it was because of the dramatic way in which Heaney signed off his editorial. "I am not an ex-editor of Gorgon but something (I have convinced myself) more despicable," he writes in his last sentence of the editorial, "an ex-poet."
An extract from Seamus Heaney's editorial in the 1961 issue of Gorgon in which he signs off as an 'ex-poet'
What would the elder, feted, famed, Nobel prize winning, poet say to that?
He laughed, of course.
I think in that chuckle there was an affection for his younger self and for the earnest activity of all poets, young or otherwise. The high stakes of poetry, its solemnities, its purposefulness, even in humour, is particularly felt. Five years later, Heaney would publish Death of a Naturalist to worldwide acclaim. As well the first edition of Death of A Naturalist, Faber, 1966, the Library has sound recordings of him from this time and later, e.g. from our British Council collection.
Image from a handbook issued by the British Council: Catalogue of Tape Recordings (November 1974).
I suppose all poets are like the "young bloods" he describes in the opening of The Aeneid VI, making quick landfall, "vaulting quickly out" with their urgent poetry, metaphorically in search of flints for fire or simply to stand amazed at new rivers.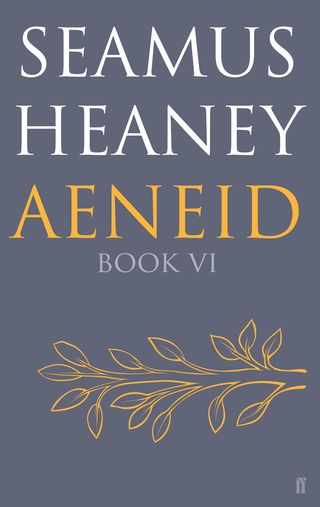 The cover of Seamus Heaney's Aeneid Book VI, with kind permission of Faber & Faber
The second time I met Seamus Heaney, sadly the last time, was in late 2003. It was in our new building at St Pancras – Heaney had been viewing the Ted Hughes exhibition I had curated because he was going to give a reading of some of Hughes' poems for the launch. We met for a cup of coffee with Hughes's widow, Carol. We were talking about Hughes of course, who had been an early inspiration and then a great friend to Heaney.
Then, to my surprise, Heaney began to talk about Robert Henryson, the fifteenth century Scots Makar, the name given to a Scottish poet of national standing. He said he had started to translate, or retell, Henryson's Testament of Cresseid. This would clearly be one of Heaney's present-in-the-past projects which followed on from his acclaimed version of Beowulf, in which contemporary battles, and contemporary hubris, seem pre-echoed. As with Edwin Morgan's translation of Beowulf, which Morgan had described as his 'Second World War poem', there is a feeling in Heaney's translations that in such epic translations the present is being addressed by the past.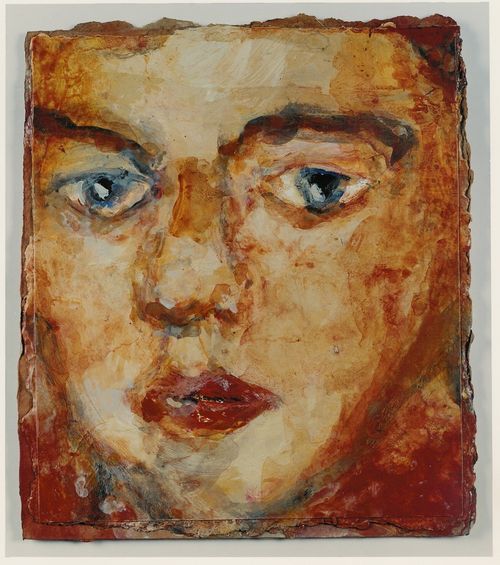 "Fair Cresseid" © Hughie O'Donoghue, painting reproduced as a tipped-in plate, from Seamus Heaney's Testament of Cresseid, Enitharmon Editions, 2004, used with kind permission of the publisher and artist
Testament of Cresseid is a sorrowful story about the fate of the once beautiful, vivacious Cresseid, separated from her lover Troilus. For lamenting her life intemperately she is punished by the gods with disfigurements akin to leprosy (though if anything sounds intemperate to me, those punishments do!). Years after they have parted, Troilus recognises her but does not reveal his identity, instead giving a large amount of money to the leper colony. Cresseid, realising who her patron was, dies in grief.
Henryson is in a sense writing a sequel to Chaucer's poem Troilus and Criseyde, and is also part of a great Troilus literary chain, since Shakespeare, in one of his more bitter plays, would later dramatise the story in Troilus and Cressida.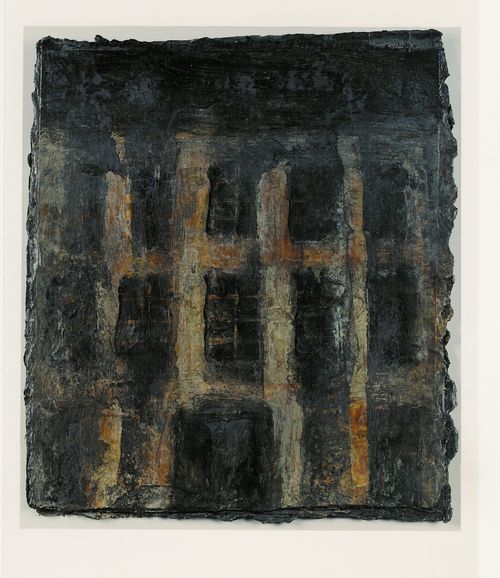 "Leper house (gate"), © Hughie O'Donoghue, painting reproduced as a tipped-in plate, from Seamus Heaney's Testament of Cresseid, Enitharmon Editions, 2004, used with kind permission of the publisher and artist
Heaney's Beowulf had only recently been published when we met that second time. Famously, the British Library holds the original Anglo-Saxon Beowulf, and in fact, now, the manuscript of Heaney's translation, too. Manuscripts were the link for the Henryson poem, too: Heaney had seen a Henryson manuscript at the Library and this had inspired him, after long admiring the poet, to render Henryson from Middle Scots into modern English.
Heaney's Testament would later appear in a beautiful artist's book with images by Hughie O'Donoghue, published by Enitharmon (British Library shelfmark: LD.31.b.557), as well as in a more commercial publication five years later.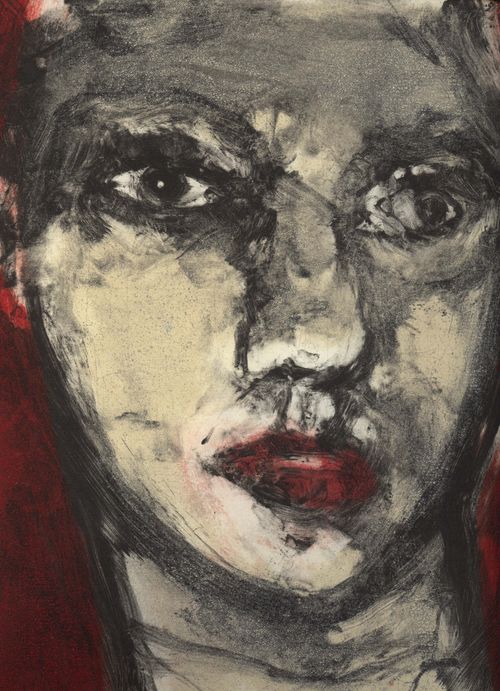 "Cresseid" © Hughie O'Donoghue, painting reproduced as a tipped-in plate, from Seamus Heaney's Testament of Cresseid, Enitharmon Editions, 2004, used with kind permission of the publisher and artist
As we talked, Heaney emphasised how the Makar's distinctly moral vision appealed to him: there is a teacher-like morality in Henryson he especially admired. As he talked I thought I detected, what, a hesitation? Knowing me as a Scottish poet, was he testing me, about Scottish reaction to 'versioning' this apparently sacrosanct text?
No, the moment passed, and I am still not sure if anything happened at all. In retrospect, I doubt he was worried. Henryson, Beowulf, Virgil, are each surely a gift to the world, in the original or in its re-transmission, and there would surely have been little reason for qualm.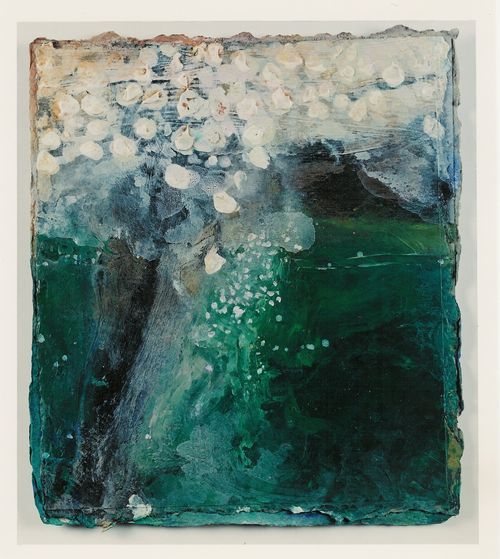 "Where is your garden?", © Hughie O'Donoghue, painting reproduced as a tipped-in plate, from Seamus Heaney's Testament of Cresseid, Enitharmon Editions, 2004, used with kind permission of the publisher and artist
Seamus Heaney highlights in the British Library include
Gorgon, Hilary Term 1961. Queen's University literary magazine for which Heaney was an assistant editor.
Eleven poems (Belfast: Festival Publications, [1965]), X.909/37714. Heaney's first collection, followed in 1966 by Death of a Naturalist (Faber).
Many sound recordings from 1966 onwards, including some made by our own curators.
Beowulf, typewritten drafts of Heaney's translation with MS annotations; 1995. Add MS 78917
'Forecast', a typewritten poem (inspired by the Shipping Forecast) with autograph annotations, extensively re-worked and edited. Presented by the author; 3 April 1998, Add MS 74089
Correspondence between Ted Hughes and Heaney, 1991-1998 (Add MS 88918/35/12)
Testament of Cresseid, with images by Hughie O'Donoghue, Enitharmon Editions, 2004, LD.31.b.557.
English and Drama blog recent posts
Tweets by BLEnglish_Drama
Other British Library blogs