19 June 2020
by Tabitha Driver, Cataloguer Modern Archives & Manuscripts. Find out more about the Library's collections of material relating to Alexander Pope on Discovering Literature.
Though we have been unable to explore physical collections directly during the last few months, their materiality exercises a continuing fascination. Printing, handwriting, paper, and writing tools all provide evidence of the processes of creation and transmission that's sometimes not at all easy to reproduce in digital form. A writer's own manuscripts can reveal much, from the quality of paper to revisions, insertions and rewritings. Not all writers start work with a fresh sheet of paper, either. Used scraps, old envelopes or discarded documents can all serve just as well, whether snatched up as a matter of urgency or simply for economy's sake.
One such case is the 18th century poet Alexander Pope (1688-1744). Early in his career Pope produced translations of Homer's two great epic poems, The Iliad and The Odyssey. Pope's Iliad took him over six years to complete – at times he despaired of ever finishing – but when it was finally published, by subscription and issued in parts from 1715 to 1720, it paid off handsomely. Thanks to his earnings from both Homeric epics, Pope acquired invaluable financial independence; as he strikingly declared in a poem from 1737: "But (thanks to Homer) since I live and thrive,/Indebted to no Prince or Peer alive" (Epistle 2, ii.68–9, Poems, 4.169). 
Pope drafted his Homeric translations on the backs of old letters sent to him by friends, family, writers, and other public figures, and on other written fragments. Some years after his death, the drafts were presented to the British Museum in three volumes (Add MS 4807-4809): volumes one and two are the draft translations of The Iliad and the third is The Odyssey. They were early on a source of interest. Samuel Johnson, who described Pope's Iliad as "the noblest version of poetry which the world has ever seen" examined the manuscripts at the Museum closely for his life of Pope (Johnson, Lives of the poets, ed. G H Norman (1905) vol. 3, p. 119), and printed comparisons between selected verses from the draft and published versions of The Iliad. He put down Pope's use of old letters for writing paper to "petty artifices of parsimony", a sign of the poet's tendency to excessive frugality. You can find out more about the manuscripts, and read a selection of folios from Add MS 4807, on the British Library's Discovering Literature website, along with Pope's sketch of Achilles' shield from Add MS 4808.
Opening verses of Homer's Iliad, translated by Alexander Pope. Manuscript draft (Add MS 4807, f. 17)
Besides what we can see of Pope's translating and writing process from the manuscripts themselves – the crossings out and insertions, and the variances from the published text that Johnson observed – the mixed bag of unrelated letters and notes on which they were written confer a rich additional layer of significance. They provide a fascinating insight into the development of Alexander Pope as a young writer in literary London of the early 18th century, and the coffee house milieu in which he moved, with its literary and political alliances, rivalries, business and friendship.
End of book 6 of The Iliad, translated by Alexander Pope. Manuscript draft written on a letter addressed to Mr Pope, Button's Coffee-house (Add MS 4807, f. 87v)
The writers of the letters and notes include Pope's friends John Caryll, the Jacobite Baron Caryll of Durford, Edward Bedingfield of Grays Inn, Barnaby Bernard Lintot, Pope's publisher, Charles Jervas, portrait artist and painting instructor of Pope, and Anne Finch, Countess of Winchilsea, poet, among others.
Letter from Bernard Lintot about reception of "Mr Tickles book" at Buttons Coffee House, 10 June 1715 (Add MS 4807, f. 96v)
Topics touched on in the letters are miscellaneous too. They range from literary matters, such as publication of The Rape of the Lock (Pope's mock-epic poem about the theft of a lock of hair) in 1712, instructions for the printer Jacob Tonson regarding Pope's translation of the Sarpedon episode in Poetical miscellanies (1709), and the critical reception of a rival translation of the first book of The Iliad by Thomas Tickle, published in the same month as Pope's (June 1715), to family affairs, such as medical advice and investments in the South Sea Bubble.
Thanks to the poet's economical habit of re-using old paper for his writing, the manuscripts of "Pope's Homer" have acquired a double significance. On the one hand they are important as the original drafts of his hugely successful translations of Homer's Iliad and Odyssey. On the other, they offer us a vivid record of Pope's life and times during all the years he worked on them.
Alexander Pope's sketch of the shield of Achilles (Add MS 4808)
15 August 2018
By Greg Buzwell, Curator of Contemporary Literary Archives, and Silvia Gallotti, Manuscripts Cataloguer. The Michael Palin Archive, generously donated to the British Library by Michael Palin in 2017, is now available for consultation in the Manuscripts Reading Room. A display – Michael Palin: Writer, Actor and Comedian – featuring items from the archive can be seen in the Sir John Ritblat Gallery: Treasures of the British Library until 11th November 2018.
Attempting to curate a small display featuring material from the archive of Michael Palin was rather like attempting to select a small number of iconic songs written by The Beatles. The sheer volume of fascinating material available to choose from rapidly made the task of deciding what to leave out the stuff of nightmares. Diaries, letters, photographs, notebooks, annotated scripts and publicity material all jostled for attention. About fifty of the notebooks date from Palin's time with Monty Python's Flying Circus and provide a fascinating insight into how comedy routines such as 'Spam' and 'Spanish Inquisition' developed through different versions into those we know – and can't help but recite using all the different voices – today. Finding iconic material to exhibit was clearly not going to be a problem.
The Michael Palin display in Treasures Gallery at the British Library.
The display follows Palin's career from the mid-1960s up to the late 1980s. The first case opens with the script for a mock theatrical documentary about attitudes towards sex through the ages called 'The Love Show' which Palin worked on with Terry Jones in 1965. Although never produced 'The Love Show', for which Palin received his first payment as a professional writer, shows early signs of the surreal humour that would come to define Monty Python. Other highlights in the first case include handwritten scripts by Palin and Jones for The Frost Report  –  a show which proved to be a meeting ground for future Pythons Palin, Jones, John Cleese, Graham Chapman and Eric Idle – and from Do Not Adjust Your Set where Palin, Jones and Idle met another future Python, Terry Gilliam. The item on display relating to Do Not Adjust Your Set is a sketch, written by Palin, called 'Captain Fantastic's Christmas'. David Jason played the hapless Captain Fantastic, a bumbling bowler-hatted superhero endlessly battling Mrs Black – 'the most evil woman in the world' – played by Denise Coffey. Although intended for children the anarchic humour of Do Not Adjust Your Set rapidly gained a cult following among adults.
'Captain Fantastic's Christmas', a sketch written by Palin and starring David Jason as Captain Fantastic and Denise Coffey as Mrs Black. 1968. Add. MS 89284/2/11. © Michael Palin.
The following section is dedicated to Palin's career with Monty Python's Flying Circus, and to his subsequent work on Ripping Yarns, and on films such as The Missionary, A Private Function and A Fish Called Wanda. Included in the display is an early scene from The Holy Grail in which a surreal explanation for the absence of horses and the use of coconut shells to mimic the sound of their hooves is provided ('Our horses grew weary, unable to carry us further. We were forced to leave them by the mountain and continue with coconuts …'). Also included is an early draft of the 'Biggus Dickus' scene from Life of Brian and one of Palin's notebooks in which he has written a potential running order for various Python routines including 'Spanish Inquisition', 'Fish Licence', 'Scott of the Sahara' and 'Semaphore Version of Wuthering Heights'.
One of Michael Palin's notebooks, listing potential running orders for sketches including 'Spanish Inquisition', 'Scott of the Sahara', 'Communist Quiz', 'Semaphore Version of Wuthering Heights' and many others. Add. MS 89284/2/15. © Michael Palin
Ripping Yarns, which Palin worked on with Terry Jones in the mid-1970s is represented by an annotated script from the pilot episode 'Tomkinson's Schooldays'. The episode is a brilliant satire on public school life and the adventure stories found in magazines such as The Boys Own Paper. Tomkinson's trials at the school include being nailed to a wall on St Tadger's Day, fighting the school grizzly bear, being hunted down by a leopard while attempting to escape and, as seen here, having to take part in the 'Thirty Mile Hop'.
Annotated script for 'Tomkinson's Schooldays', the first episode of Ripping Yarns broadcast in January 1976. Add. MS 89284/1/75. © Michael Palin
The last part of the display looks at some of the less widely known aspects of Palin's career including his books for children, and the brilliantly disturbing Bert Fegg's Nasty Book for Boys & Girls (a humorous book satirising popular encyclopaedias for children and presented as though written by the most unsuitable and disturbed person imaginable for the job). This part of the display also includes two of Palin's diaries, one of which is open at an entry for 27 March 1970, in which Palin recollects the beginnings of his career just a few years earlier, when he was 'finishing 'The Love Show' with Terry', 'still unmarried', with 'no immediate prospects'. He concludes: 'A little bit of nostalgia, but I like sometimes to get my bearings right, just to convince myself that I haven't wasted the 1960s'.
Michael Palin's diary entry for 27th March 1970, reflecting upon the 1960s and writing the second series of Monty Python's Flying Circus. © Michael Palin
The display represents only a very small portion of the archive, but hopefully it provides a glimpse into the riches it contains. The large amount of material included in the collection relating to the production, publicity and distribution of Palin's TV shows and films makes the archive a wonderful resource for those interested in the history of comedy, TV and filmmaking. The wealth of notebooks and annotated scripts meanwhile provides a unique insight into one of the nation's most popular entertainers, and into the genesis and development of comedy sketches and films that are now part of the very fabric of our cultural history.
21 October 2016
by Helen Peden, Curator, Printed Heritage Collections 1601-1900 and British Library curator of exhibition Victorian Entertainments: There Will Be Fun.  
When Dan Leno performed as the Pantomime Dame in the 1880s he transformed a previously minor role into the main part and shaped pantomime into the Christmas show we know today.
Illustrated cover of the score of My Old Man (1889) H.1260.m.(43
The great clown Joseph Grimaldi (1778-1837) had been the star of Regency pantomime and brought the subtle arts of mime and gesture to this popular entertainment. In Grimaldi's performances the clown was always the main character but after his death these clever skills were lost and soon replaced by the much less finely drawn charms of Principal Boys and Pantomime Dames. Clowns no longer played a pivotal role in the production and returned to the circus leaving pantomime without a main character and in need of a new direction. This was provided through the comic genius of Dan Leno.
Foresters' Music Hall playbill (1885) Evan.611  
On Monday, October 5th, 1885, Leno made his first appearance in London at the Foresters' Music Hall. Playbills in the Evanion Collection document Leno's early London success (Evan.611, Evan.1063) and list him as a champion dancer – he had won a world clog dancing competition in Leeds in 1880. His champion clog dance was the main part of his turn at the Foresters' but his comic song – I'm Going to buy Milk for the Twins – proved more popular with London audiences. Although the words have not survived, we know that Leno rushed on stage in the guise of an ordinary, harassed, yet spirited and resilient woman, and immediately grabbed the attention of the audience with his rapid comic patter in which he revealed the many small injustices of everyday life. Although Leno performed alone on stage the characters he embodied were so well drawn that his stage always seemed to be fully peopled.
Oxford Music Hall playbill (1886) Evan.1063
George Conquest, manager of the Surrey Theatre in Lambeth, South London was so impressed by Leno's performances that he was quickly engaged to play Dame Durden in the 1886-7 pantomime Jack and the Beanstalk. Leno's Dame stole the show and he subsequently appeared in every spectacular pantomime at the Theatre Royal Drury Lane until the end of the 1904 season.
Illustration of Dan Leno as Mother Goose. Jay Hickory Wood: Dan Leno. London, 1905 10827.f.24.
The Good Old Original Mother Goose
Leno became the pantomime star of the late Victorian era. The main part of Mother Goose was written for him by the writer J. Hickory Wood for the 1902-3 Christmas season at the Theatre Royal Drury Lane. The character went through a number of phases – from poor to wealthy, humble to haughty, plain to beautiful and young to a final incarnation as the good old original Mother Goose, complete with top-knot and bunion.
Mother Goose was Leno's favourite pantomime role and was considered to be the greatest triumph of his pantomime career.
Visit There Will Be Fun – a free British Library exhibition on Victorian popular entertainments, open until March 2017, and see many other rare and wonderful treasures from the Evanion Collection.
Helen Peden, Curator, Printed Heritage Collections 1601-1900
19 August 2016
There have been many learned pigs in history but only one, to the best of my knowledge, that has claimed credit for writing the plays of William Shakespeare. Indeed by 1786, when The Story of the Learned Pig, by an officer of the Royal Navy was published, complete with its claim regarding the authorship of A Midsummer Night's Dream and certain other plays knowledgeable animals of one kind or another were in danger of becoming somewhat passé. 'Marocco the thinking horse', for example, had made his appearance in the late 16th century and was able to follow the commands of his owner William Bankes with uncanny ability. Marocco could play dead, walk on his hind legs, urinate on command and even, apparently, separate and indicate the innocent maids in the audience from the disreputable harlots. Clever, certainly, but not as clever as writing The Tempest.
The first performing pig didn't arrive on the scene for almost another 100 years later. Trained by a Scotsman, Samuel Bisset, the original learned pig used cards printed with individual letters and numbers to answer questions - indicating particular cards with its snout to respond to enquiries about the number of people in the audience, the time of day and even on occasions enquiries about what certain ladies in the audience were thinking at any given time. The show was a great success, and after Bisset's death the pig went into new management with a Mr Nicholson who exhibited the pig in Nottingham in 1784 and then in London in 1785. Tours of provincial towns and a trip to Europe swiftly followed. The interest aroused by this trail-blazing learned pig caused considerable debate regarding how the pig had been trained and the extent of its cognitive abilities. Was the pig really answering questions, or was it simply responding to certain sounds or movements made by its owner in order to give pre-determined answers? Whatever the truth of the performance the idea of pigs as intelligent creatures took hold in the popular imagination. One only has to think of the pigs Snowball and Napoleon being the driving intellectual forces in George Orwell's Animal Farm (1945) for a modern literary example.
(Above: The Downfall of Taste and Genius, or, The World as it Goes by Samuel Collings – a satirical print from 1784 lampooning the public's taste for performing animals. Here a learned pig leads the charge against the arts with a copy of Shakespeare's plays lying abandoned in the assault)
Further learned pigs soon followed, including William Frederick Pinchbeck's 'Pig of Knowledge', which was displayed in America in 1798 and even met President John Adams. Curiously Pinchbeck's pig inspired considerable discussion, some of which took a fairly dark tone with many believing Pinchbeck had used witchcraft to control the animal while others claimed the pig's ability to answer questions was evidence of reincarnation – the pig being inhabited by a soul that must once have animated a human being. Later, in the early 19th century, 'Toby the Sapient Pig' was exhibited in London by the illusionist Nicholas Hoare. Indeed such was the interest in Toby that in around 1817 he even published his autobiography – The life and adventures of Toby, the sapient pig: with his opinions on men and manners. Written by himself – although interestingly this was not the first time a learned pig had seen his memoirs appear in print, something which takes us back to 1786, The Story of the Learned Pig, by an officer of the Royal Navy and, perhaps even more strangely (if that's possible) to William Shakespeare.
(Above: The Story of the Learned Pig by an Officer of the Royal Navy. London, 1786.)
In the Shakespeare in Ten Acts exhibition The Story of the Learned Pig is displayed in a section exploring 'bardolatry' – the word used to describe the often uncritical fascination that accompanies all things Shakespearean, and how sometimes that fascination takes a turn towards the bizarre. In The Story of the Learned Pig a soul describes how he has successively migrated through various humans and animals before finally ending up in the body of a pig. Earlier incarnations had included Romulus, one of the mythical founders of Rome and Brutus, the murderer of Julius Caesar.  At one point the soul was reincarnated as a man called 'Pimping Billy', who worked as a horse-holder at a playhouse (where Shakespeare was regularly in attendance) and was the real author of the plays – the Immortal Bard having simply stolen Pimping Billy's ideas and words. Finally the soul moves into the body of a pig, who then presents his personal reminiscences to the author. As the pig remarks Shakespeare 'has been fathered with many spurious dramatic pieces: Hamlet, Othello, As You Like It, The Tempest and A Midsummer Night's Dream' of 'which I confess myself to be the author'.
Although humorous, and a satire upon how our fascination with performing animals, circus tricks and the seemingly magical often exceeds our fascination with great art, the book plays profoundly upon our interest in all things relating to Shakespeare. After all, a pig that claimed to have written the works of John Fletcher or Francis Beaumont would be one thing, but a pig that claimed to have written the works of Shakespeare? Now that's a whole different level of porcine achievement and greatness.
Shakespeare in Ten Acts runs until September 6th 2016.
29 February 2016
by Deborah Dawkin, currently working on a collaborative AHRC PHD project with UCL and the British Library focussing on the archive of Ibsen translator Michael Meyer.
Last week the British Library had the pleasure of hosting the 2016 Sebald Lecture, given this year by Roger McGough. His subject was the translating and adaptation of Molière's plays, including Tartuffe (2008), The Hypochondriac (2009) and The Misathrope (2013) for the English Touring Theatre. Unsurprisingly perhaps, given McGough's renowned skills in performance and public speaking this was anything but a dry lecture: we were treated to a vibrant and entertaining as well as thought provoking insight into the process of translating seventeenth century French comedy for the contemporary British theatre – one which highlighted the difference between the requirements of theatre translation and literary translation – the difference of creating a text which "preserves history" and one that breathes new life into a play while at the same time respecting the original writer's message and intentions.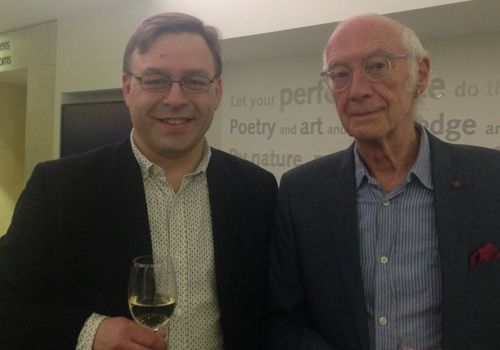 Roger McGough (right) who gave this year's Sebald Lecture together with Duncan Large, Academic Director of the BCLT who chaired the event.


The Sebald lecture is an important date on the British Library calendar for all those interested in international literature and translation. Sponsored by the British Centre for Literary Translation. The Sebald Lecture is given annually on an aspect of literature in translation. The event is named after the acclaimed German writer WG Sebald (1944-2001), whose novels and essays include The Emigrants, The Rings of Saturn, Austerlitz and On the Natural History of Destruction. Despite writing almost exclusively in German he lived in the UK, lecturing in German at University of East Anglia where he founded the British Centre for Literary Translation in 1989.
In true story teller's style McGough began at the beginning, and took us back in time to his first lessons in French at the Irish Catholic Brothers school for boys in Liverpool, where the tyrannical Brother O'Shea used the fear of the strap (specially sewn and crafted by the local nuns) to get his students to learn their verbs and vocabulary. Despite this unpromising start McGough went on to study French as well as Geography at the University of Hull. If the audience were expecting then to hear how McGough had developed an undying passion for French literature and language, they were disappointed. Instead we were regaled with a story in which McGough's accent was so bad (having missed the French Exchange programme due to a family bereavement) that he was discretely removed from the aural exam. Slightly disingenuously - as he worked as a French teacher in the sixties - McGough left us with the impression that his French language skills were sketchy at best. But perhaps McGough wanted emphasise the point that these are not literal or academic translations, but adaptations designed to bring the spirit of Moliére to a contemporary audience: Molière with a "Liverpool heartbeat".
McGough was first approached in 2008 by Gemma Bodinetz to create a translation/adaptation of Tartuffe for her production with the English Touring Theatre. He was initially uncertain about undertaking the task, but promised to give it some thought. Taking several translations of Tartuffe with him on a Saga cruise (as an entertainer he hastened to tell us, not a guest) he read them on the journey to the Bay of Biscay. This allowed McGough to enter the play without the struggle of reading complex 17th century French verse, and to allow the characters and plot to inhabit him; to set his imagination free. By the time he had returned to the shores of the UK, McGough had started to write his version. Now McGough, concerned that he should be true to Molière's intentions, turned to Molière's original text, to check his own version against it, thus taking the script to a new level.
Anyone who has read McGough's translations of Moliere, or had the pleasure of attending a performance, will be struck by their dexterity and their sharp, playful wit, and their cleverness in offering us a contemporary text, with contemporary references, yet never quite losing the link back to 17th century France.
This event was supported by Arts Council England and Writers' Centre Norwich.
Past Sebald Lectures can be heard in full on the British Centre for Literary Translation website.
04 December 2015
The British Library is delighted to announce the acquisition of the personal archive of Kenneth Williams, including 42 personal diaries and approximately 2,000 letters spanning his entire life and career from the age of 18 until his death in 1988. The archive has been acquired by the British Library from Paul Richardson, Kenneth's friend and neighbour, to whom he left his entire estate.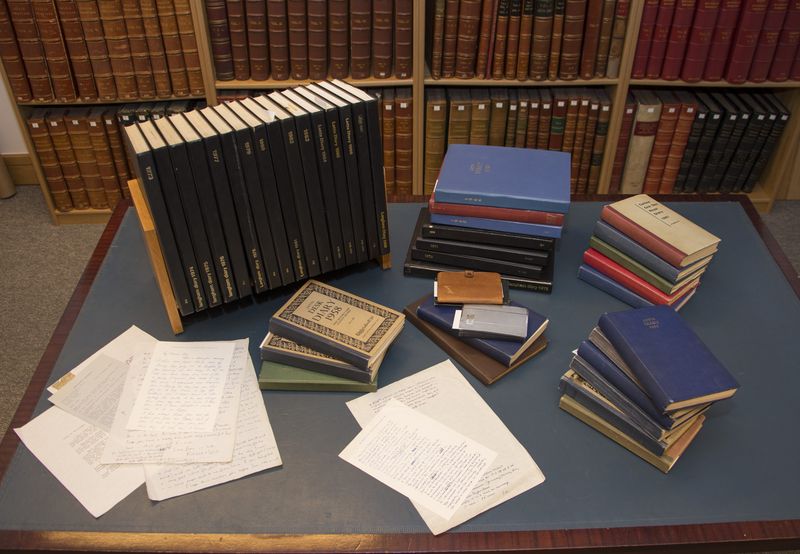 The Kenneth Williams archive at the British Library (Photo by Elizabeth Hunter)
Kenneth Williams (1926-1988) was best-known as the star of the Carry On films, but he was also a raconteur of verve and charm, and appeared to substantial acclaim in a number of stage roles, from frothy revue to the black comedy of Joe Orton. He used the diaries he kept for more than 40 years as a half-serious threat to his friends ("You'll be in my diary!" was a favourite saying whenever someone annoyed him), but kept the contents almost completely to himself. Despite a selection from the diaries published in the early 1990s, the vast majority of the diary entries remain unpublished and unseen.
The diaries span the period 1942 – 1988, with only one gap of four years at the beginning of the sequence. The run makes up approximately 4 million words altogether, and is unusual in its degree of comprehensiveness and regularity.  Williams wrote a page a day as a nearly unbroken ritual. In the pages of the diaries Williams is both instantly recognisable as the acerbic and maddeningly fastidious character well known to everyone, and, more surprisingly, as reflective and poignant, the private persona and increasingly skilled observer, revealed only in the confessional of the diary.
The diaries regularly refer to news and current affairs – below he records new about the famous trial of Jeremy Thorpe, the Liberal MP who, along with several co-defendants, was accused of the murder of Norman Scott, a would be male model who was allegedly blackmailing Thorpe on account of his homosexuality. The British Library also holds the political archive of Jeremy Thorpe.
June 22 1979: "On the news they announced that JEREMY THORPE had been acquitted!! So that lying crook Scott has not succeeded in his vindictive quest!! They were cheering Jeremy outside the Old Bailey, and he rather spoiled it by making a sanctimonious speech about JUSTICE etc. Whereas he should have just expressed satisfaction and breezed away!"
The archive also contains 3 boxes of personal correspondence, equating to approximately 2,000 letters as well as photographs, scripts, programmes and documents relating to Williams' wartime service.  Correspondents include Peter Nichols, Joe Orton and Richard Burton. It is estimated that 85% of the newly-acquired archive is unpublished material never before seen by researchers.
The archive will be of huge interest to social historians of post war Britain, detailing the experience of a gay man both before and after the Wolfenden Report and the decriminalisation of homosexuality in 1968, alongside the mundane details of everyday life in London. The diaries and letters also record the actor's experience of the dying days of the repertory theatre system and the growth of modern celebrity culture, something he seemed both to love and loathe. In the entry pictured below Williams was understudying Richard Burton as Trigorin in The Seagull. Despite the doubts William's expresses in this extract, the run of The Seagull turned out to be a huge success, thanks to the performance of Burton. Williams contributed by fetching Burton drinks between acts.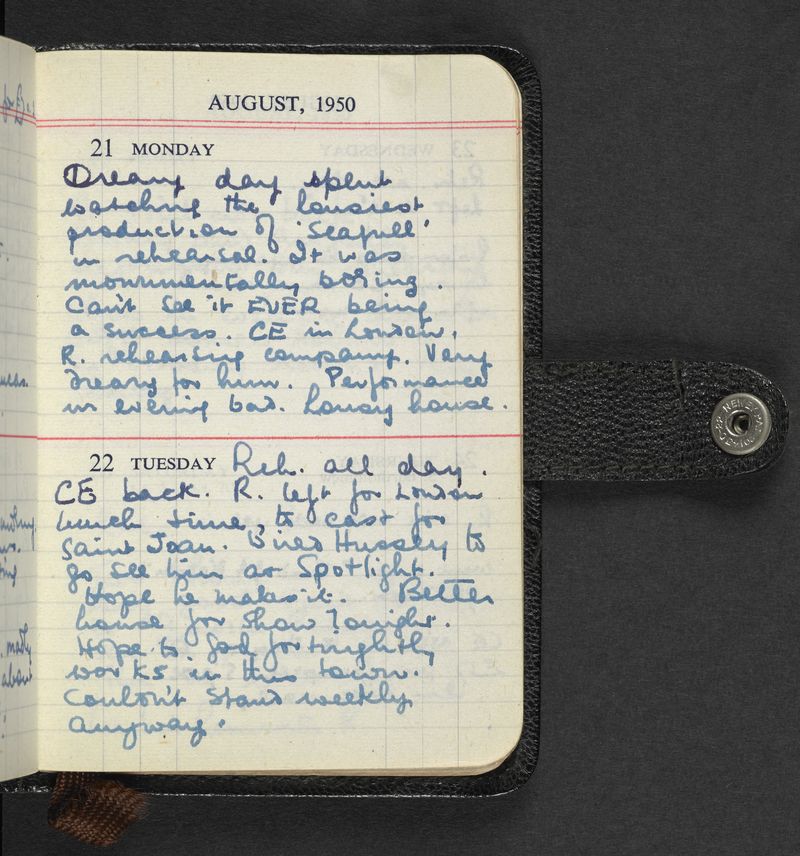 Page from Kenneth Williams's diary from 21 August 1950, courtesy of the Kenneth Williams estate
Material will be available to researchers in the Library's Reading Rooms from March 2016. The 1950 edition of the diary, as well as a letter from the archive will be on display in the Library's permanent exhibition space, the Sir John Ritblat Treasures Gallery, from next week onwards.
Kathryn Johnson, Curator of Theatrical Archives and Manuscripts and Joanna Norledge, Curator of Performance and Creative Archives
05 November 2013
Guest post from Ian Greaves, researcher of theatre and broadcasting history
N F Simpson (1919-2011) was said to be many things. During his near-century on the planet, he served as playwright, teacher, satirist, bank clerk, philosopher, a one-man-band English wing of the Theatre of the Absurd, army intelligence officer, father, translator, sketch-writer and poet. Coming to fame relatively late in life, his early successes A Resounding Tinkle (1957) and One Way Pendulum (1959) placed him in the company of Angry Young Men. These, however, were not his natural bedfellows.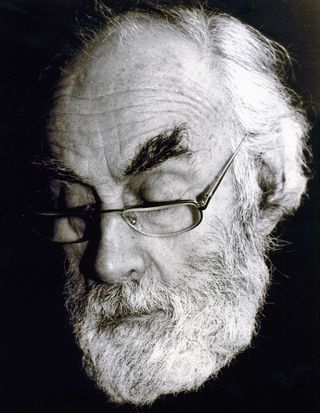 N F (Wally) Simpson, photographed by Mike Harris
As the writer David Benedictus once observed, Simpson had the misfortune to not be foreign like Ionesco or rude like Orton. His was a particularly restrained form of English humour, a precise extension of his personality. Simpson was certainly no self-publicist and, as a consequence, he became a marginalised figure: largely absent from the theatre after 1965, and with most of his subsequent work out of circulation. It falls, then, to a new collection of his work- Most of What Follows is a Complete Waste of Time (Oberon Books) - to fully restore this brilliant but neglected writer in the public consciousness.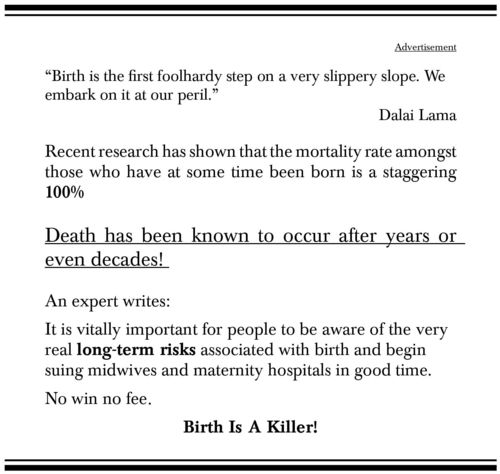 The new Oberon Books collection contains several extracts from Simpson's previously unpublished 2009 miscellany, Anatomy of Bewilderment. Draft material is held amongst the British Library papers.

Simpson had the pause before Harold Pinter, planted the seed of Monty Python's Flying Circus and inspired the comic philosophy of Tom Stoppard. His beguiling plays were full of memorable set-pieces, endless diversions, upturned clichés and dark philosophies. His worlds were essentially ordinary, but worlds in which everything was equal and interchangeable - the private and public, animals and humans, biscuits and books. Comedy emerged from a determination to hold onto reason with whitened knuckles. To quote his introduction to Some Tall Tinkles (1968), his characters followed "a simple faith in the axiom that for those to whom life is an exercise in survival, the secret is in knowing how to ride with the punch".
In the five years immediately prior to his death, N F Simpson - or Wally to his friends - underwent what many artists enjoy only after they've gone: a resurgence of interest. There was a season at the BFI, a new play at Jermyn Street Theatre, revivals of A Resounding Tinkle at both the Royal Court and Donmar Warehouse, a BBC Radio documentary about his life and work, and the purchase of his papers by the British Library.
The last of these was characteristic of a gradual effort to put his house in order. Working as researcher on the 2007 radio documentary, I soon found that Wally was keen to establish the whereabouts of all his work. This put me on a five-year road of discovery: archive upon archive, covering radio and television, stage and print. Part of this process resulted in the quite accidental discovery of Pinter's lost sketch 'Umbrellas' at the British Library. Even as a big Pinter fan, however, I was slightly more excited to finally locate a copy of Simpson's 'Take It Away!' in the same Nottingham Playhouse revue.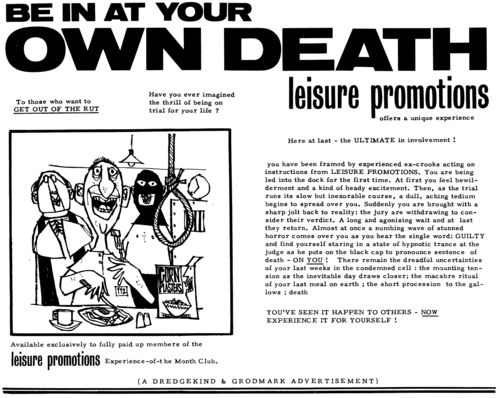 N F Simpson collaborated with cartoonist Willie Rushton on a series of cod advertisements for Private Eye magazine. This piece appeared in issue 32, cover date 8 March 1963. 
The British Library's invaluable Simpson papers - acquired in 2009 - gift us many treasures and insights. Oberon's new, authorised miscellany of Simpson's writings brings some of this material back from obscurity, including his first professional writing (for The Tribune in 1953) and a number of important, pre-fame pieces for Birkbeck College magazine The Lodestone. Thanks to this material, Most of What Follows… acts as the most complete map of his creative life, revealing its continuities and experimental diversity. Perhaps now we can all of us enjoy the many different facets of Simpson and, with one collective push, assert his true place in the canon of great English comic writers.
Ian Greaves is co-editor of Most of What Follows is a Complete Waste of Time: Monologues, Dialogues, Sketches and Other Writings by N.F. Simpson, published by Oberon Books on 5 November 2013.
13 September 2013
Sir David Frost, who died recently, made his name on the satirical '60s TV show That Was the Week That Was. Whilst working on Keith Waterhouse's archive I came across Keith's account of the meeting which led to the commissioning of the ground-breaking TW3, as it was known. In Keith's memoirs Streets Ahead (1995) he recalls the discussion with BBC producers dwelling on the finer points of German cabaret. David Frost's contribution to this historic moment was not quite so distinguished: Keith remembers Frost advising him and writing partner Willis Hall that it was 'never too early to start' saving for their pensions.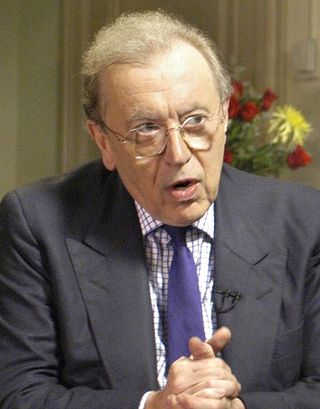 Sir David Frost interviewing Donald Rumsfeld. Photo by Robert D Ward. 
Leaving aside this inauspicious beginning, Keith and Willis went on to write for almost every episode of TW3, and for Frost's subsequent programmes Not So Much a Programme, More a Way of Life, The Frost Report and Frost on Sunday. In doing so, they wrote a lot of material for Frost, much of which now seems rather out-of-date, if not down right sexist. But Keith's favourite gags for Frost remain as innocuously groan-inducing today as the day they were written:
    'Here are the results of today's Sheepdog Trials: all the sheepdogs were found not guilty'
    'See a pin and pick it up, all the day you'll have a pin'
Quite often though, the joke was on David Frost himself. 'He combined being a satirist and someone who one satirised', commented Peter Morgan (who wrote the play Frost/Nixon) in the Telegraph's obituary. This is surely the key to why Frost remains such a fascinating character. How could a person jump from larking about with the Pythons to interviewing presidents and prime ministers?
Keith and Willis were among the writers who enjoyed poking fun at Frost. Not only did they cast him as a redundant satirist looking for work in one TW3 sketch, they also devoted one of their Late Show sketches to lampooning his relentlessly upbeat interviewing style ('Super. Marvellous. Absolutely super.') in a scenario which saw Frost interviewing the Prime Minister of Rhodesia about playing the spoons.
Keith and Willis were prolific sketch-writers for both theatre and television. Keith's archive is testament to this large output. The four folders bulging with skits and gags from the '60s to the '80s contain material for Roy Hudd, Ned Sherrin, Roy Kinnear, Millicent Martin, Dora Bryan and Kenny Lynch. Whilst leafing through Keith and Willis' sketches for The Frost Report, I also found two variations on the famous 'Class Sketch' performed by John Cleese, Ronnie Barker and Ronnie Corbett. You know the one – 'I look up to him because he is upper class, but I look down on him because he is lower class.' The original sketch, written by Marty Feldman and John Law, aired on The Frost Report on 7 April 1966. What I hadn't realised was that Keith and Willis came up with their own versions for Cleese, Barker and Corbett for later episodes. For the episode on Crime (8 June 1967), they play an upmarket art thief, a middle-class fraudster and a common tea-leaf (who are all treated quite differently by the snobbish judiciary). The programme on Youth (22 June 1967) sees upper class John Cleese and lower class Ronnie Corbett leading vastly different lives whilst both holding the same ambition of managing a pop group.
 The original 'Class Sketch' is brilliant for a number of reasons, not least Ronnie Corbett's punchline, 'I get a pain the back of my neck.' Perhaps it was somewhat unusual for its time in relying on a pay-off line: in Streets Ahead Keith reflected that the vogue in the early '60s was for sketches without punchlines (in the style of Harold Pinter and others). However, Keith and Willis were more circumspect about the lack of punchlines in some of their TW3 output. They put it down to the fact the taxi sent by the BBC to pick up their weekly contributions was often running up the meter outside their office as they hurried to finish their sketches.
The Keith Waterhouse Archive is currently being catalogued and is expected to be available for research sometime next year.
Sources
Keith Waterhouse, Streets Ahead (London: Hodder & Stoughton, 1995)
English and Drama blog recent posts
Tweets by BLEnglish_Drama
Other British Library blogs