01 May 2014
The Drama and Literature Recordings section of the British Library aims to collect recordings of literary and other interesting spoken word material as extensively as possible.
However, as Toby Oakes, a previous British Library curator of spoken word recordings, once put it in his article 'Recording the Paranormal' (Playback, Winter 2002): '(Although) we deal with the voices of the dead every day ... our subjects tend to have been alive at the time of recording.'
This was the opening sentence of a report on the Library's then recent acquisition of a batch of 60 tapes made by Dr Konstantin Raudive, who believed that the dead could communicate with the living through the medium of radio waves.
The tapes are available for listening but are not easy to navigate. Newcomers wishing to explore the world of EVP (Electronic Voice Phenomenon), as it is known, are instead referred to the commercial CD 'The Ghost Orchid: An Introduction to EVP' (PARC CD1, 1991), which collects many examples of the genre, including the recordings first issued on vinyl by Raudive in 1971 on the EP 'Breakthrough' (subtitled 'An Amazing Experiment in Electronic Communication with the Dead'), which accompanied his book of the same title.
The recorded evidence is not especially convincing, being short comments or fragments that without the accompanying spoken 'translation' would probably not strike the listener as having any meaningful content.
A recent book on the subject, Rorschach Audio by Joe Banks (Disinformation, 2012), is also recommended. Banks seeks to understand why it is that someone might be psychologically disposed to find the recorded evidence for EVP to be credible, and comes up with some interesting conclusions.
The Library holds copies of all the above items, and much more in a similar vein: including the 3-CD set issued by Berlin label supposé 'Okkulte Stimmen - Mediale Musik: Recordings of Unseen Intelligences 1905-2007', and the 'Art After Death' series of CDs, for which Californian artists Chris Kubick and Anne Walsh recorded mediums channelling the voices of, among others, the artist Yves Klein.  
We also hold a video recording of the talk Joe Banks gave at the Library on 28 June 2013. 
Would Sir Arthur Conan Doyle have believed in EVP? Quite probably. He certainly believed - in his own words, 'beyond all doubt' - that the dead could communicate with the living. On his only commercially issued spoken word disc he devoted more of his recorded talk to his belief in spiritualism than he did to his most famous creation, Sherlock Holmes.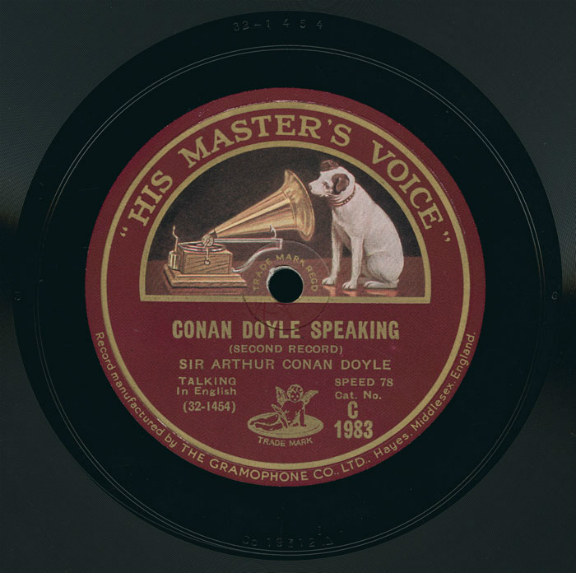 Listen to Sir Arthur Conan Doyle on spiritualism
Conan Doyle recorded the above on 14 May 1930, just two months before his death.
In July 1930, one week after Conan Doyle's death, thousands of people attended a séance at the Royal Albert Hall at which a medium claimed to have communicated with him (an event featured in Julian Barnes's 2005 novel  Arthur & George).
Four years later, on 28 April 1934, a séance held by Noah Zerdin at the Aeolian Hall, New Bond Street, attracted a capacity audience of 560 people, with many turned away. It was  the first large gathering of its kind to be recorded, and Conan Doyle was one of 44 people heard speaking from the 'other side'.    
Listen to the spirit voice of Sir Arthur Conan Doyle
Noah Zerdin (1888-1972) was, coincidentally, like Raudive, a Latvian. In 1906 he fled the Tsarist regime in Russia for London and established a successful business in Oxford Street as a furrier. It was only after a devastating fire, in which his wife Bertha died and his business was destroyed, that he began holding séances, apparently believing that he had successfully made contact with his late wife. This seeming link between an individual's experience of profound trauma and their willingness to believe in the supernatural is one of the themes explored by Joe Banks in Rorschach Audio.
The Aeolian Hall proceedings were professionally recorded on 26 acetate discs. These were to lay undisturbed in a trunk for 67 years before being discovered in 2001 by Dan Zerdin (Noah's son). The discovery led to a fascinating BBC Radio 4 documentary What Grandad Did in the Dark, first broadcast 4 January 2002, and the discs were subsequently donated by Dan to the British Library.
Both the radio documentary and the original discs are available to listen to at the British Library, but you may need to make an appointment.
With thanks to Dan Zerdin
19 March 2014
 By guest blogger and award-winning crime writer Martin Edwards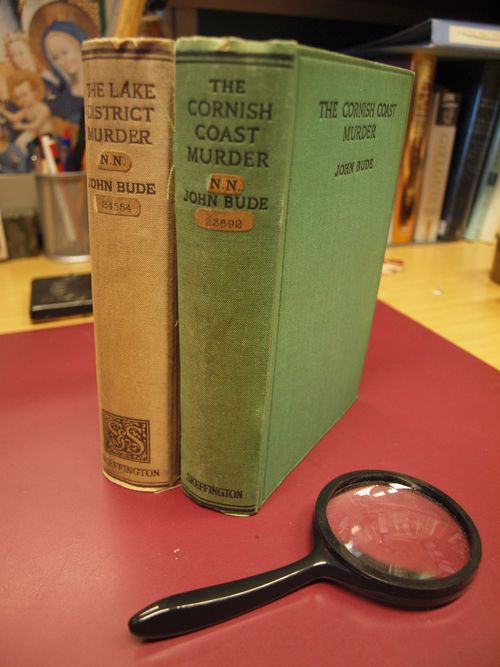 Forgotten first editions of John Bude's The Lake District Murder (1935) and The Cornish Coast Murder (1935) from the British Library collections.
I'm thrilled that the British Library is playing a notable part in the rapidly developing revival of interest in the 'Golden Age' of detective fiction. Following the recent reissue of Mavis Doriel Hay's long-forgotten The Santa Klaus Murder, the first two books by John Bude have now been published in new editions, giving crime fans a chance to discover novels that have for many years only been available to collectors with deep pockets.
Bude, like Mavis Doriel Hay, turned to detective fiction in the Thirties, when the colossal success of authors like Agatha Christie, Dorothy L. Sayers and Anthony Berkeley led to an explosion of interest in whodunits. The 'Golden Age' of the genre between the wars saw readers turning to novels rather than the short stories in which Sherlock Holmes and G.K. Chesterton's Father Brown had made their name, and the demand for entertaining puzzles was supplied by hundreds of writers. Some, like Mavis Doriel Hay, enjoyed only brief careers. But Bude developed a considerable following, and built a long-term career as a crime writer.
Bude's real name was Ernest Carpenter Elmore. Probably thinking that this was a bit of a mouthful, and perhaps also to differentiate his detective fiction from his other writing (mostly novels of the fantastic, with titles like The Steel Grubs (1929), which you can also find in the British Library), he opted for a snappy pseudonym when publishing The Cornish Coast Mystery. He was ahead of his time in realising that detective fans would enjoy mysteries with attractive real-life settings other than London. Pleasingly, the fact that the crime scene is on the coast proves central to the puzzle. The detective interest is split between a likeable pair of amateurs, a vicar and a doctor, and the professionals, although in later books, his main focus was on diligent police work.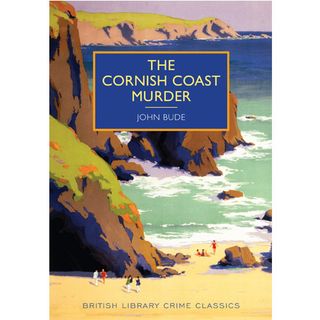 The Lake District Murder opens one March evening, with a farmer finding a man's body in a car outside the Derwent garage on an isolated road in the Northern Lakes. The macabre discovery is reported to Inspector Meredith, and at first glance, the evidence at the crime scene suggests that Jack Clayton has committed suicide. The seasoned crime fan does not, of course, need to rely on the giveaway clue in the book's title to realise that all is not as it seems. Meredith does not rely on Holmesian flashes of brilliance, but rather on patience and persistence. Yet Bude's light, accessible style, ensures that interest never flags.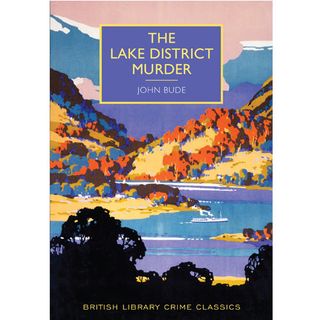 Although he is now best known for his crime fiction, Bude worked in the theatre as a producer and director. In 1953, he became one of the founding members of the Crime Writers' Association. However, he died a few years later, and his books soon vanished from the shelves. But he was a skilled craftsman who does not deserve to be forgotten. The attractively produced British Library editions of his first two novels combine period charm with unpretentious entertainment. I'm confident that readers who like to relax with a soundly written mystery will find much in John Bude's work to enjoy.
Both books are available now – in paperback for £8.99 – from all good bookshops, including the British Library shop.
British Library readers can find the first editions in the General Reference Collection:  The Lake District Murder (NN.23692.) and The Cornish Coast Murder (NN.24554.).
09 January 2014
 
Guest post from Charlotte Dickerson, Cataloguer and Metadata creator, Europeana 1914-1918 project.
In 1916 former knight of the British Empire and celebrated humanitarian Roger Casement stood on trial for treason. His friend Arthur Conan Doyle tried to rally support for his defence and put together a petition for his release, signed by figures such as W. B. Yeats, George Bernard Shaw and John Galsworthy. This petition, as well as Conan Doyle's correspondence on the subject, has been digitised by the British Library as part of Europeana Collections 1914-1918, a project to provide access to material from national library collections across Europe, and will be available online from 2014. The trial of Roger Casement caused a media storm but Conan Doyle's efforts were unsuccessful and Casement was hung on the 3rd of August 1916.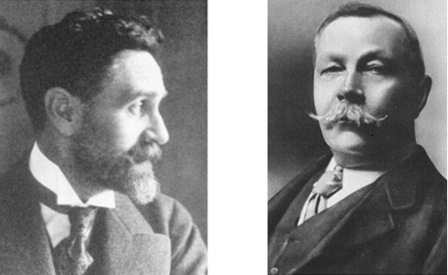 Roger Casement c. 1910 and Arthur Conan Doyle, 1914.
Image of Arthur Conan Doyle by Arnold Genthe
Roger Casement was born in Ireland in 1864. In 1895 he took a job with the British Foreign Office in Africa who, responding to reports of the exploitation of the indigenous people and human rights abuses, asked Casement to investigate conditions in the Congo Free State.
The Casement Report confirmed the truth of the alarming stories, such as that rubber workers who didn't work hard enough were having their hands cut off, which shocked the public and caused international outcry.
The Casement Report lead to the establishment of an independent commission of enquiry, the arrest of many officials involved and eventually to the relinquishing of personal control of the area by the Belgian King Leopold II. Casement undertook similar work in the Putumayo basin in Peru and created a precedent for the British Embassy to intervene on behalf of indigenous people.
Whilst campaigning to improve conditions in the Congo he met Arthur Conan Doyle.  Conan Doyle had a history of using his status to champion the causes of those he believed were victims of injustice. In 1907 he had helped overturn the conviction against George Edalji for animal mutilation, a case now widely seen as being brought about through the racial prejudice of the police. In 1912 he campaigned for the release of the somewhat insalubrious Oscar Slater, arguing that he had not committed the murder he had been arrested for, despite being well known as a pimp and petty criminal. A firm believer in the English justice system, Conan Doyle thought that it did not matter what your background was, no one should be punished for a crime they did not commit.
Casement and Conan Doyle became good friends as well as supporters of a mutual cause and even went together to see 'The Speckled Band', a play based on a Sherlock Holmes novel of the same name, in 1910. Conan Doyle admired Casement's belief in justice and based his character of the brave and idealistic Lord John Roxton on Casement in his novel 'The Lost World'.
Casement was an ardent Irish nationalist and when war between England and Germany broke out in 1914, he saw an opportunity to gain support for Irish independence. He travelled to Germany to request military and political support to end British rule, returning to Ireland in 1916 aboard a German U-boat shortly before the Easter Rising. On arrival he was arrested by the British government, charged with high treason and sentenced to death.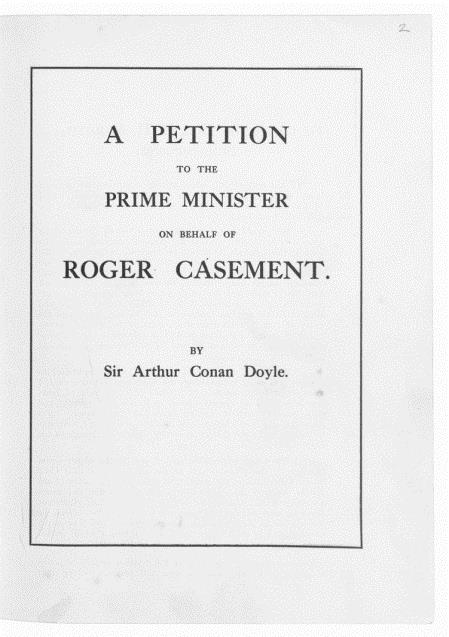 Conan Doyle could not believe that a man whom he knew so well and who had done so much in the service of the Empire could behave in such a way and blamed Casement's actions on "severe strain" and "tropical fevers". However, ever the pragmatist, Conan Doyle also argued that executing Casement would make a martyr of him and give more support to the Irish Nationalist cause as well as being a useful tool of German propaganda.
After his execution, Casement's body was buried in quicklime but his remains were eventually repatriated to Ireland in 1965 where he was given a state funeral and buried in Glasnevin cemetery, Dublin.
The British Library holds a large collection of papers belonging to Arthur Conan Doyle, including his correspondence with his family, correspondence with his friends such as J.M. Barrie and James Ryan as well as his papers on Spiritualism and several of his literary manuscripts.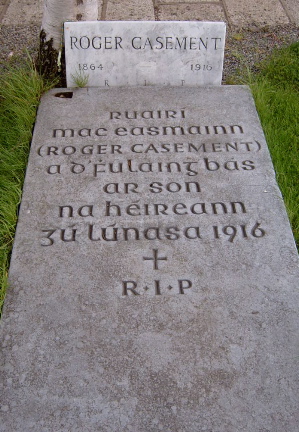 The grave of Roger Casement in Glasnevin Cemetary
06 December 2013
By Kathryn Johnson, Curator of Murder in the Library: An A-Z of Crime Fiction
Until a few weeks ago, the only book of the detective story writer Mavis Doriel Hay you could buy was not a murder mystery, but her contribution to a learned series of studies of rural industries in Britain in the 1920s. Osier-growing and basket-weaving is indeed a fascinating book, and something of a collectors' item on antiquarian book websites, but not what most people would choose for a spot of Christmas criminal escapism.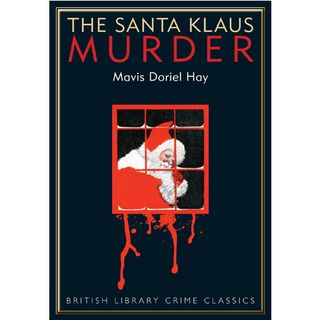 Her three detective novels of 1934 to 1936 are a rather different matter. The Santa Klaus Murder of 1936, just republished as the latest instalment in the "British Library Crime Classics" series, is a perfect example of the detective story as puzzle, a genre which reached its zenith in the years between the two World Wars. Sir Osmond Melbury – as selfish and unpleasant as he is rich – is found shot dead in the library of his country house on Christmas Day. Naturally every single member of the house party - except the one who actually found the dead body, of course - had some reason for wishing Sir Oswald dead, and the library is locked and shuttered from the inside.
The novel begins with not only the traditional detailed floor plan of the house but a cast of characters – just as well, for there are nearly two dozen, including a handsome and ambitious housekeeper/secretary, two rival suitors for the youngest Melbury daughter, and Sir Oswald's sons-in-law, Gordon Strickland, whose business may (or may not) be in trouble, and Sir David Evershot, a man still struggling with the effects of shell-shock from his war service. The author does not disguise how strange and difficult his behaviour can seem to others, and deals sensitively with his problems and those of his wife Edith, the middle sister of the family.
The Santa Klaus Mystery was the author's third and last novel. She had written two others: Murder Underground (1934) and Death on the Cherwell (1935). Murder Underground, in which an unpopular old lady is found strangled on the deep spiral staircase of Belsize Park tube station, was well-reviewed at the time by as notable a writer as Dorothy L. Sayers, while Death on the Cherwell shares the setting of Sayers's Gaudy Night, a fictional women's college in Oxford. In Hay's book, a group of students from Persephone College set out for a meeting by the river only to find their Bursar in her canoe – dead. To find out who killed the old lady in BelsizePark and the Bursar in Oxford, you will have to wait until summer 2014, when these two novels will also be published in the "Crime Classics" series.
23 August 2013
A guest post by Matt Rubery, Edison Fellow at the British Library
What was the first audiobook? This is a question I've been asked a lot while researching the history of audiobooks as an Edison Fellow at the British Library.
It's a difficult one to answer since a lot depends on what counts as an audiobook in the first place.
People have been recording literature since the phonograph's invention in 1877. Shortly after its debut, Thomas Edison proposed using it to record Dickens's Nicholas Nickleby. This would have been the first audiobook if it had ever been recorded. Recording an entire novel on wax cylinders was all but impossible however, since each one played for only a few minutes at a time. Listening to poetry was far more practical. Here's a sketch from 1895 of a woman listening to a book read aloud in her Paris apartment: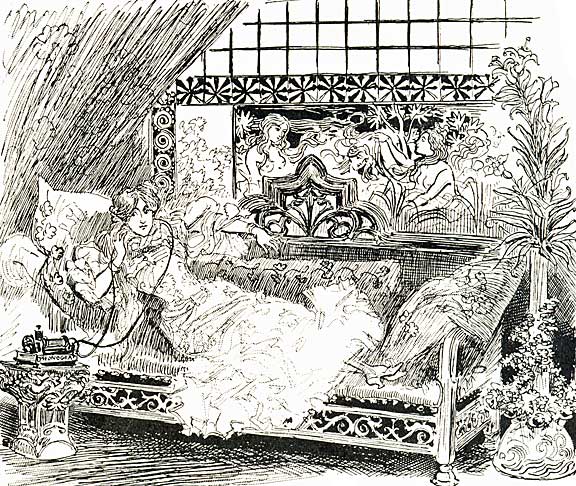 From Octave Uzanne and Albert Robida, Contes pour les bibliophiles (Paris: Ancienne Maison Quantin, 1895).
Full-length novels were not recorded until the 1930s. That's when talking books—that is, books recorded on a set of gramophone records—were made for people with visual disabilities in America and Britain. This group included war-blinded soldiers returning from the First World War and blind civilians who couldn't read braille. The American Foundation for the Blind and the Royal National Institute of Blind People managed to capture up to 25 minutes of speech using long-playing (LP) records that rotated at far slower speeds than the traditional 78 rpm record. The average novel could fit on 10 records.
The first talking books went out by post to readers in America in October 1934. They included The Bible, patriotic documents like the Declaration of Independence, and, of course, Shakespeare. There was fiction, too, including Rudyard Kipling's 'The Brushwood Boy', E. M. Delafield's The Diary of a Provincial Lady, and P. G. Wodehouse's Very Good, Jeeves. Britain's talking books went out a year later, beginning with Agatha Christie's The Murder of Roger Ackroyd and Joseph Conrad's Typhoon. These are fascinating choices since Christie's mystery uses a phonograph recording as a plot device and Conrad's storytellers, like Marlow, are not exactly easy to follow out loud.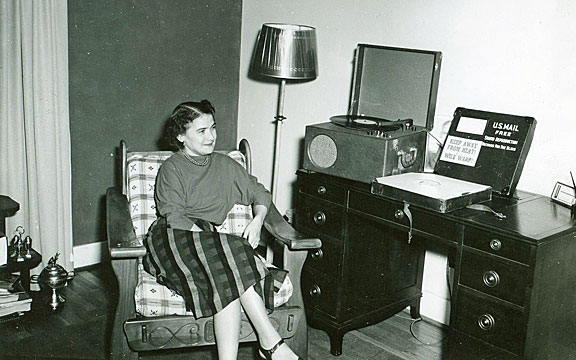 Woman listening to a talking book circa 1939.
The American Foundation for the Blind and Royal National Institute of Blind People continue to record talking books to this very day. Yet talking books differ from audiobooks in one key respect: they have never been sold to the public. Talking books have long been restricted to people with impaired vision in order to secure copyright exemptions from publishers.
Record companies began making spoken word recordings of literature for the public in the 1950s. Caedmon Records is one of the best known labels since it recorded many of the twentieth century's biggest names including W. H. Auden, T. S. Eliot, Ernest Hemingway, William Faulkner, Gertrude Stein and Eudora Welty. (For more on Caedmon please read my interview with Barbara Holdridge, co-founder of the label.) But other labels issued spoken word recordings of literature too. Argo, Folkways, and Spoken Arts are among the best known. One was even called The Audio Book Company! Reading through their catalogues made me realize just how much literature was recorded before anyone had ever heard of cassette tapes.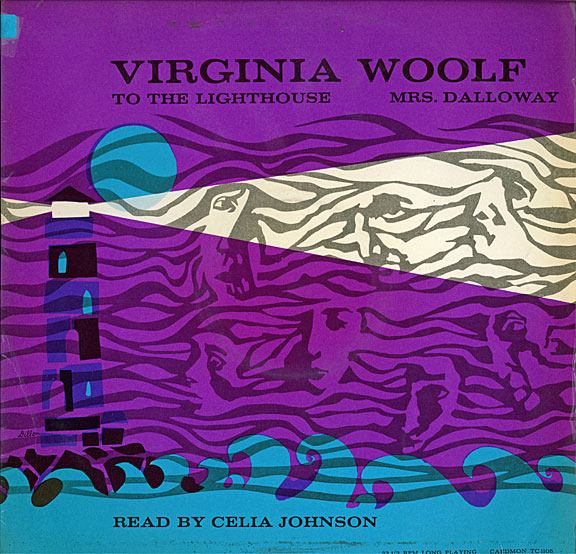 Virginia Woolf, To the Lighthouse and Mrs Dalloway (Caedmon TC1105, 1958)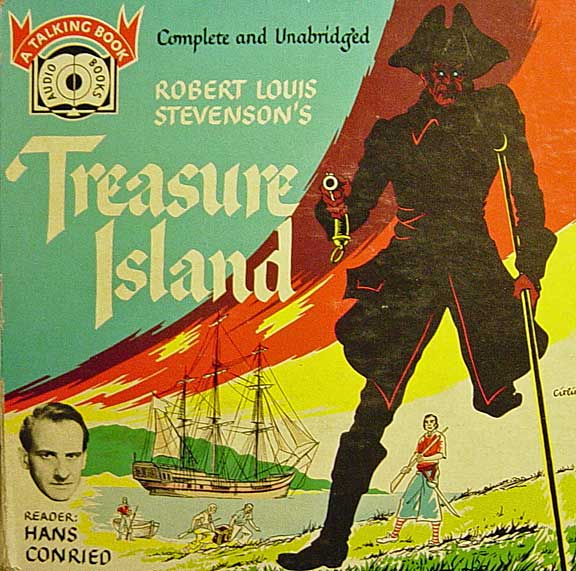 Robert Louis Stevenson, Treasure Island (Audio Books, 1958)
Which brings me to books on tape. Most people associate audiobooks with the use of cassette tapes in the 1970s. That's when mail-order vendors began selling or renting titles to the growing number of commuters who listened to them while driving. Duval Hecht decided to start Books on Tape Inc. while commuting to Los Angeles in 1973. His first recorded book was George Plimpton's Paper Lion. I'm still trying to locate a copy since libraries haven't preserved audiobooks to the same extent as other books. Companies such as Books on Tape Inc., Books in Motion, and Recorded Books laid the groundwork for today's audiobook industry.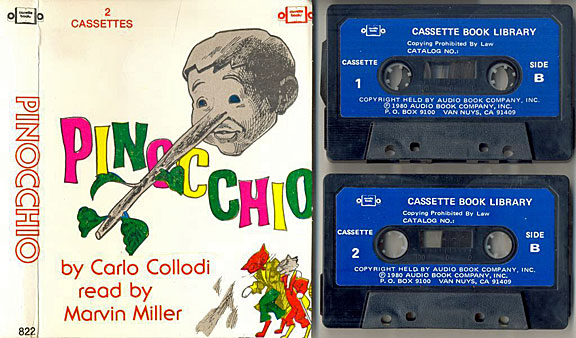 All this is to say that there's no short answer to the question: what was the first audiobook? My search continues.
Matthew Rubery is the editor of Audiobooks, Literature, and Sound Studies (Routledge, 2011). He is currently finishing a manuscript titled 'The Untold Story of the Talking Book'. You can read his interview with Toni Morrison about audiobooks on his Audiobook History web site.
11 February 2013
Murder in the Library: An A to Z of Crime Fiction is the British Library's current free exhibition in the Folio Society Gallery in the Entrance Hall. It has been curated by Kathryn Johnson and is wrapped in a vivid design inspired by the illustrations, graphics, fonts and colours of the original printed sources on show.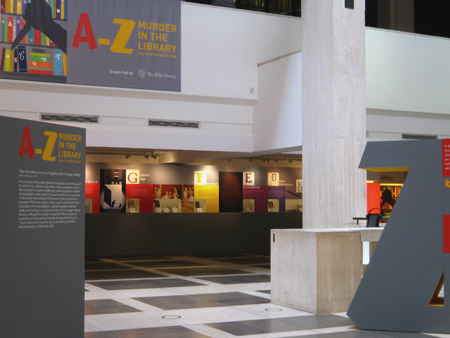 Alongside books and ephemera, previously described by my colleague Tanya Kirk in her 21 January post, we have put together a modest compilation of twenty recordings from the British Library Sound and Moving Image Collection.
The recordings can be accessed via a sound point located just behind the big cut-out Z on the right hand side of the exhibition space. The selection features extracts of interviews with crime writers discussing different aspects of the art of crime fiction, including how they came to be interested in the genre, their working methods, and the qualities a crime novel should or shouldn't have.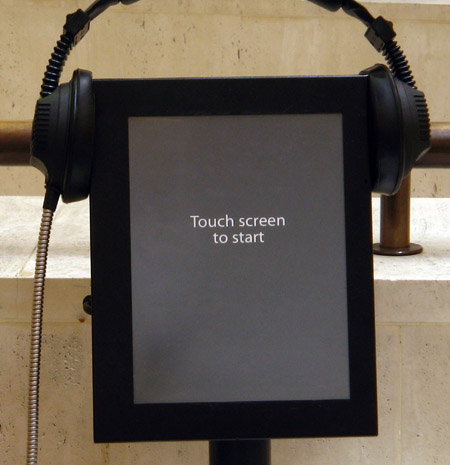 Highlights include Edgar Wallace reading his short story 'The Man in the Ditch', from a 1928 commercial disc; Arthur Conan Doyle speaking in 1930 about his most famous literary creation, Sherlock Holmes; Agatha Christie in 1955 explaining how she began her career; and Raymond Chandler in conversation with Ian Fleming in 1958.
English authors are represented by PD James, Ruth Rendell and Frances Fyfield, among others; Scottish writers by Val McDermid and Ian Rankin; and the US by Patricia Highsmith and Ed McBain, alongside an extract from a radio version of The Maltese Falcon by Dashiell Hammett, as heard on the CBS network, 20 September 1943.
Non-Anglophone writers include Belgian Georges Simenon, creator of the 'Inspector Maigret' series, and the Swede Henning Mankel, author of the 'Kurt Wallander' novels. Both are interviewed in English.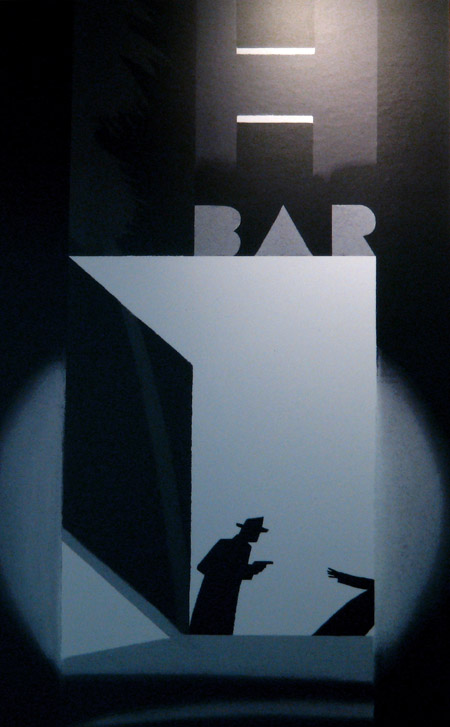 Visitors can also listen to a 1993 BBC interview with Julian Symons, author of the classic history of crime fiction, Bloody Murder: From the Detective Story to the Crime Novel, talking about Agatha Christie and Dorothy L Sayers, and why English women turned to crime.
For those interested in forensic science we have included an extract from an interview with Dr William M Bass, US forensic anthropologist, mystery writer and founder of 'The Body Farm'- the inspiration for Patricia Cornwell's 1994 book of that title -. Bass describes the real-life 'farm', where bodies are left to decompose in a variety of conditions.
Details of the complete recordings can be found in the online Sound and Moving Image catalogue and they are available to listen to by appointment at the Library. The exhibition is on until 12 May 2013 and if you are planning to visit on 8 March you may want to consider finishing your day with the last of the series of public events accompanying the exhibition: 'The Female Detective' (18.30 in the Conference Centre). See here for more details.
Listen to Conan Doyle speaking about Sherlock Holmes in 1930
Eva del Rey
Curator, Drama and Literature Recordings
21 January 2013
Whether you're a crime fiction fan or not, you're almost certainly familiar with great icons of the genre - Miss Marple, Inspector Morse, Sherlock Holmes, Sam Spade... but you might not know that the British Library also has crime novels written by people as incongruous as Pelé, Terry Venables or Gypsy Rose Lee.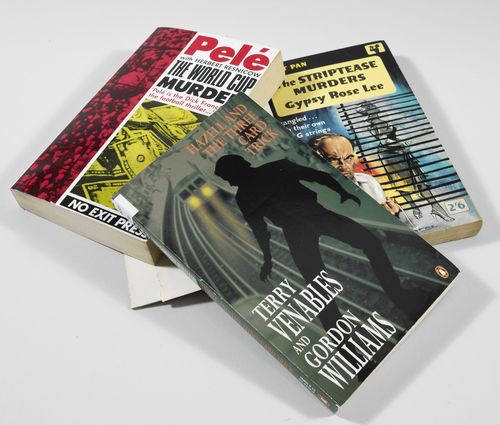 Left to right: British Library shelfmarks H.90/2091; H.97/270 and 12655.bb.51
I especially love the tagline on the Gypsy Rose Lee cover which dramatically proclaims 'Tangled... in their own G-strings'. Awkward.
The greatest hits and the lesser-known side of the genre are equally celebrated in our new, free exhibition, 'Murder in the Library: An A-Z of Crime Fiction', which opened last Friday and runs till 12 May. The exhibition has been curated by Kathryn Johnson, with audio selections curated by Eva del Rey (more on that in a future post).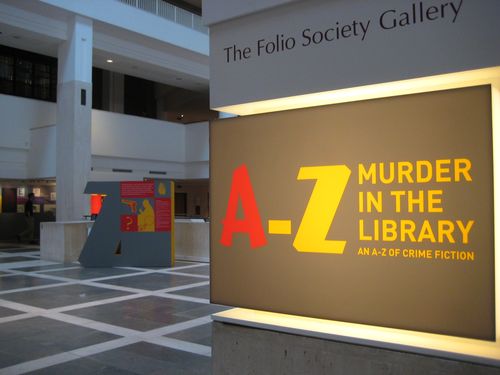 Kathryn and our exhibitions team unearthed some amazing collection items to show in the exhibition - including a 1933 novel where you had to solve the crime yourself - and if you got stuck, you could get the solution by completing a jigsaw puzzle: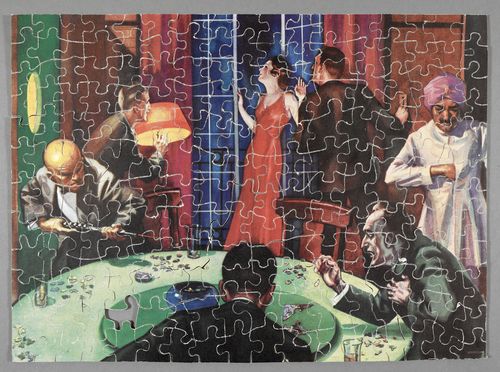 British Library shelfmark Cup.935/1435
To be honest, though, I'm none the wiser for seeing the jigsaw completed. Especially as it looks like Lenin is pointing a bayonet at Dracula, which surely can't be what it's all about.
Although the exhibition's only been open a few days we've already had some good reviews, like this one on Londonist. Murder in the Library is accompanied by a series of special events, starting tonight with the intriguingly named 'Real Crime, Real Fiction', and there are still some tickets left. You can find more details on our events page.
English and Drama blog recent posts
Tweets by BLEnglish_Drama
Other British Library blogs