15 July 2020
By Zoë Wilcox, Curator of Contemporary Archives and Manuscripts
Drawing of Steerpike from the Gormenghast books. © Estate of Mervyn Peake
Today we are announcing the acquisition of over 300 drawings from the pen of one of the 20th century's greatest illustrators, Mervyn Peake. The archive includes fearsome and funny illustrations for classics such as Treasure Island, The Hunting of the Snark and Household Tales by the Brothers Grimm, as well as illustrations for his own books including Gormenghast, Captain Slaughterboard Drops Anchor and Letters From a Lost Uncle. This newly-acquired archive – also containing juvenilia and unpublished work - joins his literary manuscripts already held here at the British Library, together forming the largest public Mervyn Peake collection anywhere in the world. From completion of cataloguing in 2022 you will be able to research the Mervyn Peake Visual Archive for yourself and there will be opportunities to see the illustrations in upcoming British Library exhibitions, but for now here are a few highlights to whet your appetite and stimulate those research ideas.
Treasured islands
One of the undoubted gems of this new collection is Peake's series of illustrations for Treasure Island, which were published in 1949 and are regarded as some of the finest examples of his illustrative work. It probably helped that Treasure Island was his favourite book from childhood and that he had been poring over the drawings of others, including the anonymous original illustrator, and drafting his own versions since he was a schoolboy (as evidenced by the fact that two watercolour illustrations survive in the archive executed when Peake was only 15). But Peake's familiarity with the illustrators who went before him was not purely down to childhood fandom. On receiving one of his earliest commissions to illustrate Lewis Carroll's The Hunting of the Snark in 1941 he set out to learn everything he could from the artists he most admired – from Hogarth and Blake to Cruikshank and Bewick. As a writer himself, he maintained a healthy respect for the authors whose work he was reinterpreting, 'sliding into another man's soul' as he put it and subordinating himself to the story, which perhaps explains why he often chose to show us characters divorced from their setting, leaving it to our imaginations to conjure the action of the story. The results have been highly praised and Peake is credited with reimagining the story and showing us the true evil potential of the pirates (see John Lewis' The 20th Century Book: Its Illustration and Design).
The pirate crew from Treasure Island, 1949. © Estate of Mervyn Peake
These Treasure Island illustrations are also a particularly fine example of Peake's mastery of the technique of cross-hatching, as you can see from the above drawing of the Hispaniola's shipmates as they approach Skeleton Island. Elsewhere, his innovative use of closely-drawn broken lines results in the incredible image of Israel Hands falling from the mast with a swirling sea behind him. Part of the rich research potential in this new archive lies in the many preliminary drawings and annotated proofs for Treasure Island which Peake retained, allowing us to trace his creative process in detail as he carefully honed each picture.
Israel Hands falling from the mast, Treasure Island, 1949. © Estate of Mervyn Peake
Too scary for bedtime?
Once dubbed by critics 'eerie', 'sinister' and 'quite unsuitable for sensitive children', it is Peake's children's book illustrations that are at the heart of this archive. Peake's work has thrilled and unsettled children since he started publishing in the later 1930s, sometimes with an outcry from adults who have worried about nightmares and the 'indelible mark' left on their offspring. Here is an example from Household Tales by the Brothers Grimm (1946), which again uses cross-hatching to evoke the dark, foreboding atmosphere.
Illustration for 'Our Lady's Child' from Household Tales by the Brothers Grimm. © Estate of Mervyn Peake
For older readers, Peake will be best-known as the author of the Gormenghast books which earned him the status as one of the best fantasy writers of the 20th century. Fans of the series will find ten illustrations of Gormenghast characters in the Visual Archive, including depictions of its hollow-eyed anti-hero Steerpike, the grotesque chef Arabiatha Swelter and the delightfully-named doctor's sister, Irma Prunesquallor.
Early Peake
The earliest item from the Visual Archive is a drawing by seven-year-old Mervyn, sketched on a Sunday afternoon in China, where he spent his childhood as the son of a missionary doctor. The Peake family returned to England for good when Mervyn was 11 years old but the sights and sounds of his early years were never forgotten. The sense of being an outsider came from living in a walled missionary compound looking like a miniature version of Croydon set down in a distinctly different culture, and it continued on his return to England where there seemed to be no thread linking his two very different lives. Peake's perspective on Chinese culture and this sense of isolation have both been consistent influences on Peake's later work, from the ritualised world of Gormenghast to the stylised brushwork of some of his drawings. In the Visual Archive, the Chinese influence can be seen in his juvenilia and also in his exquisite illustrations for an early unpublished book of nonsense, 'The Moccus Book', which he produced in the late 1920s from an idea developed with his best friend, Gordon Smith.
A Sunday evening walk in China. Earliest surviving drawing by Mervyn Peake, aged 7, around 1918. © Estate of Mervyn Peake
The pirate who never grew up
The thread running through the entire archive is Peake's piratical spirit. He was obsessed with pirate stories from childhood, cultivated a piratical appearance and was very fond of jokes and pranks. It is not surprising therefore that Peake went on to write his own pirate tale in the form of his 1939 children's book Captain Slaughterboard Drops Anchor. Although Peake's early literary influences reflect the colonial society in which he grew up, it is notable how he could turn these tropes upside down. The bloodthirsty Captain Slaughterboard, for instance, gives up his piratical ways and sets up a cosy, domesticated life on a foreign island with an ambiguously-gendered 'Yellow Creature' in what appears to be a very happy queer relationship – marking the picture book out as 'way ahead of its time' in the opinion of former Cambridge Professor of Children's Literature, Morag Styles. The Visual Archive holds the complete set of all 45 final illustrations for this book and you can see a glimpse of an early version of the Slaughterboard story in this beautifully illustrated manuscript from the collection which is available in full on our Discovering Children's Books site.
The pirate Charlie Choke sporting a tattoo of Mervyn Peake's wife Maeve on his arm. Captain Slaughterboard Drops Anchor, 1939. © Estate of Mervyn Peake
Words and pictures
Utlimately, in the fashion of other great writer-artists from Blake to Wyndham Lewis, it is impossible to separate Peake's art from his writing. To understand his imagination and his synaesthetic creative process as a whole, we need to consider his writing and drawing side by side, and this acquisition will enable researchers to do just that. You can read more about the Mervyn Peake Visual Archive in our press release.
Funders
The Mervyn Peake Visual Archive was acquired by the British Library with the generous support of the Art Fund with a contribution from the Wolfson Foundation and a contribution in memory of Miranda Stonor, the National Heritage Memorial Fund, the British Library Collections Trust and the Friends of the National Libraries.
Further reading
G. Peter Winngton, ed., Mervyn Peake The Man and his Art (London: Peter Owen, 2006)
G. Peter Winnington, Mervyn Peake's Vast Alchemies: The Illustrated Biography (London: Peter Owen, 2009)
Maeve Gilmore, A World Away (London: Gollancz, 1
15 March 2019
a guest blog by Rafael Klein, a native New Yorker and artist.  For more information about Klein and his work, click here, and to learn more about the upcoming event at the Library, where Rafael looks back on Lost Americana - artist's books and short films with Dr.Richard Price, Head of Contemporary British Collections British Library. The Story of a Family Man is available to read here. 
Coney Island book, 2002. Silkscreen hand printed
Who doesn't love a book? How great to lose yourself in the inner world of an author. Turning the pages and revealing previously unknown thoughts and dreams.Turning more pages and finding surprises, unexpected emotions, unimaginable plot twists. Such pleasure also in the tender physicality in holding a book, in finding the corner of the delicate page, leafing over trying not to fold or tear. But this tiny physical movement is all in service of the thoughts being formed. A book is a journey for the reader as well as the writer. We are connected with someone else's experience and therefore connected in a new way with our own experience.
The Artists Book
il benzinaio, 1992, Hand-tipped colour photocopy, cutouts, bronze embeded in cover
Art is full of seductive surfaces, enticing details, intriguing techniques – but you mustn't touch! However the appeal of a book is that it asks to be held, touched, for its pages to be turned for its 'skin' to be peeled back and to look inside. Not really surprising then that artists are drawn to the book as a form of expression.

Plus for an eclectic artist like myself, it is an opportunity to cross disciplines and unify very diverse approaches into a single entity. I am someone who makes sculpture, painting, prints and films. In the artist book, all of these impulses can be effortlessly combined and given voice. I have always seen the branches of my art as chapters in a book. The gentle physical reality of the book form is outweighed by the much large interior intangible aspect of its meaning. There are echoes of the nature of art itself. The artist book has has a physical form. But unlike the sometimes large, heavy and impressive form say, of a massive sculpture in heavy metal, the book has a tender physicality, and its meaning lives solely within our minds. The perfection of a brilliantly realised painting, exhibiting great skill, can feel closed and uninviting. But the artist book always has a more tender living aspect, the continuous invitation to 'open me, fondle me'.
The Story
And who doesn't love a good story. Not necessarily a story with the scope and grandeur of a Tolstoy novel. But maybe just the weird occurrences of everyday life, soon forgotten but sometimes narrated to friend or lover, maybe even entered in a diary. These insignificant fragments are the stuff of life. Are they connected, do they add up to a tale of grand wealth and power? Maybe not, but they are true to life.
Fun fair sketchbook

Tales of New York, 1998
A trip to the supermarket
A holiday trip
A visit to the fun fair
Visiting my parents in Florida
A walk in the country
Getting robbed while driving a taxi cab in New York.
Tales of New York, 1998. Silkscreen print
Maybe not earth shattering events, but when lodged within an artists book they have resonance and seem like the stuff of personal myth.
The Book
And then there are the seductive techniques which make the artists book richer visually than a simple catalogue or ordinary book. The range of approaches are endless, but I have followed my own instincts. I have used cutouts, which coerce the reader into interacting and reveal hidden threads of story beneath. The popups, which hint at a third dimension. Diverse printing techniques – screenprint, monotypes, digital print, hand colouring, lithography. So many approaches are possible, many more than I myself have explored. And then there are the sculptural elements. This is a great pleasure to me as a sculptor. The tactile physicality of the production is an added satisfaction. The cover might have a small bronze sculpture inset, or a supermarket trolley embedded in it. The paper will be robust, textured, and rich. And the colours – none of that simple offset reproduction. No, it will be hand printed and hand bound, giving just that extra sense of an occasion.

It is simply the best medium an artist could choose to work in!
The British Library Collection

In addition to rare and historically important works, the British Library has a wonderful collection of artists' books. Here are some desk references for some suggestions.
Lexicon is an altered antiquarian Latin-Greek dictionary by South African artist William Kentridge – General Reference Collection YF.2012.a.4228


Nine swimming pools and a broken glass by Edward Ruscha does exactly what the title says, with the artist's usual wry humour.  General Reference Collection RF.2017.a.56


Under Milk Wood by Dylan Thomas, gets the artists' book treatment by Peter Blake  -  General Reference Collection LC.31.b.13492


and a personal favourite, full of pop-ups and cutouts, is Ruckus Rodeo by Red Grooms  –  General Reference Collection YD.2005.b.1635


and two of my own works –  Coney Island  –  General Reference Collection YD.2007.b.1355 Florida – or you can't fight progress  –  General Reference Collection RF.2007.a.68
13 January 2017
Jerry Jenkins, Curator of Emerging Media, Contemporary British Published Collections writes:
In November 2016 I had the pleasure to attend "From Yeats to Heaney: Discovering 140 Years of Literature at the National Library of Ireland" hosted by Embassy of Ireland. After the introduction from the Cultural Attaché and opening remarks from Dr Sandra Collins, Director of the National Library of Ireland, the assembled guests were treated to insightful, often humorous talks on both William Butler Yeats and Seamus Heaney given by Katherine McSharry, NLI Head of Outreach and Professor Geraldine Higgins, NLI Heaney Exhibition Curator respectively. The lectures illustrated the measurable contribution to, and healthy involvement both men had with the National Library of Ireland.  It is worth noting that the archives of both Heaney and Yeats rest within its walls. 
The British Library has also been fishing in those culturally rich waters which are Dublin. Earlier this year the Library acquired a set of six Sponsors' Portfolios from the Graphic Studio Dublin.
Between 1962-1979 Graphic Studio Dublin produced a collection of work entitled Sponsors' Portfolios, containing art and literature by writers and artists from Ireland and internationally. In conjunction with their 50th anniversary in 2010 the Graphics Studio re-launched the Sponsors' Portfolios in 2010.
Each portfolio contains a work commissioned by an acclaimed contemporary Irish writer, and four visual artists. A list of contributors can be found on the  Graphic Studio Dublin's website.  These showcase the printmaker's art and the skills which are employed in producing fine press items. Each year a limited edition of 75 imprints are produced.  The project will continue to produce folios until 2019 thereby capturing a snap shot of some of the finest work of contemporary Irish writers and artists over the decade. The formula of inviting artists and a writer to work together presents a fresh and vibrant perspective to the interception where visual arts and the written word meet.
Seamus Heaney, 'The Owl'. Translated from the Italian of Giovanni Pascoli. Letterpress. Used with the kind permission of the Graphic Studio Dublin
Poignantly Seamus Heaney contributed to the Sponsors' Portfolio in 2013, in what turned out to be the year of his death. Entitled Translation, his subject was a translation from the Italian of Giovanni Pascoli poem "The Owl" or "L'assiolo" in the original. The acquisition of this late and rare Heaney work to the British Library is an important addition to the rich collection of Heaney's writing the Library's has garnered over the last forty years.  My colleague, Dr Richard Price has highlighted some of these in a previous post.
"The Owl" is accompanied by four prints: Pamela Leonard's "For Sheer Joy ... Took Flight", Liam Ó Broin's "Death of Orpheus", with Jane O'Malley's "Still Life" and finally Robert Russell's "Lost in Translation". These works are beautifully illustrative of how the printmaker's art can transfer the depth of emotion conveyed in the written word to colour and form of the artist's reimagining.
Pamela Leonard, 'For sheer joy... took flight'. Etching. Used with the kind permission of the Graphic Studio Dublin
Liam Ó Broin, 'Death of Orpheus'. Lithograph. Used with the kind permission of the Graphic Studio Dublin
If there was any doubt about the truly individual nature these works, when measuring the individual portfolios for their protective phase boxing it was noted  that the was a slight  discrepancy  of millimetres between the size of each of the portfolios. A sure sign of a distinctive and hand crafted nature of these artist's books.      
Jane O'Malley, 'Still Life, La Geria'. Carborundum. Used with the kind permission of the Graphic Studio Dublin
Robert Russell, 'Lost in Translation'. Etching. Used with the kind permission of the Graphic Studio Dublin.
To return to where I started, a thought-provoking question was raised at the "From Yeats to Heaney" event at the Embassy: who will inherit the mantle which seemed so mysteriously to pass from Yeats to Heaney in 1939, (the year of Yeats's death and of Heaney's birth)? Within the folios of the Sponsors' Portfolio might be a good place to start looking for the answer to that question.  
In closing, I would urge readers to explore the rest of the series the British Library's copies of the Sponsors' Portfolio. 1/10-7/10 are orderable at pressmarks:
Ultramarine, Jean Bardon, Carmel Benson, Roddy Doyle, Kelvin Mann and Donald Teskey RHA., 2010, British Library Shelfmark: HS.74/2280;
Journey, Caroline Donohue, Theo Dorgan, Martin Gale, Stephen Lawlor and Louise Leonard, 2011, British Library Shelfmark: HS.74/2281;
Thoughts, Jennifer Lane, Seán McSweeney, Niall Naessens, Marta Wakula-Mac & Thomas Kinsella, 2012, British Library Shelfmark: HS.75/2282;
Translation, Pamela Leonard, Liam Ó Broin, Jane O'Malley, Robert Russell & Seamus Heaney, 2013, British Library Shelfmark: HS.74/2283;
Thief's Journal, Yoko Akino, Diana Copperwhite, Ruth O'Donnell, Michael Timmins & John Banville, 2014, British Library Shelfmark: HS.74/2284;
Naming the stars, Colin Davidson, Niamh Flanagan, David Lunney, James McCreary and Jennifer Johnston, 2015, British Library Shelfmark: HS.74/2285;
Pax, Mary Lohan, Tom Phelan, Grainne Cuffe, Sharon Lee and Paula Meehan, 2016, British Library Shelfmark HS.74/2286.
Furthermore, The National Library of Ireland, Trinity College Dublin and Queens University Belfast have also acquired sets of the Sponsors' Portfolio series.     
15 June 2016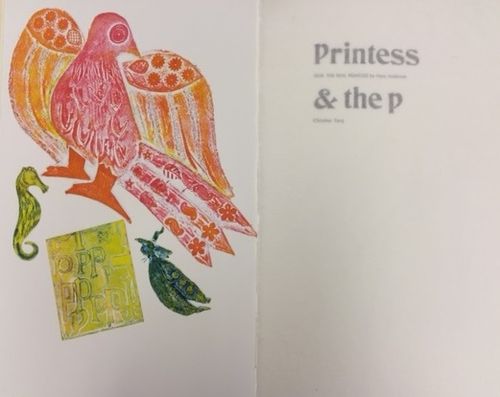 Christine Tacq's latest artist's book Printess & the p is a reimagining of the timeless Hans Christian Andersen fairy tale about a young woman who proves her nobility to her suitor prince, by detecting a pea through twenty feather mattresses. Only a princess would be so sensitive to be awakened by a pea. In this version, it is a woman printer, or 'printess', who is the person of discernment.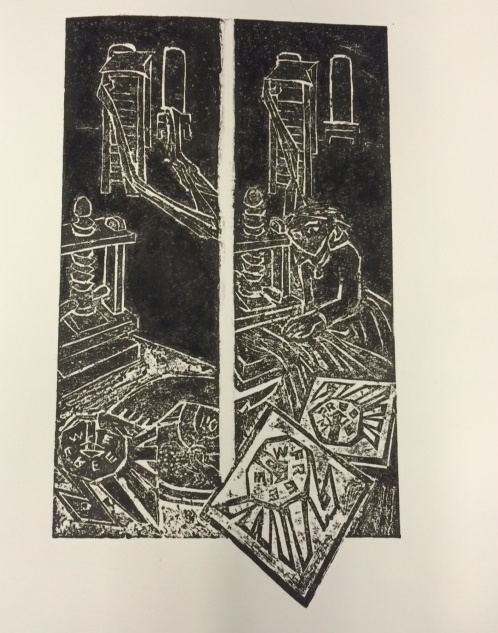 The first thing that is striking about Tacq's latest work is the interspersed monotone plates sit in sharp contrast to the vibrant rich imagery of the colour spreads illustrating the narrative. This contrast is beautifully underpinned by using different paper. The colour reliefs are printed on Zerkall paper, while, intaglio collagraphs are on Fabriano paper. By cleverly changing the medium it reinforces the initial contrast at the physical as well as on a visual level.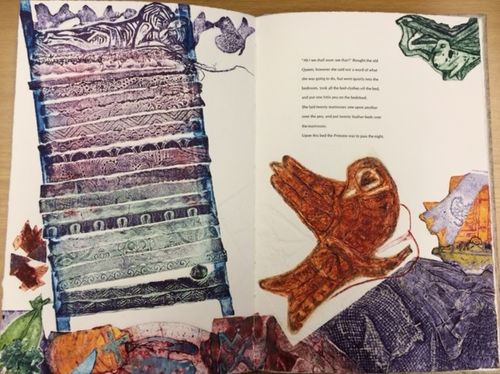 The theme of contrast extends to the depictions. The seven richly coloured double-page spreads juxtaposed with the far more vulnerable black and white which offers an intimate glimpse into an inner darker world. Some of these prints spill out from the confines of the frame with hard edged intaglio  printing as if attempting to burst out from the page and ape the freedom a vibrancy depicted in the colour plates.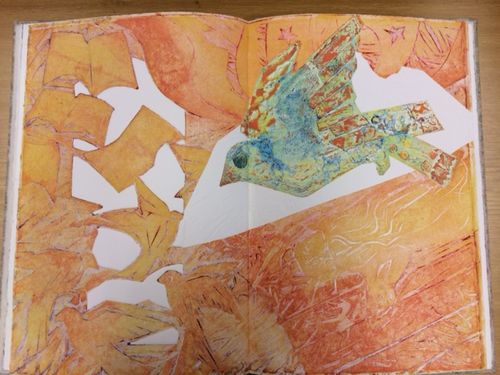 Tacq's skill as a book artist are illustrated in the way this volume unravels and draws in a complex range of themes and concepts, techniques; - and then presents them in such an appealing way. Her use of Optima for the text balances with the rich relief collagraphs
The Printess &the p was published in July 2014, it is a first edition of twenty five copies. The volume was printed by p's &q's Press, Thame in Oxfordshire and bound at the Fine Book Bindery.  
The covers are bound in hand-printed linen designed with relief-blocks and comes in a linen slipcase.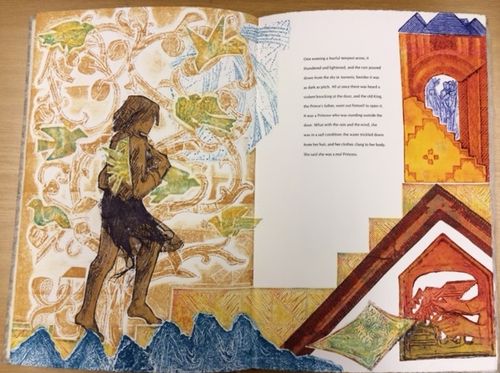 The images are created using the collagraphy technique in which the plate is constructed of adhered elements and inked with a roller or brush to produce in both relief and intaglio, and an embossed impression can be obtained by printing the plate dry without inking.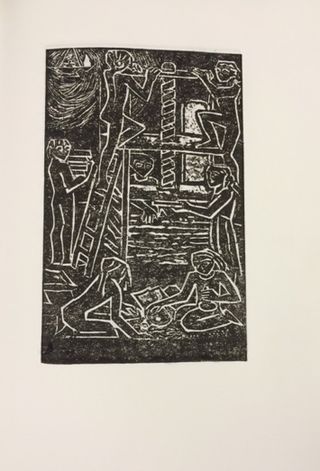 The way the imagery and the narrative intertwine to create this volume weighted with powerful subtexts which engage with concepts of feminism and identity. In some respects it offers a self-portrait of a printer.  
On returning the volume to its slipcase one evening after working with it I noticed a small piece of paper squashed in to the back of the slip case. On retrieving and unfolding it, it read:
"18 Excellent Copy, British Library? Excellent"
Because of the way the creases appear it was possibly placed on the spine as part of the quality assurance process. Nevertheless, to come across such a note adds to an authenticity of the artistic process and speaks to the huge range of skills and processes it takes to create a tome of such outstanding quality.
The Library's copy of the Printess &the p will be accessible at British Library shelfmark RF.2016.b.35. in the near future.
Images reproduced with the kind permission of Christine Tacq.
Blog by Jerry Jenkins, Curator, Emerging Media, Contemporary British Published Collections
09 February 2016
With the Library's Alice in Wonderland exhibition now almost half way through its run I have been thinking about some of the surprising things that I have learnt about Carroll's famous story whilst working on the exhibition. I shared seven facts about Alice as part of one of the breakout sessions at the Alice themed Festival of the Spoken Nerd event that was held at the Library on 1st February and I thought that I would share them here too.
1. It took Lewis Carroll over two years to create the manuscript, Alice's Adventures Under Ground, after he first told the story to Alice Liddell and her sisters on the 4th July 1862. Carroll recorded in his diary that he had finished the text of the manuscript (which is written in a very neat hand in sepia ink) by February 1863. However Carroll was not a professional artist and it took him more than a year to finish the illustrations.
2. Carroll added two new chapters, 'Pig and Pepper' and 'A Mad Tea-Party' when he reworked the story for publication. These chapters include some of the most famous characters – the Duchess, the Cheshire Cat, the Hatter and the March Hare. It is hard to imagine Alice's Adventures in Wonderland without some of its most famous and eccentric characters!
3. The model for publication was rather different in the Victorian period. Although Alice's Adventures in Wonderland was published by Macmillan Lewis Carroll bore most of the financial liability for the publication of the book himself. This meant that decisions about all aspects of publication from selecting the illustrator and engraver to the size and colour of the volume were made by Carroll. This may help explain part of why Carroll was so determined that the book should be a success.
4. John Tenniel who illustrated both of the Alice books was blinded in the right eye in a fencing accident aged only 20. Tenniel sustained the injury in a fencing match against his father though he managed to conceal his disability from his father for the rest of his life in order to spare him any guilt. This isn't strictly a fact about the book but I found it so incredible that Tenniel was able to become such a successful artist with such a disability.
5. The first colour illustrations of Alice which are featured in The Nursery Alice (1890) show Alice wearing a yellow dress rather than the blue and white outfit which we often tend to associate with her.
6. The success of Alice's Adventures in Wonderland can be seen in the range of 19th century merchandise and Alice themed music and theatre which were created. This included Charles Marriott's Wonderland Quadrilles and the Wonderland Postage Stamp Case which Carroll personally helped to create.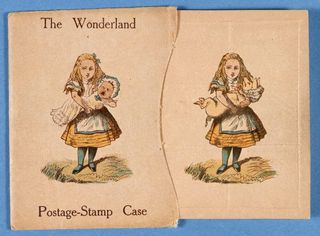 7. Copyright for Carroll and Tenniel's edition of the book expired in 1907. This meant that any artist who wished to publish their own version of the story could do so. The market was flooded with new editions with twenty being produced between 1907 and 1920 alone. 
If you haven't already seen the exhibition please do visit before it closes on the 17th April. In addition to the free exhibition the Library is also running an interesting series of events based around the exhibition. These include two Ekphrasis poetry evenings inspired by Alice's Adventures in Wonderland on the 4th and 5th March and an Alice in Wonderland Discovery day for all the family on Saturday 20th February.
Finally the Library is running two adult learning courses with Alice themes, Illustrating Alice and Alice and the World of Children's literature which will begin in February and March. Please see the Library's website for more details.
03 July 2015
 Additional MS 46700
       Tomorrow sees the anniversary of the now world famous boat trip on the River Thames in Oxford, when the Reverend Charles Lutwidge Dodgson, a mathematics don at Oxford University, rowed up the river with the three young daughters of the University's Vice-Chancellor. The middle child was Alice Liddell, then aged ten.
       Dodgson recorded the trip in his diary for 1862, one of nine volumes of his diaries that are held at the British Library. The details of the rowing trip itself are recorded on folio 15 of his diary:
Additional MS 54343
but the page opposite records why the trip turned out to be so important in the history of English literature. As he rowed up the river Dodgson began to tell the girls a story about a bored child called Alice who follows a white rabbit and ends up having a series of surreal adventures. The story, as recorded in Dodgson's diary, was initially called 'Alice's Adventures Under Ground'. One year later, under his pen name of Lewis Carroll, the story was published in an expanded form with the new title Alice's Adventures in Wonderland.
  Additional MS 54343
         After the trip, Dodgson had written up the story, painstakingly added his own illustrations, and presented the manuscript to Alice Liddell as a gift, with the dedication: 'A Christmas Gift to a Dear Child in Memory of a Summer's Day'. This manuscript is now one of the British Library's treasures; however, its journey from its original creation to its home in the Library is quite a marvellous tale in itself. Alice Liddell kept the manuscript until 1928 when she was forced to sell it to pay death duties after the death of her husband. The manuscript was sold at auction at Sotheby's for £15,000 to an American dealer, Dr Rosenbach, who in turn sold it to Eldridge Johnson upon returning to America. Following Johnson's death in 1946 the manuscript was again sold at auction. This time, however, it was purchased by a wealthy group of benefactors who donated the volume to the British people (and the British Museum) in 1948 in gratitude for their gallantry against Hitler during World War Two.
        This year marks the 150th anniversary of the publication of Alice in Wonderland and gives us a chance to celebrate and to reflect upon the continuing influence of this much-loved story. The Alice manuscript has just taken a trip back across the Atlantic to be the centrepiece of an exhibition at the Pierpont Morgan Library in New York. Later in the year it will have a short sojourn at the Rosenbach Museum in Philadelphia before returning to us and going on display as part of our Front Hall exhibition which will explore the many ways that the story has been adapted, appropriated, reimaged and re-illustrated since its conception. The exhibition curators will be blogging later in the year as we work towards the launch on 20th November.
       Though if you can't wait until then to find out more, you can explore this manuscript and much more besides on the British Library's Discovering Literature website, which you can find at http://www.bl.uk/collection-items/alices-adventures-under-ground-the-original-manuscript-version-of-alices-adventures-in-wonderland
16 December 2014
Jane Austen, whose 239th birthday is today, has another anniversary this month – at the very end of December 1817, after her death, her novel Northanger Abbey was published.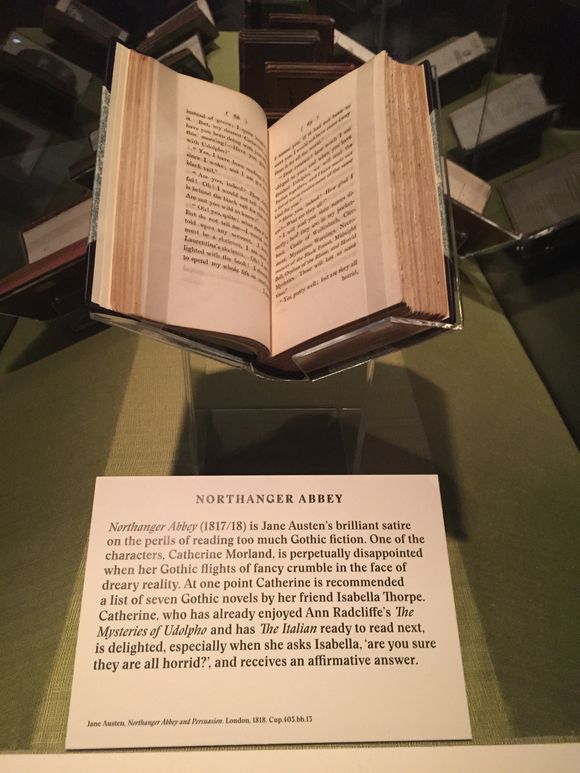 Northanger Abbey is a joyously playful satire on the gothic novel of the 1790s, and was written in around 1798-9, when Austen was in her early 20s. It was the first of her novels to be submitted for publication, and was bought by a London publisher for the princely sum of £10 in 1803 – but for unknown reasons lay unpublished until 1816, when Austen's brother bought it back for her. She made a few revisions, changing the heroine's name from Susan to Catherine Morland, and also the title (which had been 'Susan') perhaps to tie it more firmly to the gothic tradition it pastiches.
In the first half of the book, set in fashionable Bath, Catherine meets with a new friend, Isabella Thorp, a flighty young woman. When Catherine opines that she wishes she could spend her whole life in reading Ann Radcliffe's hugely popular and influential Gothic novel, The Mysteries of Udolpho, Isabella replies that she has "made out a list of ten or twelve more of the same kind for you…  Castle of Wolfenbach, Clermont, Mysterious Warnings, Necromancer of the Black Forest, Midnight Bell, Orphan of the Rhine, and Horrid Mysteries."
For some time in the 19th century, it was generally believed that Austen may have made up these titles, so preposterous did they sound to later, non-Gothic readers. However, later scholarship revealed that the novels did all exist, and they are on display together for the first time in Terror and Wonder. You can read more about the seven horrid novels on the British Library European Studies blog here.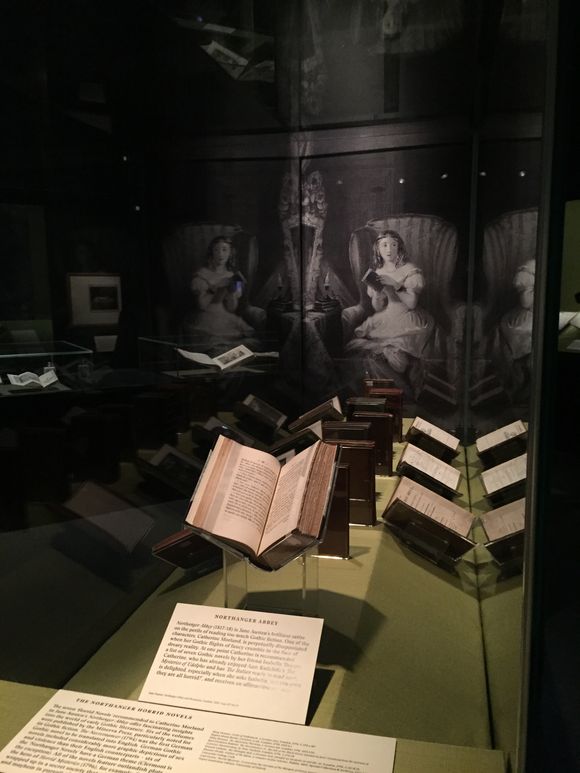 The second half of Northanger Abbey features Catherine's visit to the Abbey itself, the home of her friend Eleanor Tilney and her brother Henry. On the journey Henry teases Catherine about what she expects the house to be like (as it is called an Abbey, Catherine has of course imagined a full-on Radcliffian dark, brooding, mazelike building stuffed with secrets): "And are you prepared to encounter all the horrors that a building such as 'what one reads about' may produce? Have you a stout heart? Nerves fit for sliding panels and tapestry?" Henry then proceeds to distil various key plotlines from the complete work of Ann Radcliffe into a single, very entertaining narrative at what is to happen at the Abbey during Catherine's visit. His intention is to entertain, but Catherine is both frightened and immediately expects the worst – or, the most exciting – to happen.
Austen draws the line between the gothic novels of the 1790s (usually set centuries in the past, in continental Europe) and England in the 1790s when Henry reminds Catherine that she should "Remember the country and the age in which we live. Remember that we are English, that we are Christians…. Does our education prepare us for such atrocities? Do our laws connive at them?" By the end of the novel, Catherine has at last learned not to take novels (or herself) so seriously.
Another theme of the novel which, perhaps strangely, links to our exhibition Terror and Wonder, is that of consumerism. Isabella Thorp, when she recommends the seven horrid novels to Catherine, admits that she hasn't read them herself but has in turn been given the list by Miss Andrews. Isabella's interest seems to be more that she keeps up with the fashion and is able to make these recommendations than in her own enjoyment of novel-reading. Amongst many other references to the consumer culture of the 1790s (whose lace trimmings are nicer, whether a muslin will wash well) one stands out – the fact that Northanger Abbey itself has a Rumford fireplace. Designed by Count Rumford in the mid- 1790s, this new style of fireplace increased the heat to a room by narrowing the vent.  On display in Terror and Wonder is a parody of an advertisement for a Rumford, in which a young lady reading the scandalous gothic novel The Monk by Matthew Lewis, has a lovely time by her RumPford fire. Scandalous indeed.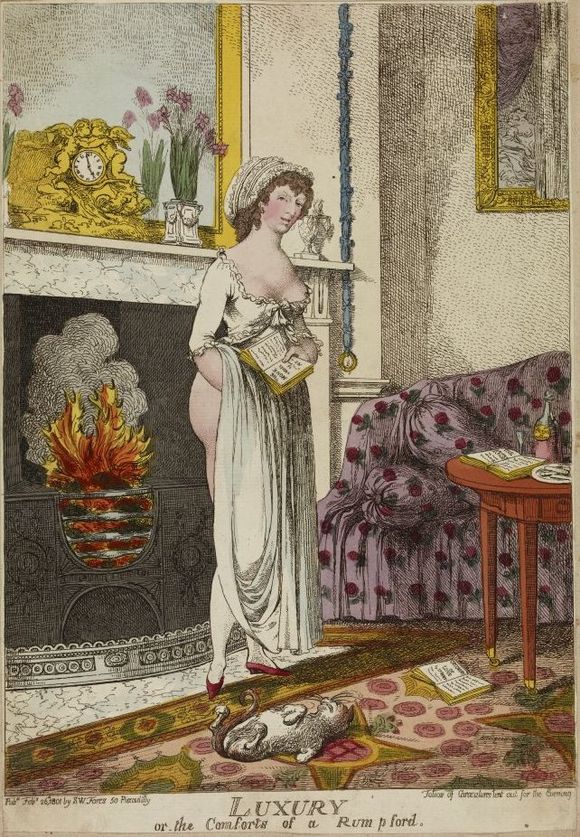 Terror and Wonder is on till the 20th January, and you can buy tickets here
Read more about our Jane Austen collections here
Final image courtesy of British Museum Department of Prints and Drawings, 1935,0522.7.12
02 October 2014
Literary walks round London have been popular since at least the 19th century. A personal favourite of mine - I offer it to most of my guests from overseas - is a walk round the homes of writers and artists who lived in Chelsea. Starting with Agatha Christie and ending with Oscar Wilde, the itinerary takes in, among others, Edith Sitwell, Thomas Carlyle (a National Trust house), Henry James, T S Eliot, Ian Fleming and Somerset Maugham (all four residents in the same block of flats, though not at the same time), Christina Rossetti and George Eliot. On a fine day, and with little traffic on the route, it is the perfect introduction to literary London. 
And when it rains? I recommend an indoor tour of a different kind, a promenade through books in which great literary figures give us their own introductions to London. Each of the writers named above left us pictures of the London they knew, and some of them are exhaustive on the subject. Henry James, for one, could keep the reader occupied for days. This is not just his non-fiction, like English Hours. The novella, A London Life, has a marvellous passage in which Laura Wing takes her American visitor to see the sights, starting with the Temple and St Paul's ("a disappointment") and finally making a "long, rummaging visit" to the Soane Museum, one of the least known of the city's attractions.
The sense of exploration - are they exploring the city or starting to explore each other? - is one captured by many writers. We can share the excitement as Benjamin Disraeli's Ferdinand arrives in London (in Henrietta Temple) or the ever more suffocating air as Oliver Twist is led down the dark and dangerous backwater that is Saffron Hill. Another of the writers on the Chelsea walk, George Eliot, left a heartrending passage in Daniel Deronda, which sees the desperate Mirah Lapidoth trailing the streets and contemplating suicide. Other newcomers - Christine, a French prostitute in Arnold Bennett's The Pretty Lady, or the post-war arrivals from the West Indies in Samuel Selvon's The Lonely Londoners - are lone figures trying to find their place among the multitude.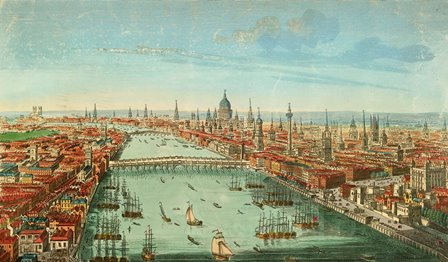 General view of London, drawn and engraved by T Bowles, 1794. Shelfmark Maps.3518.(14).
What makes every one of these books worth reading is that they are not merely a list of sights, or buildings, or an objective picture of the city. Each is a personal account, seen through the eyes of its characters and emotion is drawn from interacting with the city. In some of the best, observer and city seem to fuse into a shared spirit - try almost any passage in Virginia Woolf's Mrs Dalloway (I suggest Elizabeth's bus journey up the Strand, which memorably captures Woolf's identification with London).  
Mrs Dalloway walked the streets of London in the 1920s, and the great advantage of literature is that we can be not just tourists, but also time-travellers. Writers and poets allow us to drop in on London past, present and future. If I had to pick one piece of writing that I feel transports me to another London that I can see, and hear, and smell, it would be the celebrated passage from Book 7 of Wordsworth's The Prelude, in which he explores the city wide-eyed, pleased to note "all specimens of man...Malays, Lascars, the Tartar, the Chinese/ and Negro Ladies in white muslin gowns". Reading that, you might reasonably ask, "Has London really changed?". "Yes," answers Tobias Smollett, whose Humphry Clinker is open-mouthed at the rate of expansion and predicts that Pimlico and Knightsbridge could soon be joined to Chelsea and Kensington (horror!). Or Dickens, who witnessed the furious growth of the railways (Dombey and Son is vivid on this). Or Angela Carter, who observes in Wise Children that there is "a time that comes in every century when they reach out for all that they can grab of dear old London, and pull it down. Then they build it up again..."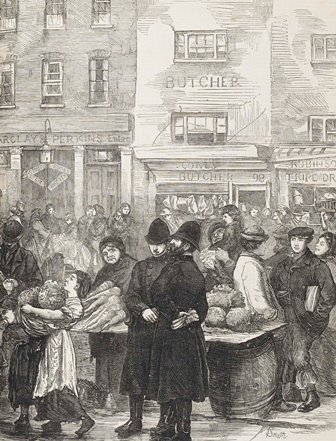 Sunday Morning in the New City, Lambeth, from The Illustrated London News, March 1872. Shelfmark PP.7611.
There is so much great writing about London that it could take a lifetime to absorb it all. That is certainly how it felt to me when the British Library asked me to compile an anthology of the best poetry and fiction that might encapsulate everything London stands for in about 120 pages. Who should be in? Wordsworth, yes definitely. Dickens, of course (at times it felt as if the entire anthology could come from Dickens). And there have to be those who have shone a light on London that brings a particular time to life like no other, from William Blake to Peter Ackroyd, Daniel Defoe to Zadie Smith. 
What I did not know at the time was the marvellous range of illustrations that would come out of the British Library's collections, though in retrospect, that should have gone without saying. The wealth of material about London in the basements at St Pancras must go down to floors that even the staff hardly know are there. If London - a literary anthology is able to encapsulate a fraction of that literary inheritance, it will have done well. No amount of walking the city's streets, however enjoyable, can equal it. 
Richard Fairman 
London: A Literary Anthology is published by the British Library (hardback £20, ISBN 978 0 7123 5740 1) and is available from bookshops now, including shop.bl.uk/
English and Drama blog recent posts
Tweets by BLEnglish_Drama
Other British Library blogs