21 July 2016
by Fearghus Roulston, PHD student working on the British Library's zine collections
The British Library's Punk 1976-1978 exhibition, marking punk's 40th anniversary, hits some familiar and satisfying beats. Malcom McLaren as Situationist svengali; the Sex Pistols as trend-setting provocateurs; the cut-and-paste, DIY aesthetic of the posters and record sleeves that mushroomed up between 1976 and 1978. More than 100 audio selections feature everybody from the Adverts to X-Ray Spex. A less familiar element emerges from a glass box of fanzines – Alternative Ulster, Bored Stiff, Suburban Press, Secret Public, – that testify to punk's status as a national scene that reverberated far beyond the King's Road and the Roxy.
Fanzine created by and reproduced with kind permission of Chris Low
In Roger Sabin's excellent 1999 collection of essays on the cultural legacy of punk, Paul Cobley makes an obvious point that bears repeating. Describing the hassle-laden experience of being a teenage punk in 1970s Wigan, he says: "Among the many myths of punk rock, probably the most insidious is that it was an entirely London-based phenomenon." This myth has been pretty thoroughly deflated, of course, but a look at the zines in the library's collection adds another puncture – Cobley adds that although provincial punk rock may be less spectacular than its London counterpart, "this is no reason to write it out of history".
We have punk zines from Cardiff (Oh Cardiff, Up Yours!), as displayed in another recent blog post), from Nottingham (Repeated Patterns), from Belfast (Alternative Ulster), from Cornwall (Barricade) and from Aberdeen (Granite City). They display a lively and self-conscious engagement with the myth of punk on the part of participants in the scene, many of whom identify not only against a putative mainstream culture but also against the metropolitan, or trendy, London punk scene. For a researcher trying to understand punk as inchoate and localised and specific, or trying to map its regional manifestations beyond the usual periodization of 1976 to 1978, these are an invaluable resource.
Zines from the British Library collections. Top row: Intrusion (Orpington) ZD.9.b.109; It's different for grils (Sheffield) ZD.9.b.108; City fun (Manchester) ZD.9.b.257; Repeated Patterns (Nottingham) ZD.9.b.555 Bottom row: Blades 'n' shades (Birmingham) ZD.9.b.986; No solution (Liverpool)  ZD.9.b.1416; Granite city (Aberdeen) ZD.9.b.1411; Sunset gun (Glasgow)  ZD.9.b.1414
Looking at zines as a way of historicising and contextualising the punk scene allows us to re-map its connections to other youth cultures of the 1970s and 80s, creating a fuller and more colourful picture. As Matt Worley has shown, zines also help to chart the line between punk and politics on both a local and a national level. At their best they offer up very personal, very direct evocations of cultural affiliation that both complicate and enrich our understanding of what is meant by 'punk'.
And on International Zine Day, it is worth stressing the importance of these kinds of publications within the library's broader remit. Punk is only one aspect of a multi-faceted and eclectic group of self-published pamphlets and booklets. The library holds zines on radical politics, activism, veganism, football, race, mental health, gender and a range of other topics. This esoteric subject base is worth listing at length because it suggests the rich possibilities such a collection offers for researchers interested in engaging with social life outside of the mainstream. It also allows us to think about this kind of social life in its own terms, rather than on terms that have been refracted through the national press or a retrospective historical lens.

Fanzine created by and reproduced with kind permission of Chris Low
The sample of punk zines above could be read as skewing very white and very male (More On, the genesis of which is described here, is an interesting exception to the general rule). Given that one of the most exciting elements of the contemporary revitalisation of zine publishing is the platform it has provided for non-white and non-male voices, particularly in the form of perzines (or personal zines), it's exciting that as the library's collection develops it can seek out other voices from outside of the mainstream in the form of this new wave of zines.
But this raises a new set of problems to finish on. What's the relationship between archiving these documents and incorporating them into a culture they are trying to critique? Classification is difficult, especially for zines that range across a number of different topics. How does a curator or a librarian balance the demands of accessibility with the need to respect and engage with the creators of zines and their wishes? Some zines, especially those that deal frankly with personal topics, may have been intended only for a select and sympathetic audience. A sensitive, radical approach is proposed in the Zine Librarians Code of Ethics, but the conversation about how libraries engage with this kind of material is one that will continue as long as zines continue to proliferate. For researchers as well as zinesters and librarians, this conversation should be a productive and interesting one.
Further Reading
Punk Rock So What? The Cultural Legacy of Punk, Roger Sabin (ed), Routledge, 1999
Lipstick Traces: A Secret History of the 20th Century, Greil Marcus, Faber and Faber, 2011
'Punk, Politics and British (fan)zines, 1976–84: 'While the world was dying, did you wonder why?', Matt Worley, History Workshop Journal, 2015
24 May 2016
The Library's current exhibition Punk 1976-78 is an opportunity not just to look back at the early years of punk, but also to make new connections and to build on the legacy material that the Library holds.  The exhibition showcases examples of the fanzines inspired by punk's DIY spirit and energy.  Forty years on, zinesters are still busy writing and drawing, cutting and pasting, stapling and sticking their creations, and the Library is as keen to collect zines now as it was during the first stirrings of punk. Publicity around the exhibition has also inspired some of the individuals who produced fanzines at the time to donate them to the Library so that they can be conserved and made available in our Reading Rooms.   We are delighted to have received a donation of the full run – all two issues – of a punk fanzine produced in Cardiff in 1978, Oh Cardiff… Up Yours!, from Paul Davies who was one of its creators. One of the hardest things for the exhibition is to convey the diverse meanings of punk for the fans who espoused its ethos and participated in it through their own expression and activism.  The fanzines we hold allow access to the voices of some of those involved in the heady days of punk.  I asked Paul to say something about what motivated him and his friends to produce a fanzine.  Paul's account is reproduced below – in his own words. As a curator I'm delighted that Paul has written this piece, both for its interest now and for anyone looking at the zine in years to come to understand how it came into being. 
I'm also struck by the way that producing a fanzine was a starting point for a whole range of creative endeavours for those involved. While I was thinking about how to present Oh Cardiff… Up Yours!, I came across a reference to it  from another of its co-creators, for whom it also remains significant, in a post on the urban75 blog. One aspect of my work in the Contemporary British Publishing team is to identify websites for inclusion in our web archiving programme, as part of the Library's mission to capture a wide range of contemporary cultural and political expression. For me, it is inspiring to see this link between the punk activism of 1976-78 and contemporary social activism. Just as punk fanzines challenged the music coverage of the mainstream press,  the urban75 website was a pioneer of online activism providing an alternative to mainstream media, and it remains vital and vibrant today. It's not always easy to explain the significance of zines and fanzines alongside the Library's more prestigious holdings. But whether for students of print journalism and the flagship magazines that have mediated Britain's popular music and youth culture, or for future students of alternative and DIY culture, punk fanzine Oh Cardiff… Up Yours! marks the beginning of a journey into creativity and activism in print, film, and on the web, and from the record shops and venues of Cardiff to a global reach.  Paul's account of its creation is no mere nostalgia trip: those two issues from 1978 are relevant for their part in a punk legacy that shapes cultural and political expression today, and I'm thrilled to have them in the Library.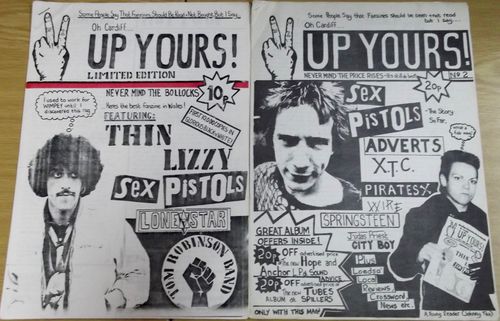 Oh Cardiff... Up Yours! issues 1 and 2.
Oh Cardiff... Up Yours!
The tendrils of punk rock began to wrap themselves around my flares-festooned ankles at a precise moment in time in the winter of 1976. If I had been partial to breakfast cereals, it would have been a splutter-the-cornflakes-across-the-room moment. Preparing for another tedious day at school, as we breakfasted in our small kitchen the necessity to engage in early-morning familial badinage was scuppered by the incessant drone of the local radio station.
On this particular morning the apoplexy count was in overdrive, as the Anarchy in the UK tour was about to hit the hot and happening Valleys enclave of Caerphilly – a desolate urban outcrop as far away from the bondage trousers of the King's Road as it is possible to be, and yet, in its own malodorous, disenfranchised and truculent way, absolutely perfect to welcome the burgeoning social and political tornado that was Punk Rock.
As the 
New Musical Express
 was my bible, handbook and calling card, I was clearly prepped about this swaggering new musical movement emanating from that London, but had yet to experience the sonic thrills that were allegedly on offer, and was still hanging on, rather apprehensively, to my copies of 
'
Frampton Comes Alive
'
, Deep Purple's 
'
Made in Japan
'
, my RAF Greatcoat and my luscious shoulder length hair.
'
Anarchy in the UK
'
 changed all that, and left me gasping for more. Four decades later the opening 20 seconds of that song still sound as feral, exhilarating, revolutionary as they did back then – the crunching powerchords just softening you up before Rotten grabs you by the throat and demands that you listen up "Right Now!" and then announces and introduces himself formally as the Antichrist and the Anarchist that an army of suburban home-owners would soon be threatening to garrotte, castrate and behead.
You didn't hear this stuff on the radio, ever. To hear it on a local news radio station dealt an unstoppable knock-out punch to the solar plexus. If you were 17 and of a certain disposition, you responded in only one way – you embraced it, instinctively – you didn't quite get what was going on (yet), but you wanted in – and you wanted all your friends in as well. Year Zero was here – time to reassess everything.
Like the most addictive drugs, the fired-up elation of the first hit sent you reeling in all sorts of directions as you sought and consumed anything related. The Pistols and 
t
he Clash
 were primo Class A stuff, but we were so hungry for cheap dirty thrills we even dabbled in Class B/C/D zones – from the Lurkers to 999, Eater to The Cortinas – all with a provincial charm of their own and a happy filler.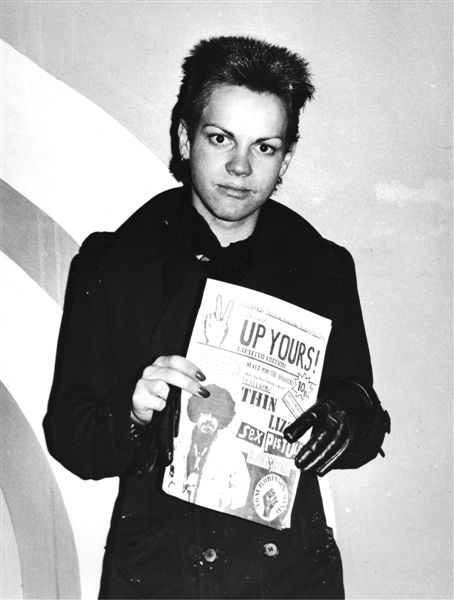 Cultural movements bring people together and punk was no different – a small circle of friends gravitated towards each other as we fell deep into this dizzying, angry, intoxicating maelstrom. 1977 was a great time to be 17/18. We were a gang of sorts, we hung out all the time, went to gigs religiously and inspired by punk, we plotted how we would vent our energy creatively. It had to be a fanzine.
Cardiff was ill-served by fanzines, we were going to resolve that and make our mark on a stultifying provincial scene, which needed a cultural rocket up its jacksy. We were more than happy to oblige. Being teenage wannabe punk warrior wordsmiths, the first step seemed to be finding appropriate noms de plume – that's what punks did, didn't they?
So we became, shamelessly, Mal Function, Cess Pitt, Rick O'Shea and Dai O'Rhea. Our photographer was already called Slug, so he didn't need one. Then we needed a name for the fanzine. It had to be current, mildly inflammatory, a call to arms. We hit upon 
Oh Cardiff... Up Yours!
 Genius. With a respectful nod to the great Poly Styrene and X Ray Spex, we were on our way.
Rick O'Shea, Cess Pitt and Mal Function with the first issue
As most of us were happily unemployed we had plenty of time for our editorial meetings – fanzine content was shaped by the gigs we went to, the records we bought. We reviewed the gigs, singles and albums, interviewed the bands, then hastily typed it all up on an antique typewriter – with some assistance from one of our friends who could actually type. Ours was by no means a Stalinist punk manifesto – the uneasy mix of bands we covered reflected the transitioning of our musical tastes – we'd cover local punk oiks The Tax Exiles as well as bands like Thin Lizzy.
We devoured the ethos of punk greedily, if not the haircuts – contemporaneous photographs provide damning evidence of shoulder-length hair and inappropriate clothing not approved by the Punk Politburo. Wearing a Thin Lizzy tshirt and customising jeans with a ripped and burnt Union Jack with stencilled Sex Pistols lettering seemed somehow more punk than buying a pair of tartan bondage trousers from Paradise Garage in Cardiff.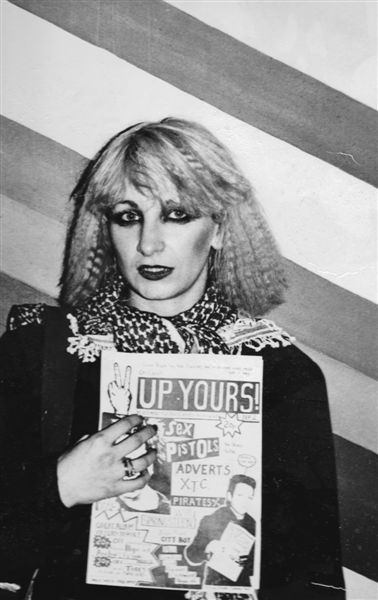 Bette Bright of influential Liverpool art rock / new wave band Deaf School
Our prehistoric approach to desktop publishing amounted to cutting out pictures from the NME, cutting out the typed reviews and messily gluing them to sheets of A4. Page titles were hand-crafted, a few cartoons thrown into the mix, and then off down the printers to whack out a hundred copies of issue 1. This figure was later inflated when we got our first press coverage in the staid local rag – fiercely competing with a couple of other 'zines which had sprung up since we published, we brazenly bumped up our circulation to 250.
The thrill when we picked up those first boxes of actual fanzines was intense. We'd done it!. A few hours of stapling and we were ready to hit the streets. There were plenty of gigs taking place in Cardiff, at the Top Rank, the University and two local arts centres, so we just hung about before and after gigs, and miraculously sold the lot.
Emboldened by this, we doubled our print run, and the cover price, and did it all over again, hitting up a couple of local record shops which agreed to stock the fanzine. The reaction was 
almost
 universally positive – fearless truth-tellers that we were, we gave an uncomplimentary review to a local punk band, who seemed hell-bent on giving us a good kicking until we managed to persuade them that we didn't actually write the thing, we just sold it.
And then that was it. Like all the best things that came out of punk, we blasted in for two issues and then burnt out. Circumstances conspired to separate us geographically, punk was blowing itself out and we all moved on to other things.
Coverage in the Western Mail, February 25th 1978
Mal Function (Paul Davies @longtimelurker ) – worked as a freelance journalist for Jamming! and Q magazine during the 1980s and 90s. Now works as a Business Analyst.
Cess Pitt (John Brewer) – became a firefighter, rose through the ranks, retired at 50. Still going to see Stiff Little Fingers gigs.
Dai O'Rhea (Mike Slocombe @urban75 ) – moved to London in 1978, drummed in bands for years. Now runs Urban75 website and Brixton club nights.
Rick O'Shea (Pete Salmi) – went to film school, directed movies and TV films – now works in advertising.
Slug (Andy Rees @Andrew0145 ) – studied photography, now working as a freelance photographer in the Cotswolds.
Oh Cardiff... Up Yours! banner at anti-National Front demonstration
28 April 2016
Key counterculture figure, bookshop manager, editor, publisher, author, music journalist, archivist, biographer: all of this, and more, is Barry Miles, or just 'Miles', as he is better known.
His archive, acquired by the British Library in 2013 and recently catalogued, is a rich and unique source of information not only to anyone interested in Miles himself, but also to those researching the Beat Generation, and the '60s and '70s culture and music.
Miles organised and arranged his papers thoroughly. Divided into correspondence, projects files, folders relating to his publications, and reference material, the archive reflects all stages of Miles's life and career, from his time as a student at Gloucestershire College of Art in the early '60s to the present day.
At the centre of the London underground scene, as manager of Better Books, co-founder of Indica Gallery and Bookshop and International Times (IT), and organiser of many events, Miles developed an extensive network of contacts, within and outside the UK, many of whom were also good friends. Jim Haynes, Peter Asher, Pete Brown, Victor Bockris, Caroline Coon, Piero Heliczer, Richard Neville, Gordon Ball, Simon Vinkenoog, Lawrence Ferlinghetti, Urban Gwerder, to name but a few of his correspondents.
Flyer on Indica Books limited headed paper advertising The Ginsbergs at the ICA, a recording of the reading given by Allen and his father on 22 August 1967. Reproduced with kind permission from Barry Miles.
With the same people, Miles collaborated on numerous adventures: there are over 100 files in the collection relating to projects in which he was involved, for example his work as editor of Horde and Long Hair, as London correspondent of East Village Other, as co-founder of Lovebooks, Miles, Asher and Dunbar Ltd., and ECAL, as Time Out editor, as manager of Zapple, and as music journalist for New Musical Express. The files include letters, publicity material, press cuttings, newsletters, photographs, reports, notes, press releases, events programmes, draft articles and unpublished material. 
Trial proof of the cover of Long Hair magazine, Lovebooks second poetry publication, 1965. Miles edited the issue and contributed to the cover drawing. Reproduced with kind permission from Barry Miles.
The first interview Miles did, published in IT on 16 January 1967, was with Paul McCartney, a friend of Miles - the two had met through Peter Asher, whose sister, Jane, was Paul's girlfriend at the time. Later interviews that Miles did with, amongst others, John Lennon, George Harrison, Mick Jagger, Ed Sanders, and The Clash, feature in the archive, either on tape or as transcripts.
After a period as a freelance editor for Omnibus Press, Miles became a prolific writer, publishing 50 books, some of which have been translated into foreign languages. Not to mention the over 400 articles he wrote and his numerous contributions to other authors' books. For his writing, Miles conducted meticulous research and many interviews, as it emerges from the number of research files and tapes he produced. Also included amongst the material relating to his publications are various drafts, notes, correspondence with editors, letters from fans and colleagues, publicity material, royalty statements, press reviews, and cover proofs.
Handwritten notes by Barry Miles, on airline napkin. The material from these notes was used for many articles written by Miles, for magazines such as International Times, Hot Ratz, Changes. Reproduced with kind permission from Barry Miles.
His first 'proper book' was the biography of Allen Ginsberg, which took him five years to complete and for which Miles recorded 40 tapes of interviews with Ginsberg, his friends and family, now part of the British Library sound collection.
Biographies of other influential figures in Miles's life followed including William Burroughs, Paul McCartney, Frank Zappa, and Charles Bukowski. His two memoirs, In the Sixties and In the Seventies, together with his London Calling, are detailed accounts of the London underground life and his major and minor players.
Included in the archive are also some rare, limited, special or signed editions of Miles publications, including an unauthorised reprint of his article 1970 'The Rebirth of Joy', the 1973 catalogue of Lilia Aaron exhibition in Switzerland, a 1963 clipping of Miles's article How To Undress a Painting in Slate 2, the magazine of Gloucestershire College of Art, and a typed copy of Horde number 1, 1964.
Unused ticket for Poets of the World / Poets of Our Time, Albert Hall poetry reading, 11 June 1965. Miles was involved in the organisation of the event.
Miles created files of reference material for items he used most frequently, mainly for publications or exhibitions. Amongst these are a Better Books paper bag, designed by John Sewell; an unused ticket for Poets of the World/Poets of Our Time, the first large-scale Beat generation reading in Europe at the Albert Hall poetry reading, on 11 June 1965, which Miles helped organise; Indica Gallery and Books photographs and flyers; and a leaflet for the party at the Roundhouse for the launch of International Times, 15 October 1966.
A few items from the Barry Miles archive, including a leaflet for The Roxy club and the first interview with the Clash, will feature in the forthcoming free exhibition Punk 1976-78, which opens on the 13th May 2016.
The catalogue of the Barry Miles archive is available online from Explore Archives and Manuscripts.
by Silvia Galotti, Manuscripts Cataloguer
23 October 2015
by Helen Melody, Lead Curator, Contemporary Creative and Literary Archives.
The British Library is happy to announce that it has acquired the archive of the D'Oyly Carte Theatre Company. The company, founded by Richard D'Oyly Carte, was a professional light opera company that staged Gilbert and Sullivan's Savoy operas from 1875 until 1982.
The D'Oyly Carte archive is remarkable in its extent, its continuity and the range of material it contains. It provides unparalleled insight into an opera company which was unusual in its repertoire, international reach, its focused social identity and ownership over more than a century by a single family. As an archive of an important theatre company which toured the UK and British Empire extensively, it is British in the sense of the audiences it reached, and its subject matter, which relates to stage works offering a unique view on aspects of British society and culture from the late Victorian period. Its acquisition builds on the Library's strong existing Gilbert and Sullivan holdings including the Gilbert papers that were acquired in 1956, and the autograph scores of Patience and Gondoliers (acquired in 1966) and Ruddigore (in 2000). It also adds to an already rich collection of theatrical archives at the British Library which includes the archives of Laurence Olivier and Alec Guinness and the Lord Chamberlain's Plays collection.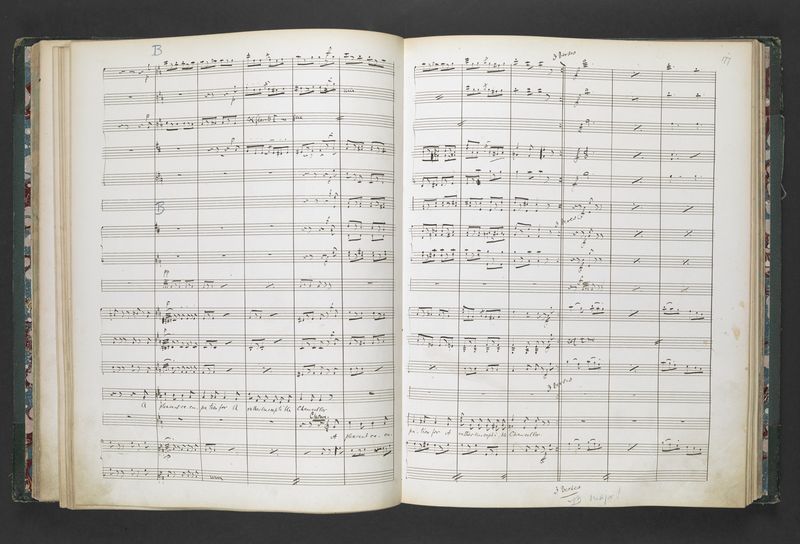 Leaves from the autograph score of Iolanthe, by Sir Arthur Sullivan. Dated November 1882. D'Oyly Carte Archive. Copyright @ British Library Board & D'Oyly Carte.
The archive of the D'Oyly Carte Theatre Company comprises a complete record of the activities of one of the most famous, distinctive and longstanding theatrical companies in the UK. The D'Oyly Carte Company is the effective birthplace of one of the UK's most commercially successful creative endeavours – the musical. The archive is also inextricably bound up with the wider enterprise of the Savoy Theatre and Hotel, itself a fascinating demonstration of late Victorian ingenuity. It has been carefully maintained by the organisation which created it and covers the Company's activities over the entire twentieth century, as well as more limited material from its early days in the nineteenth. Indeed the company maintained exclusive control of copyright of the operas up to 1960 and the archive documents the way in which W.S. Gilbert's directions for each production were strictly adhered to.
The rich documentation and range of material of the archive is probably unparalleled in theatrical archives. This includes extensive correspondence with agents and artistes, relating to auditions, casting, personnel, theatres and tours (around the UK and throughout the English-speaking world); programmes, press cuttings, band parts, libretti, prompt books, papers and photographs of the D'Oyly Carte family, contracts, stage managers' reports, illustrative materials including sketches for costumes and props, cigarette cards, extensive photographs of artistes, productions and special occasions, posters, recordings on various media including discs, reel-to-reel tape, and sound and video cassette and optical disc. Sir Arthur Sullivan's autograph score of 'Iolanthe' is the most valuable individual component of the archive, and until its acquisition it was the only remaining major autograph Sullivan opera score in private ownership.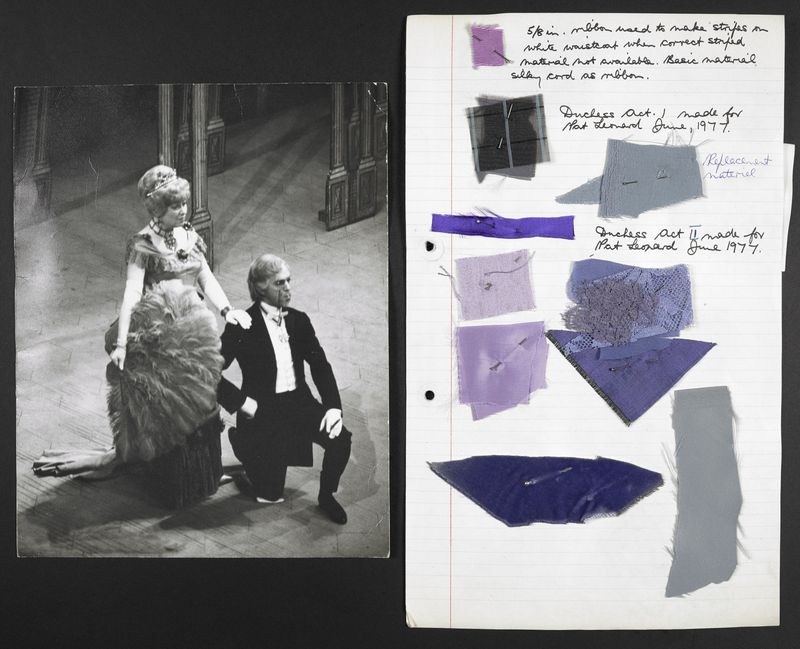 Costume design working notebook from the 1970s, with production photograph and fabric samples. (Samples relate to a production of The Gondoliers). D'Oyly Carte Archive. Copyright @ British Library Board & D'Oyly Carte.
The Library was enabled to acquire the archive by the generous support of the D'Oyly Carte Charitable Trust and the Friends of the British Library. This includes funding to catalogue and preserve the archive, which is expected to be fully accessible by spring 2017.
The cataloguer will make the considerable research potential of this archive easily accessible to researchers, as well as any individuals interested in the history of theatre. The archive will provide insight not only into the performance history of the works staged by the company, but also of the performers themselves. This material will appeal to a wide range of researchers – from amateur musicians to professional musicologists, and from social historians to theatrical producers and genealogists. We are very excited to have acquired it and feel that it is a wonderful addition to our collections.
22 December 2014
From the outset the curators of the Terror and Wonder exhibition were determined to devote a significant amount of space to the goth subculture. In order to make sure we got the story right we turned to Pete Scathe for advice. Pete is the unofficial historian of the early days of Goth and his website is an invaluable source of information. He regularly DJs in the Portsmouth area and you can follow him on Twitter @petescathe. Here Pete explains the relationship between goth and Gothic.
Over time, meanings of words can change, shift and expand. With the words 'goths' and 'Gothic', not only have the meanings been expanded by application to what we now call the goth scene, but the scene itself was changed by having the word applied to it.
The early goth scene began as an offshoot from punk, and one early term applied to it was 'positive punk'. This never caught on - it was too much of a mouthful, even when shortened to 'posi-punk'. And the implication that it was superior to punk meant that the old punks would never be happy using it. Fortunately a term then came along that they were happy to use, and they were soon moaning about 'hordes of bloody goths' - not so much an exciting new subculture to them, more of a vexing infestation.
Exactly how the goth/Gothic tag got applied to the emerging subculture is a complicated story (for which see my website) but the term immediately caught on, as it fitted the scene far better than 'positive punk'. The questions are how much 'Gothic' there was in the scene before it acquired the tag, and how the scene changed as a result of acquiring the tag.
For most early goth bands, Gothic wasn't necessarily something to be taken seriously, it was something to be occasionally plundered for imagery, fun and maybe the odd song idea (it helped that Gothic imagery looked good in black and white, and black and white record covers were cheaper to print). Certainly the original goth club, the Batcave, used Gothic imagery in a deliberately tongue-in-cheek way – Ollie Wisdom from Specimen, one of the Batcave founders, was a dead ringer for Frank N. Furter from The Rocky Horror Show.
The early goth scene was vibrant, exciting, and based around following a cluster of excellent live bands that fostered a tribal sense of identity. Early goth gigs were lively events, and the usual dancing style was 'chicken dancing', which involved flailing elbows (the decidedly more sedate 'Gothic Two Step', where goths in flowing dresses walked back and forth on the dancefloor amidst billowing clouds of smoke, was a later invention that I first encountered in Leeds in the mid 80s). The look of these early goths was a mix of existing punk/new wave fashion, their own DIY look and styles influenced by bands, notably Siouxsie and the Banshees, Bauhaus and (later) Specimen.
The gothic punk look became a more glamorous (and often androgynous) monochrome style that had its roots in the fetish/bondage side of early punk but may also have owed something to the imagery of black and white films, like Theda Bara in Cleopatra. Indeed, most of the Gothic influences in the early scene seem to have come through the medium of film, TV, imagery and cliché rather than Gothic literature.
There were literary influences in the early scene, but these were rarely directly Gothic. Literary influences tended to be decadent, transgressive and non-mainstream rather than straightforwardly Gothic. The Whip LP, a collaboration between several early goth bands, was inspired by D M Thomas's The White Hotel, a novel about mental disturbance, sexual fantasies and the Holocaust, whereas The Cure referenced Albert Camus and Blood & Roses referenced Aleister Crowley.
Outside literature, their interests were widespread. Bauhaus, probably the most Gothically-inclined of the early bands, also sang about the likes of Nijinsky or Antonin Artaud, whilst Southern Death Cult were obsessed with Native American imagery. The Banshees sang about everything from multiple personality disorder to Dada photocollages.
The Gothic was one of several interweaving strands in the early goth bands, alongside a personal/introspective side, as typified by the early 80s Cure or Danse Society, an arty/dramatic side, as typified by Virgin Prunes or Sex Gang Children, and a sort of glam/camp Gothic as typified by Specimen or Alien Sex Fiend. Of these, the arty/dramatic strand was probably the strongest, and was one of the reasons that so many of the early goth bands were so good live. The downside of this was that the bands could be seen as pretentious, and certainly were by a lot of the media. It didn't help that goth bands were far less likely than punk bands to sing about social issues, and 'goth' became a term of abuse in the music press.
Most bands in the early scene were completely bemused by this goth tag. It was understandable that the likes of Bauhaus and Alien Sex Fiend would be tagged goth, but other bands in the scene (like Danse Society) acquired the tag simply by having a similar look, sound and followers. As goth became a clearly defined scene, it started to acquire 'subcultural rules', as had happened with other scenes, and this is where the 'Gothic' tag started to make a difference. The original bands hadn't been influenced by the Gothic tag, except sometimes in trying to distance themselves from it, but newcomers to the scene often tried to fit in and be accepted by being Gothic. The look changed from the earlier spiky fetish glam look to something decidedly more elegant, and many new goth bands dropped energetic tribal drumming (and often drummers) in favour of something slower, more atmospheric and more Gothic. Members of one later goth band stated that the early goth bands hadn't been that Gothic and that they themselves were determined to be more Gothic, thus illustrating the power of the tag (the early bands hadn't, of course, been trying to be Gothic as they had no idea that they were goth bands!).
This obsession with being Gothic sometimes turned into a game of 'gother than thou' that rendered the scene terribly vulnerable to media satire and gave it an embarrassing reputation, but it also meant that many new goths, in trying to be Gothic, began to show an interest in Gothic films and literature. Some had entered the scene because of an existing inclination towards that sort of thing, but it's likely that the existence of the goth scene both intensified and in some cases created a new interest in the Gothic. 
It's hard to say exactly what effect this had, but certainly the goth scene tended to appeal to arty and creative people, many of whom then went to work in the media and creative industries. Whilst for a long time many of them might have denied ever being goths and thus avoided anything overtly Gothic, the influences were certainly there and it's possible that today's media culture is that little bit more aware of the Gothic thanks to the 80s goth scene.
Terror and Wonder: the Gothic Imagination is open until January 20th. For more information (including opening times during the festive period) and to book tickets please visit the website
24 May 2013
We are pleased to announce that the British Library has acquired six manuscripts created by John Lennon. The manuscript collection has been donated to the British Library by Hunter Davies, the writer and journalist whose acclaimed biography of The Beatles was first published in 1968. The collection was donated under the Government's newly launched Cultural Gifts scheme, which allows individuals and companies to donate pre-eminent items to the nation during their lifetime in return for a reduction in their UK tax liability. The scheme has been created to encourage philanthropic giving by individuals during their lifetime. This photograph shows Roly Keating, the Chief Executive of the British Library, Culture Minister, Ed Vaizey MP and Hunter Davies with one of the six manuscripts-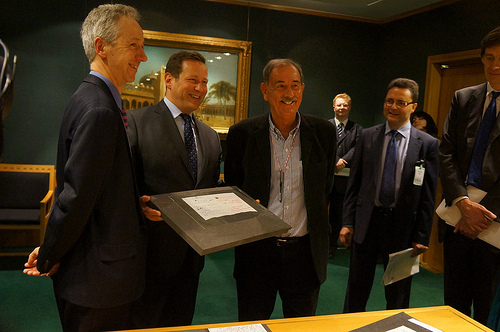 (Image © The Department of Culture, Media and Sport)
The collection consists of three song lyrics, 'In My Life', 'Strawberry Fields Forever' and 'She Said She Said'. The lyrics illustrate Lennon's creative process whilst also showing alternatives to the final recorded versions of the well known songs. 'In My Life' includes references to 'tramsheds with no trams' and to the demolition of 'The Dockers' Umbrella', an affectionate name for the elevated railway which followed the line of the Liverpool Docks. The lyrics of 'She Said She Said' were amended before recording as the band had to remove the word 'crap' to prevent the song from being banned! The lyrics provide us with an insight into Lennon's life in Liverpool. The name 'Strawberry Fields' came from Strawberry Field, a Salvation Army children's home in Liverpool near Lennon's childhood home.
Further context is provided by the two letters and one postcard which make up the donation. The first is part of an unsent letter to Lennon's friend (and former Beatle) Stuart Sutcliffe. Sutcliffe was the original bassist for the band and had met and befriended Lennon when they were both at art college in Liverpool. The Beatles spent extended periods playing in Hamburg in the early 1960s and after leaving the band Sutcliffe decided to stay in Germany. This letter was probably sent by Lennon after the Beatles had returned to England. It is a rather rambling letter to a much missed friend and includes some sketches by Lennon -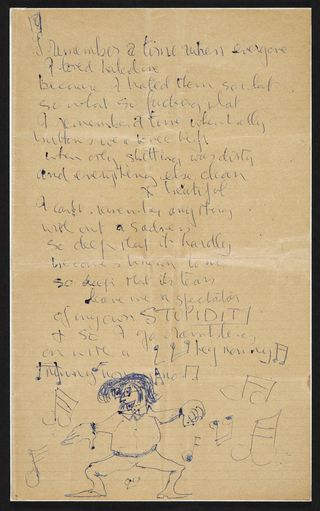 (Letter image © Yoko Ono Lennon)
Tragically Sutcliffe died of a brain harmorrhage in 1962 aged 21. Lennon gave the letter to Hunter Davies in 1966 when he was writing The Beatles' biography.
In the second letter, which was written to Hunter in 1968, Lennon requests that certain information be removed from the biography. The letter reveals Lennon's concerns for the privacy of his family, specifically for his half-sisters Julia and Jackie Dykins, his mother's daughters with her common-law husband, John Dykins. The final item is a postcard sent to Hunter and his wife, Margaret Forster by Lennon and his first wife, Cynthia. The Beatles were in Rishikesh in India, staying with Maharishi Mahesh Yogi and attending seminars on Transcendental Meditation. I'm not sure that Margaret Forster would have been pleased that the card was addressed to 'Hunter Davies and Thingy'!
This new collection can currently be seen in the Sir John Ritblat Gallery: Treasures of the British Library where it can be found in addition to the existing Beatles display. Please come along and see the items for yourself. Also see the press release on the Library website for more images.
19 October 2012
Last Thursday the Library celebrated the work of John Lennon at the launch of the newly published The John Lennon Letters.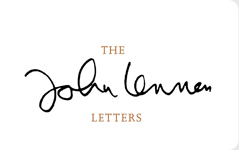 We all know Lennon's  music - but he was also a quite remarkably inventive and quirky writer and poet - the author most notably of works including In His Own Write (1964) and A Spaniard in the Works (1965), both adapted for the National Theatre in 1968.
Lennon corresponded widely, and many of his correspondents were present in the Library auditorium last week: from a well-known art critic, to a Manchester based consultant obstetrician.
Hunter Davies, the first and only authorised biographer of the Beatles, has collected around three hundred of such letters for his new collection. He found them in museums, with private collectors, and, in some cases, still in the hands of the original recipients. Some had been sold for astronomical sums…others had just about fetched enough to cover a new washing machine.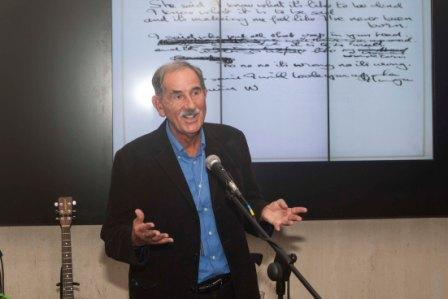 Hunter talked for over ninety minutes about his quest to track down as many letters as possible, and also discussed his own collection of Beatles lyrics that he had amassed while hanging out with the band in the 1960s on tour and in the studio. One of these lyrics- an early and vastly different draft of 'In My Life'  - was a star exhibit at the British Library's summer 2012 exhibition, 'Writing Britain' , while a rotating selection of the lyrics and memorabilia is a permanent feature of our free Sir John Ritblat Gallery, Treasures of the British Library.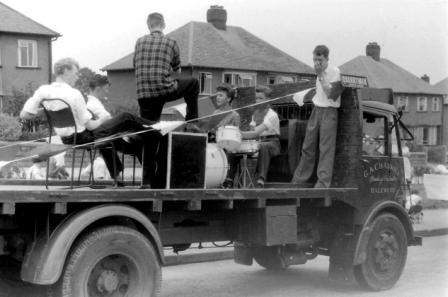 After Hunter had finished his talk, we had a special treat at the publisher's launch party- with a set by the reformed Quarrymen (formed in 1956 by John Lennon and school friends, before Paul McCartney joined a year later- photo above is courtesy of the Quarrymen) filling the Library with the sound of skiffle…before a brief appearance by Yoko herself: looking stunning in black top hat and shades, and speaking generously about Hunter's work editing the Letters.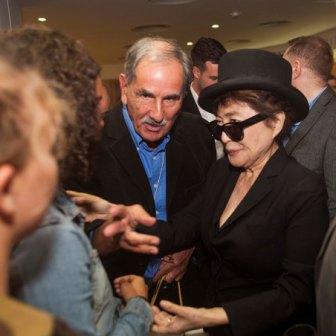 She assured the guests that Hunter had made only two small mistakes that she had had to correct…and tantalisingly explained how Hunter- or rather a particular part of Hunter – had almost featured in her 1966 film No. 4- otherwise known, and with good reason, as….Bottoms.
English and Drama blog recent posts
Tweets by BLEnglish_Drama
Other British Library blogs