31 May 2018
By Callum McKean, Curator of Contemporary Literary Archives and Manuscripts. More information about London History Day can be found here.  Material from the J.G. Ballard Archive has been digitised and discussed here and is available to consult in the Manuscripts Reading Room at shelfmark Add MS 88938. Laura Oldfield Ford's Savage Messiah is available to consult in our Reading Rooms at YD.2014.a.735, and further material is available here.
Historic England's 'London History Day' implores us to "reflect on and celebrate the pioneering spirit, heroism, initiative and kindness layered in the city's history". A dedicated app developed for the day even allows its users, on walks through the capital, to experience its deep architectural and social histories in the form of archival materials – photographs, text, videos – which reach out from the slick, glassy world of their smart-phones and onto the streets. This activity, despite its peculiar newness, echoes the activities of Guy De Bord and the Situationists International in the middle of the twentieth century, who famously drifted through, re-purposed and re-interpreted their own over-determined and over-regulated urban environments. London History Day aims to open up the city to play and new interpretations, allowing people to imagine the areas where they live and work in new ways.
J.G Ballard, whose extensive papers are held at the British Library, was interested throughout his career in this interplay of urban and architectural spaces and individual and social behaviour; in the mutually constitutive relation between space and psychology often called Psycho-geography. London was particularly interesting to Ballard because of the tendency for its limitless appetite for space and convenience to sprawl and carve out liminal spaces at its edges. Airports, motorways and shopping centres were to Ballard what mountains, lakes and streams were to Wordsworth, both infinitely fascinating and utterly terrifying. These non-places represented an attempt to imagine a new form of pragmatic and manageable urban space which could be cleansed of its messy social, cultural and material relations. (Precisely the things which London History Day wants to bring to the fore). By bringing these so-called non-places into the realm of imaginative literature, Ballard was able shed light on what was already literally and figuratively over-lit; to finally see this world of bland uniformity which had tried to position itself as a vanishing point of the spatial, the ideological and the social.
In High-Rise (1975), Ballard's narrator Laing seeks precisely this retreat from the messiness of urban life. His 'over-priced cell, slotted almost at random into the cliff face of the apartment building' situated presciently in London's now-redeveloped Docklands, promises 'peace, quiet and anonymity' but delivers nothing but a 'regime of trivial disputes and irritations' which eventually leads to terrible violence, seeing him nonchalantly barbequing a neighbour's Alsatian on his balcony before the first page is turned. What appears at first to be an escape, whether from the 'rundown areas around [the building], decaying nineteenth-century terraced houses and empty factories already zoned for reclamation' or from 'crowded streets, traffic hold-ups, rush-hour journeys on the Underground', becomes instead an amplification of these same petty frustrations borne of (perceived) inequality and merely living together.
The first page of High-Rise in  typescript, heavily annotated by Ballard in 1974, with the famous first sentence already in place.
The 'ragged skyline' of the old city is visible from Laing's 25th floor balcony, but it appears to him as an ungraspable spectre, an abstraction which 'by contrast with the calm and unencumbered geometry of the concert-hall and television studios below him resembled the disturbed encephalograph of an unresolved mental crisis'. That this crisis remains unresolved is, we know, an understatement.
More recent Psycho-geographers have been criticised for typifying a barely concealed Romantic-colonial logic, of imposing themselves on an outer-world to which they claim to be preternaturally sensitive. Laura Oldfield Ford is a contemporary Psycho-geographer working against this, in a mode which is highly critical of the so-called 'yuppie-dromes' which Ballard imagined in High-Rise and which now dominate the former wastelands of London's in-between districts. Her zine collection Savage Messiah (Verso, 2011) takes the form a kind of textual augmented reality walk. Oldfield Ford's fragmented narrator appears as a simultaneously direct and distant, personal and impersonal guide through London's rapidly gentrifying liminal outskirts. These spaces are haunted by the spectres of past communities, enclaves, subcultures and alternative ways of living which have been swallowed, or are being swallowed up, by the Ballardian logic of the high-rise. Even the form itself, a kind of kitsch but sincere punkish collage, seems to be possessed by the voices of (im)possible futures, utopian social movements subsumed under the utopian dream of the post-social.
It's this ghostly quality which so often surfaces when the deep social history of urban space, so often obscured by the new, is brought to the fore. A walk through Soho on London History Day, smart-phone in hand, will transport the drifter to a haunted neighbourhood of queer resistance and play. Some will turn off their phones and look carefully around them, at the almost total commodification and unviability of present reality in one of London's most expensive districts; they will see chain stores, luxury apartments and calculated, cynical seediness everywhere. For some it will even give way to a sense of mourning, perhaps even a desire to live in that world – the world of ghosts, of an imagined past. But for others, hopefully, it will inspire a sense of possibility and a way to creatively re-think what living in cities – that is, living together -- might mean in the future, even as the ragged skyline of the past recedes from view.
07 August 2012
We did a lot of reading (and walking) in preparation for curating Writing Britain, and one of the authors I found most useful in curating the 'Cockney Dreams' section of the exhibition was Merlin Coverley. Merlin's books on London writing, and especially psychogeographical dérives around the capital (the London Writing and Psychogeography Pocket Essentials), were inspiring and informative in the development of the section.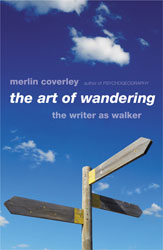 So I was delighted to get an advance copy of Merlin's latest book, The Art of Wandering, a history of the writer as walker. Walker-writers – Charles Dickens, William Wordsworth, William Blake, Edward Thomas, Iain Sinclair- play a prominent part in Writing Britain, and Writing Britain is referenced in the press release for Merlin's book, alongside a number of other current walking-writing cultural touchstones (the work of Sinclair, Self, Papadimitriou and others).
Merlin's new book is a perfect accompaniment to, and expansion on, a number of the ideas in Writing Britain, and was in fact written and researched for the most part in the British Library, using our collections. It takes in walkers of all ages and environments- including a wonderful chapter on imaginary walks: from Albert Speer's circumnavigation of the world in his prison yard, to the Voyage autour de ma chambre (Travel around my Room) by Xavier de Maistre.
Merlin kindly agreed to respond to questions on email, the text of which I reproduce below:
ON THE ORIGINS OF THE ART OF WANDERING…
"The origins of this book grew out of research I had done for an earlier book, Psychogeography, in which I had tried to outline the literary predecessors to contemporary writers such as Sinclair, Ackroyd and Self. By exploring the work of De Quincey and Stevenson, the Surrealists, the Situationists and so on, I was able to piece together a tradition of writing about space and place that obviously had much to do with the role of walking and its relationship to literary composition.
In The Art of Wandering I returned to many of these figures, this time focussing explicitly upon the writer as walker and enlarging the scope of the project to include a much wider time frame. This obviously generated a much larger range of sources and to deal with this I decided to arrange these texts according to the form of walking they represented, from the philosopher to the pilgrim, the visionary to the Romantic, right up to the present day. One of the consequences of this approach was that writers, whose works rarely if ever come into contact, were now sharing the same page. For example, Hilaire Belloc and Werner Herzog came together under the heading of pilgrimage, while Albert Speer and Xavier de Maistre were discussed as examples of the imaginary walker. In fact, I can't think of another single activity that would bring together such a diverse group of writers as that of walking."
ON THE EXISTENCE OF A CONTEMPORARY WRITING MOMENT…
"I've thought a great deal about this question without managing to reach any clear conclusions. This walking moment certainly seems to have become a fairly prolonged one and shows no signs of waning. Intellectual fashions for psychogeography and walking as performance certainly play a part, as does the role of the publishing industry in identifying and exploiting literary trends. But there does seem to me to be a political component too, a way of using walking as a means of challenging prescribed routes and, in particular, a means of drawing attention to parts of the city that would otherwise be overlooked. This has certainly been the case in London over the last 30 years as walking has become tied up with questions concerning the redevelopment of urban space. But then, of course, the same was true of the Paris of Baudelaire and Aragon, and so I'm not sure that we are witnessing something wholly new here, perhaps merely the latest and most visible instalment in an ongoing historical process."
ON DISCOVERING NEW WORKS IN RESEARCHING THE BOOK…
"There are a couple of books which I was very pleasantly surprised to discover while researching this book. The first of these was Albert Speer's Spandau: The Secret Diaries, which I first came across in Geoff Nicholson's The Lost Art of Walking, and which was definitely not a name one would expect to find in a literary survey of this kind. Speer's book is now out of print, but the story it tells is so remarkable, so unexpected, and so unique that it certainly deserves to be rediscovered. I noticed that Iain Sinclair discusses Speer in his recent book, Ghost Milk, so perhaps he is already reaching the attention of a wider audience.
Someone else whom I have read and enjoyed for many years is Arthur Machen, and I had always planned to include his work in The Art of Wandering – not least because I pinched the title from his book of the same name written in 1924. So it was a real pleasure to unearth a collection of his essays and journalism called The Secret of the Sangraal, first published in 1995 by Tartarus Press. Machen writes about London in a way that no other author ever has and his accounts of walks taken through the London suburbs as a young man are amongst the best things he ever wrote."
ON BEING A WALKER AS WELL AS A WRITER…
"I liked to think of myself as a walker before embarking on The Art of Wandering, but having read and written about the pedestrian achievements of De Quincey, Wordsworth and co., I began to see that this term in an altogether different light and I'm now rather reluctant to describe myself as a walker at all. In fact since my children were born my already modest achievements as a walker have been diminished even further and I am now reduced to repeating a short daily circuit to and from school/nursery at an excruciatingly slow pace."
The Art of Wandering is published by Oldcastle Books, and a PDF of the introduction is available for free from the publisher's site.
**A SIGNED COPY OF THE ART OF WANDERING, PLUS PSYCHOGEOGRAPHY, IS UP FOR GRABS: JUST LEAVE A COMMENT BELOW, OR DIRECT MESSAGE @BLENGLISH_DRAMA, WITH THE ANSWER TO THE FOLLOWING QUESTION: WHICH STOKE NEWINGTON EDUCATED AMERICAN WRITER WROTE THE KEY LONDON WALKING TEXT 'THE MAN OF THE CROWD' (CURRENTLY ON DISPLAY IN WRITING BRITAIN)?**
13 May 2012
Finally a proper day off, and a chance to go ambling again round East London, fuelled by the kiss of the sun - and some Bloody Marys - on my face.
There seems to be less fencing by the Olympic Stadium now- from the Lea-side anyway – but I'm still struck by how something so monumental can seem (to me)  so underwhelming.  I remember when I first came across it a year or so back: I assumed it was a particularly enlightened local council's new  community stadium, and took a while to be convinced that This was It. It's been fun watching the Mittal Tower wend its way upwards; now complete, it'll be interesting to see if it elbows its way into the familiar London skyline in the way the Shard definitely has. 
Turning off the Lea a little further North, we headed across to Clapton Pond.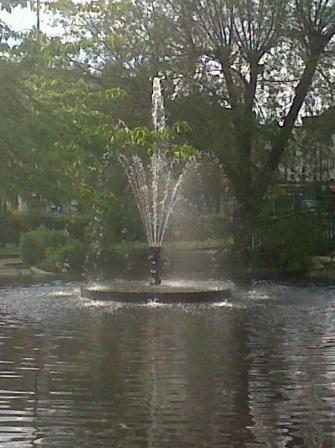 Seeing the pond - a mix of young mothers and older special brew aficionados – reminded me of a poem by Harold Pinter that we've included in Writing Britain.  Brought up off the Lower Clapton Road, Pinter memorialises this part of London in many of his early plays. The Homecoming is rooted in childhood memories of Hackney, while The Caretaker proposes any number of extraordinary London journeys: from Davies's navigation of the North Circular in search of shoes, to Mick's absurdly aggressive detailing of bus routes passing through the Angel Islington.
However, for the exhibition we chose a handwritten draft of a poem that recalls an inspirational childhood teacher: 'Joseph Brearley 1909 – 1977'. Pinter would tramp across East London with Brearley, declaiming Webster and Shakespeare into the wind. The poem is rooted in detailed place markers, mapping Pinter's emotional and topographical past:
From Clapton Pond to Stamford Hill
And on,
Through Manor House to Finsbury Park,
And Back
On the dead 653 trolleybus.
The trolleybus is dead, as was Jospeh Brearley at the point of composition, but Pinter recalls his youth in what, for me, is one of his most emotionally engaging poems- small, accumulated memories marking the landscape in a way grander projects don't always manage. In the draft displayed, Pinter lists the real names of his childhood friends, deleted from the published version- the ghosts that Pinter encourages us to face in the great speech from No Man's Land.
You might see faces of others in shadow or cheeks of others turning or jaws or backs of necks or eyes, dark under hat, which might remind you of others whom you once knew, whom you thought long dead but from whom you will still receive a sidelong glance if you can face the good ghost.
Allow the love of the good ghost.
I was glad that the Times Higher review picked up on this exhibit, and a recording of Pinter reading his poem was played on the end of a Financial Times podcast that I recorded on Friday, along with poet Owen Sheers and art critic Jackie Wullschlager. I know the poem well, but had never heard Pinter's reading. The staccato start suggests the violence of his War poetry, but makes it all the more affecting as the walk, and memories, progress.
English and Drama blog recent posts
Tweets by BLEnglish_Drama
Other British Library blogs