01 August 2012
1 August is Yorkshire Day, and as an honorary Yorkshirewoman (married to a genuine Yorkshireman, who greets people with 'howdo?') I thought I'd point out that this is a county with a rich literary heritage. It features in four of the six sections of Writing Britain, in around 10 literary works (plus a couple more slightly questionable mentions).
The exhibition opens with Michael Drayton's enormously long poem Poly-olbion, published in the early 17th century – an attempt to describe the whole of the landscape of England and Wales in a single poem, getting in a lot of local folklore as he went.

Michael Drayton, Poly-olbion. British Library shelfmark 79.h.3
It's such a beautiful book that we have two copies of it on display in the exhibition so you can see different pages – the engraved title page featuring Britannia, and the illustration for Yorkshire. The poem itself isn't great but the engravings are amazing, with rivers and hills being identified by cavorting personifications. I picked Yorkshire to display because I loved the fact that York is demonstrated by a lady in a flowing dress wearing York Minster on her head like a hat (sadly I don't have a picture, so you'll have to come and see it in person!).
York Minster. Definitely unsuitable for use as a hat.By Andy Barrett (User:Big Smooth) (Own work) [CC-BY-2.5 (http://creativecommons.org/licenses/by/2.5)], via Wikimedia Commons
Also in the Rural Dreams section of the exhibition is one of my favourite books of all time, Winifred Holtby's South Riding. I will say this: you'd never guess that a 500-odd page novel about a county council could be so gripping – which will be an interesting test when JK Rowling's new book, The Casual Vacancy, also about a county council, comes out in September. South Riding is set in the 1930s at a time of great change in agriculture and social policy, and features an enormous cast of characters across all society. It's set in fictional South Riding, based on the East Riding of Yorkshire where Holtby's mother was a councillor. (Yorkshire fact: Riding means 'third' and the three ridings of Yorkshire are North, East and West – so a South Riding couldn't exist.) We have the first edition on show, with a really beautiful 1930s dust jacket, and were lucky enough to be able to borrow from the Hull History Centre Holtby's own hand-drawn map of South Riding, mapped over the real places.
Also from the Hull History Centre we have borrowed Philip Larkin's notebook containing his drafts for his poem 'To the Sea'. This poem perfectly epitomised a lot of the British literature about seaside towns in the Waterlands section of Writing Britain  – Larkin celebrates 'the miniature gaity of seasides' and says that to many people, the concept of the seaside holiday was 'half an annual pleasure, half a rite' with many people returning to the same nostalgic spot year after year. It's an evocative and somehow incredibly British vision.
In contrast to this rose-tinted view of seaside towns, there's Bram Stoker's Dracula, a novel which might not exist if it wasn't for Whitby in North Yorkshire. Stoker was on holiday in the town when it's believed he read a history book which inspired him to write the novel, and which had the reference number "Whitby Library 0.1097." Later he set one of the most key scenes in the book in Whitby, when Dracula enters England during a storm, in the body of a black dog, swimming from an eerie shipwreck which had a corpse lashed to the helm and some mysterious boxes of earth in the hold. It's a scene that today inspires Goths to visit Whitby for a semi-annual festival, Whitby Goth Weekend.
And finally, one of the more tenuous mentions: most people think of Robin Hood as a Nottingham man, but some early ballads about him record his origins as being in Barnsley in South Yorkshire. On show in Writing Britain is a short pamphlet A true tale of Robin Hood, printed in 1787 in Nottingham (after popular history had situated him firmly there) and made to be sold cheaply on the street.
Other Yorkshire literature in Writing Britain includes: manuscripts of Jane Eyre and Shirley by Charlotte Bronte; Wuthering Heights by Emily Bronte (and a magnificent photo by Fay Godwin of Top Withens, the farm thought to be Emily's inspiration); Charles Kingsley's The Water Babies; and even an illustration of Castle Howard which for many is the perfect embodiment of Brideshead in Evelyn Waugh's Brideshead Revisited (although Waugh didn't use Castle Howard as his model).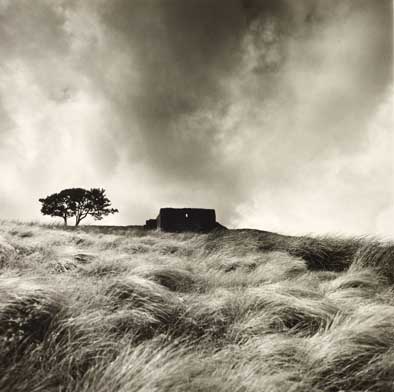 Fay Godwin, Top Withens © British Library Board
And, I almost forgot to add, if you think we missed the best novel, poem, play or song lyric about Yorkshire, please add it to our literary map Pin-A-Tale.
English and Drama blog recent posts
Tweets by BLEnglish_Drama
Other British Library blogs