29 May 2020
a guest blog by the Gersum Project Team. Read more about the Gersum Project and the Library's work with contemporary accents and dialects.
When we think about Viking treasure in Britain, images of swords, coins and jewellery often spring to mind. However, scholars from the Universities of Cambridge and Cardiff have been working on the study of a different type of Viking artefact associated with Anglo-Scandinavian contacts during the early Middle Ages: words from Old Norse (the language spoken by the Scandinavians during the Viking Age) that made their way into medieval English. This would have happened, to a large extent, as a result of English speakers incorporating (often technical) words into their language or following the language shift of the Scandinavian settlers from Old Norse to Old English as part of their cultural integration. There are around 2,000 words in medieval English for which Norse origin has been suggested. They include technical and non-technical vocabulary; here are some examples:
Legal matters: e.g. Old English (OE) lagu / Middle English (ME) laue 'law', cp. Old Icelandic (OIcel.) lög
Social hierarchy: e.g. OE þræl /ME thrall 'thrall, slave', cp. OIcel. þræll
Navigation: OE scegð 'warship', cp. OIcel. skeiþ
Warfare (e.g. OE brynige / ME brinie 'coat of mail', cp. OIcel. brynja
Non-technical terms:
Environment and habitation: e.g. ME skie 'sky, heavens', cp. OIcel. ský; ME fel 'fell, precipitous rock', cp. OIcel. fjall / fell; ME windoue 'window', cp. OIcel. vindauga
The body: e.g. ME leg 'leg', cp. OIcel. leggr; OE scinn / ME skin 'skin', cp. OIcel. skinn
Emotions: e.g. ME angr 'distress; anger', cp. OIcel. angr; ME aue 'awe, fear', cp. OIcel. agi
Mental capacity: e.g. ME skil 'reason, intellectual faculty', cp. OIcel. skil; ME sleigh 'sly, wise, prudent', cp. OIcel. slœgr
Morality: e.g. ME ille 'wicked, sinful, immoral' and ille 'evil, wrongdoing', cp. OIcel. illr
Many different kinds of activities and states: e.g. ME casten 'to throw, cast', cp. OIcel. kasta; OE ceallian / ME callen 'to call', cp. OIcel. kalla; ME þriven 'to thrive', cp. OIcel. þrífask
Old English and Old Norse were fairly close to each other (they were both Germanic languages) and it is very likely that their speakers were able to understand each other to some extent. This most probably facilitated the transfer of words across the two languages, but it also makes the identification of Norse loans in English very difficult.      
The Gersum Project: The Scandinavian Influence on English Vocabulary, which has been funded by the UK's Arts and Humanities Research Council and takes its name from the Norse term represented by OIcel. görsemi 'costly thing, jewel, treasure', has put forward a new way to classify the Norse-derived terms in English which brings to the forefront the different types of evidence that we can rely on: the form of the terms in terms of their sounds (phonology) and/or their structural components (morphology), the date and location of their attestations in English texts, their presence in other Germanic languages, etc.
The systematic nature of this approach will enable researchers to make consistent and explicit etymological decisions and thus advance our knowledge of the significant role that Old Norse had in the development of the medieval English lexicon, particularly in the areas where the Scandinavians settled down, i.e. the so-called 'Danelaw' (the areas to the north and east of an imaginary line joining London and Chester). The careful consideration of the dialectal distribution of the terms in the etymological discussion and the links to the English Dialect Dictionary also make this project fully relevant for the study of modern English dialectology, and, hence, the British Library's own archival work on accents and dialects.
Screenshot showing the British Library's Accent and Dialect Hub

Screenshots showing the interactive interface of the Gersum Project

Two of the manuscripts held at the British Library are at the core of the project's corpus, which comprises six texts from the North and Northwest Midlands associated with the Alliterative Revival in Middle English poetry. Pearl, Cleanness, Patience and Sir Gawain and the Green Knight, often attributed to the same author, are only recorded in London, British Library, Cotton Nero A.X, while St Erkenwald has only survived in London, British Library, Harley 2250.
These texts give us an insight into the lexical wealth of late-fourteenth-century Cheshire/Staffordshire. The author of The Wars of Alexander, which can be found in two manuscripts (Oxford, Bodleian Library, Ashmole 44; and Dublin, Trinity College 213), probably originated from further north than the two other authors although, as it is often the case, it is difficult to know where exactly he came from. In these texts, native, Romance and Norse terms work together to meet the lexical diversity needed for the sake of alliteration (and rhyme), as well as the authors' taste for detailed and technically intricate descriptions.
Image for Nero A.X: beginning of text of Sir Gawain and the Green Knight
Harley 2250 showing the beginning of St Erkenwald 
25 May 2020
In this guest post, we are very pleased to welcome the artist Liz Mathews. The Library holds several of Liz Mathews' works in our artists books collection, including

Thames to Dunkirk

. During the past weeks, we have been working with Liz to create a new short film that shows this work and reflects on the events of the evacuation of British soldiers from Dunkirk in May and June 1940.   
Thames to Dunkirk in the British Library Writing Exhibition, 2019
The eightieth anniversary of Dunkirk falls in May 2020 while here in Britain we are still living through the coronavirus pandemic. My artist's book Thames to Dunkirk is the largest book in the British Library's Contemporary British collection, and curators at the British Library had been planning some events with me to mark the moment, but since it became clear that no public events would be possible, I've been working with Jeremy Jenkins, Curator of Contemporary British Publications, to make an artists' film of my artists' book Thames to Dunkirk (below). Under lockdown conditions we have assembled the elements of the soundtrack - on which the soldier-poet Basil Bonallack is voiced by his grandson Christopher Peters, and Virginia Woolf's questioning lines from The Waves by me Liz Mathews - over my own photography of the book, and the film was edited by Jeremy Jenkins. 
Front cover of Thames to Dunkirk
Thames to Dunkirk, an artists' book by Liz Mathews, on film. 
I made Thames to Dunkirk in 2009, and it's been in the Library's collection for a decade, a surreally large book to echo the extraordinary nature of an event shared by over 300,000 people, each with their own individual experience and their own story to tell. It's made from twenty-four sheets of the largest handmade paper in the world, each 1 metre high and 1.4 metres wide - and it opens out to a free-standing paper sculpture 17 metres long and a metre high.
Looking at Thames to Dunkirk again now, as its maker I'm both reminded of my original aim, and struck by the many parallels with our current situation. Hearing Dunkirk 1940 invoked so often during the lockdown - exemplifying British ingenuity, courage and adaptability in a desperate crisis - has brought that long ago time vividly to mind. So what is it about Dunkirk that speaks so urgently to our times? Who could read the following accounts in these days without recognising the 'absolute mayhem', the fear and anxiety, the 'public catastrophe', the 'terrible suspense'?
'The Dunkirk crisis was unbelievable. A lot of people coming back had jettisoned their guns and vehicles, they just got there as fast as they could. There were lots of refugees coming in - it was absolute mayhem. Dunkirk had been bombed. We knew that a lot of troops were sheltering along the shore. We had no idea they were going to be rescued - it seemed the whole army was going to be captured. I was extremely upset, because it never occurred to me that we would survive. I though we were defeated, that we would surrender and sue for peace.' (Corporal Elizabeth Quale, WAAF liaison officer, from Max Arthur's Forgotten Voices of the Second World War, Ebury Press / IWM 2004)
Thames to Dunkirk, p.21.
On May 26th 1940 the rescue began, an event of such enormity that it has become one of our most potent national myths. The British army fighting in France and Belgium had been outflanked and surrounded by the invading army of Nazi Germany, and 'there was nothing for it but to fall back, made almost impossible by the multitudes of refugees on the roads. Our men could only crawl back, while the enemy raced to cut them off from the sea.' (John Masefield, The Nine Days Wonder Heinemann, 1940).
By 26th May a solid mass of men had already gathered on the beaches and in the dunes near the town, and thousands more were still struggling to get there. Churchill's government had a plan for the Royal Navy to rescue them, with the help of a makeshift armada of 'little ships', privately owned boats, yachts, lifeboats and small ships from England's south coast and the Thames, to ferry the men out from the beaches to the waiting Naval ships.
Thames to Dunkirk, p.10

But 'when Operation Dynamo began it was thought that only a few thousand could be saved. The next day the situation was so much worse that we had to be prepared for a desperate scramble to pick up survivors from a great disaster.' (JM, ibid)
Meanwhile at home, Leonard and Virginia Woolf were among the millions waiting for news: 'In Rodmell Dunkirk was a harrowing business. There was not merely the public catastrophe, the terrible suspense with Britain on the razor's edge of complete disaster; in the village we were domestically on the beaches. For Percy, and Jim and Dick and Chris, whom I had known as small boys in the village school and watched grow up onto farm workers and tractor drivers were now, one knew, retreating, driven back to the Dunkirk beaches. There they presumably were waiting, and we in Rodmell waited.' (Leonard Woolf The Journey not the Arrival Matters The Hogarth Press, 1969)
And from Virginia Woolf's diary: 'Louie comes agog. [Her brother] Harry come back on Monday. It pours out - how he hadn't boots off for 3 days; the beach at Dunkirk - the bombers as low as trees - the bullets like moth holes in his coat…  He looted a Belgian shop & stuffed his pockets with rings which fell out in the sea; but 2 watches pinned to his coat survived… He was talking to a chap, who showed him a silk handkerchief bought for his joy lady. That moment a bomb killed him. Harry took the handkerchief. He saw his cousin dead on the beach; & another man from the street. Harry swam off, a boat neared. Say chum can you row? Yes, he said, hauled in, rowed for 5 hours, saw England, landed - didn't know if it were day or night or what town - didn't ask - couldn't write to his mother - was despatched to his regiment.' (Virginia Woolf, Diary Volume Five, ed. Anne Olivier Bell The Hogarth Press, 1984) 
Virginia Woolf's story about Harry West set me on a path of discovering first-hand accounts of that time, and gave me the idea of making Thames to Dunkirk. Along both sides of the huge book's length are juxtaposed four significant lines: first, soldier-poet BG Bonallack's eye-witness account of Dunkirk 1940 from his poem The Retreat; second, Virginia Woolf's introspective questioning lines from The Waves flowing beneath as an undercurrent; and then on one side a watercolour map of the Thames from source to sea, lettered with the names of most of the little ships that went to the rescue; and on the other a 17m long watercolour of the great stretch of Dunkirk beaches and dunes, with the names of many people who were there during those nine days in 1940.

Thames to Dunkirk, p.18.

There's Alexander Graham King, 'the mad hatter' who played his accordion to entertain the queues of waiting soldiers for seven days, and Captain NC Strother-Smith, who could spare a thought for the refugees on the roads 'machine-gunned and attacked by Bombers and fighters' in this impossible situation. There's Philip Newman, the army surgeon who treated wounded men by the thousands in 'the Chateau', remained behind with men too badly wounded to be moved, was captured and spent the rest of the war in a German prison camp as a POW. And there's Louie's brother Harry - his name lettered in a queue out into the sea; I see him with the water up to his armpits, worrying about his looted watches getting wet.
Marking Thames to Dunkirk book with a wooden clothes peg

Each person whose story I found is there in the crowd on the book; the letters of their names stand as individuals in the mass, marked with a wooden clothes peg, an incongruous domestic tool to reference a background of home for each person. The little ships' names, too, are set along the watercolour map of the Thames in paint mixed with Thames water, the words lettered with a Thames driftwood stick, to draw the material presence of the river into the book, to bring in the stories not only of the gallant boats but of all those across Britain doing what they could to help, volunteering, nursing the wounded, waiting for news.
Card for the Dunkirk Project

As for my aims: I wanted Thames to Dunkirk to represent all the voices of Dunkirk, not a simplified impersonal official version; to catch the event in all its diversity and complexity. Once it was made, it became the central thread of The Dunkirk Project, an online installation that collects and shared hidden or forgotten stories from Dunkirk. Presented in the form of daily news from 26th May to 4th June, this River of Stories made up of many voices, many different perspectives, shows how this multi-layered event defies simplistic reduction but still has important truths for today.
The voices of Thames to Dunkirk speak to our uncertain times at an apt moment. It's more important than ever to acknowledge the European, multi-national nature of Britain's wartime struggle against fascism, as exemplified at Dunkirk, and to recognise how we, the inheritors of the world that was made then, are still living with the consequences of our past. In June 1940 when the Dunkirk evacuation had brought most of the army home again, the threat of invasion was at its most acute - and Britain was still at war for a further four years. The parallels for our wounded world are all too clear: while we've been struggling with Brexit and the pandemic, the Climate Emergency has not gone away.
Thames to Dunkirk, p.20-1
Now, coronavirus has forced us to re-examine our priorities. Another clear correspondence with Dunkirk 1940 is that amidst the devastation and the suffering there have been some positives: the many heroes we've met - Captain/Sir Tom Moore, every NHS doctor and nurse, three-quarters of a million volunteers, our bus drivers, our care workers and Andrea our local pharmacist, to name just a few - have outnumbered the villains, and we've found a renewed compassionate empathy and awareness of community.
Captain Tom Moore post-mark

British engineers and fashion designers are falling over themselves to adapt factories to make essential personal protective equipment and ventilators; universities and research institutions are vying to produce tests, vaccine, antibodies; our theatres, online arts and the BBC are keeping us sane - in short, the real maverick Dunkirk spirit is alive and well in Britain today. Now is a good time to look again at this parallel crisis in our nation's past, in order to understand the present better, and prepare for the future.
07 May 2020
By Greg Buzwell, Curator of Contemporary Literary and Creative Archives. Read more about the Angela Carter Archive on Discovering Literature and see the entire catalogue entry on our catalogue, Explore Archives and Manuscripts at Add MS 88899. Listen back to our event, Angela Carter: a Celebration, presented in association with the Royal Society of Literature at the British Library on 24th November 2016.
To mark what would have been the year of Carter's 80th birthday, we wanted to give everyone another chance to listen to Angela Carter: A Celebration, an event presented in association with the Royal Society of Literature at The British Library on 24 November 2016. Edmund Gordon, author of the multiple award-winning The Invention of Angela Carter: A Biography talks to Lisa Appignanesi, Susannah Clapp and Pauline Melville, all friends of Carter. Something to enjoy, perhaps, while raising a drink (Carter enjoyed wine, I believe) of your choice in honour of Carter's memory, and in celebration of her work.
Angela Carter, had she lived, would have celebrated her 80th birthday on May 7th this year. Sadly, we will never know what she would have made of the current world situation but, from her books, articles and interviews we can be certain that her opinions would have been perceptive, original and expressed with a refreshingly bracing honesty and vigour. There are many things to admire about Carter's life and work, but perhaps none more so than the fact she wasn't afraid of tackling the big subjects and addressing each one – sex, death, politics, class, feminism and parenthood to name but a few – with a devil-may-care directness. Even when people disagreed with her observations, as some did for example with The Sadeian Woman (1979) - her influential critique of pornography and the cultural determinism of gender and sexuality - it's impossible not to admire the intelligence, wit and originality with which her ideas were expressed.
Angela Carter, circa 1975. (c) Displayed with the permission of the Estate of Angela Carter

During her career Carter wrote novels and short stories that changed the landscape of British fiction. In particular the books she published from the early 1970s onwards display a remarkable originality. The Infernal Desire Machines of Doctor Hoffman (1972), for example, largely inspired by her experiences of Japan marries surrealism and philosophy to tell a tale that seems more relevant than ever in today's world of computer games and virtual reality. The Passion of New Eve (1977) meanwhile, one of the key works of 1970s feminism, satirises simplistic notions of gender, sex and identity. Angela Carter was always well ahead of the curve. The stories in The Bloody Chamber combine feminism and fairy tales with sublime Gothic imagery to inspire emotions in the reader that are by turns shocking and uplifting. Her final two novels, Nights at the Circus (1984) and Wise Children (1991) took her work in new directions. Wise Children, with its highly theatrical – in every possible sense of the word – cast of characters is a stylish and original take on highbrow and lowbrow art and the claims both have for a place in the world, and in our affections.
A page from Angela Carter's manuscript draft of 'The Bloody Chamber'. Add. MS 88899/1/13. © Displayed with the permission of the Estate of Angela Carter
With the support of the Estate of Angela Carter the British Library was able to feature highlights from her papers on its Discovering Literature: 20th Century website. From articles on themes such as fairy tales, cross-dressing and identity to explorations of individual collection items such as Carter's manuscript drafts of Nights at the Circus or her notes about Tooting Granada Cinema the website allowed us to bring items from the archive to a worldwide audience. Indeed, we could add to the picture of Carter given by her archive by including other British Library collection items, such as her experimental poem 'Unicorn', first printed in 1963 in Vision, a magazine edited by Carter and Nick Curry when the pair were students at Bristol University. The poem, which takes the medieval myth of the unicorn and virgin and transposes it to a sleazy modern setting of pornography and strip clubs provides an early precursor to novels like The Passion of New Eve and the stories in The Bloody Chamber.
A page from Carter's experimental poem 'Unicorn', from an edition published by the Location Press in 1966. Cup.805.a.9. © Displayed with the permission of the Estate of Angela Carter
Curators always have favourites among the archives they look after, even if in many ways they're not really supposed to 'value' one collection over another. Like passing the port to the right or snoozing through the Queen's speech on Christmas Day curators having favourites is slightly frowned upon in some circles. All the same, given that an archive of a writer, politician, publisher, actor, etc., should provide as complete a picture as possible of their life and work the archive of Angela Carter is undeniably a fascinating source of wonders.
26 April 2019
a guest blog by Lucy English, spoken word poet and Reader in Creative Writing at Bath Spa University. She has two collection published by Burning Eye Press. The most recent, The Book of Hours, is the poetry from the online poetry film project. The project was completed in 2018 and was shortlisted for the New Media Writing Prize in 2019. 
Screenshot from is 'From This Train' by Kathryn Darnell
The Book of Hours is an online poetry film project which contains forty eight poetry films made in collaboration with 27 film-makers. Through the process of creation I have explored how to bring the immediacy and vibrancy of spoken word  into the delicate poetry film form, which is a growing but niche area of poetry. I have created a project which is experimental in its use of spoken word in poetry film, and also innovative in its approach to creating a themed collection of poetry films. 
Inspired by the medieval Books of Hours, I wanted to create a contemporary compendium of images and text which could evoke contemplation and thought. In our modern world we may that God constantly rewards or punishes our behaviour, but we still have a need for quiet moments, reflection and emotional awareness often associated with religiosity. Poetry continues to be a medium through which we can experience this, so the text in The Book of Hours is in poetic form, rather than prose, and because I am a spoken word poet most of this poetry is presented as voice-over rather than text on screen.
Screenshot from 'Sheltering from the Rain in a Country Church' (after Larkin) by James Norton
A medieval Book of Hours was a collection of religious readings and accompanying images.  By the fourteenth century these had become highly decorative works of art and many were produced by craftsmen for wealthy patrons.  They were created so that those outside of the religious orders could follow the monastic life. The book began with a calendar illustrated by images of activities connected to each month, such as sowing crops, harvest and feasting. The subsequent texts were divided into sections and one of these sections was the 'Hours', a series of prayers and readings spanning a complete day and night and changing with the religious season. This reflected the Hours of the Divine Office, a code of religious behaviour adopted by St. Benedict in his sixth century guide to monastic life. Each 'hour' was roughly three hours apart, and was the time for prayer and reflection. The first was Vigil, at midnight, followed by Lauds, then Prime first thing in the morning, then Terce, then Sext at approximately lunchtime. After this was None followed by Vespers and finally Compline, after which the monks went to bed. The 'Hours' were therefore a template for religious devotion, spirituality, reflection and connection to God.
There were variations in the format of a Book of Hours but a typical collection contained: a calendar and The Hours, (as described above); a selection of penitential psalms, expressing sorrow for the committing of sins; The Office for the Dead, (a prayer cycle for the repose of the soul of a deceased person); and the Litany of Saints, which were prayers for the intersession of the Virgin Mary and the martyrs and saints.  Books of Hours represented a layperson's handbook to Christian devotion and were created in a portable size so they could be carried by the owner and referred to on a daily basis. They reveal a glimpse into the medieval relationship between humanity and God and are important compendiums of religious reflection.
In the modern secular society of the U.K we can underestimate the importance of the Christian calendar in medieval times. This was an unwavering structure in an uncertain world where the progression from Christmas to Easter to Ascension would be embedded in the minds and habits of everyone.  The monastic life was seen as the epitome of  proper behaviour and for an ordinary person to possess access to the religious life, in book form, was highly desirable. It was common in medieval art, and also in the pages of the Books of Hours, for the patrons to be depicted in religious scenes, such as witnessing the birth of Christ or worshiping at the feet of the Virgin, thus placing themselves directly into the holy narrative. In the medieval mind, saints could be 'talked to' through prayer and requests to God, Jesus and Mary were as common as our 'wish lists' of shopping needs.
A Book of Hours can also be seen as an interactive text as these books were not intended to be read chronologically. The reader chose which readings to refer to according to time of day, season and spiritual mood. The most noted example of a Book of Hours created for a wealthy patron is the Tres Riches Heures commissioned by John the Duke of Berry between 1412-1416 and illustrated by the brothers Limbourg. This is currently held in the Musee Conde in Chantilly, France.
The Duke of Berry was a passionate collector of books and his library contained more than fifteen Books of Hours. In Tres Riches Heures the illuminated pages are exquisitely illustrated; they depict a calendar of the month, the signs of the Zodiac and scenes from life, according to the seasons. In the page for October a white clad horse pulls a harrow and a farmer sows seeds over which crows and magpies are already fighting. In the background is a magnificent white castle. The pages of this book offer a detailed insight into the lives of the various strata of medieval society, from aristocratic hunters to peasants in rags.  This keen depiction of everyday detail is also a feature of other Books of Hours, where scenes from the Bible are set against a backdrop of recognizable scenes of medieval life.
Screenshot from 'Mr Sky' by Sarah Tremlett
What I learned from my understanding of the medieval Books of Hours and what I felt I could translate into my project were the following aspects: the text, (in my case the poems) would be an embarking point for reflection. This reflection would not be a religious one but a contemplative one, offering responses to the modern world. It would be presented in a calendar format, following the months of the year, times of day and the seasons. It would contain a linear structure  (a calendar year) but the reader/viewer could choose when and where they accessed the films. My final aim was to somehow replicate the everyday quality of the medieval Books of Hours, and to depict the 'illustrations in the margins.' By creating a digital project which utilizes our accessibility to screens and downloads, I could also replicate the portability of the medieval books. I wanted the colours and sounds of the films to compliment the total experience just as the illustrated pages in the medieval manuscripts compliment the texts in the book. The themes which link the whole collection are reflections on the passage of time; reflections on the impact of urban lifestyles on rural landscapes and the transience of memory.
Each poetry film was created 'in conversation' with the film-maker rather than me 'giving' them a poem to adapt. Sometimes we started with an idea, sometimes we started with a sound track, or static or moving images. So all the poetry films in The Book of Hours have been created in collaboration with other artists.
Individual films from this project have been screened at many short film and poetry film festivals: 'Things I found in the Hedge' won first prize in the Atticus Review Videopoetry competition. and 'Que Es El Amor' won second prize.
All screenshots reproduced with the kind permission of the creator. 
13 September 2018
by Callum McKean, Curator of Contemporary Literary Archives and Manuscripts, who assisted on the sound selections for the exhibition Windrush: Songs in a Strange Land, on display in the Entrance Hall of the Library until 21st October 2018. More details about the exhibition can be found here.
By some coincidence, Britain's first boom in mass migration roughly coincided with the growing availability and fidelity of sound recording and playback technology. Because of this, Windrush: Songs in a Strange Land, the Library's free exhibition which is now entering its final month in the Entrance Hall Gallery, is a story which must be told – that is, spoken, shouted, sung, recited and chanted – as well as shown, seen and read. Sound recordings in the exhibition range from a speech by Marcus Garvey, whose precision and force as a profoundly gifted orator has not diminished over time, to readings by poets like Linton Kwesi Johnson, Benjamin Zephaniah and James Berry, whose incisive socio-political commentary, linguistic and formal experimentation, and willingness to engage with emerging musical forms have built upon the deep oral tradition of the Caribbean and impacted British poetry immeasurably in the process. But beyond these famous and perhaps familiar voices, the exhibition also highlights a number of everyday speakers, drawn from the Library's Sound Archive. These stories of arrival and work, education and family-building, integration, tension and everything in between and beyond, help to build a fuller picture and go a long way to helping us think about the exhibition's key questions: Why did people come? What did they leave behind? And how did they shape Britain?
Visitors use the exhibition sound terminals on opening night. 
These stories are told through the Library's vast and varied oral history collections, which come in a variety of forms. The first, and most accessible form, is the pre-curated radio programmes which, through their edited structure and high production values, provide an invaluable introduction to the canonical issues surrounding the Windrush moment and its afterlife. Shows such as Changing Caribbean (1960), London's Black Pilgrims (1965) and Passage to the Promised Land (1996) form the backbone of the exhibition's sound offering, with roughly contemporaneous interviews and more recent reflections charting the shifting and complex attitudes of those who came and their decedents.
The second kind of oral history takes the form of a long question and answer session with an individual or a group of individuals, usually lasting a few hours, which is recorded and left completely unedited for posterity. In these recordings, interviewees often mumble, stumble, clip and talk around the questions they are asked; they evade and waffle, mirroring the rhythm of a real conversation. The first reaction, for a curator tasked with locating narratives in these unwieldy audio-files, is often frustration. Yet there's a strange sort of intimacy too, which over time becomes not only disarming but – I think – actively imbeds you in the lived experience of the person to whom you're listening. These collections are often focused around occupational groups – there's one for nurses, for instance, as a group which was highly represented among those arriving from the Caribbean.  But many are also incidentally concerned with the diasporic experience, such as the Millennium Memory Bank project which aimed to record oral histories with a demographically representative section of the British population as a kind of time capsule at the turn of this century. This project interviewed people from the Caribbean living in Britain not as immigrants but as part of British society at a particular point in time. Interviews like that with Eunice McGee, a Caribbean-born homemaker from the Midlands, allow researchers to engage with social history in a more direct and intimate way, as the discussion tracks the minutiae of everyday life – of bringing up families and buying a house, of marriage and work, of cooking and speaking – and the interested listener can move beyond external narritavisation of racial and economic groups and allow the complexity of the everyday to show itself through the life of a particular individual.  
All of these encounters made at the sound terminal in the exhibition, or with headphones in the Reading Rooms, are valuable. They allow us to commune with the past; to hear stories which affirm and contradict what we already think we know, often in the same recording. But this is part of the point. The idea of Windrush generation has become monolithic; a mythology which, for better or for worse, represents an over-simplification. The Library's job is to facilitate access and act as custodians for material which complicates this narrative and others like it. Oral history helps to make sure that the multifaceted past is preserved in order that we, in the present, can avoid misrepresenting those who lived through it. (Even if this means listening intently to someone's unedited recollection of their day).
22 June 2018

Guyana-born writer and teacher Beryl Gilroy with her pupils, image courtesy of the Estate of Beryl Gilroy.
On Monday 25 June the British Library in association with Wasafiri, the Magazine of International Contemporary writing, will be hosting Windrush Women: Past and Present. When the Empire Windrush sailed from the Caribbean 70 years ago, there were 257 female passengers on board, 188 of whom were travelling alone. There are many stories missing from the Windrush narrative, not least those of bold and pioneering women, leaving everything behind, to better their own and their family's lives. This evening of poetry and readings will launch the latest issue of Wasafiri, which features a special section on Windrush women from across the generations.
Wasafiri's Editor-in-Chief, Susheila Nasta, says: 'For better or worse, the stories of the post-war Windrush generation have become more than evident in recent months. Though little known, there were women on board the SS Windrush as well as the other boats that sailed after the second world war. The experiences of the women were as varied as their ages and backgrounds. Join Wasafiri, the Magazine of International Contemporary writing, to hear the voices of Windrush women across the generations and find out more about their lives as well as the complex challenges they continue to face'.
Appearing with Susheila on Monday will be Valerie Bloom, Jay Bernard, Maria del Pilar Kaladeen, Alison Donnell, Hannah Lowe, Catherine Ross and Susheila Nasta. Tickets are still available from the British Library Box Office. As an introduction to Monday's event, we are publishing here an excerpt from Susheila Nasta's editorial from Wasafiri No 94.
If this whets your appetite for Caribbean women's writing, there is more to see (and hear) in the Library's free exhibition Windrush: Songs in a Stange Land which continues in the Entrance Hall Gallery until 21 October. On display are Beryl Gilroy's long-lost manuscript for her novel In Praise of Love and Children (1996), Andrea Levy's working drafts of Small Island (2004) and Jean Rhys' revisions to Wide Sargasso Sea (1966); plus migration memoirs from Floella Benjamin and Verona Pettigrew and performances by poets Louise Bennett (reading her brilliant patois poem 'Dry Foot Bwoy' about a haughty Caribbean man putting on an upper class English accent), Grace Nichols, Hannah Lowe, Maggie Harris, Kim O'Loughlin, Marsha Prescod and Merle Collins. These literary legacies of Windrush are interspersed with recordings of Caribbean women speaking about all aspects of their lives, from working in the NHS to the difficulties of courting in England compared with back home, and music too – there is much in the exhibition to investigate, explore and be inspired by.
Excerpt from Wasafiri No 94 (2018):

'History, as James Baldwin once famously observed is not the story of the past but the present. Coinciding with the seventieth anniversary of the docking of SS Empire Windrush at Tilbury in June 1948, this issue shows us how the many global intersections of Britain's mixed cultural past continue to reverberate in today's migrant present. When Andrea Levy's award-winning historical novel, Small Island, first appeared in 2004, it was applauded for its fictional portraits of the forgotten voices of 'Windrush', for bringing the nation's post-war migrant history centre stage and its timely intervention into what had largely been a male founding narrative of arrival and settlement. Reviewers were often unaware of earlier Caribbean and black British fictions of this era; whether classics, such as The Lonely Londoners (Sam Selvon, 1956), The Emigrants (George Lamming, 1954) or, more significantly here, given the objective of our special section focussing on 'Windrush women', Beryl Gilroy's belatedly published 1950s novel, In Praise of Love and Children (1994). Despite such gaps, the appearance of Small Island was significant; not only was Levy, herself a daughter of Windrush, presenting her story through a range of narratives – male and female, Caribbean, Irish – but its engaging depiction of Britain's diverse migrant histories began to touch a wide public readership — I once saw over five people reading the paperback version in one carriage on the London Underground just after the novel's winning of the Orange Prize was announced. Interestingly Levy's title, which playfully signalled Britain's shrinking post-war global status – once 'great' empire, now 'small island' – was not only powerfully ironic but remains prescient, especially given ongoing Brexit debates over a decade later around 'Englishness', national identity, the rights of belonging or leave to stay. There is no doubt, as Grace Aneiza Ali and many of the other contributors to this issue differently observe, that migration continues to be the 'defining moment of the modern era' and 'few' can be 'untouched' by its 'sweeping narrative'.
'Highlighting the diversity of the period of migration following 'Windrush' and looking within and outside the parameters of what still figures as a powerfully constructed icon, this issue brings together Caribbean and black British voices from across the generations. Loosely defined here as the 'Women of Windrush', our special section comprises a range of genres and a mix representing the contemporary writing and works from past generations. It is a small sample which is by no means representative or comprehensive. Hannah Lowe's feature-interview with three contemporary poets (Grace Nichols, Karen McCarthy-Woolf and Jay Bernard) points to the icon of 'Windrush' as 'that huge fiction of a ship' (Jackie Kay), a fiction which continues regardless to impact on many imaginations. In interrogating the enduring legacy of this myth, we feature an extract from Beryl Gilroy's pioneering novel, In Praise of Love and Children, as well as providing the transcription of two interviews, originally conducted at the ICA in 1986, to celebrate the publication of Gilroy's Frangipani House and a first novel, Timepiece by Janice Shinebourne. Like the 2004 moment when Levy's Small Island was first published, the mid-1980s was a critical period for the publication of black and Asian women's writing in Britain. Publishers influenced by the success of African-American writing in the US began to see the migrant black experience in Britain as a potentially profitable market. And it was at this moment that adventurous publishers such as Virago and the Women's Press began to commission anthologies such as the groundbreaking Watchers and Seekers (edited by Rhonda Cobham and Merle Collins, Women's Press, 1987).This volume of stories, essays and poems, featuring only the work of women, included, amongst many others, now well-known writers such as Collins herself, Amryl Johnson (who sadly died in Britain in 2001), Meiling Jin and Valerie Bloom. Above all, it was a moment when black women writing in Britain began to get the long-awaited recognition they deserved. Too often anthologised or out of print, the many women who contributed to such vital anthologies are not always remembered. Moreover, as Maria del Pilar Kaladeen's memoir 'Windrushed' painfully evokes, amnesia was generated not only from without, but from within, as some of the older generation chose to sidestep their own histories, shrouding their own pasts from their black British offspring.'
15 September 2016
By Rachel Brett, Reference Specialist
Among the fanzines on display in 'Punk 1976-78' is a copy of Sideburns, featuring a diagrammatic representation of three chords, with the caption 'This is a chord - this is another - this is a third ... now form a band'.
Imagine this famous three-chord approach as a manifesto for life; it might look something like this:
Committing to the destruction of old beliefs
Accepting that we are alone and committed to create our own ideals and beliefs
Living in accordance with these self-authored ideals while resisting the temptation to return to old ideal (in the words of Robin Ryde).
When we speak of punk then, you could argue that we are also speaking about a philosophy. We are still talking, and putting on exhibitions about, Punk because inside the record sleeve was the message: change is possible.
Brave New World
The first issue of Ripped and Torn created by Tony Drayton (Tony D) on display at Punk 1976-78 at the British Library until 2nd October
While the three points above read like a punk manifesto, it is in fact a summarisation of Friedrich Nietzsche's conceptualisation of a 'superman'. Such beings would live by their own values, choices and beliefs, cast off old perceived habits and pre-given morals to ultimately lead a freer and more fulfilling existence.
This is an over simplification of an illustrious theory by Nietzsche, yet parallels can be drawn with the ethos of the punk spirit which was tantamount to the idea of change and autonomy. Punk wanted to rip it up and start again, and it wanted to do it for itself. If we want to consider the significance of punk, its legacy and intention beyond slogans perhaps then the German philosopher Nietzsche is just as germane as Joe Strummer.
This is not to connote punk was a preconceived philosophical gesture, rather it is offering a reflection on punk's demand for change that became a shaping force within culture as demonstrated in the British Library's exhibition. This however, raises a question - If art can be philosophically considered, why shouldn't pop music also be contemplated with philosophical curiosity?
Such outrageous posturing to situate punk within a philosophical proposition will provoke a loud disquiet in the crowd. What has punk got to do with philosophy? A brief glimpse into some of Nietzsche's ideas may be thought provoking for the curious. Nietzsche loved music. Life without it he famously said isn't worth living. Music for him was an expression of the imagination, a dynamic power in the everyday world, an expression of a life changing force within all humans, a feeling and an emotional outburst, and anger after all is energy…
Nietzschean gesture

Friedrich Nietzsche around 1869. Photo taken at studio Gebrüder Siebe, Leipzig. Courtesy of WikiCommons.
Nietzsche considered music's function within Greek tragedy, which he understood as an artistic form born from the struggle between the gods Apollo and Dionysus. As a philosophical concept Dionysus denotes a primordial urge outside the rationality of instincts representing intoxication, excess, and a drive towards a transgression of limits. Nietzsche identified these aspects within non-representational art and specifically encapsulated within the power of music to covey suffering as a universal truth as opposed to an individual symptom.
In the modern world the rational reigns, while gods and myths are banished as the divine guiding principle for human existence. Nietzsche's panegyric of Greek tragedy lies in his argument that such enlightenment had failed. Instead privileging  a return to the subterranean impulse of the Dionysian spirit within music to exposes the depths of human experience beyond the rational.
Put another way, the unifying experience of music contains a potential for change to live creatively beyond the suffering of the human condition. Heck, sounds a bit punk to me!
Going Underground
Reproduced with kind permission of ©Gary Neill
In 1886 Nietzsche raised the question "What would music have to be like if it were no longer Romantic in its origin, as German music is, but Dionysiac?". Given his understanding of the Dionysian drive in music, I would propose it would be like  Punk. This proposition was explored in the contemporary world by the artist Dan Graham in his work "Rock my Region". In this 'video essay' Graham drew out the ecstatic release within punk music and illustrated comparisons with the same release in religion and the Shaker movement.
Punk was a sonic and visual sign in an otherwise grey, over commercialised industry. It was the fly in the ointment, a critique of society, mass culture and of itself. That is to say of pop music. Perhaps punk's greatest legacy is that it remains indefinable. What do we mean by punk? Everyone knows all the answers to this, don't they? Yet we still dispute it, maybe because punk demanded a change and while it was not the revolution McLaren's King Mob dabbling's aspired to, it did effect exactly what pop music could be, sound like and how it could be made and distributed.
Punk's still got a job to do; only it's going to take more than a guitar to do it. Better get out your philosophy books kids, there's an overdue revolution waiting to happen and perhaps Nietzsche and a bit of Greek Tragedy just might help…
Hey! Ho! Dionysus & Go!
24 May 2016
The Library's current exhibition Punk 1976-78 is an opportunity not just to look back at the early years of punk, but also to make new connections and to build on the legacy material that the Library holds.  The exhibition showcases examples of the fanzines inspired by punk's DIY spirit and energy.  Forty years on, zinesters are still busy writing and drawing, cutting and pasting, stapling and sticking their creations, and the Library is as keen to collect zines now as it was during the first stirrings of punk. Publicity around the exhibition has also inspired some of the individuals who produced fanzines at the time to donate them to the Library so that they can be conserved and made available in our Reading Rooms.   We are delighted to have received a donation of the full run – all two issues – of a punk fanzine produced in Cardiff in 1978, Oh Cardiff… Up Yours!, from Paul Davies who was one of its creators. One of the hardest things for the exhibition is to convey the diverse meanings of punk for the fans who espoused its ethos and participated in it through their own expression and activism.  The fanzines we hold allow access to the voices of some of those involved in the heady days of punk.  I asked Paul to say something about what motivated him and his friends to produce a fanzine.  Paul's account is reproduced below – in his own words. As a curator I'm delighted that Paul has written this piece, both for its interest now and for anyone looking at the zine in years to come to understand how it came into being. 
I'm also struck by the way that producing a fanzine was a starting point for a whole range of creative endeavours for those involved. While I was thinking about how to present Oh Cardiff… Up Yours!, I came across a reference to it  from another of its co-creators, for whom it also remains significant, in a post on the urban75 blog. One aspect of my work in the Contemporary British Publishing team is to identify websites for inclusion in our web archiving programme, as part of the Library's mission to capture a wide range of contemporary cultural and political expression. For me, it is inspiring to see this link between the punk activism of 1976-78 and contemporary social activism. Just as punk fanzines challenged the music coverage of the mainstream press,  the urban75 website was a pioneer of online activism providing an alternative to mainstream media, and it remains vital and vibrant today. It's not always easy to explain the significance of zines and fanzines alongside the Library's more prestigious holdings. But whether for students of print journalism and the flagship magazines that have mediated Britain's popular music and youth culture, or for future students of alternative and DIY culture, punk fanzine Oh Cardiff… Up Yours! marks the beginning of a journey into creativity and activism in print, film, and on the web, and from the record shops and venues of Cardiff to a global reach.  Paul's account of its creation is no mere nostalgia trip: those two issues from 1978 are relevant for their part in a punk legacy that shapes cultural and political expression today, and I'm thrilled to have them in the Library.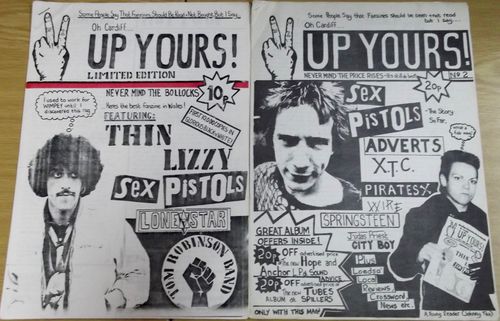 Oh Cardiff... Up Yours! issues 1 and 2.
Oh Cardiff... Up Yours!
The tendrils of punk rock began to wrap themselves around my flares-festooned ankles at a precise moment in time in the winter of 1976. If I had been partial to breakfast cereals, it would have been a splutter-the-cornflakes-across-the-room moment. Preparing for another tedious day at school, as we breakfasted in our small kitchen the necessity to engage in early-morning familial badinage was scuppered by the incessant drone of the local radio station.
On this particular morning the apoplexy count was in overdrive, as the Anarchy in the UK tour was about to hit the hot and happening Valleys enclave of Caerphilly – a desolate urban outcrop as far away from the bondage trousers of the King's Road as it is possible to be, and yet, in its own malodorous, disenfranchised and truculent way, absolutely perfect to welcome the burgeoning social and political tornado that was Punk Rock.
As the 
New Musical Express
 was my bible, handbook and calling card, I was clearly prepped about this swaggering new musical movement emanating from that London, but had yet to experience the sonic thrills that were allegedly on offer, and was still hanging on, rather apprehensively, to my copies of 
'
Frampton Comes Alive
'
, Deep Purple's 
'
Made in Japan
'
, my RAF Greatcoat and my luscious shoulder length hair.
'
Anarchy in the UK
'
 changed all that, and left me gasping for more. Four decades later the opening 20 seconds of that song still sound as feral, exhilarating, revolutionary as they did back then – the crunching powerchords just softening you up before Rotten grabs you by the throat and demands that you listen up "Right Now!" and then announces and introduces himself formally as the Antichrist and the Anarchist that an army of suburban home-owners would soon be threatening to garrotte, castrate and behead.
You didn't hear this stuff on the radio, ever. To hear it on a local news radio station dealt an unstoppable knock-out punch to the solar plexus. If you were 17 and of a certain disposition, you responded in only one way – you embraced it, instinctively – you didn't quite get what was going on (yet), but you wanted in – and you wanted all your friends in as well. Year Zero was here – time to reassess everything.
Like the most addictive drugs, the fired-up elation of the first hit sent you reeling in all sorts of directions as you sought and consumed anything related. The Pistols and 
t
he Clash
 were primo Class A stuff, but we were so hungry for cheap dirty thrills we even dabbled in Class B/C/D zones – from the Lurkers to 999, Eater to The Cortinas – all with a provincial charm of their own and a happy filler.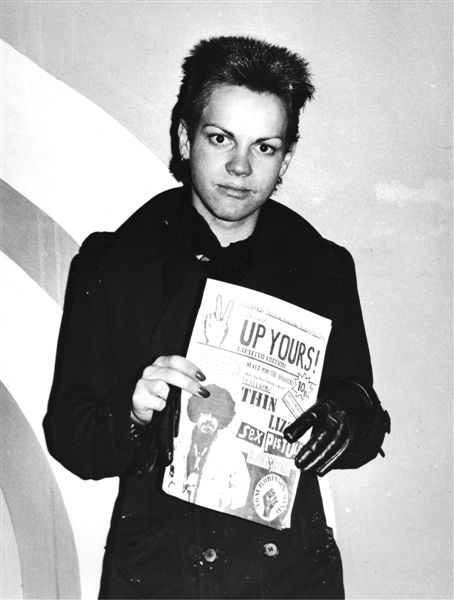 Cultural movements bring people together and punk was no different – a small circle of friends gravitated towards each other as we fell deep into this dizzying, angry, intoxicating maelstrom. 1977 was a great time to be 17/18. We were a gang of sorts, we hung out all the time, went to gigs religiously and inspired by punk, we plotted how we would vent our energy creatively. It had to be a fanzine.
Cardiff was ill-served by fanzines, we were going to resolve that and make our mark on a stultifying provincial scene, which needed a cultural rocket up its jacksy. We were more than happy to oblige. Being teenage wannabe punk warrior wordsmiths, the first step seemed to be finding appropriate noms de plume – that's what punks did, didn't they?
So we became, shamelessly, Mal Function, Cess Pitt, Rick O'Shea and Dai O'Rhea. Our photographer was already called Slug, so he didn't need one. Then we needed a name for the fanzine. It had to be current, mildly inflammatory, a call to arms. We hit upon 
Oh Cardiff... Up Yours!
 Genius. With a respectful nod to the great Poly Styrene and X Ray Spex, we were on our way.
Rick O'Shea, Cess Pitt and Mal Function with the first issue
As most of us were happily unemployed we had plenty of time for our editorial meetings – fanzine content was shaped by the gigs we went to, the records we bought. We reviewed the gigs, singles and albums, interviewed the bands, then hastily typed it all up on an antique typewriter – with some assistance from one of our friends who could actually type. Ours was by no means a Stalinist punk manifesto – the uneasy mix of bands we covered reflected the transitioning of our musical tastes – we'd cover local punk oiks The Tax Exiles as well as bands like Thin Lizzy.
We devoured the ethos of punk greedily, if not the haircuts – contemporaneous photographs provide damning evidence of shoulder-length hair and inappropriate clothing not approved by the Punk Politburo. Wearing a Thin Lizzy tshirt and customising jeans with a ripped and burnt Union Jack with stencilled Sex Pistols lettering seemed somehow more punk than buying a pair of tartan bondage trousers from Paradise Garage in Cardiff.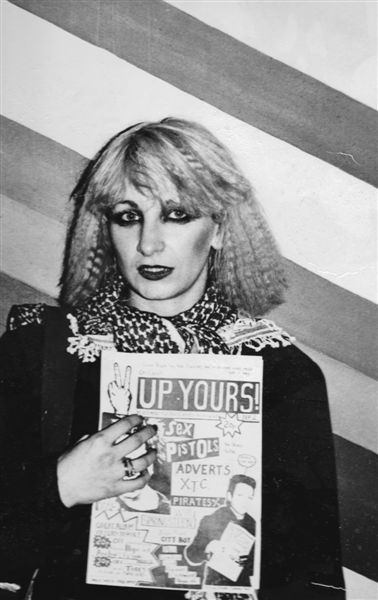 Bette Bright of influential Liverpool art rock / new wave band Deaf School
Our prehistoric approach to desktop publishing amounted to cutting out pictures from the NME, cutting out the typed reviews and messily gluing them to sheets of A4. Page titles were hand-crafted, a few cartoons thrown into the mix, and then off down the printers to whack out a hundred copies of issue 1. This figure was later inflated when we got our first press coverage in the staid local rag – fiercely competing with a couple of other 'zines which had sprung up since we published, we brazenly bumped up our circulation to 250.
The thrill when we picked up those first boxes of actual fanzines was intense. We'd done it!. A few hours of stapling and we were ready to hit the streets. There were plenty of gigs taking place in Cardiff, at the Top Rank, the University and two local arts centres, so we just hung about before and after gigs, and miraculously sold the lot.
Emboldened by this, we doubled our print run, and the cover price, and did it all over again, hitting up a couple of local record shops which agreed to stock the fanzine. The reaction was 
almost
 universally positive – fearless truth-tellers that we were, we gave an uncomplimentary review to a local punk band, who seemed hell-bent on giving us a good kicking until we managed to persuade them that we didn't actually write the thing, we just sold it.
And then that was it. Like all the best things that came out of punk, we blasted in for two issues and then burnt out. Circumstances conspired to separate us geographically, punk was blowing itself out and we all moved on to other things.
Coverage in the Western Mail, February 25th 1978
Mal Function (Paul Davies @longtimelurker ) – worked as a freelance journalist for Jamming! and Q magazine during the 1980s and 90s. Now works as a Business Analyst.
Cess Pitt (John Brewer) – became a firefighter, rose through the ranks, retired at 50. Still going to see Stiff Little Fingers gigs.
Dai O'Rhea (Mike Slocombe @urban75 ) – moved to London in 1978, drummed in bands for years. Now runs Urban75 website and Brixton club nights.
Rick O'Shea (Pete Salmi) – went to film school, directed movies and TV films – now works in advertising.
Slug (Andy Rees @Andrew0145 ) – studied photography, now working as a freelance photographer in the Cotswolds.
Oh Cardiff... Up Yours! banner at anti-National Front demonstration
English and Drama blog recent posts
Tweets by BLEnglish_Drama
Other British Library blogs