24 June 2013
The 'Sacred' seasons of live art and experimental contemporary performance were started at Chelsea Theatre, London, seven years ago by Francis Alexander, the Theatre's Artistic Director.
Located in front of the World's End Estate on the King's Road, the Chelsea Theatre presents itself as the only London theatre dedicated to the production and presentation of live art performance. Each year Sacred brings together performers and practitioners from all over the world for a programme which also supports early-career artists.
Over the years themes and formats have varied, from one-to-one encounters, late-night cabaret, dance, promenade performances and installations. The 2008 season even included shows taking place inside an old Routemaster bus parked in front of the theatre.
Sacred also provides a place for discussion and engagement in the form of keynote addresses, artist-led workshops, symposiums, talks, lecture demonstrations, post-show talks and interactive critical debates including researchers and members of the public alike, often with an impromptu element.
These events have touched so far on the subjects of socially engaged performance, participation, performing the real, the make-believe world of performance, and most recently, in the current season, on hopes, dreams and predictions for future practice through the Wishful Wednesdays series of artists' talks.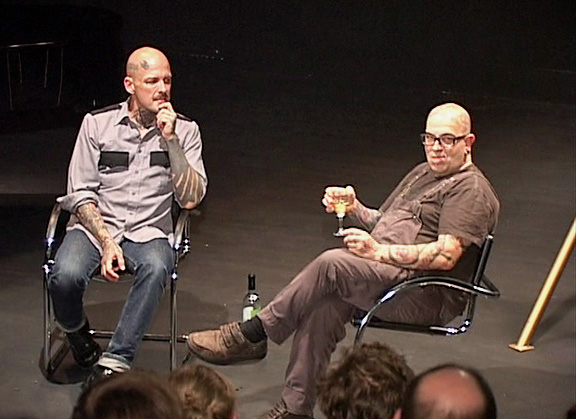 Ron Athey and Franko B in discussion, 2009
Audience involvement is not excluded from the shows and it can take many forms too. For example as a part of a performance in 2008 the duo Leibniz invited spectators to donate a drop of blood to be used as ink in the writing of the Universal Declaration of Human Rights into a thick, leather-bound book. And in 2010, performer Sara Juli put $5000 into the hands of the audience for her show The Money Conversation.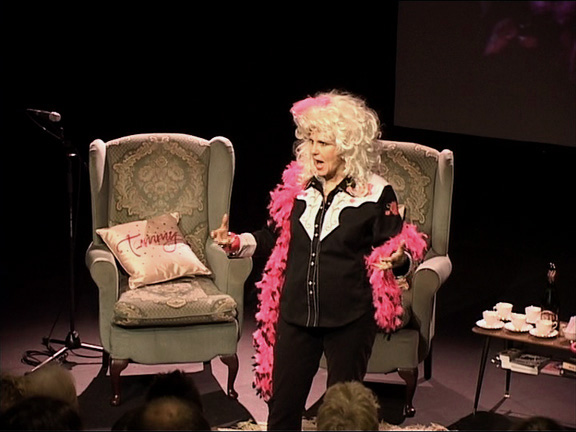 What Tammy Needs to Know Lois Weaver, 2008
Since the beginning of the first Sacred, in autumn 2006, the British Library has been documenting all the shows and events. Seven seasons later this has resulted in a unique collection of over a hundred and forty video recordings. See BL reference C1214 in the Library's online Sound and Moving Image Catalogue.
At the British Library we document performances from the audience point-of-view and we never see the shows in advance. Videoing under these conditions can sometimes be challenging. The results are made available for viewing, unedited, in the Reading Rooms.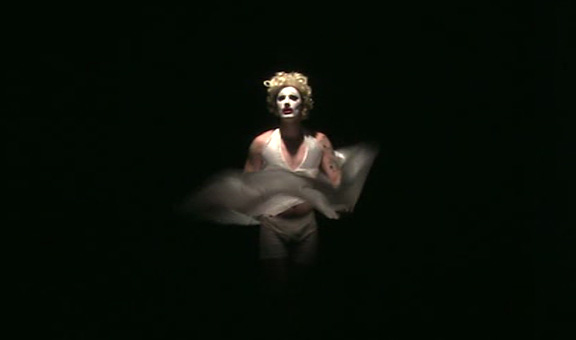 BLACKOUTS: Twilight of the Idols Dickie Beau, 2013
The collection is a comprehensive guide to the contemporary live art scene and its players and includes shows by Franko B, Goat Island, Ron Athey, Dominic Johnson, Kazuko Hokhi, Stacy Makishi, David Hoyle, Karen Christopher, Julia Bardsley, Helena Hunter, Sheila Ghelani, Action Hero, Dickie Beau, Peggy Shaw, Natasha Davis and Robin Deacon among many others.
The Chelsea Theatre's partnerships with international venues such as brut from Viena in 2009 and PS122 from New York in 2010 brought to London the work of Jan Machacek (you delay), Richard Maxwell (ADS) and Young Jean Lee's Theatre Company (Pullman, Wa), to give just three examples.
The current season is about to end. You are still in time for the last two shows: The Red Album by Rubix Collective on 27 June 2013, and  Anarchitecture in the UK by Richard DeDomenici on 6 July 2013.
05 April 2013
Neil Bartlett appeared at the Library recently performing pieces from his repertoire and discussing his varied career as writer, performer and director with Amy Lamé.  Doing her best Kirsty Young impression, Amy invited Neil to select and perform extracts from some of his favourite shows. Neil chose pieces from A Vision of Love Revealed in Sleep (first performed at Battersea Arts Centre, 1987), Night After Night (a show based on the night his parents met, Royal Court, 1993), Seven Sonnets of Michaelangelo (Lyric Hammersmith, 1998) and A Picture of Dorian Gray (Abbey Theatre, Dublin, 2012), as well as a recent solo piece, What Can You Do? (Theatre Royal, Brighton, 2012).
A clip from the event recorded at the British Library on 22 February 2013, followed by an archive video of A Vision of Love Revealed in Sleep at the Drill Hall, 1989. Performers are: Neil Bartlett, Ivan, Regina Fong and Bette Bourne.
Over the course of the evening Neil reflected on what it was like to be a performance artist before he was even aware of the term, the challenges of taking over the Lyric Hammersmith, and his eclectic love of high and low art (but indifference to 'everything in between').
Out of the five pieces he performed, he chose 'The Song of Solomon' from A Vision of Love Revealed in Sleep (inspired by the life of Simeon Solomon, the pre-Raphaelite painter persecuted for homosexuality) as the piece he would most like to save from the waves. It stands, Neil said, as an overwhelming reminder of the AIDS crisis of the 1980s, and is also the only piece to be tattooed on his body. For his luxury item he plumped for an endless supply of paper and pencils, to be put to use translating Racine's final play, Athalie (his chosen book). This was his second choice, his preferred—though disallowed—luxury item being the Wallace Collection.
The event marked Neil Bartlett's donation to the British Library of his video archive and working papers. The video collection, acquired with the help of the Live Art Development Agency, has now been digitised and
catalogued
and is available to view by appointment with the British Library
Listening & Viewing Service
, or at the
Live Art Development Agency's study room
in Hackney Wick. Neil Bartlett's working papers document his 27 books (novels, adaptations, translations and original work for the theatre) and 79 theatre pieces. Researchers wishing to consult these papers should contact
[email protected]
.
27 July 2012
The English and Drama office was a place of great anticipation on Wednesday as we waited for the publication of the 2012 Man Booker Prize long list – which eventually, most inconsiderately, appeared while we were all in a departmental meeting.
Anyway in all this Booker excitement I started wondering how many previous winning and shortlisted novels feature in Writing Britain. I did a quick tally and the answer appears to be three – and for all three, what we have on display is the original manuscript.
Graham Swift was nominated in 1983 for his novel Waterland, a book about the Fens, love, loss, and the nature of history and memory.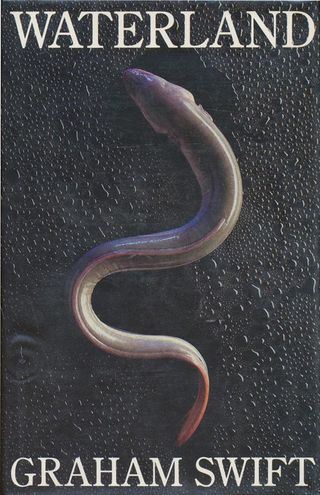 We have Swift's literary archive here at the British Library (Add MS 88919), and were able to show the original manuscript of the chapter he called 'About the Fens', beautifully written in fountain pen. The novel is part of a small group of books in the exhibition which all feature British seascapes or rivers as triggers of memories – the 10th century Anglo-Saxon poem 'The Seafarer', written in the Exeter Book, one of our most precious loans; a graphic novel reworking of Joseph Conrad's Heart of Darkness, by David Zane Mairowitz and Catherine Anyango; and the original notebook in which Daphne du Maurier wrote her outline plan for the novel Rebecca.
As part of Writing Britain we approached various authors who featured in the exhibition and asked them if we could go with them to the place they immortalised in their writing and interview them about their inspirations. Graham Swift very kindly agreed to be swept off to the Fens and questioned about Waterland, and I found what he said quite surprising and really interesting:
"I don't come from the Fens, I'm a Londoner… I've never lived here, and my only connection with the Fens is from having written this novel Waterland… But this hasn't stopped people ever since the book was published from assuming that I come from here or that the book has some kind of autobiographical basis but it simply doesn't at all, which means that even for me it's something of a mystery – why did I set this book here? I suppose I have a few theories. One would be – well, when you look around you can see this is a very peculiar environment… not typical of the rest of the country, and when you're here you can feel that you're in a foreign country within your own country, and that perspective is one I've always wanted in my work… to look at my own country but to see it from the outside. The Fens gave me that focus."
Graham went on to say that he thought the Fens would be a bland backdrop that would allow the story he was telling to be thrown into the spotlight, but that as he wrote the novel he found that the landscape was becoming so key to the story that by the end it had almost the significance of a main character.
I actually found it really surprising that he said he hadn't stayed for any kind of extended period in the Fens, and had only briefly visited it whilst researching the novel. However we did find it very gratifying that some of the research for the novel had in fact been done in the British Library!
You can see some of Graham's fascinating interview about Waterland in this video we made for the gallery, also featuring Robert Macfarlane, Owen Sheers and Alice Oswald.
I'm going to save our other two Man Booker Prize exhibits for another blog post but if you want to guess what they are, please leave a comment! No actual prize other than the satisfaction of being right…
English and Drama blog recent posts
Tweets by BLEnglish_Drama
Other British Library blogs