03 August 2018
by Gemma Meek, PhD student at Manchester Metropolitan University working in collaboration with the British Library, funded by the AHRC NWCDTP.  If you want to discover more about poetry pamphlets, you can search the library's extensive collections. Or, you can support independent press through purchasing pamphlets on individual publisher's websites. They are often very modest in price – ranging from £4-10. For a list of independent presses that publish poetry pamphlets visit: The National Poetry Library or Sphinx Review for a list maintained by Helena Nelson at HappenStance Press.
Exploring a doll's house, beheading a saint and the collapse of an urban café. These are just some of the themes of the pamphlets shortlisted for the Michael Marks Award.
As the 10th Michael Marks Award approaches, it might be a good time to reflect on the current poetry pamphlet scene. As a PhD placement student at the British Library, this involves rummaging through the Michael Marks shortlisted pamphlets. As well as speaking to the various individuals within and around pamphlet publishing – from academics, to poets, publishers and librarians. This post is a reflection on these explorations, and a brief tour of some of the surprises in the pamphlet field.
Reading the Michael Marks shortlisted pamphlets evokes a range of different experiences. Sometimes it can feel like entering another's dream, walking across a landscape or noticing overlooked aspects of the everyday. Although it is hard to choose a favourite, there are some pamphlets I am particularly drawn to: Sarah Jackson's Milk (2008, Pighog Press), which includes a strange and uncomfortable exploration of a doll's house. Richard Scott's Wound (2016, The Rialto), which contains some violent (and occasionally erotic) poetry – with one written from a witness perspective of a saint's beheading. And David Hart's rather long titled: The Titanic Café closes its doors and hits the rocks or: Knife, fork and bulldozer ultra modern retail outlet complex development scenario with flowers. (2009, Nine Arches Press) as a politicised 'documentary' style pamphlet, using photography and poetry to explore a Birmingham café closure.  
Traditionally, a poetry pamphlet is a small collection of poems printed and bound with staples (saddle-stitch), glue or thread in a slim publication (normally A5, but not always). Although pamphlets can vary in the number of pages, it is generally much thinner than a book – with the Michael Marks Award only accepting pamphlets up to 36 pages long. This bite-sized format emphasises a cohesive collection of poems, with their selection, arrangement and editing often developed through discussions between publisher and poet (unless, of course, they are self-published).
Many pamphlets are published by independent press, a term used to define small enterprises which produce a limited amount of publications annually, and are often considered an 'alternative space' to the mainstream or more established institutions (although there are always exceptions to the rule).
In the case of poetry pamphlets, the publishers are normally involved in the selection of work, its editing, design and marketing. Most presses have some form of selection criteria, whether that is based around the personal preferences of the publisher, or certain thematic/stylistic concerns. These can range from publishing a particular genre of poetry, to a focus on certain identities, dialects or works from particular regional areas.
Some presses have 'house styles', in which their pamphlets have uniform cover designs, size, font choices and branding – seen in some of the Smith/Doorstop or Tall Lighthouse Press pamphlets. Whereas others, such as Longbarrow Press or Pighog Press, produce more individualised, or unique pamphlets in accordance with the content and style of the work being published.
Presses also like to push the boundaries of what is possible with the pamphlet form. This is visible in David Hart's The Titanic Café Closes Its Doors and Hits The Rocks (2009, Nine Arches Press), and in Devorgilla Bridge by poet Hugh McMillan and artist Hugh Bryden (2009, Roncadora Press) – an artist book turned pamphlet. Like This Press have been making 'books-in-a-box', with Rupert Loydell's Tower of Babel (2013) containing a poetry pamphlet, an essay and various postcards of vibrant abstract paintings. There are also free, digital pamphlets which can be downloaded from Platypus Press and Neon Books, challenging a focus on tactility. And it is worth checking out the poetry pamphlets in University of Sheffield Special Collections by CURVD H&z, where spontaneous poetry is stamped on food labels and used envelopes. These various experiments might encourage poetry pamphlets to be seen as a 'zone of activity' rather than a fixed definition.[1]
There are also presses working to be more inclusive of the various voices, identities and performances occurring in the poetry scene – although much more work needs to be done in this area. As a recent report by David Coates from Ledbury Emerging Poetry Critics shows, not only is there is a lack of BAME writers being published, but there is also little critical review of the work. Chantelle Lewis also raised this concern when she ran an event at the library 'Bringing Voices Together', which aimed to highlight independent publishers committed to writers of colour.  
Rachel McCrum, The Glassblower Dances. Stewed Rhubarb Press. 
Some presses are also breaking tradition by exploring the relations and differences in written and spoken word. For example, Stewed Rhubarb Press shows a penchant for queer, feminist or minority voices– often publishing work that starts off as spoken word. Their pamphlets attempt to convey the poet's performance through dialectical and formal experiments, to encourage the reader to perform the work.
Test Centre have also been working with spoken word and performance, publishing vinyl and cassettes with pamphlets, scores and books to highlight fiction, poetry and sound works. These multi-sensory publications are slamming, singing, humming and pacing words, whilst still giving the pamphlet form some exposure.  
Ian Sinclair. Westering. Test Centre.
As I come to the end of my placement, I hope to pull together these reflections on pamphlet experimentation alongside discussions with publishers on running an independent press. These reflections will be collated into a report, which will consider some of the following themes: definitions, working models, budgets, pamphlet quality and the place/benefit of pamphlet awards.
This report will be a collection of different voices – as I draw together the conversations and information individuals have shared. Although it is difficult to provide a cohesive account of the poetry pamphlet 'scene' in three months – I hope this report will generate further discussions about the future of pamphlet production.
[1] The idea of a 'zone of activity' was used by Johanna Drucker to explain the different experiments and forms within artists' books. Drucker, Johanna. (2004) The Century of Artists' Books. New York: Granary Books
24 May 2018
By Jerry Jenkins, Curator of Contemporary British Publications and Emerging Media. Artists' Books Now is curated by Egidija Čiricaitė, Sophie Loss, Jeremy Jenkins and Richard Price. The next Artists' Books Now evening will be held on 5th November at the British Library, with tickets available in the Autumn.
April saw the launch of Artists' Books Now, a series of events to explore the artists' book and its place in contemporary culture. The British Library has a significant collection of artists' books and, in the nature of a national library, has not only many examples of its 'brother' and 'sister' forms – children's books, poetry pamphlets, zines – it has centuries of examples of its ancestors (bestiaries, herbals, illuminated books, and so on).
From the outset the term 'artists' book' seems to stimulate a range of questions and contradictions. Is it art or is it a book?  When is a book art, when a literary object, or a work of new information?  Can it be handled, thumbed through or should it be admired (even revered) from behind glass? 
In the first evening, entitled "Here and Now", the aim was to bring the artists' book and the audience closer to each other, leaving the glass case behind. Indeed a central goal was to introduce the artists and their books directly to the public, bringing the artists' own works to a live audience. It seemed to the curators of the event that this was one of the best ways to demystify the artists' book.
Beyond the theatre-style 'proscenium' presentation of traditional events, the first Artists' Books Now placed the books and artists at the centre of the audience, seated on three sides around two central book tables. This inevitably lead to some Brechtian craning of necks and audience members balancing in on window sills in order to view the proceedings, but the atmosphere was quite unlike conventional events, and we think all the better for it. 
Following a welcome from the Head of Contemporary British Collections, Richard Price, who emphasised the continuities between artists' books and other book forms held within the Library, the series host for the evening, producer of books and builder of publishing spaces Eleanor Vonne Brown, began introductions.
Visual artist and graphic designer Danny Aldred speaks on contemporary practice in Artist' Books.
First to be welcomed was the visual artist and graphic designer Danny Aldred whose talk offered a whistle-stop tour of creative practice in artists' books, noting, for example, the rise of the distinctive productions of the risoprinter in the contemporary practice of making artists' books. 
Eleanor then moved on to the first of the artists' books tables, inviting us to share the work of maker of zines Holly Casio. Holly exhibited and discussed her passion for Bruce Springsteen with her series of zines, Me and Bruce Springsteen.
 Eleanor Vonne Brown and Holly Casio
Under the surface of artists' books there is a radical tornado of creativity, practice, vision, and rebellion, all of which feeds in to creating published works which many, including their makers, would not identify as artists' books. The idea of Artists' Books Now is not to worry too much about classification where there is clearly enough in common to share ideas and enthusiasm. Zines fully fit that bill: this was a presentation which reflected on class, sexuality, daughters and fathers, and of course, the Boss – all through the prism of the zine, with its own graphic traditions.
Holly Casio's zines Me and Bruce Springsteen &  Me and Bruce (and my Dad).]
Visual artist and performer Lydia Julien talked us through her largely autobiographical works including Super Hero Washing Line in her artists' book table. In her conversation with Eleanor, Lydia explained her use of sequences to grow a narrative based on lived experience. Following Lydia and Holly the evening adjourned to allow the audience the opportunity to more closely examine their work and talk to the artists themselves, again a break from conventional events and deliberately designed to get people closer to books.
Lydia Julien explaining her work  during her section
Following the interlude Eleanor was in discussion with Gustavo Grandal Montero, from the library of the Chelsea College of Art, as well as an authority on artists' books and concrete poetry. The ranging discussion came back to focus on the work An Anecdoted Topography of Chance which Grandal Montero  highlighted, for him, as a central work in speaking about artists' books.   
Eleanor Vonne Brown in discussion with Gustavo Grandal Montero
First in the final set of artists' tables which Vonne Brown introduced were the works of Amanda Crouch. Amanda's works cut across media in her journey to research and reimagine the digestive systems. This is far more spectacular than such a description might indicate: as Amanda talked through her extraordinary works, she also held them up, with the scale of the unfurling of one particular concertina'd work surely astonishing the audience, watching frankly in awe and wonder.  

Amanda Crouch unfurls her work to Eleanor Vonne Brown and the audience
The final artists' books table was that of artist and researcher John McDowall. John talked about making his work Atramentum (2012), a work which pools the inky contents (theoretically) of Robert Burton's The Anatomy of Melancholy. Perhaps the result is a kind of dark almost overwhelming teardrop. For our event it was a fitting full stop, bringing the sessions neatly to an end.
John McDowall displays an opening from Atramentum during his segment
Not a complete end, however, just a pause: the next Artists' Books Now evening will be on the 5th November at the British Library.
Images are reproduced with the kind permission of Lydia Julien and Sophie Loss
21 April 2017
by Deborah Dawkin, PHD student working on the Michael Meyers Archive at the British Library
On 8 May we will be hosting The Translator Made Corporeal: Translation History and the Archive.  Showcasing the most recent international research, this conference will reveal the stories of translators throughout history: from the Early Modern period to the present day, and from every corner of the world.
It is hard to imagine the library of any serious bookworm that did not include international classics such as Homer, Tolstoy, Proust, Neitzsche and de Beauvoir, as well as examples of more contemporary authors such as Saramago, Kundera, Knausgård, Murakami, and some Scandinavian crime to boot. But we rarely consider the translators who make it possible for us to read these books; translators have largely remained invisible throughout history. So too, the stories behind the creation of translations: the lengths to which translators might go to ensure the publication of literary gems; the sometimes fierce arguments between translators and their editors; the sacrifices made by translators in difficult political times; and the personal and literary networks, even love affairs, that lie behind translations.
This one-day event in our Knowledge Centre will reveal fascinating stories drawn from diverse historical sources about the human, flesh-and-blood translator: Our panelists will introduce us to (amongst others) translators who have risked exile or even their lives for their beliefs, female translators whose identities have been hidden in a male dominated world, and WWII Japanese interpreters convicted as war criminals. We'll hear about the part-time criminal who acted for many years as his deaf friend's court interpreter in 18th-century Ireland and the dragoman who worked as a translator and tourist guide in 19th Century Egypt – and whose recently discovered scrapbook sheds light not only on the everyday life of a non-elite Middle Eastern translator, but on an array of international clients. We'll encounter Armenian and Persian translators working for the 18th century East India Company and literary translators negotiating with their editors in a time of heavy censorship in the Soviet Union.
While the majority of the conference focusses on translators of the past, there will also be a panel devoted to the collection of data about contemporary translators. Subjects include: the day-to-day struggles of visually impaired interpreters in Poland; research about Finnish translators' backgrounds and working lives; what the surveys carried out through the Emerging Translators' Network reveal about the trajectories of the careers and lives of translators in the UK.
This conference also aims to create a space in which the "corporeal" translator might be brought out of hiding and given precedence. It will include a project by emerging Berlin/London based photographer, Julia Schönstädt, on the (in)visibility of translators today. This features photographs taken by Schönstädt at the London Book Fair 2017 along with extracts of interviews with contemporary translators.
The interviews are revealing. Many translators expressed a certain frustration at the public's ignorance about translation, and stressed the importance of increased recognition for their work, including through the recent use of #namethetranslator on twitter. Others pointed out that the translator's work often goes beyond the translation of a text – they can also act as cultural ambassadors, literary scouts, advisers.
Yet, some expressed a disinterest in having any public persona: "I quite like to be invisible", said Kate Lambert, "Perhaps it's a way of hiding. You do it [your work] behind the scenes. You do it sneakily." Another, Adrian Nathan West, said "Invisibility? If I can be frank, and I'm afraid this may be a minority opinion, I don't really care. You know, I like to read, I like to translate…it's fine…I could have been a pop-star or be in action movies, I could be an actor if I wanted [fame]…right?" 
The Made Translator Made Corporeal: Translators Through the Lens by Julia Schönstädt and curated by Deborah Dawkin, will be shown at the conference.
The Translator Made Corporeal: Translation History and the Archive
8 May 2017 at the British Library
Programme & ticket booking: https://www.bl.uk/events/the-translator-made-corporeal-translation-history-and-the-archive
Website: http://thetranslatormadecorporeal.wordpress.com
FB: https://www.facebook.com/translatormadecorporeal
Twitter: @translator_2017 
Conference hashtag: #translatorcorporeal
13 January 2017
Jerry Jenkins, Curator of Emerging Media, Contemporary British Published Collections writes:
In November 2016 I had the pleasure to attend "From Yeats to Heaney: Discovering 140 Years of Literature at the National Library of Ireland" hosted by Embassy of Ireland. After the introduction from the Cultural Attaché and opening remarks from Dr Sandra Collins, Director of the National Library of Ireland, the assembled guests were treated to insightful, often humorous talks on both William Butler Yeats and Seamus Heaney given by Katherine McSharry, NLI Head of Outreach and Professor Geraldine Higgins, NLI Heaney Exhibition Curator respectively. The lectures illustrated the measurable contribution to, and healthy involvement both men had with the National Library of Ireland.  It is worth noting that the archives of both Heaney and Yeats rest within its walls. 
The British Library has also been fishing in those culturally rich waters which are Dublin. Earlier this year the Library acquired a set of six Sponsors' Portfolios from the Graphic Studio Dublin.
Between 1962-1979 Graphic Studio Dublin produced a collection of work entitled Sponsors' Portfolios, containing art and literature by writers and artists from Ireland and internationally. In conjunction with their 50th anniversary in 2010 the Graphics Studio re-launched the Sponsors' Portfolios in 2010.
Each portfolio contains a work commissioned by an acclaimed contemporary Irish writer, and four visual artists. A list of contributors can be found on the  Graphic Studio Dublin's website.  These showcase the printmaker's art and the skills which are employed in producing fine press items. Each year a limited edition of 75 imprints are produced.  The project will continue to produce folios until 2019 thereby capturing a snap shot of some of the finest work of contemporary Irish writers and artists over the decade. The formula of inviting artists and a writer to work together presents a fresh and vibrant perspective to the interception where visual arts and the written word meet.
Seamus Heaney, 'The Owl'. Translated from the Italian of Giovanni Pascoli. Letterpress. Used with the kind permission of the Graphic Studio Dublin
Poignantly Seamus Heaney contributed to the Sponsors' Portfolio in 2013, in what turned out to be the year of his death. Entitled Translation, his subject was a translation from the Italian of Giovanni Pascoli poem "The Owl" or "L'assiolo" in the original. The acquisition of this late and rare Heaney work to the British Library is an important addition to the rich collection of Heaney's writing the Library's has garnered over the last forty years.  My colleague, Dr Richard Price has highlighted some of these in a previous post.
"The Owl" is accompanied by four prints: Pamela Leonard's "For Sheer Joy ... Took Flight", Liam Ó Broin's "Death of Orpheus", with Jane O'Malley's "Still Life" and finally Robert Russell's "Lost in Translation". These works are beautifully illustrative of how the printmaker's art can transfer the depth of emotion conveyed in the written word to colour and form of the artist's reimagining.
Pamela Leonard, 'For sheer joy... took flight'. Etching. Used with the kind permission of the Graphic Studio Dublin
Liam Ó Broin, 'Death of Orpheus'. Lithograph. Used with the kind permission of the Graphic Studio Dublin
If there was any doubt about the truly individual nature these works, when measuring the individual portfolios for their protective phase boxing it was noted  that the was a slight  discrepancy  of millimetres between the size of each of the portfolios. A sure sign of a distinctive and hand crafted nature of these artist's books.      
Jane O'Malley, 'Still Life, La Geria'. Carborundum. Used with the kind permission of the Graphic Studio Dublin
Robert Russell, 'Lost in Translation'. Etching. Used with the kind permission of the Graphic Studio Dublin.
To return to where I started, a thought-provoking question was raised at the "From Yeats to Heaney" event at the Embassy: who will inherit the mantle which seemed so mysteriously to pass from Yeats to Heaney in 1939, (the year of Yeats's death and of Heaney's birth)? Within the folios of the Sponsors' Portfolio might be a good place to start looking for the answer to that question.  
In closing, I would urge readers to explore the rest of the series the British Library's copies of the Sponsors' Portfolio. 1/10-7/10 are orderable at pressmarks:
Ultramarine, Jean Bardon, Carmel Benson, Roddy Doyle, Kelvin Mann and Donald Teskey RHA., 2010, British Library Shelfmark: HS.74/2280;
Journey, Caroline Donohue, Theo Dorgan, Martin Gale, Stephen Lawlor and Louise Leonard, 2011, British Library Shelfmark: HS.74/2281;
Thoughts, Jennifer Lane, Seán McSweeney, Niall Naessens, Marta Wakula-Mac & Thomas Kinsella, 2012, British Library Shelfmark: HS.75/2282;
Translation, Pamela Leonard, Liam Ó Broin, Jane O'Malley, Robert Russell & Seamus Heaney, 2013, British Library Shelfmark: HS.74/2283;
Thief's Journal, Yoko Akino, Diana Copperwhite, Ruth O'Donnell, Michael Timmins & John Banville, 2014, British Library Shelfmark: HS.74/2284;
Naming the stars, Colin Davidson, Niamh Flanagan, David Lunney, James McCreary and Jennifer Johnston, 2015, British Library Shelfmark: HS.74/2285;
Pax, Mary Lohan, Tom Phelan, Grainne Cuffe, Sharon Lee and Paula Meehan, 2016, British Library Shelfmark HS.74/2286.
Furthermore, The National Library of Ireland, Trinity College Dublin and Queens University Belfast have also acquired sets of the Sponsors' Portfolio series.     
19 July 2016
by Jonathan Pledge, Curator, Contemporary Politics and Public Life
Wilkie Collins (1824-1889) was a popular Victorian novelist who is credited with publishing both the first 'sensation' novel The Woman in White (1859) and the first modern English detective novel The Moonstone (1868). One of the many reasons his novels were so popular was his clever characterisation and his sharp satirical observations concerning the social conventions of Victorian England.
There is one passage in the The Woman in White that deals with Frederick Fairlie Esquire, the misthanthropic, hypochondriac aesthete, who having married off his ward, the beautiful Miss Laura Fairlie, and freed from his responsibility towards her, sets about recording his real love his 'treasures and curiosities'.
'His last caprice has let him to keep two photographers incessantly employed in producing sun-pictures of all the treasures and curiosities in his possession. One complete copy of the collection of the photographs is to be presented to the Mechanics' Institution of Carlisle, mounted on the finest cardboard, with ostentatious red-letter inscriptions underneath. 'Madonna and Child by Raphael. In the possession of Frederick Fairlie, Esquire. Copper coin of the period of Tiglath Pilesar. In the possession of Frederick Fairlie, Esquire.' 'Unique Rembrandt etching. Known all over Europe as THE SMUDGE, from a printer's blot in the corner which exists in no other copy. Valued at three hundred guineas. In the possession of Frederick Fairlie, Esquire.' Dozens of photographs of this sort, and all inscribed in this manner, were completed before I left Cumberland, and hundred more remain to be done.'
What Wilkie is satirizing here is the mania for collecting and categorizing all manner of objects which, presaged by the establishment of the British Museum in 1753, reached a manic apotheosis in the Victorian era. Wilkie's description of two photographers producing 'sun-pictures', or photographs, of various objects to order is an unusual one and the inspiration for this passage, I believe, is William Henry Fox Talbot today recognised as the originator of negative-positive photography.
Detail of a cover for a programme produced by the Reading Camera Club for the 'W. H. F. Talbot Commemoration, 9th June, 1951'. Despite events like this, much like Wilkie Collins, Talbot languished in relative obscurity until being rediscovered in the late 1970s. NTA: 30727. (Add MS 88942/3/2/1).
At the time of the publication of The Woman in White Talbot was well-known as the former patent holder of the Calotype photographic process in which a negative image was produced by exposing chemically treated paper to light. Multiple positive images could then be produced from this negative. This idea was the basis for all photography until the advent of digital photography.
Talbot had been working on producing photographs, although at the time they were known as 'sun pictures', since 1839. He had patented the Calotype process – also known as the Talbotype - in 1841 and had become somewhat unpopular among both amateur and professional photographers for his numerous legal prosecutions in defence of his patent. He responded to criticism by pointing out that he had spent nearly £5,000 of his own money developing the Calotype process.
'By Royal Letters Patent. Sun Pictures or the Talbotype photographic process' (undated). NTA: 24281 (Add MS 88942/1/350). The Regent Street establishment was started after the Reading one but neither was successful.
In 1843 Talbot provided the capital for the setting up of a photographic 'establishment' at Reading, run by two associates Nicolaas Henneman and Thomas Malone, in order to mass produce photographs. Wilkie's image of 'two photographers incessantly employed' would seem to suggest some sort of industrial process and indeed the publicity image for the Reading establishment below shows photographers with a variety of objects and people both taking and developing photographs.
Photograph of The Reading Establishment (1846). W. H. F. Talbot and Nicolaas Henneman. http://www.metmuseum.org/art/collection/search/283065
A year after setting up the Reading Establishment Talbot published The Pencil of Nature a volume of original photographic prints, the first of its kind, of various scenes and objects complete with descriptive text.
Image and text for 'Articles of China' from The Pencil of Nature (1844). Talbot saw the potential of photography not only as an art, but also as a way of objectively recording objects. http://www.medienkunstnetz.de/works/pencil-of-nature/
Below is part of the text that accompanied plate III 'Articles of China',
'From the specimen here given it is sufficiently manifest, that the whole cabinet of a Virtuoso and collector of old China might be depicted on paper in little more time than it would take him to make a written inventory describing it in the usual way. The more strange and fantastic the forms of his old teapots, the more advantage in having their pictures given instead of their descriptions.'
Reading this text it's easy to imagine that this may have been the source of Wilkie's satire. However, by 1859, there were many photographers producing any number of photographs on any number of subjects and doing so in studios set up precisely for that purpose most of them using the wet collodion process, developed by Scott Archer in 1851 in which a photographic negative was created by exposing a glass plate painted with a photo-sensitive solution. This technique had largely superseded Talbot's own process primarily because Archer hadn't patented it; he died penniless and destitute.
So besides Wilkie's passage being about photography and its use as an instrument for cataloguing and recording objects by a team of photographers what specifically points to Talbot being the inspiration behind it?
Detail of the cover of 'Inscription of Tiglath Pileser, B.C. 1150' (1857). (Add MS 88942/3/1/7).
In the early 1850s Talbot had become interested in Assyriology, the scholarly study of the history, archaeology and culture of Mesopotamia (present-day Iraq).
The lexicon for Assyrian cuneiform had been developed primarily by Sir Henry Creswicke Rawlinson (1810-1895) and Edward Hincks (1792-1866) and there was much scholarly scepticism regarding the accuracy of translations. To counter this Talbot organised the simultaneous translation, by himself Rawlinson, Hincks and Julius Oppert (1825-1905) of a recently discovered text relating to the Assyrian king Tiglath-Pileser I (c. 1115-1077 BC). When the translations were examined by a panel of independent experts they were found to be so similar that it was concluded that Rawlinson and Hincks's lexicon was indeed valid. These collected translations were published as a single volume Inscription of Tiglath Pileser I by the Royal Asiatic Society in 1857 only two years before the publication of The Woman in White.
Therefore it is Wilkie's specific reference to 'Tiglath Pilesar' that, in my opinion, confirms William Henry Fox Talbot, as the most likely inspiration for this passage in The Women in White.
15 June 2016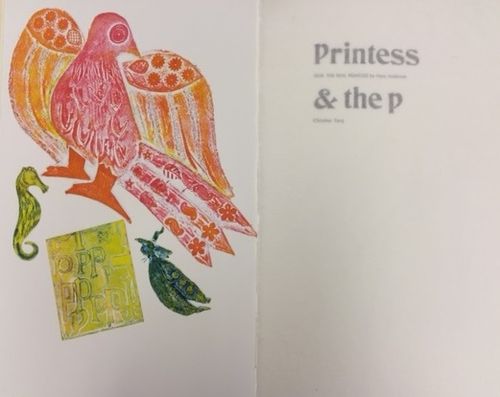 Christine Tacq's latest artist's book Printess & the p is a reimagining of the timeless Hans Christian Andersen fairy tale about a young woman who proves her nobility to her suitor prince, by detecting a pea through twenty feather mattresses. Only a princess would be so sensitive to be awakened by a pea. In this version, it is a woman printer, or 'printess', who is the person of discernment.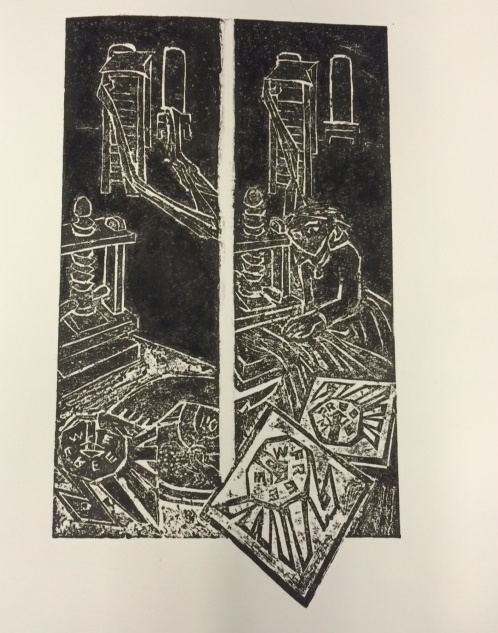 The first thing that is striking about Tacq's latest work is the interspersed monotone plates sit in sharp contrast to the vibrant rich imagery of the colour spreads illustrating the narrative. This contrast is beautifully underpinned by using different paper. The colour reliefs are printed on Zerkall paper, while, intaglio collagraphs are on Fabriano paper. By cleverly changing the medium it reinforces the initial contrast at the physical as well as on a visual level.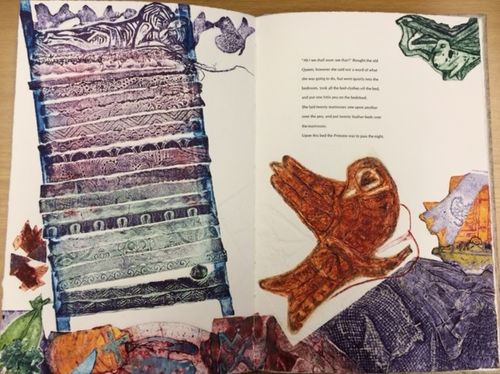 The theme of contrast extends to the depictions. The seven richly coloured double-page spreads juxtaposed with the far more vulnerable black and white which offers an intimate glimpse into an inner darker world. Some of these prints spill out from the confines of the frame with hard edged intaglio  printing as if attempting to burst out from the page and ape the freedom a vibrancy depicted in the colour plates.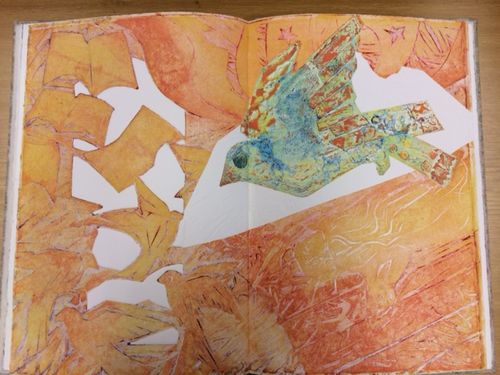 Tacq's skill as a book artist are illustrated in the way this volume unravels and draws in a complex range of themes and concepts, techniques; - and then presents them in such an appealing way. Her use of Optima for the text balances with the rich relief collagraphs
The Printess &the p was published in July 2014, it is a first edition of twenty five copies. The volume was printed by p's &q's Press, Thame in Oxfordshire and bound at the Fine Book Bindery.  
The covers are bound in hand-printed linen designed with relief-blocks and comes in a linen slipcase.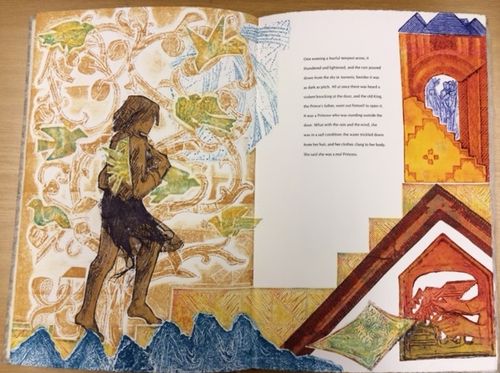 The images are created using the collagraphy technique in which the plate is constructed of adhered elements and inked with a roller or brush to produce in both relief and intaglio, and an embossed impression can be obtained by printing the plate dry without inking.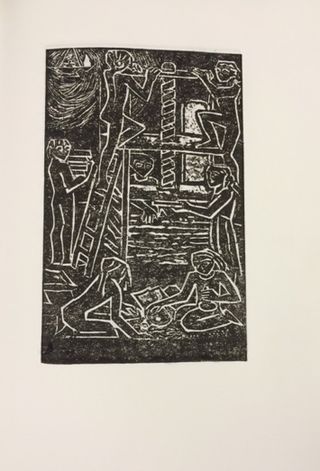 The way the imagery and the narrative intertwine to create this volume weighted with powerful subtexts which engage with concepts of feminism and identity. In some respects it offers a self-portrait of a printer.  
On returning the volume to its slipcase one evening after working with it I noticed a small piece of paper squashed in to the back of the slip case. On retrieving and unfolding it, it read:
"18 Excellent Copy, British Library? Excellent"
Because of the way the creases appear it was possibly placed on the spine as part of the quality assurance process. Nevertheless, to come across such a note adds to an authenticity of the artistic process and speaks to the huge range of skills and processes it takes to create a tome of such outstanding quality.
The Library's copy of the Printess &the p will be accessible at British Library shelfmark RF.2016.b.35. in the near future.
Images reproduced with the kind permission of Christine Tacq.
Blog by Jerry Jenkins, Curator, Emerging Media, Contemporary British Published Collections
09 June 2016
by Greg Buzwell, Curator of Shakespeare in Ten Acts
William Shakespeare's A Midsummer Night's Dream lends itself to spectacular visual excess. After all, if you can't go over the top with a comedy set in a magical moonlit-woodland and populated by mischievous fairies then when can you? Many Victorian productions of the play concentrated almost exclusively on spectacle, cutting Shakespeare's text and adding hosts of Amazons and allegorical processions celebrating the triumphs of Theseus, including his victory over the Minotaur. Herbert Beerbohm Tree's production of the play in 1900 even went so far in its efforts to heighten the air of woodland magic as to include live rabbits hopping across the stage.
An extract from an 1847 playbill for A Midsummer Night's Dream Playbills Vol 262, item 261
Later, in the 20th century, film adaptations of the play appeared. A 1935 Hollywood film of Dream directed by Max Reinhardt and starring James Cagney as Bottom included dozens of extra fairies and a Satanic-looking Oberon on horseback accompanied by a troop of bat-winged henchmen. The set included sixty-seven truckloads of trees and shrubs (including a transplanted redwood tree) and covered over sixty-six thousand square feet. Blending in with this jungle-like excess Mickey Rooney, according to one observer at least, played Puck as though he were 'the son of Tarzan'. The spectacular dance scenes featuring Titania's attendants were choreographed by Bronislava Nijinska, formerly of Diaghilev's Ballets Russes. For Hollywood, if A Midsummer Night's Dream was worth doing, it was worth overdoing.
A play not noted for its restraint: a scene from the spectacular 1935 Hollywood adaptation of A Midsummer Night's Dream. Warner Bros / The Kobal Collection
In 1914, attempting something different, the theatre director Harley Granville Barker staged the play at the Savoy Theatre in a fashion that eschewed extravagance in favour of suggestion and symbolism. When the production came to Manhattan in 1915 Barker explained his challenge to realism and visual excess by observing: 'What is really needed is a great white box. That's what our theatre really is'. The world may not have been ready for such an interpretation in 1915, but in 1970 'a great white box' is exactly what it got.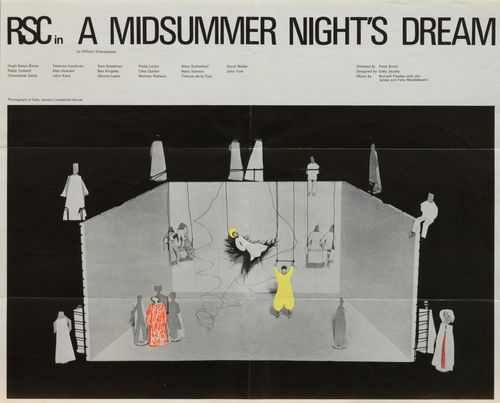 Poster for the RSC's 1970 production of A Midsummer Night's Dream, featuring Sally Jacobs's famous white-box set design. Courtesy of the Royal Shakespeare Company.
The director Peter Brook probably knew nothing of Barker's comment, but Brook effectively restated Barker's challenge to illusionistic theatre a half century later. Brook, along with his designer Sally Jacobs, devised a white box setting for their 1970 production of the play in Stratford-upon-Avon. Large metal coils represented the woodland; a spinning plate on an acrylic rod became the flower containing the magic potion Puck fetches for Oberon; Puck entered the stage on stilts while Oberon descended to the stage on a trapeze. Circus tricks replaced the fairy magic. The intention was to move the play away from realism altogether and into the heightened realm of metaphor. Originally black drapes had hung behind the white box stage design but during the Paris leg of the world tour Brook removed them. Suddenly everything could be seen, including the tower-like structures from which the cables supporting the trapezes were fixed. The actors playing the fairies could be observed on the catwalk that ran around the top of the set, watching the action during the scenes in which they were not required. The creation of artifice and illusion was no longer of paramount importance.
The small cast was also at odds with traditional productions. Brook liked the dream-like associations of doubling given by many of the actors playing dual roles, recognizing that a small ensemble of performers would not only enhance the quality of actor involvement but also heighten the sense of dream-like theatrical metaphor. The costumes were far removed from the usual elaborate designs, rich fabrics and gossamer threads. Puck, played by John Kane, wore a yellow jump suit and a blue skull cap inspired by the costumes Brook and Jacobs had seen Chinese acrobats wearing in Paris. The young lovers meanwhile, the men in their tie-dyed shirts and the women in long white dresses, brought a touch of the 'here and now' to the production. The first staging of the play in Stratford took place in August 1970, not long after the 1967 summer of love and the student riots in Paris the following year. A Midsummer Night's Dream can be seen as many things, but on one level it is a drama about youthful rebellion - perfect for the late-1960s zeitgeist of sexual freedom and the desire to escape stale orthodoxy.
Alan Howard as Oberon, Sara Kestelman as Titania and John Kane as Puck in Peter Brook's 1970 production of A Midsummer Night's Dream. Photo by Reg Wilson © RSC.
Reviews of Brook's Dream, as it became known, were largely positive. The reviewer in the Sunday Times wrote: 'more than refreshing, magnificent, the sort of thing one sees only once in a lifetime, and then only from a man of genius'. Inevitably there were a few dissenting voices – the New Statesman commented that Brook had 'remoulded' the play 'with the help of Billy Smart, Walt Disney, J. G. Ballard and … his own sleeping, hallucinating self' (although that in itself sounds utterly amazing). Perhaps above all else the production showed that it was possible to put a completely new spin on Shakespeare, transforming a play with a tradition of performance stretching back over 350 years into something new, strange, challenging, inventive and wonderful.
Peter Brook's 1970 staging of A Midsummer Night's Dream is one of the productions explored in detail in Shakespeare in Ten Acts. Peter Brook will be giving a talk entitled 'The Esoteric and the Profane in Shakespeare' at the British Library on the afternoon of Wednesday 15th June and there will be a panel discussion about the 1970 production of Dream, featuring Peter Brook, Sir Ben Kingsley (who played Demetrius) and Frances de la Tour (who played Helena) later that evening.
23 April 2016
Hamlet (1.3.73)
If Shakespeare had taken up the same trade as his father, Shakespeare in Ten Acts could well have been called 'Shakespeare in Ten Catwalks' for he may have had a successful career in the fashion industry…  so to speak. John Shakespeare by trade was a''whittawer'' [someone who turned hide into leather], glover and also a "brogger" [an unlicensed wool dealer]. Records show he was found guilty for illegally dealing in wool and eventually lost the family inheritance. 
Early modern England marked a period of extreme style, when apparel made a transition into 'fashion'. Dress, hair and cosmetics were employed to contort the body, creating dramatic silhouettes demonstrated par excellence by Queen Elizabeth. There is no doubt that dress held substantial power within society during this time, and this did not go unrecognised by the bard. In 1864, the London tailor E Moses noted:
"Shakespeare too well appreciated the importance of all external things and outward appearances, as emblematic of the unseen spirit, to deem it a profanation of the poet's art to embody allusions to the subject of clothes in his majestic and immortal verse."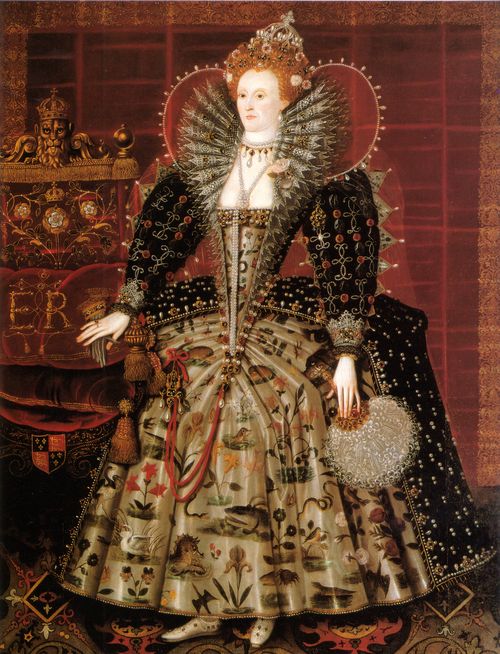 The "Hardwick Hall" portrait of Elizabeth 1 of England, circa 1599, courtesy of Wikicommons.
Shakespeare's extraordinary observations of the society of his age are communicated through the plays. It is no surprise then that these works are drenched in references to fashion and dress.  The survival of substantial evidence regarding early productions is meagre. However, the lines of dialogue are the very references which call into reflection the importance of costume.  Moreover, given the stringent hierarchy of style during the society of that age, audiences would have understood the role of garments to a character's role. Changes in costume could construct a character, progress action, reflect society and manipulate perceived values.
Queen Elizabeth I
During the Elizabethan era, dress was a powerful element in the social structure. The famous portrait of Queen Elizabeth by Nicholas Hilliard shows her as the faerie queen, wearing veil gauze edged with lace pointed at the hairline and wired to wings at the back of the head. Consider this theatrical display by the queen, in comparison with the headdress worn by Vivien Leigh featured in the exhibition. While this piece was made using inexpensive materials, it is reminiscent of fashionable Elizabethan headdresses, resembling the original faerie queen Elizabeth herself.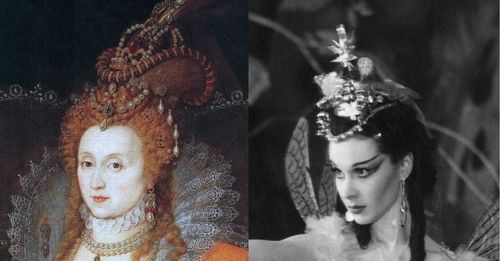 Detail of: The Rainbow Portrait of Queen Elizabeth I, circa 1600-1602, attributed to Issac Oliver (1556-1617) and Marcus Gheeraerts the Younger (1561-1636), in the collection of the Marquess of Salisbury, on display at Hatfield House, courtesy of Wikicommons.
Detail of: Vivien Leigh (as Titania) from A Midsummer Night's Dream at The Old Vic Theatre, 1937, photograph by J W Debenham, courtesy of the Mander and Mitchenson collection at the University of Bristol and ARENApal www.arenapal.com
"Clothes maketh the man" [except when he's a woman]
Theatre allowed actors to dress outside of their rank and gender. As such the stage was a transgressive space. Legally men could wear women's clothes, but not vice versa. This is acknowledged in the section of the exhibition 'the First Women to act Shakespeare', which features early female actresses; Sarah Siddons, Charlotte Cushman, Dora Jordan and Mary Frith, the latter of which  was arrested for wearing male clothing on stage! Contemporary audiences are familiar with seeing actresses play male roles, for example Maxine Peak playing Hamlet, Fiona Shaw playing Richard II, but it was these early actresses who began forging the space for them.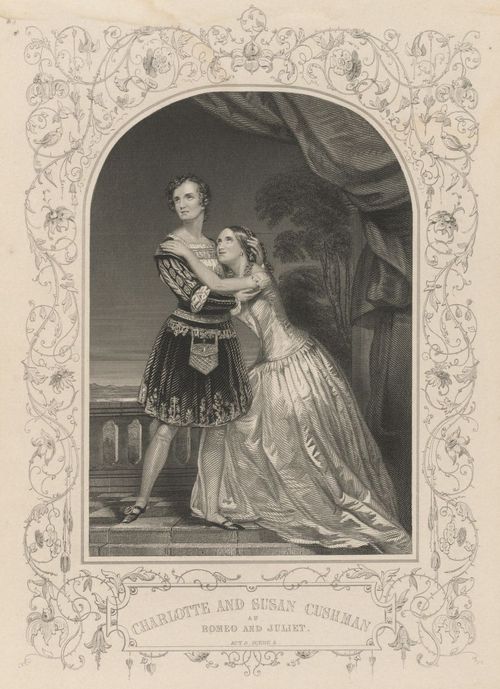 Engraving of Charlotte and Susan Cushman in Romeo and Juliet, presumably 1846. Courtesy of Theatrical Portrait Prints (Visual Works) of Women (TCS 45). Harvard Theatre Collection, Houghton Library, Harvard University.
The exhibition also highlights Peter Brook's audacious production of A Midsummer Night's Dream in 1970. This production stripped back elaborate set design, while costume was pared down to unisex minimalist dress which visually neutralised all connotations of gender.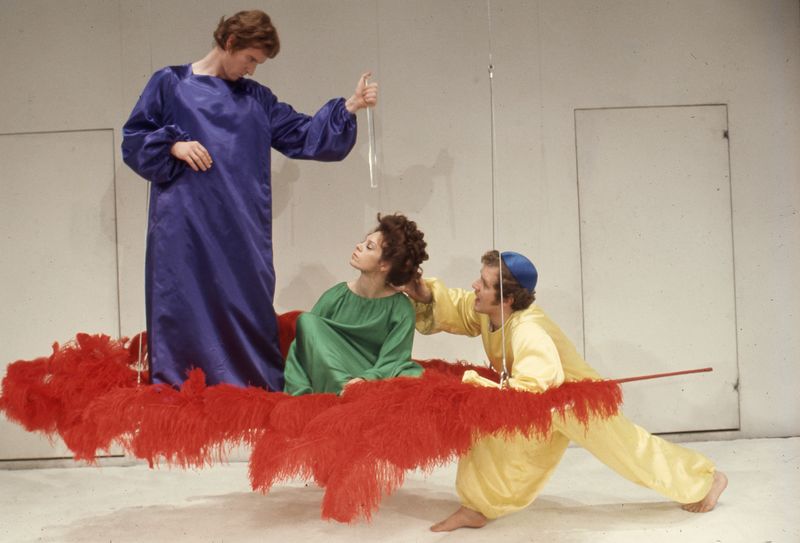 Photo by Reg Wilson © Royal Shakespeare Company. Re-produced with kind permission of the Royal Shakespeare Company
Costume, dialogue and the sex of the actor operate as elements of the plays which can often be overlooked. In Much ado About Nothing, Beatrice dismisses beardless males for looking like women:  "what should I do with? Dress him in my apparel and make him my waiting gentle lady?"(2.1. 29-30). The lack of facial hair is also mentioned in Hamlet, when he doubts his courage against a beardless face [signifying a woman] and calling into question his masculinity.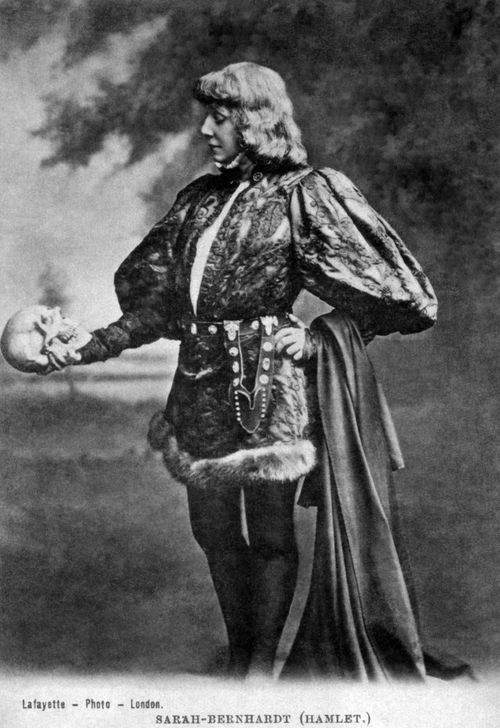 A 'beardless' Sarah Bernhardt as Hamlet, circa 1885-1900, courtesy of Wikicommons.
Hamlet's inner turmoil then is within the dialogue and directly linked to how he looks. As early as 1776 prints exist showing Hamlet dressed in fashionable attire. In the most recent production of Hamlet, staged by the Barbican, Benedict Cumberbatch's Prince Hamlet sports a Ziggy Stardust T-shirt. For a play about loss of belief, a man whose internalized sense of self is in flux, a play about ghosts, a character not of this world, how perfect that David Bowie made an appearance to modernize the role of costume and interpretation.
We now live in a time without Bowie & Shakespeare, but what remains are the enduring works and their relevance to the world. The semiotics of fashion and costuming choices are not inconsequential to these works or interpretations. The plays themselves are in fact littered with references to fashion and dress. Costume functions on many levels within the dramatic space, functioning not least as an agitator of authority, as Bowie and Shakespeare knew all too well.  
by Rachel Brett, Reference Specialist
The British Library's current exhibition Shakespeare in Ten Acts is a landmark exhibition on the performances that made an icon, charting Shakespeare's constant reinvention across the centuries and is open until Tuesday 6th September 2016. Whether you're a student, teacher, researcher, or simply a lover of literature, our new online learning resource Discovering Literature: Shakespeare will encourage critical thinking and independent learning to enrich your understanding of all-things Shakespeare.
Bibliography
Fashion in the time of William Shakespeare Downing, Sarah Jane, Oxford : Shire Publications, 2014 YC.2015.a.13081
Costuming the Shakespearean stage : visual codes of representation in early modern theatre and culture / Robert I. Lublin. Farnham : Ashgate, c2011.  YC.2011.a.13726
The Norton Shakespeare : based on the Oxford edition / Stephen Greenblatt. New York ; London : W. W. Norton, c2008. YC.2009.a.9148
Costumes and scripts in the Elizabethan theatres.   Jean MacIntyre, Edmonton : University of Alberta Press, 1992. Shelfmark(s):   Document Supply 92/23467
Playgoing in Shakespeare's London / Andrew Gurr. Cambridge : Cambridge University Press, 1987. Shelfmark(s):   Document Supply 87/18040 General Reference Collection YH.1987.b.337
Shakespeare after theory / David Scott Kasten. New York : Routledge, 1999. Shelfmark(s):   Document Supply m00/25609
Costume in the Theatre. [With plates and illustrations.]James Laver, 1899-1975 London : George G. Harrap, 1964. Shelfmark(s): General Reference Collection 07812.ggg.70. Document Supply W13/1725
Shakespeare in art. Paintings, drawings and engravings devoted to Shakespearean subjects. [London]: Arts Council, 1964. Shelfmark(s): General Reference Collection W.P.12368/620
Shakespeare and the Artist. William Moelwyn MERCHANT London : Oxford University Press, 1959. Shelfmark(s): General Reference Collection 011768.pp.2. Document Supply Wq1/941
The Tercentenary; or the three hundredth birthday of William Shakespeare. Author: E. Moses & Son. London, 1864. Shelfmark(s): General Reference Collection 11765.c.39.
The diary of Philip Henslowe, from 1591 to 1609 ... / edited by J. Payne Collier.Author: Philip Henslowe, -1616. [London] : Shakespeare Society, 1845. Series: Shakespeare society. Publications, no. 28 Shelfmark(s): Document Supply 8254.586300
English and Drama blog recent posts
Tweets by BLEnglish_Drama
Other British Library blogs