26 December 2017
Edward Thomas believed poetry to be the highest form of literature, yet it wasn't until late in his life that he became a poet. For the greater part of his creative life he was a reviewer, critic and the author of a number of books on nature.  He was born on the 3 March 1878 in Lambeth to Welsh parents who instilled in him a strong sense of his Welsh heritage.  He was educated at St Paul's School and then Oxford University. In 1899, while still an undergraduate, Thomas married Helen Berenice Noble, the daughter of an early mentor, James Ashcroft Noble, who had encouraged Thomas to publish essays based on the copious notes he took on his long country walks.  After Oxford, Thomas made a precarious living working as a reviewer on the Daily Chronicle much to the dismay of his father, who had hoped his son would follow in his footsteps by joining the Civil Service.  Thomas's determination to earn his living as a writer was to cause a major rift between father and son.
Edward Thomas photograph circa 1905 Wikimedia Commons
In order to support his growing family Thomas had to take on more and more reviewing – leading him to declare to a friend that "I am burning my candle at three ends", despite his dislike of what he referred to as his "hack work" he became a prominent and influential literary critic. It was through his growing status as a reviewer that Thomas became acquainted with Harold Monro, whose Poetry Bookshop was the centre for an emerging group of poets who became known as the Georgian Poets. The key members of the group at the time were Lascelles Abercrombie, W W Gibson, Rupert Brooke and John Drinkwater.
In 1911 Abercrombie moved to 'The Gallows' a house at Ryton, just outside the village of Dymock in Gloucestershire; he was soon followed to the area by Gibson who, with Abercrombie, persuaded the American poet Robert Frost to move to a house in Ledington called 'Little Iddens'. The three of them formed what became known as the Dymock triangle.  The Dymock colony is looked back on today as an idyll, a short-lived golden time, brought to an end by the First World War.
Thomas first met Frost in October 1913 and was subsequently a frequent visitor to 'Little Iddens', often staying with Frost until he too rented rooms for his family in a nearby farmhouse. Other visitors to Dymock included Rupert Brooke, John Drinkwater, Eleanor Farjeon, Ivor Gurney and W H Davies.  Thomas's friendship with Frost was to prove a pivotal moment in Thomas's life.  The two men would go for long walks in the surrounding countryside discussing poetry and life.  Frost has been credited as the catalyst in Thomas becoming a poet.  He suggested that Thomas take his prose and turn it into poetry. In the final two years of his life, Thomas was extremely prolific, writing over 140 poems.  One of his most famous is 'Adelstrop', written on the 24 June 1914, on a train journey to visit Frost.  The poem recounts an unscheduled stop that captures a moment of peace and tranquillity on a summer's day, which later took on an extra poignancy for those about to be slaughtered in the coming war
There has been much speculation as to why Thomas enlisted in the army. Certainly we know he spent many hours deliberating over whether he should join up.  As a married man in his late thirties with three children to support he would not have been expected to enlist.  But enlist he did, on the 19 July 1915 as a private in the Artists' Rifles.  A little over a year later he was promoted to corporal and worked as a map reading instructor, an occupation for which he was entirely suited and a position he could have retained for the duration of the war.  Ironically, it was the army that gave him the freedom to write, free from the financial worries of how to provide for his family.  In November 1916 he was commissioned into the Royal Garrison Artillery as a second lieutenant, the following month he volunteered for active service.
Thomas arrived in France a few months before the commencement of a major Allied offensive, aimed at breaking through the German defences at Arras. The day before the battle, a shell landed near Thomas but failed to detonate.  That evening he was toasted in the Officers' Mess for being blessed with luck.  The battle began on Easter Monday 9 April 1917, within the first hour Thomas was dead.  Some biographical accounts suggest he was killed by the concussive blast of a shell which left his body unmarked.  However, a letter from his commanding officer, which lay undiscovered in the New York Public Library for many years, reveals that he was killed by a direct hit through the chest.  The poems that were to make his name were published a few months after his death.
Perhaps his work has been overshadowed by the dominance of modernism, but many poets point to Thomas as an inspiration and he is seen by some as the bridge between Thomas Hardy and Ted Hughes. Hughes described him as "the father of us all".  On Armistice Day in 1985, Hughes unveiled a memorial to First World War poets in Westminster Abbey, which included Edward Thomas among those commemorated.
Duncan Heyes, Curator, Printed Heritage and Contemporary British Publications.
24 April 2015
As international commemorations in Turkey mark the centenary of the battle of Gallipoli we remember the thousands of people on both sides of the conflict who lost their lives. The poet, Rupert Brooke, died after contracting septicaemia from a mosquito bite a hundred years ago yesterday (23rd April 1915) on a ship going to Gallipoli.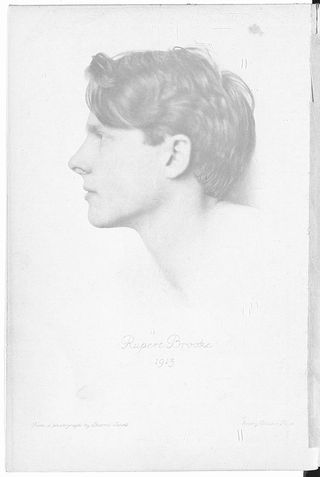 After his death accounts of Brooke's life were written by Edward Marsh and others, depicting Brooke as a tragic figure cut down in his prime. Brooke's poems such as 'The Soldier' and 'The Dead' meanwhile were used to stoke patriotism at the early years of the war. Yet it was felt by many, including Virginia Woolf, that this view of Brooke was not a rounded picture of the man or his work.

In 2000 the British Library de-reserved a collection of letters and a memoir documenting the previously unknown relationship of Brooke and the artist, Phyllis Gardner. The collection was donated to the British Museum Library in 1948 by Phyllis's sister, Delphis, on the understanding that it would remain closed for 50 years. A note included with the collection stated that Delphis Gardner gave permission for the collection to be reserved for a further period or even destroyed if it was felt that it should not be opened after the initial period of reservation had elapsed.

Colleagues who de-reserved the collection 15 years ago found a wonderful treasure trove of letters from Brooke along with Phyllis Gardner's memoir of the couple's love affair which began after Gardner first saw Brooke on a train to Cambridge on 11th November 1911. Brooke's letters to Gardner illustrate different aspects of Brooke's character than those presented by Marsh and others. Although some have chosen to highlight what they see as Brooke's cruel behaviour, and I offer no excuse for his treatment of Gardner, I think that it presents us with a greater insight into all aspects of his character, both good and bad.

This week Brooke and Gardner's story has been brought to a wider audience though the publication of The Second I Saw You: The True Story of Rupert Brooke and Phyllis Gardner by Lorna C. Beckett. As well as the first publication of Gardner's memoir the book also includes a wealth of information about their relationship pieced together from correspondence between the couple, their friends and families, and other sources. In addition to providing a revealing insight into the life and personality of Brooke, the book uncovers the neglected life story of Phyllis Gardner, which has been almost lost from history.

The acquisition of two further collections at the British Library (both sources for Lorna Beckett's book) have provided further knowledge about Phyllis Gardner, her family and social circle. In 2009 the Library acquired the Radford Family Papers which include letters from Gardner to Maitland Radford, with one written after Brooke's death. The letter about Brooke was digitised as part of the Europeana digitisation project and can be found on the Library's website. In 2013 the Gardner Family papers, including a long series of illustrated letters from Phyllis to Delphis, were donated to the Library. The collections are both catalogued and available to researchers under the references Add MS 89029 and Add MS 89076 respectively.  

Please see the British Library website for more information about the new publication.
06 October 2014
It has become a truism to say that the First World War was 'a poet's war'.

If this easy declaration risks covering up the work of poets from later wars (yes: there were poets in the Second World War!), it remains very much the case that we continue to try to understand the experiences and consequences of the First World War through its poets. Indeed, it's interesting that the concept of a 'war poet' appears to be a particularly British phenomenon, and one that dates from Owen, Sassoon, and other combatants of the 14-18 conflict. Of course other belligerent countries during the First World War had poets who wrote for or against the hostilities…but the collective term 'war poet' (as opposed to individual poets who write about the war) is not so easily translated into other languages or literary cultures.

Our new First World War One learning site features an excellent essay by Dr Santanu Das, who reminds us that First World War poetry is more than the trench poets that we perhaps first think of when we hear the word 'war poet', and stretched beyond traditional poetry collections to bleed (literally, it feels) into all walks of life: posters, post-cards, speeches…to  novels, films, and (of course) Blackadder. 

It seems to me that haunting all consideration of war poetry is Rupert Brooke's 'The Soldier'. As Das writes, when on Easter Sunday 1915, Dean Inge read out 'The Soldier' from the pulpit at St Paul's Cathedral, 'he was at once creating and anointing a secular saint: the 'poet soldier''.

'If I should die, think only this…':
The opening salvo of the poem reminds us of the inevitable awareness of death that accompanies the desire of all war poets to both witness--and to frame--later understanding of what they have observed; Owen later developed the idea: 'All a poet can do today is warn'.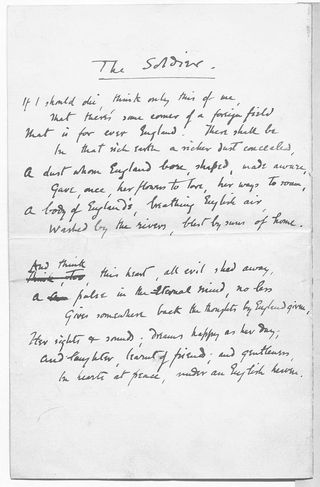 This handwritten copy of the poem (see here for associated rights) was written by Brooke for Edward Marsh, who was an early critic of Brooke's poetry and the editor of the anthology, Georgian Poetry, published in 1912. Marsh donated it to the Library at the British Museum in 1915. He explains in a letter accompanying his donation that the poems were written when Brooke was staying with him in January 1915 three months before his death of septicemia at Skyros in Greece. Marsh writes that the poems are 'one of my most precious possessions' which he can hardly bear to part with but for the fact that he thinks that they should become part of the Library's collections.

This Friday 10 October, poet and writer Owen Sheers—whose own recent verse drama, Pink Mist, was  about soldiers serving in Afghanistan and the families who are left behind—will introduce an evening of a hundred years of war poetry with two guests: former Poet Laureate Sir Andrew Motion, and poet and writer Sabrina Mahfouz. From Owen and Sassoon to today's conflicts, they will consider how the poetry of conflict has influenced their own work, and read from poets both known and forgotten of conflicts from across the world that have scarred our past century since the War to end all Wars ended in 1918. For more information about the event, see the British Library's event pages; and to see Sir Andrew Motion read from the work of Wilfred Owen see here.
04 August 2014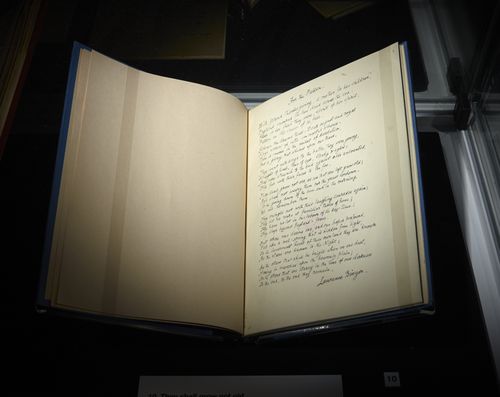 Laurence Binyon, 'For the Fallen', Add. MS 45160. © The Society of Authors as the Literary Representative of the Estate of Laurence Binyon. Usage Terms: Creative Commons Non-Commercial Licence
In August 1914, as the story goes, the British Foreign Secretary Sir Edward Grey waited for the news of the German response to the British ultimatum. If a response did not arrive by 11 pm on 4 August, Britain would be at war. As the hour approached, Sir Edward looked out of his window at the Foreign Office and noticed a lamplighter attending to his work. Aware of the enormity of the looming European war, he remarked spontaneously, 'the lamps are going out all over Europe; we shall not see them lit again in our life-time'.
This oft-quoted phrase has inspired 14-18 NOW's Lights Out, a 'shared moment of reflection' in which everyone in the United Kingdom is invited to turn off their lights between 10 and 11 pm on 4 August, leaving a single light or candle to shine. Many institutions are participating, including the British Library. The building will fall dark, and we will be casting a light on perhaps the best-known elegy from the First World War: a handwritten copy of Laurence Binyon's poem, 'For the Fallen.' Its central quatrain will be familiar to anyone who has attended a Remembrance Day commemoration, or seen it carved in any number of cenotaphs here or around the world:
They shall grow not old, as we that are left grow old:
Age shall not weary them, nor the years condemn.
At the going down of the sun and in the morning,
We will remember them.
Binyon, at that time Assistant Keeper of Prints and Drawings at the British Museum, and an expert on William Blake and Asian art, published the poem in The Times on 21 September 1914. The moment of publication came as the true nature of the war began to reveal itself, not long after the early British defeat at Mons and just after the German advance was held by the French and British Expeditionary Force at the Battle of the Marne. Too old for active service, Binyon himself later worked as an orderly in military hospitals in France, and in 1917 reported for the Red Cross on the work undertake by British volunteers on the Continent, which he published as For Dauntless France (London, 1918).
Some of Binyon's notes about his work at the British Museum and his service during the war are held in our India Office private papers, including this note to the war artist William Rothenstein from 30 July 1917: 'I am to spend next week in a tent, with about 13 others, I believe. Won't it be nice, this weather? I can feel the dripping on my face. But I am learning the mysteries of the machine gun, which is rather fascinating'.  The after-effects of the war continued, infiltrating all aspects of daily life, with Binyon writing in 1919 that 'the government is still in possession of our reading room'. As a result there was little chance of an exhibition (MSS B213/48, 19 Feb 1919). (The Library's current exhibition, Enduring War: grief, grit and humour, continues until 12 October.)
Binyon's other war poems, such as 'The Zeppelin' and 'Fetching the Wounded',  can be seen via Europeana 1914-1918, including the manuscript copy of 'For the Fallen' and Sir Edward Elgar's setting of the poem.  The printed edition can also be seen on our First World War site: www.bl.uk/world-war-one.
A recording of 'For the Fallen' is also included on the British Library CD of First War Poetry.  The poem is read by the actor Rory Kinnear.
Rory Kinnear reads For the Fallen
Finally, it should be no surpise that Winston Churchill's rhetoric also rose to the occasion.  On the 4 August, he 'enlarged in his lively and imaginative way' to the editor of the Westminster Gazette, one of our sources for Grey's remark: 'At midnight, we shall be at war, at war... within a week enemy airships may be sailing over this spot on which we stand and dropping bombs on the mighty'.  A fragment from a downed enemy airship may be seen in the exhibition mentioned above.
[Matthew Shaw]
08 July 2014
In the run up to the centenary commemorations of the outbreak of the First World War the British Library has been involved in a number of projects including collaboration in a Europe wide initiative, Europeana. This project covered a range of activities one of which was the digitisation of thousands of books and documents.  Part of my involvement with the project was to put forward literary works to be digitised.  One book that had a particular impact on me was The Diary of a Dead Officer: Being the Posthumous Papers of Arthur Graeme West.  This slim volume comprises diary extracts written between 1915 and 1917 and a selection of West's poems.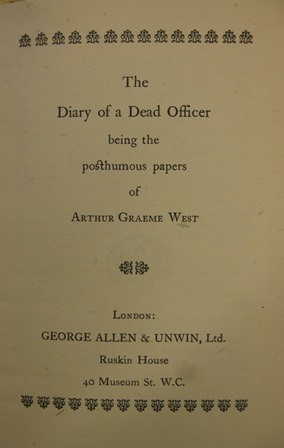 The Diary of a Dead Officer. British Library shelfmark 010856.de.16
The Diary was published posthumously in 1919 shortly after the end of the war and was edited by the pacifist campaigner C E M Joad who had been a friend of West's since schooldays.  The Diary charts West's growing sense of disillusionment as the reality of war takes its toll.  West had initially tried to obtain a commission in 1914 but had been turned down because of poor eyesight.  Undeterred, he enlisted as a private in the Public Schools Battalion in February 1915.  However, faced with the realities of army life and the way the war was being conducted, his sense of duty and patriotism gradually turned to disenchantment.  In 1916, after serving in France for several months, West was sent to Scotland for officer training, a period when West's disillusionment reached crisis point.  Many of the instructors were soldiers who had not experienced life at the front making it difficult for them to gain the respect of the officer cadets who had served in the front line.  West felt that the training he received was ineffectual for the conditions faced in the trenches and at times he felt it bordered on the farcical.  During this period he became increasingly influenced by the writings of Bertrand Russell and the pacifist arguments of his friend Joad to the point where he decided he would write to his Commanding Officer resigning his commission and refusing to take any further part in the war.  In the end, West couldn't bring himself to deliver the letter and reported for duty as instructed.  He went back to France in September 1916 on active service with the Oxfordshire and Buckinghamshire light infantry and was killed by a sniper on 3 April 1917.
Along with the diary excerpts is a selection of West's poetry.  The poetry section opens with 'God! How I hate you, you young cheerful men!' West's angry reaction to the patriotic poetry of those idealistic young men who believed they were living through "epic days".  The most well-known of West's poems is 'The Night Patrol' a powerful and honest account of the atrocious conditions and horrific experiences endured by those living in the trenches and one of the first realistic war poems to be published.
Last year I was delighted to learn that the Old Stile Press were to publish a fine press edition of West's work to commemorate the 1914 centenary.   This new publication, in a limited edition of 150 copies, contains newly commissioned linocut illustrations by the artist and print-maker John Abell who also provides an afterword.  The Illustrations, several of which are full-page, reinforce the sense of horror and outrage found in West's narrative. The black and white images create a striking and haunting impression.  Hand printed by Nicolas McDowall this edition is a fitting tribute to West.  For more information about the creation of this work please see the Old Stile Press blog.
West's frank and powerful writings deserve to be more widely known.  I hope the interest generated by the centenary of the First World War and publications such as the one from the Old Stile Press will go some way to helping his work reach a wider readership.
The Old Stile Press edition of The Diary of a Dead Officer is now available to consult in the Library's Rare Books and Music Reading Room, shelfmark RF.2014.b.25.
18 March 2014
  By Jamie Andrews, Head of English and Drama
On 18 March 1893—121 years ago today—Wilfred Owen was born at Plas Wilmot, near Oswestry in Shropshire. He died, of course, on 4 November 1918, just one week before the Armistice; his mother apparently receiving news of her son's death as the bells were tolling to announce the end of four years of world war.
For all that Owen became the voice of that War, his work was little known during the conflict. He had just four complete poems published in his lifetime, but left behind a substantial collection of manuscript notes and drafts. Many of these draft poems (certainly the ones for which he is remembered) were written  in a short period between August 1917—when Owen was being treated for shell-shock in Craiglockhart Hospital in Edinburgh— and his return to the front line in France in early summer 1918.
Many of these drafts are now in the British Library, each bearing the marks of its original composition: lines written on the back of advertisements for Edinburgh shows, or poems with deletions in the hand of Owen's mentor at Craiglockhart, the (at that time) far more famous poet Siegfried Sassoon. All of the Library's Owen manuscripts have been digitised as part of the major cross-European 'Europeana 1914-1918' project, and highlights feature on the British Library's curated site; some of the manuscripts bearing both Owen and Sassoon's hand will also be on display as part of the British Library's World War One exhibition in the summer.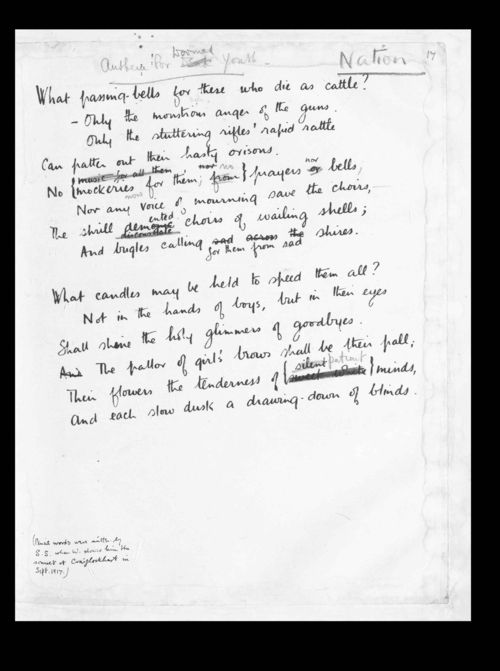 Owen's sonnet 'Anthem for Doomed Youth', with pencil alterations by Siegfried Sassoon made at Craiglockhart Hospital in September 1917. Add MS 43720 f.17.
In the preface to the collection that Owen was sketching out before his death, he wrote the following words:
    This book is not about heroes. English poetry is not yet fit to speak of them.
    Nor is it about deeds, or lands, nor anything about glory, honour, might, majesty, dominion, or     power, except War.
    Above all I am not concerned with Poetry.
    My subject is War, and the pity of War.
    The Poetry is in the pity.
The words echo down the century; and continue to inspire contemporary writers today. It was appropriate at the launch of our 'Europeana 1914-1918' major World War One digital project, poet Andrew Motion read two poems by Wilfred Owen, alongside his own collection, The Customs House, his most recent collection that opens with a sequence of war poems drawing on soldiers' testimonies from the past 100 years. Andrew found a softness alongside 'the monstrous anger' of Owen's work, as can be seen from the video below.
Andrew Motion at the British Library for Europeana Collections 1914-1918 from Europeana Collections on Vimeo 
30 January 2014
News from Jamie Andrews at the Unlocking Sources First World War conference in Berlin (follow the conference on Twitter at #usww1)
The last time I was in Berlin, it was just under three years ago. It was a glorious spring; sun shining on concrete. We were there to begin a major EU-funded project with partners from seven other European countries to digitise several hundreds of thousands of collection items relating to the First World War. Almost three years—and several million digitised images—later, the same partners are back in Berlin to launch Europeana 1914-1918. This time we're in the middle of a typical Berlin winter: fingers freeze on contact with the air, every bus we take apparently doomed to crash on the ice.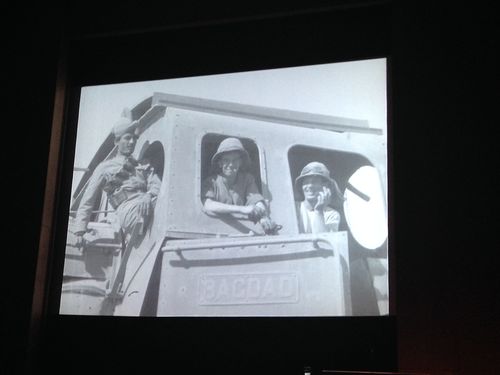 From the digitised film footage shown last night in Berlin to launch the portal
But nothing could disguise the warmth of the occasion last night when the Federal Government Commissioner for Culture and Media, Frau Professor Monika Grütters, officially declared the Europeana 1914-1918 portal live. The portal provides access to 400,000 rare documents digitised by our 10 library partners, as well as 660 hours of unique film material , and the personal papers and memorabilia of some 8,000 people involved in the war, held by their families and digitised at roadshows in 12 countries.
Europeana Collections 1914-1918 from Europeana Collections on Vimeo 
The British Library has been leading the UK's contribution to the site, and has contributed 10,000 items from our own First World War collections to the site, including trench journals from foreign troops, iconic war poetry, and London schoolchildren's accounts of Zeppelin raids that are featured by Buzzfeed.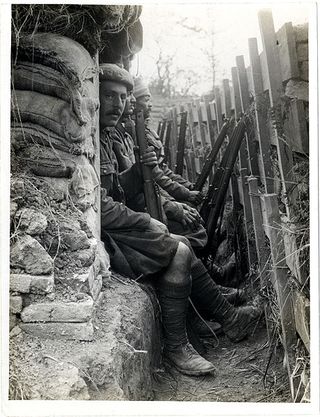 From the new British Library World War One site
Especially significantly, we have also produced an amazing new website http://www.bl.uk/world-war-one offering curated access to over 500 digitised historical sources from Europeana 1914-1918, as well as newly commissioned films, contextual information and teacher's notes (read more here). The importance of the site is its pan-European, comparative approach to the War, as well as its incorporation of material from the British Library relating to the immense part played by the British dominions and colonies.
Key themes explored on the site  include:
Origins and Outbreak
Recruitment of Conscripts and Volunteers
Daily Life on the Battlefield
The War Machine
Race, Empire and Colonial Troops
Gender Expectations and Roles
Propaganda on a Global Scale
Aftermath – Redrawing Europe's Map
The site is free to use, and will be added to over the forthcoming weeks and months.
09 January 2014
 
Guest post from Charlotte Dickerson, Cataloguer and Metadata creator, Europeana 1914-1918 project.
In 1916 former knight of the British Empire and celebrated humanitarian Roger Casement stood on trial for treason. His friend Arthur Conan Doyle tried to rally support for his defence and put together a petition for his release, signed by figures such as W. B. Yeats, George Bernard Shaw and John Galsworthy. This petition, as well as Conan Doyle's correspondence on the subject, has been digitised by the British Library as part of Europeana Collections 1914-1918, a project to provide access to material from national library collections across Europe, and will be available online from 2014. The trial of Roger Casement caused a media storm but Conan Doyle's efforts were unsuccessful and Casement was hung on the 3rd of August 1916.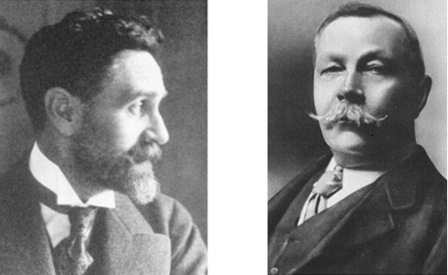 Roger Casement c. 1910 and Arthur Conan Doyle, 1914.
Image of Arthur Conan Doyle by Arnold Genthe
Roger Casement was born in Ireland in 1864. In 1895 he took a job with the British Foreign Office in Africa who, responding to reports of the exploitation of the indigenous people and human rights abuses, asked Casement to investigate conditions in the Congo Free State.
The Casement Report confirmed the truth of the alarming stories, such as that rubber workers who didn't work hard enough were having their hands cut off, which shocked the public and caused international outcry.
The Casement Report lead to the establishment of an independent commission of enquiry, the arrest of many officials involved and eventually to the relinquishing of personal control of the area by the Belgian King Leopold II. Casement undertook similar work in the Putumayo basin in Peru and created a precedent for the British Embassy to intervene on behalf of indigenous people.
Whilst campaigning to improve conditions in the Congo he met Arthur Conan Doyle.  Conan Doyle had a history of using his status to champion the causes of those he believed were victims of injustice. In 1907 he had helped overturn the conviction against George Edalji for animal mutilation, a case now widely seen as being brought about through the racial prejudice of the police. In 1912 he campaigned for the release of the somewhat insalubrious Oscar Slater, arguing that he had not committed the murder he had been arrested for, despite being well known as a pimp and petty criminal. A firm believer in the English justice system, Conan Doyle thought that it did not matter what your background was, no one should be punished for a crime they did not commit.
Casement and Conan Doyle became good friends as well as supporters of a mutual cause and even went together to see 'The Speckled Band', a play based on a Sherlock Holmes novel of the same name, in 1910. Conan Doyle admired Casement's belief in justice and based his character of the brave and idealistic Lord John Roxton on Casement in his novel 'The Lost World'.
Casement was an ardent Irish nationalist and when war between England and Germany broke out in 1914, he saw an opportunity to gain support for Irish independence. He travelled to Germany to request military and political support to end British rule, returning to Ireland in 1916 aboard a German U-boat shortly before the Easter Rising. On arrival he was arrested by the British government, charged with high treason and sentenced to death.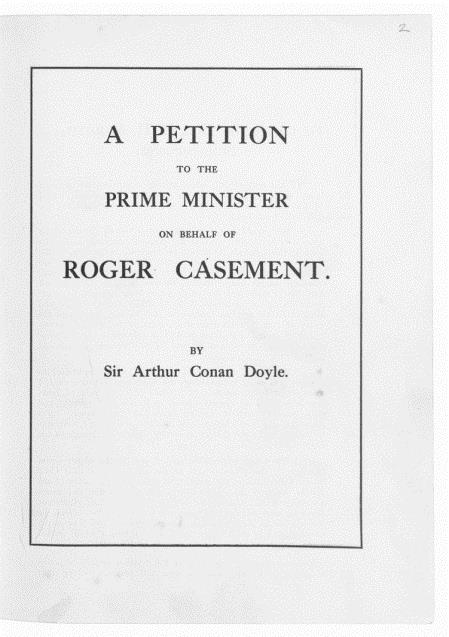 Conan Doyle could not believe that a man whom he knew so well and who had done so much in the service of the Empire could behave in such a way and blamed Casement's actions on "severe strain" and "tropical fevers". However, ever the pragmatist, Conan Doyle also argued that executing Casement would make a martyr of him and give more support to the Irish Nationalist cause as well as being a useful tool of German propaganda.
After his execution, Casement's body was buried in quicklime but his remains were eventually repatriated to Ireland in 1965 where he was given a state funeral and buried in Glasnevin cemetery, Dublin.
The British Library holds a large collection of papers belonging to Arthur Conan Doyle, including his correspondence with his family, correspondence with his friends such as J.M. Barrie and James Ryan as well as his papers on Spiritualism and several of his literary manuscripts.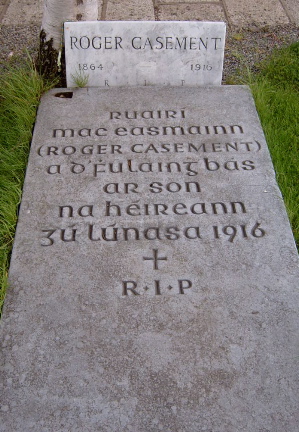 The grave of Roger Casement in Glasnevin Cemetary
English and Drama blog recent posts
Tweets by BLEnglish_Drama
Other British Library blogs