25 May 2020
In this guest post, we are very pleased to welcome the artist Liz Mathews. The Library holds several of Liz Mathews' works in our artists books collection, including

Thames to Dunkirk

. During the past weeks, we have been working with Liz to create a new short film that shows this work and reflects on the events of the evacuation of British soldiers from Dunkirk in May and June 1940.   
Thames to Dunkirk in the British Library Writing Exhibition, 2019
The eightieth anniversary of Dunkirk falls in May 2020 while here in Britain we are still living through the coronavirus pandemic. My artist's book Thames to Dunkirk is the largest book in the British Library's Contemporary British collection, and curators at the British Library had been planning some events with me to mark the moment, but since it became clear that no public events would be possible, I've been working with Jeremy Jenkins, Curator of Contemporary British Publications, to make an artists' film of my artists' book Thames to Dunkirk (below). Under lockdown conditions we have assembled the elements of the soundtrack - on which the soldier-poet Basil Bonallack is voiced by his grandson Christopher Peters, and Virginia Woolf's questioning lines from The Waves by me Liz Mathews - over my own photography of the book, and the film was edited by Jeremy Jenkins. 
Front cover of Thames to Dunkirk
Thames to Dunkirk, an artists' book by Liz Mathews, on film. 
I made Thames to Dunkirk in 2009, and it's been in the Library's collection for a decade, a surreally large book to echo the extraordinary nature of an event shared by over 300,000 people, each with their own individual experience and their own story to tell. It's made from twenty-four sheets of the largest handmade paper in the world, each 1 metre high and 1.4 metres wide - and it opens out to a free-standing paper sculpture 17 metres long and a metre high.
Looking at Thames to Dunkirk again now, as its maker I'm both reminded of my original aim, and struck by the many parallels with our current situation. Hearing Dunkirk 1940 invoked so often during the lockdown - exemplifying British ingenuity, courage and adaptability in a desperate crisis - has brought that long ago time vividly to mind. So what is it about Dunkirk that speaks so urgently to our times? Who could read the following accounts in these days without recognising the 'absolute mayhem', the fear and anxiety, the 'public catastrophe', the 'terrible suspense'?
'The Dunkirk crisis was unbelievable. A lot of people coming back had jettisoned their guns and vehicles, they just got there as fast as they could. There were lots of refugees coming in - it was absolute mayhem. Dunkirk had been bombed. We knew that a lot of troops were sheltering along the shore. We had no idea they were going to be rescued - it seemed the whole army was going to be captured. I was extremely upset, because it never occurred to me that we would survive. I though we were defeated, that we would surrender and sue for peace.' (Corporal Elizabeth Quale, WAAF liaison officer, from Max Arthur's Forgotten Voices of the Second World War, Ebury Press / IWM 2004)
Thames to Dunkirk, p.21.
On May 26th 1940 the rescue began, an event of such enormity that it has become one of our most potent national myths. The British army fighting in France and Belgium had been outflanked and surrounded by the invading army of Nazi Germany, and 'there was nothing for it but to fall back, made almost impossible by the multitudes of refugees on the roads. Our men could only crawl back, while the enemy raced to cut them off from the sea.' (John Masefield, The Nine Days Wonder Heinemann, 1940).
By 26th May a solid mass of men had already gathered on the beaches and in the dunes near the town, and thousands more were still struggling to get there. Churchill's government had a plan for the Royal Navy to rescue them, with the help of a makeshift armada of 'little ships', privately owned boats, yachts, lifeboats and small ships from England's south coast and the Thames, to ferry the men out from the beaches to the waiting Naval ships.
Thames to Dunkirk, p.10

But 'when Operation Dynamo began it was thought that only a few thousand could be saved. The next day the situation was so much worse that we had to be prepared for a desperate scramble to pick up survivors from a great disaster.' (JM, ibid)
Meanwhile at home, Leonard and Virginia Woolf were among the millions waiting for news: 'In Rodmell Dunkirk was a harrowing business. There was not merely the public catastrophe, the terrible suspense with Britain on the razor's edge of complete disaster; in the village we were domestically on the beaches. For Percy, and Jim and Dick and Chris, whom I had known as small boys in the village school and watched grow up onto farm workers and tractor drivers were now, one knew, retreating, driven back to the Dunkirk beaches. There they presumably were waiting, and we in Rodmell waited.' (Leonard Woolf The Journey not the Arrival Matters The Hogarth Press, 1969)
And from Virginia Woolf's diary: 'Louie comes agog. [Her brother] Harry come back on Monday. It pours out - how he hadn't boots off for 3 days; the beach at Dunkirk - the bombers as low as trees - the bullets like moth holes in his coat…  He looted a Belgian shop & stuffed his pockets with rings which fell out in the sea; but 2 watches pinned to his coat survived… He was talking to a chap, who showed him a silk handkerchief bought for his joy lady. That moment a bomb killed him. Harry took the handkerchief. He saw his cousin dead on the beach; & another man from the street. Harry swam off, a boat neared. Say chum can you row? Yes, he said, hauled in, rowed for 5 hours, saw England, landed - didn't know if it were day or night or what town - didn't ask - couldn't write to his mother - was despatched to his regiment.' (Virginia Woolf, Diary Volume Five, ed. Anne Olivier Bell The Hogarth Press, 1984) 
Virginia Woolf's story about Harry West set me on a path of discovering first-hand accounts of that time, and gave me the idea of making Thames to Dunkirk. Along both sides of the huge book's length are juxtaposed four significant lines: first, soldier-poet BG Bonallack's eye-witness account of Dunkirk 1940 from his poem The Retreat; second, Virginia Woolf's introspective questioning lines from The Waves flowing beneath as an undercurrent; and then on one side a watercolour map of the Thames from source to sea, lettered with the names of most of the little ships that went to the rescue; and on the other a 17m long watercolour of the great stretch of Dunkirk beaches and dunes, with the names of many people who were there during those nine days in 1940.

Thames to Dunkirk, p.18.

There's Alexander Graham King, 'the mad hatter' who played his accordion to entertain the queues of waiting soldiers for seven days, and Captain NC Strother-Smith, who could spare a thought for the refugees on the roads 'machine-gunned and attacked by Bombers and fighters' in this impossible situation. There's Philip Newman, the army surgeon who treated wounded men by the thousands in 'the Chateau', remained behind with men too badly wounded to be moved, was captured and spent the rest of the war in a German prison camp as a POW. And there's Louie's brother Harry - his name lettered in a queue out into the sea; I see him with the water up to his armpits, worrying about his looted watches getting wet.
Marking Thames to Dunkirk book with a wooden clothes peg

Each person whose story I found is there in the crowd on the book; the letters of their names stand as individuals in the mass, marked with a wooden clothes peg, an incongruous domestic tool to reference a background of home for each person. The little ships' names, too, are set along the watercolour map of the Thames in paint mixed with Thames water, the words lettered with a Thames driftwood stick, to draw the material presence of the river into the book, to bring in the stories not only of the gallant boats but of all those across Britain doing what they could to help, volunteering, nursing the wounded, waiting for news.
Card for the Dunkirk Project

As for my aims: I wanted Thames to Dunkirk to represent all the voices of Dunkirk, not a simplified impersonal official version; to catch the event in all its diversity and complexity. Once it was made, it became the central thread of The Dunkirk Project, an online installation that collects and shared hidden or forgotten stories from Dunkirk. Presented in the form of daily news from 26th May to 4th June, this River of Stories made up of many voices, many different perspectives, shows how this multi-layered event defies simplistic reduction but still has important truths for today.
The voices of Thames to Dunkirk speak to our uncertain times at an apt moment. It's more important than ever to acknowledge the European, multi-national nature of Britain's wartime struggle against fascism, as exemplified at Dunkirk, and to recognise how we, the inheritors of the world that was made then, are still living with the consequences of our past. In June 1940 when the Dunkirk evacuation had brought most of the army home again, the threat of invasion was at its most acute - and Britain was still at war for a further four years. The parallels for our wounded world are all too clear: while we've been struggling with Brexit and the pandemic, the Climate Emergency has not gone away.
Thames to Dunkirk, p.20-1
Now, coronavirus has forced us to re-examine our priorities. Another clear correspondence with Dunkirk 1940 is that amidst the devastation and the suffering there have been some positives: the many heroes we've met - Captain/Sir Tom Moore, every NHS doctor and nurse, three-quarters of a million volunteers, our bus drivers, our care workers and Andrea our local pharmacist, to name just a few - have outnumbered the villains, and we've found a renewed compassionate empathy and awareness of community.
Captain Tom Moore post-mark

British engineers and fashion designers are falling over themselves to adapt factories to make essential personal protective equipment and ventilators; universities and research institutions are vying to produce tests, vaccine, antibodies; our theatres, online arts and the BBC are keeping us sane - in short, the real maverick Dunkirk spirit is alive and well in Britain today. Now is a good time to look again at this parallel crisis in our nation's past, in order to understand the present better, and prepare for the future.
05 July 2019
by Sarah Ellis, Archivist and Cataloguer of the Penelope Fitzgerald Archive (Add MS 89289). The archive is now available to consult, for free, in our Reading Rooms.
In 2017, the British Library acquired the archive of Penelope Fitzgerald (née Knox), English novelist, biographer and essayist (1916-2000). Her 1979 novel, Offshore, won the Booker Prize and the work acclaimed as her masterpiece, The Blue Flower, secured a National Book Critics Circle Award in the USA in 1997.
Penelope Fitzgerald, by Jane Bown: copyright of Jane Bown Estate
Audiences loved Penelope Fitzgerald's novels for the worlds they conjured into being; drawn – at least at first – from her own life experiences. Her biographical writing is similarly grounded. In one revealing note in her papers she outlines the necessary preconditions for beginning a work of biography: "if it's not possible to have had personal contact with the subject", she writes, "then at least I need contact with someone who once knew him or her, however long ago." [1] Such an emphasis on personal connection was no doubt informed by the varied social contexts which make up Fitzgerald's own biography. (A houseboat community at Chelsea Reach; the BBC during the Second World War; and a Southwold bookshop, to name but a few.) The archive reveals an artistry fuelled by human connection but informed and supported by wider documentary evidence gathered during intensive periods of research. As the two approaches collide, we can see how the rich worlds of her fiction and the sensitive portraits in her biographical writing become possible.
Behind the Silence
One of the qualities most frequently ascribed to Fitzgerald is that of 'reticence'. Terence Dooley, in his introduction to Fitzgerald's posthumously published letters, tells how she could convey what she wanted in letters in a way she didn't feel able to in person [2]. If the written word was where Fitzgerald's communicative gifts lay, then her archive represents a relative wellspring of expressive power. Far from displaying reticence, Fitzgerald's personal writings – from her earliest letters written to her parents from Wycombe Abbey School, to diary entries in her later years – reveal a voice free from constraint. Hers was a growing, industrious and expansive mind, constantly observing, recording and expressing itself through the written word, rather than through speech.
Add MS 89289/2/17 'My China Diary' and 'Small Memo Book'
© With kind permission of Penelope Fitzgerald's Literary Estate
However expansive the archive might seem, though, Fitzgerald's papers are fragmentary: the largest part is at the Harry Ransom Center in Austin, Texas and the British Library holds a smaller but significant portion (170 files). Tragically, some material was lost when her houseboat sank in the 1960s. The extant parts being dispersed in this way has resulted not only in a physical but also an intellectual disunity – but what we have here in London is both delightful and revealing. As with any archive, partial or not, Fitzgerald's papers are mere glimpses of the author and her work – never a complete picture but perhaps as close as it's possible for us to get.
Add MS 89289/6/2 Fitzgerald's Silver Reed typewriter operating instructions &
Add MS 89289/1/11 Review of A N Wilson's biography of C S Lewis (verso)
© With kind permission of Penelope Fitzgerald's Literary Estate.


So, What's in This Archive?

The archive covers the period of 1865-2012, extending beyond Fitzgerald's lifetime and including materials captured posthumously by her children and Literary Estate. The contents of the archive include research, draft and proof materials for a number of her works, 26 of her notebooks, correspondence (business and personal), her annotated library and collected writings about her life and literary endeavours.
In addition to illustrating aspects of her professional life and working practices as an author, the archive provides insights into her personal life, relationships, interests and other involvements outside, or predating, her writing career. For instance, Fitzgerald involved herself with literary societies and campaigned to support the local library in the face of funding cuts, channelling energy not just into her creative output but also into her local community.  
Further to the many facets of Fitzgerald's personal and professional life, her papers reflect a selective cross-section of Knox family history in various documentary forms. Knox family members whose stories feature prominently are the subjects of the group biography which she composed about her father, 'Evoe', and his three brothers, published in 1977. Remarkable in their own rights, papers once belonging to those individuals now sit integrated with Fitzgerald's papers, much gathered in research for The Knox Brothers. Another notable component of the archive is the material relating to Fitzgerald's first novel, The Golden Child (1977), in her original notebooks. Initially called 'The Golden Opinion', the work was extensively cut by Duckworth Publishers.
Add MS 89289/2/1, Knox Book 1, from Fitzgerald's notebooks.
© With kind permission of Penelope Fitzgerald's Literary Estate
So much in the archive holds the potential for researchers to garner rich insights about the working practices, creative processes and day-to-day engagements of Penelope Fitzgerald during the period when she was a published author. These are complemented by items pre-dating that period which show the vital preparation building up to it, such as her committed studies of literature and art or copious notes relating to her teaching work.


An Invitation

"How does she do it?" asked Julian Barnes over a decade ago [3], about Fitzgerald's ability to paint the vivid and entirely believable worlds of her novels, so succinctly. Come and see for yourself – the archive is now available for consultation in the Manuscripts Reading Room.


[1] Penelope Fitzgerald, Writing about Human Beings (London, British Library, Add MS 89289/1/15, undated; 1993?).
[2] Terence Dooley (ed.), So I Have Thought of You: The Letters of Penelope Fitzgerald (London: Fourth Estate, 2008), p. xiv.
[3] Julian Barnes, 'How did she do it?', Guardian, 26 July 2008, Culture - Books Section <https://www.theguardian.com/books/2008/jul/26/fiction> [accessed 5 July 2019].
15 April 2019
a guest blog by Patrick Armstrong, a PhD candidate at the University of Cambridge.The Papers of BS Johnson are available to consult in the Manuscripts Reading Room (Add MS 89001).  Learn more about some of the Libraries collections related to Beckett and Johnson here. 
B.S. Johnson's Samuel Beckett notebooks perform an act of remembering. Principally, Johnson wonders what it is possible for him to know about Beckett, an epistemological problem he tries to work out through writing. The scraps of paper and notebook entries show Johnson trying to remember all he can about his onetime friend and major influence: when he read his work, who he was with, what it meant to him at the time.
Johnson's idea of writing a literary biography of Beckett aligns with his famous authorial declarations. In The Unfortunates (1969), for example, he writes 'in general, generalization is to lie, to tell lies', while similarly, in Albert Angelo (1964), the narrator states that 'telling stories is telling lies'. The notes, written mainly between 1971 and 1973, show Johnson instructing himself on how to write truthfully, without 'generalisation': 'Work conversation into this – as exactly as I can remember – use as interludes in conjecture material, in different type – that is, it is part of the "no generalisation" idea, which […] stated very carefully – somewhere – It was in MURPHY […] that I first saw the word SOLIPSISM'.
A page from Johnson's small pocket-book detailing his first encounter with 'solipsism' (Add MS 89001/8/8). All images reproduced with the kind permission of the BS Johnson Estate.

In philosophical terms, solipsism is the theory that one's own self or consciousness is all that exists or all that can be known. Initially encountered in Beckett's witty early prose (Murphy is described as a 'seedy solipsist'), the word offers Johnson 'a mode of being' and, crucially, 'a mode of GOING ON' (a reference to Beckett's later, post-war prose). The evocative term is then connected with the process of biographical writing, as Johnson states:
'Experiment/Venture into BIOGRAPHY
What do I know about BECKETT?
Solipsistically
i.e. only what he told me/what I saw for myself CAN BE ACCEPTED as true.'
A page from Johnson's small pocket-book where he thinks through the limits of the biographical form (Add MS 89001/8/8). All images reproduced with the kind permission of the BS Johnson Estate.
 The confessional mode seems to have become the only truthful method of writing, as for Johnson all that can be known about Beckett is what he himself saw and heard. Thinking about Beckett sharpens Johnson's own conception of his literary project; it allows him to work out his own position, offering a means of finding an acceptable form, as Beckett put it, 'to accommodate the mess'. The 'idea' (one small green notebook purchased in Paris is simply entitled 'Beckett Idea') of writing a biography becomes an expansive, Proustian process of remembering one's own life: 'How everything gets tied in with everything, how here I am trying to write about Sam, and it is [he lists other friends] - just to get it down before I forget it, for some bits of it no one else could get down, obviously. […] All is digression'. The potential biography becomes a kind of autobiography, a project in both solipsistic remembrance and Sternean digression. Does Johnson genuinely consider writing a biography of Beckett, or does he instead use the 'venture' and 'experiment' of doing so as a prompt for memory and material, as a mode of 'going on'?
Evidently, Johnson had a deep affinity with Beckett's thought, and the Irish writer's life and work seems to intimately intertwine with Johnson's own. The latter even associates space with Beckett's company: 'The way B came to the Hotel […] the way I associate that little waiting room with him – no, with his PRESENCE.' The writing is self-corrective, as 'him' becomes the more impressive and aggrandizing 'his presence'. As Jonathan Coe writes in his biography of Johnson, Like A Fiery Elephant: The Story of B.S. Johnson (2004), 'the friendship of Beckett, his unfailing kindness and supportiveness, would become one of the cornerstones of Johnson's life'. On several occasions, Beckett's work uncannily 'fitted' Johnson, connecting to his own experiences in unexpected ways. On seeing Waiting for Godot for the first time in Autumn of 1955, Johnson modestly recalls how it 'echoed (+ said more + better than I could) things I had been talking […] about before we went in'. Another time, when he telephones his girlfriend to say that it is 'all finished', Johnson remembers holding his colourful copy of Watt in the phone box, describing its 'splendid purple/blue/pink' jacket and 'bloodred cut paper'. In reference to his separation, Johnson declares: 'Beckett's solipsism/stoicism fitted! […] I read him with an intensity to try to shut out what she had done'. The two 'isms' separated by an oblique stroke, stoicism and solipsism, are arguably two of the most important concepts that Johnson takes from Beckett.
A year after first seeing Godot,Johnson remembers being in a Parisian bookshop unable to afford a copy of Molloy. Still drawn to the book, he sifts through the first few pages in the bookshop: 'read and felt the first few pages'. Like the memory of holding his copy of Watt, the experience seems both tactile and emotional. This emotive episode is ironic given that the notes reveal how Beckett, well-off after winning the Nobel prize, later offered and sent money to the struggling writer in London. This is the same kind and generous Beckett that we find in his letters, and in André Bernold's portrait of the author in Beckett's Friendship (2015). Johnson's note that Beckett 'again offered financial help' are eerily the last words recorded in the notebook. In fact, when reading through these notes, their temporal closeness to Johnson's suicide in November of 1973 is hard to ignore. Of a notebook with 144 leaves, just ten are written on, and there is a sadness about the mostly empty book. Johnson and Beckett eventually fell out after the former assured his publishers that they could use some of Beckett's enthusiastic comments about his work ('a most gifted writer') as an endorsement on the dust jacket of Christie Malry's Own Double-Entry (1973).
Yet, Beckett's influence permeates Johnson's notes - one loose scrap of paper could be mistaken for one of Beckett's mirlitonnades, an irregular small poem. In addition, there are notes (something about Joyce and Yeats) on the back of receipts from French restaurants, specifically 'Le Moulin Noyé' in Glénic (Creuse), which is, appropriately, a 'Hôtel isolé': a solitary, solipsistic residence. On another scrap of paper Johnson reveals how significant he finds Beckett's 'idiosyncratic' use of words: 'once when I rang him about 11.30am he said "Could you ring back? I'm trying to wash myself" Am I alone in finding that idiosyncratic? Or does all he say seem significant for me in the light of what I know he is, of what I believe him to be?'

A collection of receipts and loose-leaf scraps on which Johnson recorded his thoughts about the biography of Beckett (Add MS 89001/8/8). All images reproduced with the kind permission of the BS Johnson Estate.


Again, there is the sense of doubt about what Johnson knows of Beckett, as he corrects himself with the verb 'believe'. Yet, it is arguably this belief in the significance of Beckett's language and thought that provided Johnson with a fitting mode of writing.   
21 March 2019
To celebrate World Poetry Day, and 10 years of the Michael Marks Awards for Poetry Pamphlets, we have added four new readings to our Michael Marks playlist.
The judges and shortlisted poets and publishers for 2018 Michael Marks Awards. Photograph by Jonathon Vines
The readings are from four of the five shortlisted poets for the 2018 Michael Marks Poetry Award. In each of the recordings, our poets read from their pamphlet and also talk about the poems and the pamphlets.
Carol Rumens reads from 'Bezdelki', winner of the 2018 Michael Marks Award for Poetry. The title of the pamphlet, meaning 'small things', refers to a poem by Mandelstam, and the poems in the pamphlet are written in memory of Carol's partner, Yuri Drobyshev. In this recording, Carol describes the pamphlet, and reads the poems 'Vidua', 'Shapka and spider', 'He drank to naval anchors', and 'King Taharqa's Last Thoughts'.  'Bezdelki' is illustrated by Emma Wright and published by the Emma Press.
'If Possible', by Ian Parks and published by the Calder Valley Press, is a collection of translations of Constantine Cavafy, and poems inspired by Cavafy's understanding and engagement with the stories and literature of Classical Greece. In this recording, Ian Parks reads, 'Candles', 'Windows', 'Ithaka', 'The god abandons Antony', 'Come back', and 'The shades'.
'The republic of motherhood' records Liz Berry's experience of becoming a mother, and the support from other women during the early weeks and months of motherhood. In this recording, Liz Berry talks about the pamphlet form as accessible, a 'passport to this strange new Queendom'. Liz reads her poems, 'Horse heart', 'The visitation', and 'Placenta'. 'The republic of motherhood' is published by Chatto and Windus.
Gina Wilson reads from her pamphlet, 'It was and it wasn't', published by Mariscat Press. Gina explains that the poems in the pamphlet reveal the 'rich uncertainty of all things', with the poems often being about more than one thing at the same time. Gina reads, 'Grit', 'Child's play', 'I haven't seen this boy before', and 'Reunion'.
These new readings join our recordings from the past four years of the Michael Marks Awards, including from past winners Richard Scott, Gill McEvoy and Charlotte Wetton.
24 October 2018
by guest blogger Di Beddow, PhD student at Queen Mary, University of London, researching Ted Hughes and Sylvia Plath in Cambridge. Recently acquired by the library, letters and cards from poet Ted Hughes to Elizabeth Hicklin (née Grattidge) have  been catalogued  (Add MS 89198) and are available to consult in the Manuscripts Reading Room via our online catalogue, Explore Archives and Manuscripts. Read more  on our Ted Hughes Discovering Literature page. Reach Di on Twitter at @DiBeddow, and read more about her work here.

Ted Hughes by Fay Godwin, Copyright British Library Board 
Recently acquired by the library, letters and cards from poet Ted Hughes to Elizabeth Hicklin (née Grattidge) have been catalogued (Add MS 89198) and are available for reading in the Manuscripts Reading Room. Hicklin, a nurse at Addenbrookes Hospital in Cambridge met Hughes when he was an undergraduate at Pembroke College in the early 1950s. The couple were in a relationship for several years with Liz meeting the Hughes family in Yorkshire and joining the students in The Anchor public house where according to Daniel Huws, a friend of Ted's at Cambridge 'She smiled indulgently at the proceedings' (Memories of Ted Hughes 2010 p.16) The letters shed light on a period which is not as well documented as most of Hughes's life and work; it gives insight into his views on Cambridge; his friendship groups; his family and his writing, travel and career plans.
Liz, the recipient of the letters, was from Manchester originally, but left both her home and Cambridge eventually to emigrate to Australia where she lives today.  At one point the couple thought they would both emigrate and join Gerald, Hughes's  brother, but Liz left for America first and whilst the relationship did not survive her departure, the correspondence is warm and tender from Hughes. He calls her, 'My darlingest bunnyown' and 'My darling Bunpussington.'When he considers the end of their relationship with the distance between them, he is totally candid - 'I dare say you'd have shown more faith in me if I'd shown you more honesty.'  He appreciates that she may well meet someone else abroad, but he insists, 'I love you Bun, don't ever doubt that.' The letters and postcards were sent over a two year period and shed light on the time when as he says in 'Fidelity' from Birthday Letters that he graduated, but remained part of the culture in which he had studied – 'Free of University I dangled/ In its liberties'.
In one letter he writes of his plan for an autobiographical novel about Cambridge and a book of fairy tales for children.  This is significant in that traditionally it is given that Hughes wrote little whilst at Cambridge; he tells Liz though that he has '…an idea for a book.  Two books in fact. One is about Cambridge. An autobiography of a student written from I'm not quite sure what angle, during three years, and to sell as a soft back popular thing.'
Just six months later he was to meet Sylvia Plath in Cambridge and she was to start a book called Falcon Yard which was to tell the story of her meeting and relationship with Hughes in Cambridge.  He goes on to say that - 'The book about Cambridge would be very cynicial (sic), I feel, very cruel to everyone I knew - but the interesting things about everyone I knew, now I look back, seem to have been their absurdities.  I don't think that I remember it with much affection'.
This is a popular view of Hughes at Cambridge, as an outsider and a critic, for example, of the Cambridge teaching of English Literature; one recalls Hughes's dream of a burnt fox which considered his latest essay and warned him "Stop this. You are destroying us." '(Letter to Keith Sagar 16 July 1979) However, Hughes made strong and lasting relationships with several of his Cambridge contemporaries and he finishes his letter to Liz reassuringly, telling her that she is not incorporated in his slight of the Cambridge circle -  'You're just no part of it, you're nothing but a good memory, my very best. Ever'.
The postcards are all sent from Europe when Hughes was on holiday with his Uncle Walt. In one from Spain, showing the cathedral in Tarragona he says, 'Nothing but tombs of gold and lapis lazuli…' which resonates with one of Liz Hicklin's anecdotes of their relationship written up in an article included in the folder; she tells that Hughes would recite his favourite poem, Yeats'  'Oil and Blood' in the pub.  The poem begins, 'In tombs of gold and lapis lazuli' and it accentuates the mysterious phenomenon of decaying corpses in tombs, with heavenly or supernatural scents and oils.  Indeed, Hughes continues on the card - '…what a melancholy choosing faculty I have.'
Six poems and literary fragments are also included. The majority of the drafts are untitled with the exception of 'Sheep' and 'Nessie'. Two of the drafts are written in another hand and not Hughes's. 'Sheep' is a typewritten copy of the poem which appeared in Season Songs published in 1976, whilst 'Nessie' has some skilled sketches for which Hughes became known whenever he was writing for children; signing publications for those dear to him, or simply when doodling.
Finally there are two photographs, one of Hughes fishing at the age of 22, taken by his brother Gerald and another, more interesting perhaps, of the couple at a May Ball in Pembroke.  Liz has written on the back that it was taken at 3 a.m. and Liz has sunk into an armchair with Hughes standing beside her. Linking this photo back to a letter Hughes sent home in May 1954, reveals that the similar profiles of the two were noted by several peers.  Hughes writes in a letter home - 'There is a girl here that I shall take with me (to Australia) if I still feel like it, and probably marry her before I go…She is a nurse and from some angles looks very like me, everyone says.' (Selected Letters p.25)
Liz's article on her memories of the relationship is added to the material and proves to be a useful commentary on the folder.  Hughes's courtship of Liz bears strong resemblances to the way he courted Plath, using pet-names, reading poetry and what he calls in Birthday Letters ('The Owl') his 'masterpiece', aping the sound of a hurt rabbit in order to attract owls.  Liz describes this in terms similar to that of Plath's amazement - 'Ted made a whining sound with moistened lips and a cupped hand.  Creatures appeared from nowhere - rabbits from their burrows, a stoat at his feet.  Birds swooped overhead. "They think it's an animal in distress," he said.  A trick learnt as a small boy, trailing his big brother over the moors, trapping rabbits and delivering newspapers for the family business.'
The wit of both Hicklin and Hughes brings their mutual attraction alive; she recalls receiving a written invitation from Hughes, 'Would you like to come to tea? I have a ghost in my room.'  When she does attend his room she is taken aback by the drawings of birds with clawed feet and hooked beaks over the walls.  When Hughes tells her he intends to be a writer of children's stories, she notes the murals and induces, 'You'll scare them to death.'
This folio of material enchants with its anecdotes and proves to be a rich resource for the lesser-known Cambridge period of Ted Hughes.
11 July 2018
By Callum McKean, Curator of Contemporary Literary Archives and Manuscripts. The James Berry Archive, which was acquired by the Library in 2012, is comprised of twenty-eight boxes containing drafts, notebooks, diaries, correspondence and audio-visual material spanning Berry's fifty year career. Further details about the acquisition can be found here. A conference on Berry's work will be held in the Knowledge Centre on 5th October 2018, with information and tickets available here. Details about the exhibition, Windrush: Songs in a Strange Land, containing items from the James Berry Archive, can be found here.
James Berry's earliest short stories are not often read together. Despite being published in various popular magazines in the late fifties and early sixties under the name J. Raglan Berry, they remain uncollected and disparate, available only to those proficient in database searches or willing to trawl through microfilm reels. For a cataloguer, tasked with describing a large cardboard box filled with stacked manila binders, each containing annotated typescript drafts of this early work, the experience is very different. Rather than reading each story as a distinct, atomised unit, a structure starts to emerge as they are read one after the other. The familiar rhythm of something being compulsively worked out, again and again, begins to take hold. These are stories about new arrivals to the so-called Mother Country, what they see and how they are seen. But, perhaps more fundamentally, they are stories about encounters; personal, cultural and material collisions parsed out with emotional incisiveness and critical intelligence. In one story, a young factory worker is paralysed by memories of her home island as she stands on the precipice of a cavernous canteen in her new place of work with all eyes on her; in another, a West Indian cricket player becomes an inadvertent focus for English gawkers as he prepares for a match; and in yet another, a young family moving in to a west London flat are met with their new neighbours' quintessentially English hostility – at once veiled and virulent. One thing which makes these stories of cross-cultural encounter uniquely Berry's, though, is a hard-won commitment to progress; a need to move beyond identifying friction towards something like easing it. In these early stories such a zealous commitment to resolution can sometimes come at the expense of realism: factory workers, cricket players and new neighbours all turn out to embrace the newcomers, in different ways and on different terms, in the end. The short story form – crammed into the columns of popular magazines – is sometimes felt to bring everything together too quickly and easily for Berry's sense of the complexity of these meetings.
A selection of marked-up typescript drafts of James Berry's early short stories, submitted to various magazines, most notably Truth, under the name J. Raglan Berry.
Given space, though, Berry's later work takes a different approach, particularly in his most famous and final poetry collection, Windrush Songs (2007) – now on display in the Library's Entrance Hall as part of the exhibition which echoes its title, Windrush: Songs in a Strange Land. In this collection, taking on this most mythical of cross-cultural encounters, Berry manages to maintain a voice which is gritty, complex and poly-vocal without ever losing his commitment to resolution, however difficult. If the metonymic ship in the collection's title (and on its front cover) is ever to plot a successful course for the future, it must first take detailed readings of the past and present in order to adjust for the direction and speed of present travel. The ship's on-board instrument, language, must then be wielded with extreme sensitivity and acuity. In this way the elegance of the slim volume published by Bloodaxe betrays the massive volume of draft material, amassed over a period of more than ten years, which went into its production. The reams of draft material for Windrush Songs, present in the archive, reveal a practice which was both precise and open-ended. Individual poems are revised daily in a routine which comes to resemble the mantric, meditative practices which interested Berry so much throughout his life and which he wrote about in his personal diaries and notebooks. But as well as being precisely constructed these poems are also amorphous in draft form, blending into one another, taking on new titles, merging, exploding in size and significance only to fade into the background and re-emerge later, recognisable only as a trace. This combination of fluidity and fastidiousness can make the cataloguer's job more difficult but, as is so often the case with creative archives, what is most difficult for a cataloguer to pin-down often proves to be of the greatest interest to potential researchers.

Various drafts of Windrush Songs, comprising notebooks, annotated print-outs, and handwritten notes.


As well amassing his considerable literary output, Berry's archive is also a fascinating piece of social history for those interested in the generation of people who left the Caribbean for England in the late forties and early fifties. (Berry himself left Jamaica on the ship after the Windrush, the SS Orbita). In the Library's exhibition, a photo taken from Berry's archive showing him at work as a labourer in the United States during the Second World War is intended to unravel the idea of the rural islander travelling for the very first time to unknown shores – Berry and many others from the Caribbean had visited and lived in the US, Canada, and even England before the Windrush set sail. Although the notebook which he carried during this period -- which he thought of as representing the birth of his impulse to write -- does not survive, his pocket-diary from this period does. This little leather-bound pocket-book gives a unique insight into the places Berry lived, the people he met, as well as providing some personal ruminations on life in America. Equally, long-form personal letters from family members in Jamaica, sent after Berry moved to London, provide comments on his burgeoning writing from a Caribbean perspective, send personal encouragement, give news, and fill out a deeply intimate sense sense of the ways in which familial closeness was maintained over long distances during this period of mass migration.

James Berry's personal pocket diary, kept during his time spent living in the United States.

These highlights only scratch the surface of Berry's archive, which also includes correspondence with key figures in Caribbean literary circles, unpublished or hard to find non-fiction essays , talks for TV and radio, as well as material related to his prolific childrens' writing and his time as a writer in residence at Vauxhall Manor School. All of the material highlighted here, and much more, will be available to researchers in the Manuscripts Reading Room in late 2020.
28 September 2012
Writing Britain closed on Tuesday evening. It's been an incredible year working on the exhibition (very weird to think that a year ago we only had a vague outline of what it would be about) and it's been a great opportunity for us to show some of our greatest literary treasures.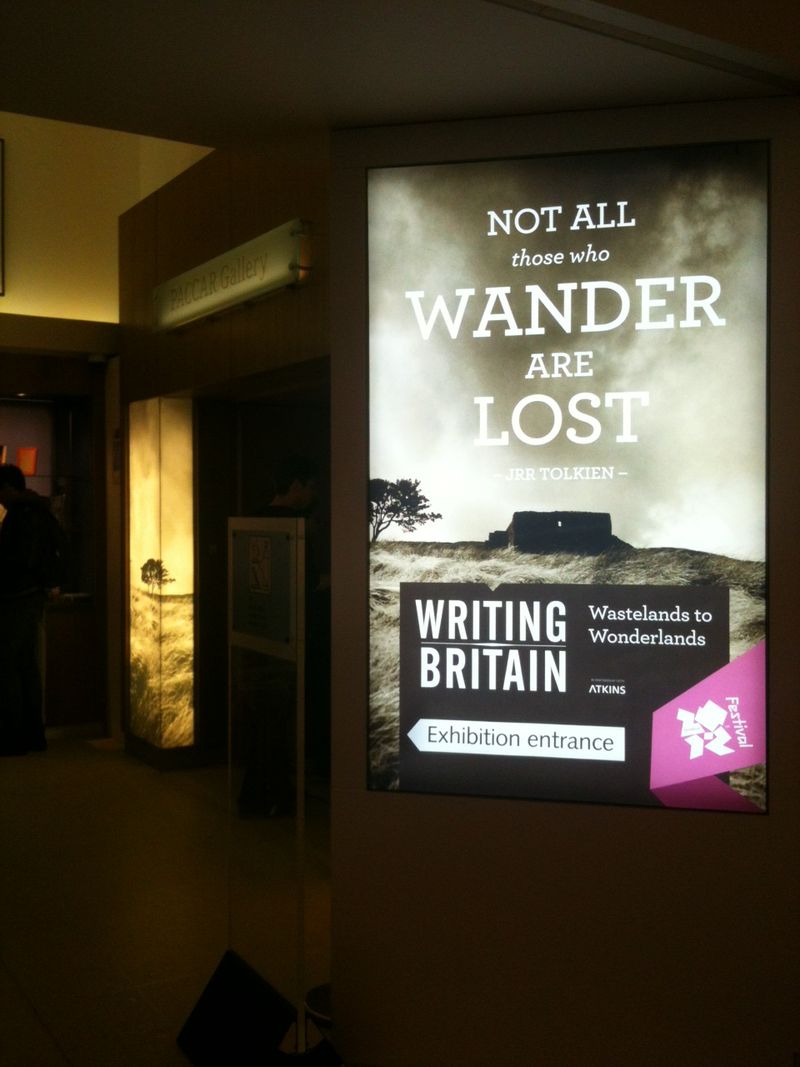 I think one of the most satisfying things about working on this exhibition is that it's made people want to read. We had so many enquiries about the exhibit list in general and titles of specific books in particular, because visitors were inspired to read books they hadn't heard of, or ones they had read as a child and forgotten about. So although the physical presence of Writing Britain is being dismantled to make room for Mughal India, I hope it will be a literary inspiration for people for a while yet.
So the exhibition's over but English and Drama will still be blogging. From next week we'll be using the blog to update you on other happenings in the department, including events, interviews, new acquisitions and hidden gems from the British Library's literary collections.
17 September 2012
As Writing Britain enters its last couple of weeks, I wanted to tell you about one of the more surprising exhibits in the exhibition. In the Rural Dreams section is a pocket book containing a reworking of a poem by a woman called Katherine Philips.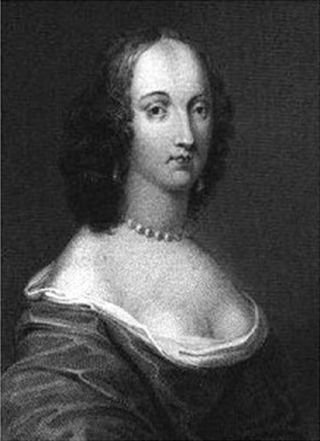 Katherine Philips
Philips was born in London in 1632 but on her marriage at the age of 16 she moved to Wales and lived in Cardigan until her death in 1664. First appearing in print in 1651, she developed a renown for writing poems about friendship and for having a group of close associates all of whom used assumed names drawn from a classical tradition (Philips was known as Orinda). Her husband James Philips was a supporter of parliament and held a prominent role in Welsh politics, but Katherine is believed to have harboured royalist sympathies.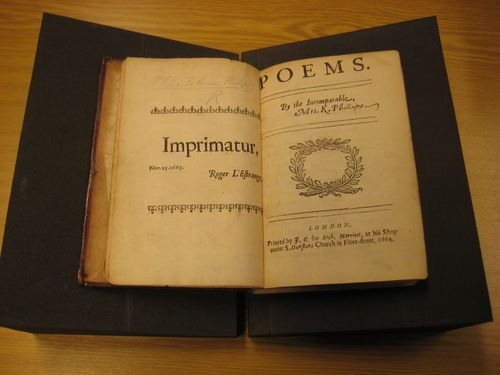 © British Library Board. Shelfmark C.79.a.30
You may well be wondering what all this has to do with the British landscape.
In fact, one of Katherine's most famous poems was called 'A Country Life':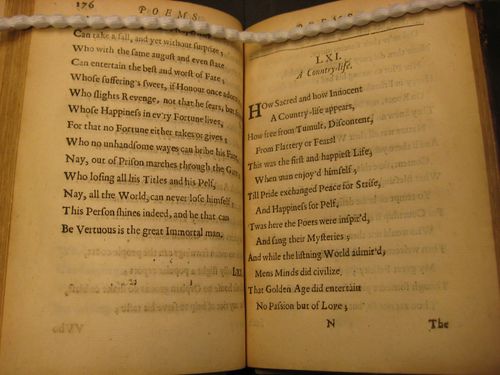 © British Library Board. Shelfmark C.79.a.30
It begins:
How sacred and how innocent
A country life appears,
How free from tumult, discontent,
From flattery and fears.
This couplet sums up an idyllic pastoral retreat from the evils of town, which perhaps was written from Katherine's own experience of leaving London for the Welsh countryside.
I'm particularly fond of the poem because it includes the lines
Happy in friendship and in health,
On roots, not beasts, they fed.
A seventeenth century rallying call for vegetarians! Or so I like to think.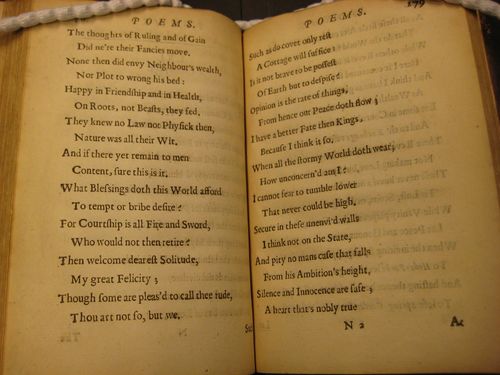 © British Library Board. Shelfmark C.79.a.30
Generally the poem speaks of the virtues of the simple life and of the British countryside as a retreat. It's displayed in Writing Britain as an early example of the use of the pastoral tradition in English literature – a genre that came from classical literature and promoted the countryside as an often unrealistically perfect place. Although some later writers embraced this tradition – in the same section of the exhibition you can see a first edition of AA Milne's Winnie-the-Pooh – others questioned it, which is why we're also displaying Thomas Hardy's proof copy of Far from the Madding Crowd, in which the countryside is anything from 'free from tumult [and] discontent'.
Back to Katherine Philips and that pocket book I mentioned.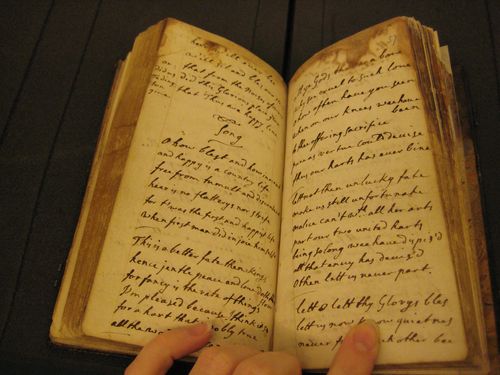 © British Library Board. Shelfmark: Egerton MS 1527
The significance of this object is extremely compelling once you know the back story. It belonged to James Scott, who was the 1st Duke of Monmouth and illegitimate son of Charles II – and the pretender to the throne during the Monmouth Rebellion of June-July 1685.
There is a note in the front of the pocket book written by James II to say that the book was found on the Duke's person when he was captured after the Battle of Sedgemoor. According to our catalogue entry it contains:
medical and general recipes; charms; prayers; events in English history; English and French songs, with music; routes in Holland; addresses of various persons; values of Dutch and English coins, etc.
Among all these things is a reworked (or possibly written from memory) version of Katherine Philips' 'A Country Life', evidently written out because it was meaningful for him and worthy of rereading in quiet moments.
The final couplet of the original poem reads:
In this retired integrity,
Free from both war and noise,
I live not by necessity,
But wholly by my choice.

I can't help but find irony in the significance this poem obviously held for Scott, given that his attempt to seize power was far removed from the simple life Katherine Philips described. Sometimes retreating to a country idyll far from the perils of court really was a safer bet.





English and Drama blog recent posts
Tweets by BLEnglish_Drama
Other British Library blogs