Chiaroscuro of a Croatian master
On 1 July 2013 Croatia  joined the European Union. One of the events in the Welcome Croatia Festival  held in the run-up to 1 July was Neven Jovanović's lecture at the BL on Croatian Latin Heritage (3 June), where I picked up Flora Turner-Vučetić's Mapping Croatia in United Kingdom Collections.

Turner-Vučetić shows very effectively how many Croatian artists are hidden under Italian names, one among them Giulio Clovio,  more correctly Juraj Julile Klović (1489-1578), and points out his illuminations in the Stuart de Rothesay Book of Hours (British Library Add. MS. 20927).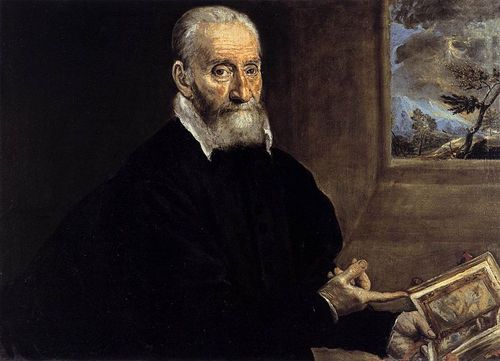 But there is another British Library connection: the Rt Hon. Thomas Grenville. As is well known, the politician and diplomat bequeathed his collection of over 20,000 volumes of printed books to the British Museum Library in 1846, thanks to the Machiavellian machinations of Anthony Panizzi. What is less known is that he also donated fifty-nine manuscripts (now Add. MSS. 33733-33791). 

Add. MS  33733 is a volume illustrating a Spanish text on the Triumphs of Charles V over Suleiman the Magnificent, Pope Clement VII, Francis I, the Dukes of Cleves and Saxony, and the Landgrave of Hesse.  Grenville bought it some time before 1817, in London (as he did all his books).  The binding is by Charles Lewis,  whom Grenville often employed: presumably he made for Grenville, it incorporates a magnifying glass.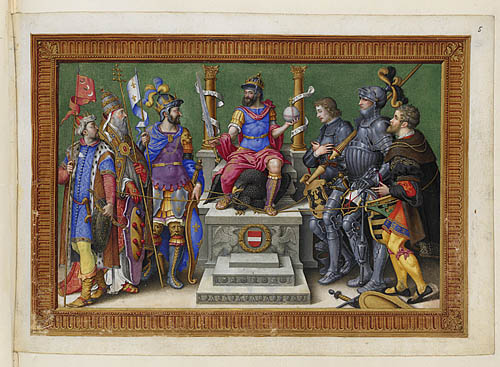 Charles V triumphing over his enemies (BL Add. MS  33733)

Grenville died on 17 December 1846; on 28 January 1847, Assistant Librarian W. B. Rye, with the help of eight Museum attendants and three of Grenville's servants, set about transferring the 20,240 volumes from Grenville's home at 2 Hamilton Place, Piccadilly, to Great Russell Street. They numbered the shelves, put the books on trays and placed them in a horse-drawn van which had been fitted with planks to form shelves. Each van was accompanied to the British Museum by an attendant who walked close behind it.  There were twenty-one vanloads. The book-move took five days. 

Rye took the most valuable item, the Clovio manuscript, in a cab: an indication of the importance which attached to it. Modern scholarship has downgraded it to the work of a pupil or follower of Clovio. One wonders if Clovio suffered a dip in appreciation after Grenville's time: the British Library online catalogue  has five books on him from 1733 to 1894, nothing from 1895 to 1961, and thirteen from 1962 to date.

Grenville is not famous for his love of manuscripts, or for his love of visual culture in general, though he did have a Valuable and Unique Collection of Rare Oriental, Sevres, Dresden, Berlin and Chelsea Porcelain (auctioned at Christie & Manson, 15 June 1847).

The Clovio MS is rarely mentioned in the accounts of Grenville's library, which focus on the printed books. Like the Croatian identity of Juraj Julile Klović, it has stayed in the shadows. Until now.

References:  Barry Taylor, 'Thomas Grenville (1755-1846) and his books', in Libraries within the Library: the Origins of the British Library's Printed Collections, ed. Giles Mandelbrote and Barry Taylor (London, 2009), pp. 321-40 [BL shelfmark YC.2010.a.1356]
Barry Taylor, Curator Hispanic Studies