29 July 2013
Registering the registrars
Our summer exhibitions Propaganda: Power and Persuasion and Poetry in Sound: The Music of Benjamin Britten (1913-1976) exhibit items from our own rich collections as well as items borrowed from other heritage institutions, in the UK and abroad. At the same time the Library contributes to exhibitions by other libraries and museums, such as The Lindisfarne Gospels in Durham and Vermeer and Music: The Art of Love and Leisure in the National Gallery.
When I recently travelled to the J.P. Getty Museum in Los Angeles, escorting a  collection item for their exhibition 'Looking East: Rubens's Encounter with Asia', I got an idea of how much work goes into arranging loans and the vital role the registrars play in this. They deal with the huge amounts of paper work that comes with every single loan request, including all travel arrangements. They pack up the items to go out on loan, so all I had to do was turn up with my paperwork and hand luggage and enjoy the trip.
Collaborating with other libraries and museums on exhibitions gives us a great opportunity to present our collection items to the outside world and to foster relationships with other heritage institutions. I found it very interesting to meet with the Getty's curators, especially the lead-curator Stephanie Schrader, who specialises in sixteenth- to eighteenth century Dutch and Flemish art. She and her colleagues did a stellar job in putting together the small, but exquisite exhibition around the print by Peter Paul Rubens of a 'Man in Korean Costume' (ca. 1617), which is part of the J. Paul Getty's collections.
The exhibition was a great hit, especially with the Korean community in Los Angeles and it attracted some very high profile visitors. The Library's contribution consisted of a copy of the first eye-witness account about Korea known in the West. It was written by Hendrick Hamel, survivor of a shipwreck of a Dutch East India Company (VOC) vessel, in September 1653. The ship had been on a journey from Batavia to Taiwan, when it ran into a heavy storm and stranded on the coast of Korea. Hamel and some 30 other surviving crew members spent 13 years in Korea, being prevented from leaving the country by the authorities. In 1666, after several failed attempts to escape, Hamel and seven other men succeeded to get away and sailed in an open boat to Nagasaki in Japan and from there to Amsterdam (exchanging their open boat for a VOC ship!).The Board of the VOC commissioned Hamel to write an account of Korea, its people and society, which was published around 1670. It became very famous throughout Europe, as well in Korea and saw several editions in a short period of time.
The Dutch National Archives hold the original account. The British Library holds three editions of the published version (shelfmarks 10057.dd.32.  10057.dd.28, and 1295.c.28 the copy present in the exhibition).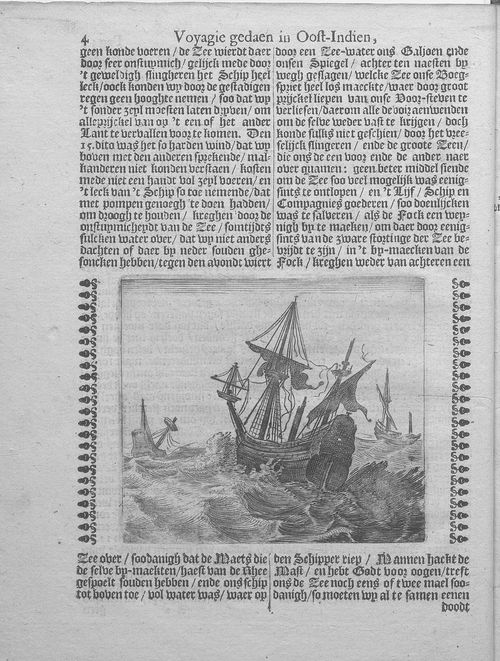 The shipwreck from Hamel's account of his Voyage
Hamel has become an important 'ambassador' in fostering relationships between the Netherlands and Korea. Exchanging collection items between heritage institutions can do the same and without the registrars this would not be possible.
Marja Kingma, Curator Dutch Language Collections