Fond memories of a tin snail
I wonder how many of you have seen a Citroën 2CV on the roads recently?  Not many I bet.  Yet not so long ago almost every other car on the streets of France was a 'Deux Chevaux'.  Watch an old black and white French film and they are as much a feature of Paris as the Eiffel Tower or Arc de Triomphe. Certainly in the 1980s when I first crossed the Channel they were still abundant, tootling around the streets of metropolitan France or haring down narrow rural lanes.

Plans for the the 2CV, or Deux Chevaux Vapeur, were conceived in the 1930s but production only began in 1948. The tin snail, as it was sometimes affectionately called, was manufactured until 1990. For the final two years it was made in Portugal but for most of its life production was at the famous Levallois-Perret plant in Paris.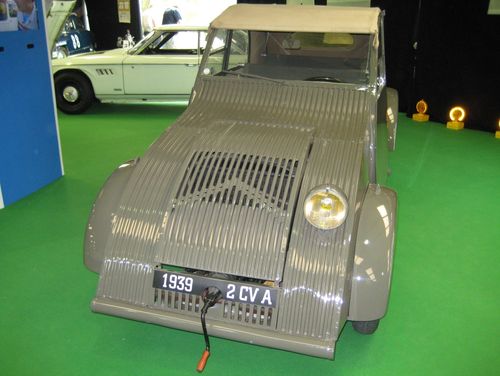 A pre-war Citroën 2CV prototype.                            
I bought mine new in 1982, drove it for six years and took it to France several times. The French were fascinated, not just by its right-hand drive, but also its deep red colour, unusual in France where 2CVs were mainly light grey, beige or white.

With its 602cc engine you were unlikely to be caught speeding in a 2CV, but it could reach 70mph going downhill with a following gale.  And it was pointless installing a radio because of the noise inside and out.

Nevertheless, I had more fun driving that car than any other I've owned.                                      

My Citroën 2CV in Falaise, France in 1987, beneath the statue of William the Conqueror
The only other car of the same era with a comparable iconic standing was the Volkswagen Beetle, but that was never as endearingly quirky as the Deux Chevaux.  Nor was it as versatile. I remember once buying a very long ladder; inserting it through the 2CV's boot to protrude from the rolled-back canvas top, I was able to take it home without incurring a hefty delivery charge. Moreover, the back seat was easily removable and could be used conveniently for picnicking. 

2CVs were often the butt of English jokes.  Jasper Carrott once said that if a 2CV hit a rabbit on the road, the car would be a write-off.  He also said that only the French could make a car like that and then sell it to the British.  Once when I gave my brother a lift in mine, he asked me if it had an engine or did I have to pedal.

My British Library colleagues knew of my passion for the Deux Chevaux. I had many toy models around my computer and pictures on the wall.  A French colleague would bring me back 2CV biscuit tins and postcards from trips to France.  One tin had a charming picture of two Breton ladies in a 2CV with their traditional tall hats  peeping out from the rolled-back roof. 
                                                                                    
I now drive a Volkswagen Golf.  This was described as treachery by an official at last year's International Citroën Rally in Harrogate but when faced with a 200-mile drive down the motorway, even I can't recommend a 2CV over a Golf.  Still, if you're a nostalgic Francophile like me and just need a runabout, you can buy one rebuilt as new these days for between £10,000 and £14,000, or buy a wreck and rebuild it yourself using Lindsay Porter's manual How to restore Citroën 2CV (Dorchester, 2004) [BL shelfmark YK.2005.b.1616]

And how does one sum up the legendary Deux Chevaux?  It was perfectly expressed on a sticker I once saw in the back window of one: 'Ce n'est pas une voiture, c'est un art de vivre' (This isn't a car, it's a way of life).
References: Reynolds, John, The Citroën 2CV (Sparkford, 2005.) YC.2005.b.2323
Allain, François, Citroën 2CV (Boulogne-Billancourt, c2002.) LB.31.b.26133
Trevor Willimott, former West European Languages cataloguer