16 August 2013
German propaganda in Esperanto
Memories take me back to the USSR: in 1973, while reading a biography of famous Esperantist Vasili Eroshenko by the Ukrainian writer Nadia Andrianova, I admired the vivid description of his journey to England in 1912. A newly-wed couple, Margaret and Paul Blaise, waited for this courageous blind traveller from Moscow at the Charing Cross station.  As Eroshenko wrote later, the ten days that he stayed with this international (Welsh-Belgian) family were "the happiest days" in England. Years later, after exploring the streets of London that Eroshenko walked in 1912, I found books and pamphlets by Margaret Lawrence Blaise (1878 -1935) in the British Library, as well as her photograph in one of them.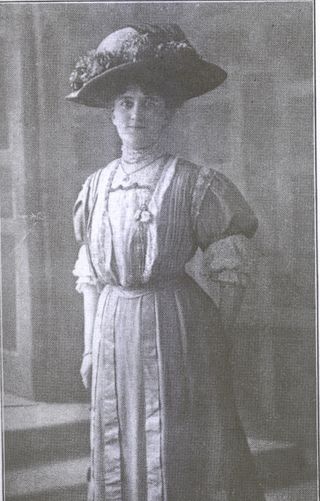 The kind hostess of Eroshenko was not just the charming wife of Paul Blaise, secretary of the Belgian Chamber of Commerce in London, whom she met via their mutual interest in Esperanto. At the time of her marriage to him in 1910 she herself was an established teacher of Esperanto and already had a popular book The Esperanto Manual: A complete guide to Esperanto in the form of twenty-five lectures specially adapted to the requirements of pupils in evening classes (London, 1908) [012902.ee.53] under her belt (published under her maiden name of Jones). Various editions of this manual are a part of our collections.
Margaret Lawrence Blaise in 1913
She was also a passionate propagandist for the new language, created only a few decades previously. No wonder that when the First World War started Margaret Blaise continued to plead for its use in international communications.  In the spirit of the time (with many books and pamphlets titled "Why I am…" or "Why not…") she produced a pamphlet entitled A World Language: Why not Esperanto? The British Library holds the seventh edition of this pamphlet, reprinted in June 1916 [01902.l.33. - see picture].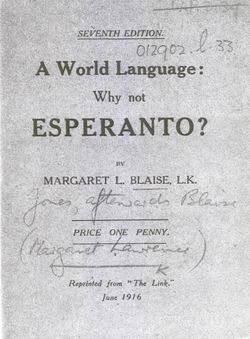 The sharp eyes of Margaret Blaise noticed the use of Esperanto by Germans in a way which was  previously unthinkable for idealists: for state propaganda. The British Library's current exhibition "Propaganda: Power and Persuasion"  looks at many aspects of the use of language for the aims of propaganda. It pays attention to the use of established state languages  in wartime.   But what about auxiliary or so-called "invented languages"? In one chapter of the pamphlet called "German Propaganda", Margaret Blaise summarises the use of Esperanto by the German authorities. She mentions an official German publication, La vero pri la Milito (The Truth about the War),  which presents  ideas "from the German point of view". "They issued a pamphlet with the above title, sending out thousands and thousands of copies", she notes. The British Library holds one of the surviving copies [08027.dd.12] as well as other German publications from this period.
It seems that Germany was the only country to use Esperanto for propaganda purposes during the First World War.

In later decades it was used in other countries. The "Little Red Book" by Mao Zedong (exhibited in "Propaganda Power and Persuasion") exists in an Esperanto version too [the BL's copy is held at YP.2011.a.378]. The most richly illustrated Esperanto journal, "El Popola Ĉinio", published in paper form in 1950-2000 by the Chinese Esperanto-League, dedicated a whole issue to the death of "La Granda Gvidanto kaj Instruisto Prezidanto Maŭ Zedong" in 1976 [ZF.9.a.6337].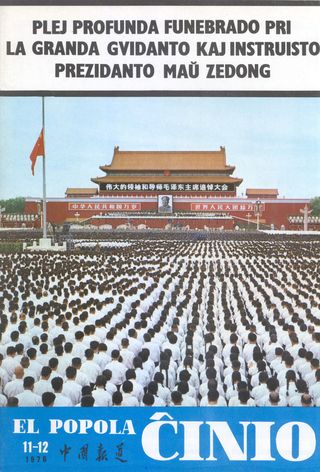 Languages are created by people and for people. It seems that not a single one of  them can escape the temptations of state propaganda.

Further reading:

Eco, Umberto. The search for the perfect language. (Oxford, 1995). [95/25870]
Lins, Ulrich. La danĝera lingvo: studo pri la persekutoj kontraǔ Esperanto. (Moskvo, 1990). [YF.2007.a.27179]

Olga Kerziouk, Curator Esperanto Studies.